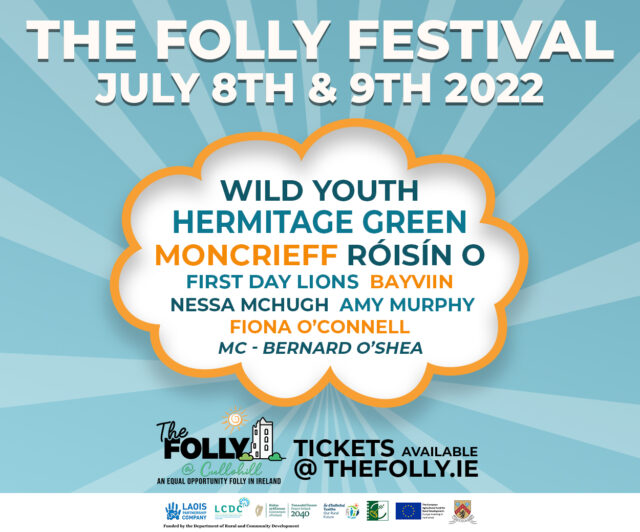 Ireland's First Gender Balanced Festival – a very worthwhile Folly!
The Folly Festival returns with a bang this July, and boasts a line up that is sure to thrill all who are lucky enough to attend the intimate village venue, which is situated beneath the towering ruin of historic Cullohill Castle.
Top acts Wild Youth, Hermitage Green, Róisín O and Moncrieff, will be joined by some of the best up and coming Irish artists, in Bayviin, First Day Lions, Nessa McHugh, Amy Murphy and Fiona O'Connell.
The music takes place on the evenings of Friday 8th and Saturday 9th July, with comedian and broadcaster Bernard O'Shea completing the line up, as MC for both nights! 
The concerts are punctuated by Saturday's Daytime Events, which start off bright and early, with a gloriously scenic Cullohill Mountain walk, and continue throughout the day, with Children's entertainment from 12-4pm along with everything from Artisan Food & Crafts, Vintage Cars, A Celebration of Irish Beef and an Art Exhibition, to a fun Dog Show and so much more.
Festival tickets are not required to take part in the daytime events, and everyone is welcome to attend!
The Folly Festival is Ireland's first ever gender balanced music festival, which in 2018, first addressed the discrepancy within the entertainment industry, when male artists outnumbered female artists 5:1, and the ratio was the same throughout the industry's engineering and production roles.
In selecting our performers, we actively promote gender balance, selecting our lineup accordingly, with an equal number of male and female acts.
Music, Comedy & Culture is what our event is all about, and over the course of two magical days in July, we aim to deliver it in spades! 
Tickets are on sale at https://thefolly.ie/tickets/, with the option of individual day tickets at €30 each, or a full weekend ticket for €50.
All children, under the age of 14 gain free admission to our evening concerts, once accompanied by a ticket holding adult.
The Folly Festival is brought to you by Cullohill Community Council with the support of Electric Picnic, Laois Partnership Company and Laois County Council. 
A Great family Day Out
Evening Concert Ticket not required
On top of a brilliant lineup of live acts, we've also got an amazing lineup for our Daytime Events, at this year's Folly Festival, for Saturday, July 9!
From the calmness and tranquillity of a Mountain Walk, Mindfulness Sessions, Vintage Car Show, and an Art Exhibition, to live music, with a Trad Session, Trad Workshops, Garda Band, and The Dooley Brothers!
There's much more in between, such as an Artisan Food & Craft Fair, Cookery Demonstration, Bord Bia Artisan Butcher & Barbecue, and all can be washed down with drinks from The Rockshore Bar!
The kids will just love Nancy's Yard, which is full of activities and entertainment and costs just €5, and the pooches are more than welcome too, and may even win a prize at our Fun Dog Show!
Please remember you do not need a ticket for our evening concerts to attend our Daytime Events!
The full itinerary
9am: Cullohill Mountain Walk – Meeting at Cullohill Castle from 8:45am.
10.30am: Mini Mindfulness Sessions – Cullohill Community Centre. 40 minute session. Book Here
11am-3pm: African Drums Workshops at the Castle Walls
11am-5pm: Exhibition of Local Artists Paintings in Community Centre
11am: Chance Your Arm at Uileann Pipes Workshop
12noon-5pm: Vintage Car Display
1pm: Fun Dog Show
2pm: Mini Mindfulness Sessions – Cullohill Community Centre. 40 minute session. Book Here
FAMILY FUN @ NANCY'S YARD
From 12PM to 4PM – ADMISSION €5 per child
12:15pm: Children of the Old Oak Tree Workshop 3-5 year olds Book Here
12:45pm: The Crazy Circus
1:30pm: Children of the Old Oak Tree Workshop 6-11 year olds Book Here
2.45pm: Children of the Old Oak Tree Workshop 6-11 year olds  Book Here
3pm: The Crazy Circus
THE PORTLAOISE PLAZA STAGE
11am-5pm Artisan Food and Craft Market 
12pm-6pm: Drinks from the Rockshore Bar
12pm-2pm: Traditional Music and Workshop
2pm-3pm The Dooley Brothers
3pm-4pm: Garda Band
'A CELEBRATION OF IRISH FOOD'
2pm: Bord Bia Craft Butcher Demonstration
3pm: Cookery Demonstration with Award Winning Chef Adrian Sheppard of Bowe's Foodhall & Café
4pm: Cookery Demonstration with Celebrity Chef Edward Hayden
5pm: Festival BBQ
SEE ALSO – Buy your tickets to the Folly Festival in Cullohill here