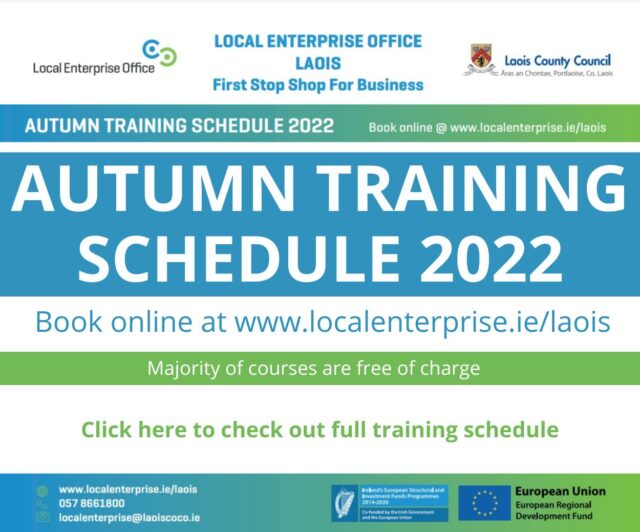 Local Enterprise Office Laois is here to support you and your business through these challenging times.
From training and mentoring programmes to advice on funding options, Brexit and business planning, our dedicated team is here to help you to start, sustain and develop your business.
If you are thinking of starting up a business or are already in business, please don't hesitate to get in touch with us.
The full Autumn Training Schedule 2022 is listed below and you can book online here. 
Financial Supports
Local Enterprise Office provides a wide range of financial supports designed to assist with the establishment and /or growth of micro enterprises in County Laois which include Feasibility Grants, Priming grants, Business Expansion Grants, Trading Online Vouchers and more. Please contact our office for eligibility criteria and details.
Export Supports
We are committed to supporting a strong exporting sector by offering packages such as the Technical Assistance for Micro Exporters (TAME) grant that enables clients to explore and develop new market opportunities.
The TAME grant part-funds the costs of investigating and researching export markets, e.g. exhibiting at international trade
fairs.
Mentoring
Our Mentor Programme is designed to match up the knowledge, skills, insights and entrepreneurial capability of experienced business practitioners with small business owner/managers who need practical and strategic one to one advice and guidance.
Advice
The Enterprise Team is on hand to support you with business planning and to guide and signpost you to the various government supports that are available to help you to start and grow your business.
Contact Us
Get in touch with the Laois Local Enterprise Office by contacting 057 8661800, emailing localenterprise@laoiscoco.ie or visiting www.localenterprise.ie/laois.
Autumn Training Schedule 2022
September 6: Trading Online Workshop, 10am-12.30pm – Free
September 9: SEO Health Check – Intermediate level, 10am-12.30pm – Free
September 13:  Using Facebook to Generate Quality Sales Leads, 10am-12.30pm – Free
September 13 and 20: Cashflow Management, 9.30am-12.30pm – Free
September 20-21 – Prepare your Business for Customs, 9.30am-12.30pm – Free
September 22 – Running successful Ad Campaigns on Facebook and Instagram, 2pm-4.30pm – Free
September 22 and 29, October 6 and 13: Video Marketing for Your Business, 10am-1pm – Free
September 27: How to submit your Income Tax Return on ROS, 9.30am-12.30pm – Free
September 28: Thinking about starting your own food business in Laois, 9.30am-12.30pm – Free
September 29: Simple home office set up to stand out on screen, 10am-1pm – Free
October 4 and 11: Costing and Pricing for your Business, 9.30am-12.30pm – Free
October 5: Measuring your Digital Marketing Channels using Google Analytics, 10am to 12.30pm – Free
October 12: Using Instagram Reels to reach and convert your customer, 2pm-4.30pm, Free
October 18: Pre-start your own business, 10am-3pm – Free
October 20 and 27: Managing your own brand, 10am-1pm – Free
October 21: Trading Online Workshop, 10am-12.30pm – Free
October 21: TikTok Masterclass for Business – the Ultimate Guide for Beginners, 2pm-4.30pm – Free
October 26: Generate Quality Sales/Leads using Google Search Ads – Free
November 1: Twitter 101 – Become a Top Tweeter, 10am-12.30pm – Free
November 2: Winning Public Tenders – Understanding E-Tenders, 9.30am-1pm – Free
November 9: LinkedIn for Networking and Customer Acquisitions, 10am-12.30pm – Free
November 16: Boosting Online Sales – Top 10 Tips, 10am-12.3pm – Free
November 22: Workshop for Limited Company Directors, 10am-12.30pm – Free
November 29: Writing for the Web, 10am-12.30pm – Free
November 30: Training Online Workshop, 10am-12.30pm – Free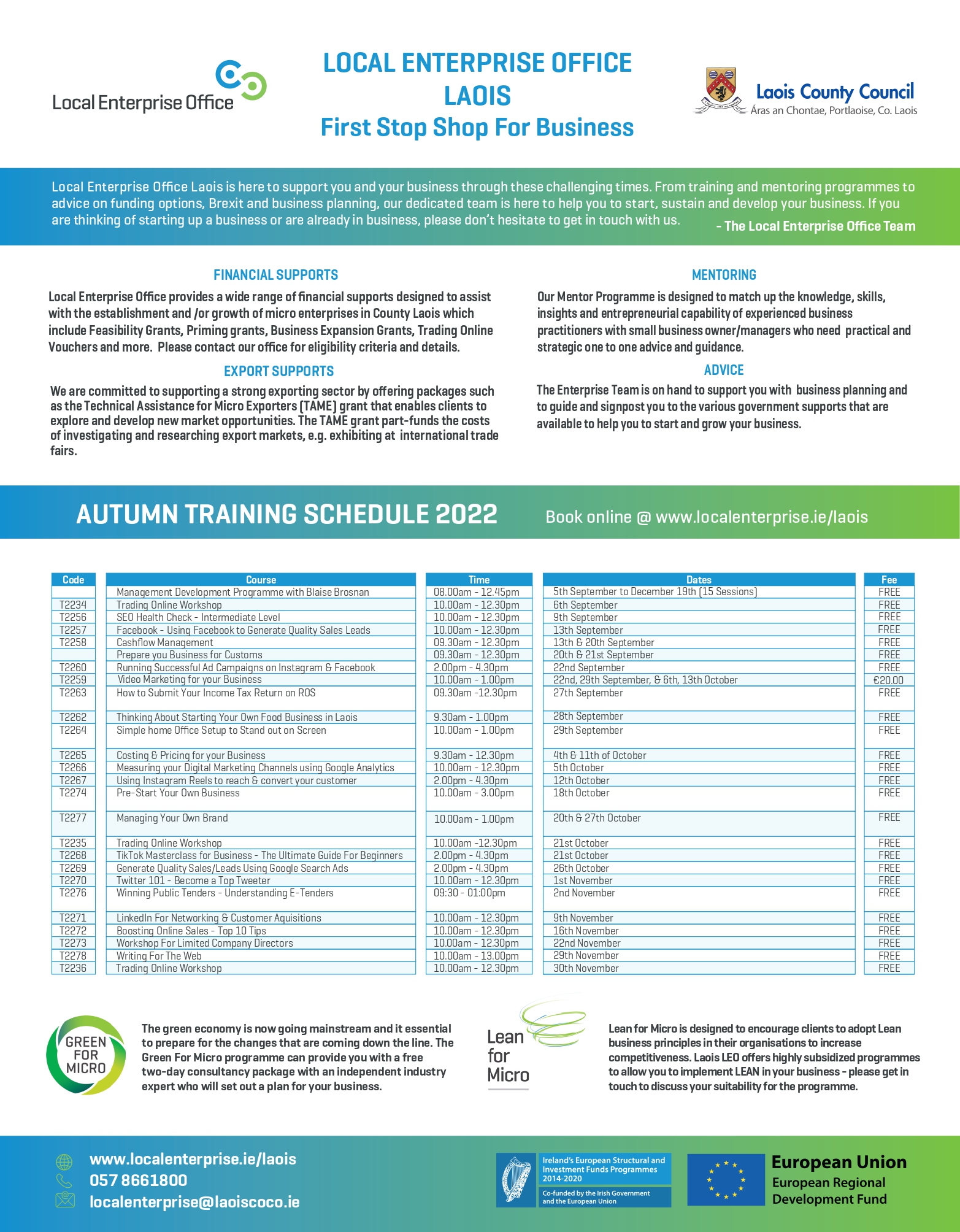 Green for Micro
The green economy is now going mainstream and it essential
to prepare for the changes that are coming down the line.
The Green For Micro programme can provide you with a free
two-day consultancy package with an independent industry
expert who will set out a plan for your business.
Lean for Micro
Lean for Micro is designed to encourage clients to adopt Lean
business principles in their organisations to increase competitiveness.
Laois LEO offers highly subsidized programmes to allow you to implement LEAN in your business – please get in touch to discuss your suitability for the programme.
SEE ALSO – Check out the dedicated jobs section on LaoisToday