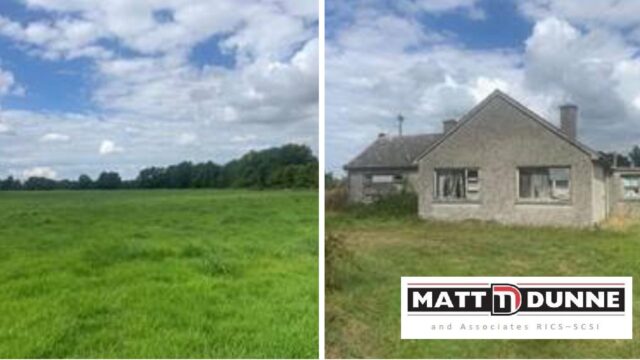 A 29.5 acre parcel of land in Geashill in Offaly along with a derelict bungalow sold recently for "way in excess' of its €350,000 guide price.
The farm was located in Kilcooney, Geashill, seven miles from Tullamore and 10 miles from Portarlington.
Matt Dunne, the Portarlington-based auctioneer, was put under pressure by an Australian bidder to accept his offer prior to his departure from Ireland.
"Good farm land, but limited access via a right of way and this would put off many potential customers," said auctioneer Matt Dunne.
"The Aussie's offer was way in excess of the reserve price and it merited consideration by the vendor.
"Once you go down this road," says Matt, you have to bring it to a conclusion as it spoils your auction when the interested parties know each other's offer."
Matt Dunne had to then contact all interested parties and it was then that a local farmer who had shown no interest beforehand made his move!
"Back and forth we went for 24 hours before the local farmer won the day and the disappointed Aussie hopped on his plane. 
"The vendor was very happy as contracts had been signed prior to auction and he achieved a far better price than he expected for his out farm. The reserve price was €350,000 but the selling price was way in excess."
Matt Dunne now urgently seeks a compact 30-50 acre holding in Laois/Offaly for the disappointed under-bidder.
To get in touch with auctioneer Matt Dunne you can email  info@mattdunne.ie  or phone 057 8623349.