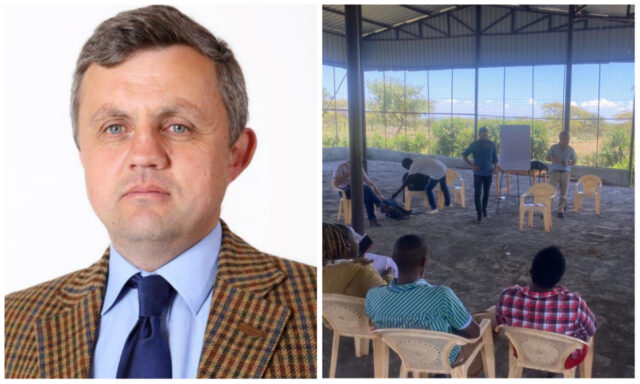 Luggacurren man George Ramsbottom, who is a dairy specialist with Teagasc, recently visited Kenya to gain a better understanding of farming practices there.
In conjunction with Professor Jim Kinsella, UCD, he acts as co-supervisor to master's student Michael O'Loughlin.
Michael is a MAIS (Masters in Agricultural Support Research Projects 2020-2022) student who is evaluating the efficacy of the extension programme run by Development Pamoja (DP), a charity working in a rural area close to Nakuru in central Kenya.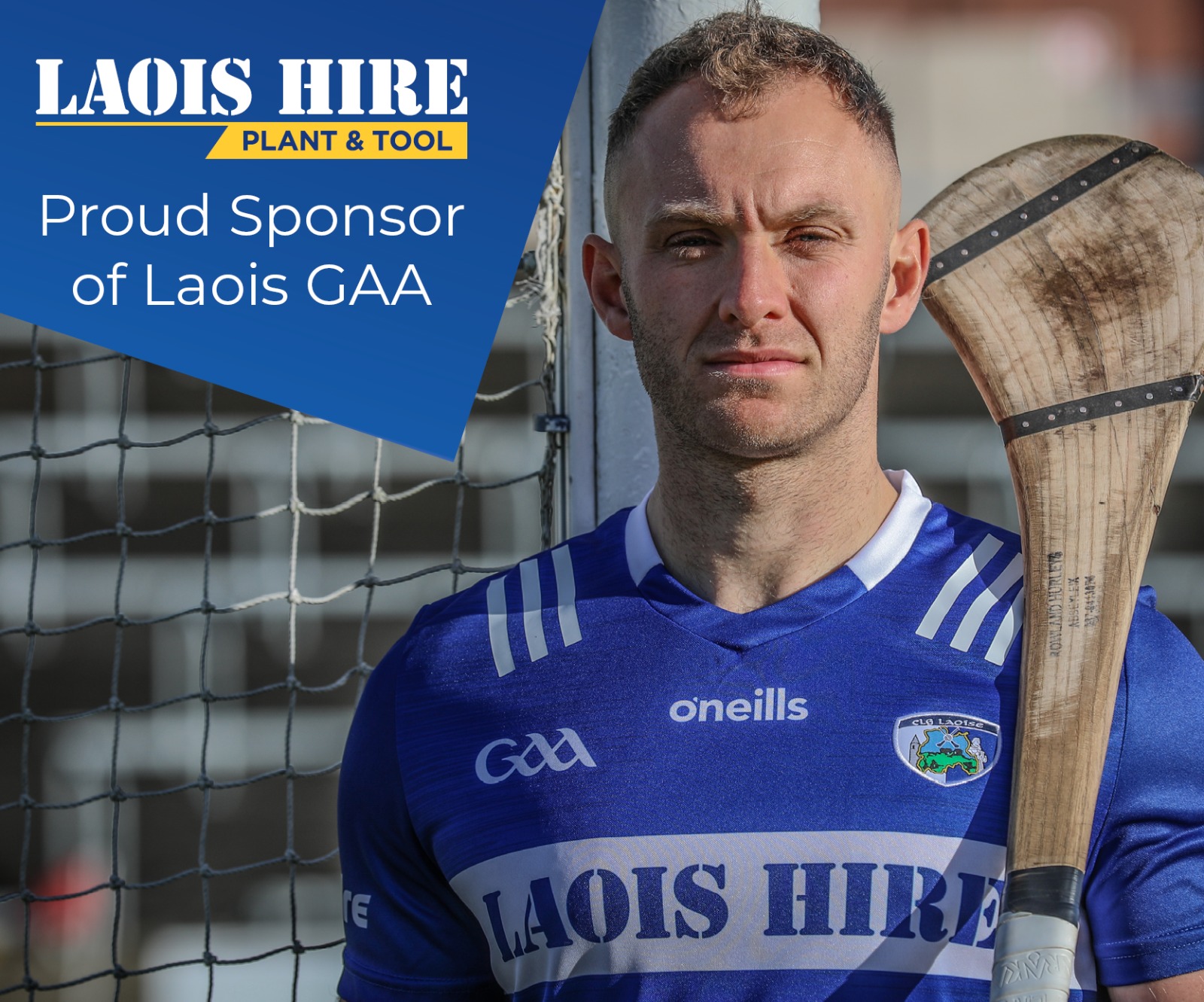 "The purpose of our visit was to learn more about the situation prevailing in his study area and to better assist Michael in completing his thesis.
"Over the course of a week, myself, Jim, Michael and James Hennessy who heads up DP, visited discussion groups, lead and follower farmers and the Franciscan run agriculture college at Baraka in the Kenyan highlands," said George.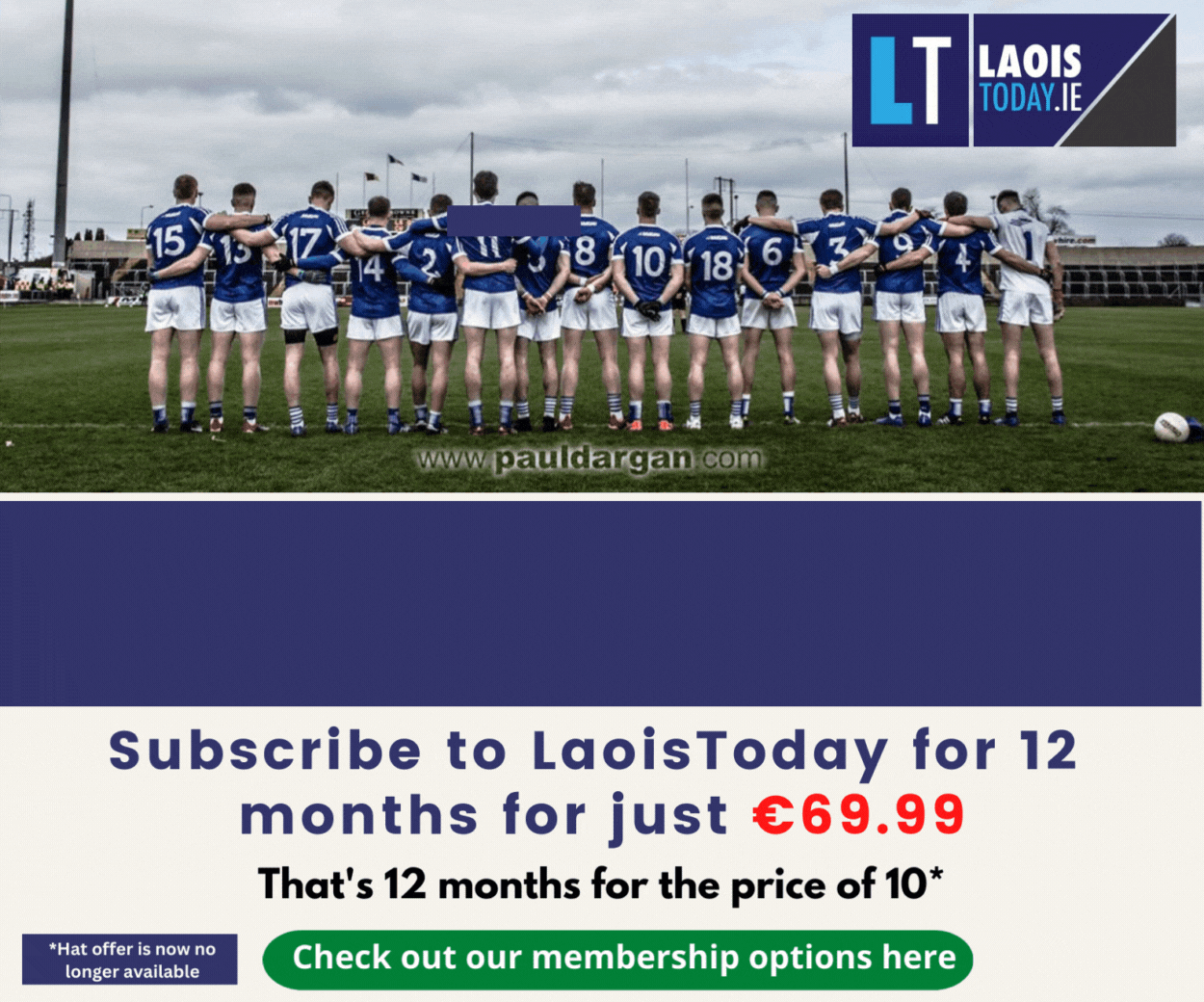 Although only there from October 9 to 15, the former president of the Agricultural Science Association who runs sheep on his own land, documented a vast amount of information, some of which he shared on Twitter.
Their first meeting was with members of the Menanja Mingi group in the heart of the Development Pamoja (DP) advisory area. The group focuses on agricultural development and has at its core a savings group, George said.
Nicholas, a DP extension officer, brought the group to visit the farm of John Ngetich, a follower farmer.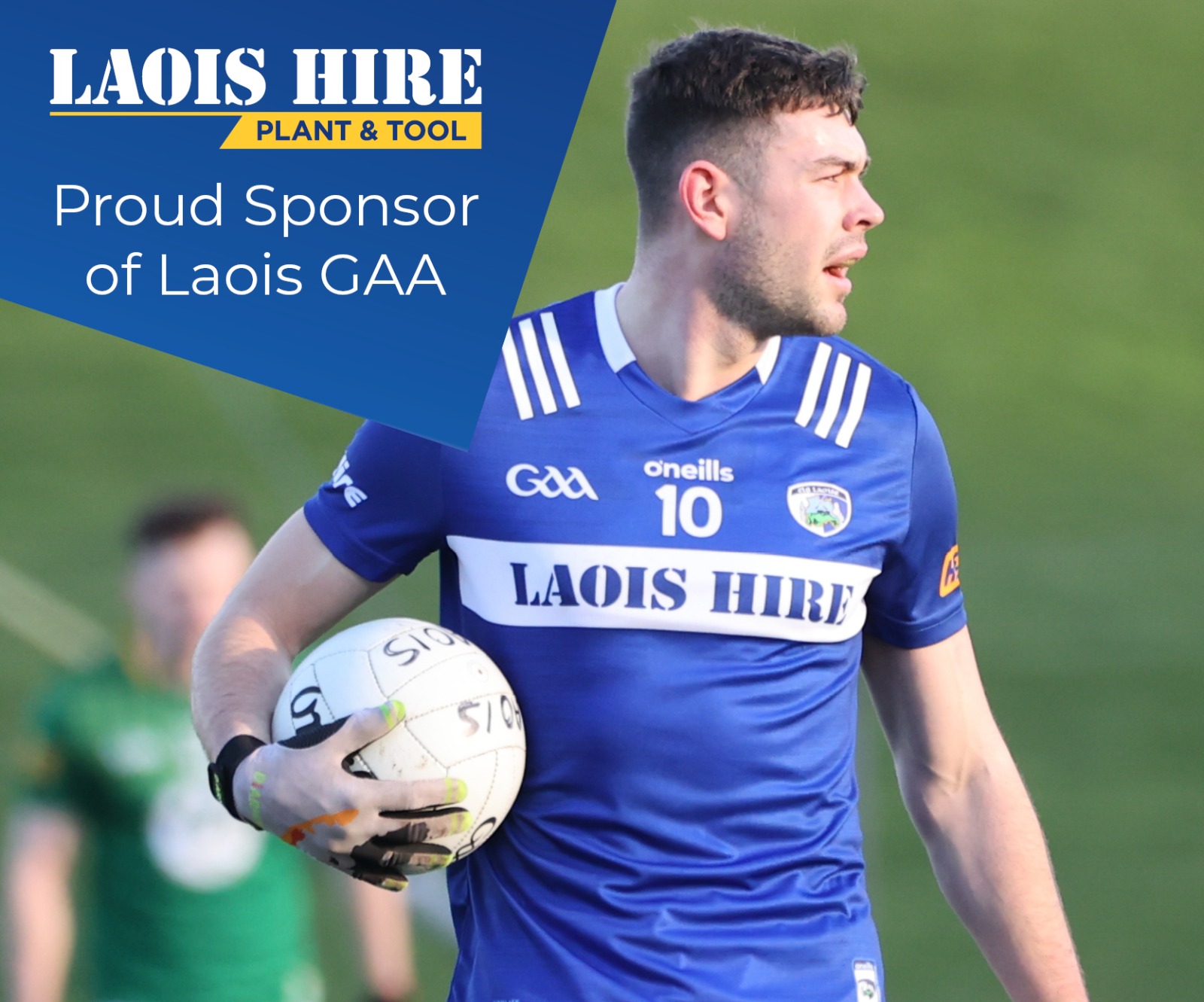 "The father of six farms a quarter of an acre at home and has a two acre out block. To feed the cows, maize stover is chopped and mixed with Napier grass which is also chopped to feed the cows mainly in the dry season.
"John has one cow in milk, delivering four litres per day. His second cow is due to calve in this month," George said.
"He harvested an improved variety of Sorghum which is similar to maize, last month on the out block and chopped it with the tractor on loan from DP.
"It was then covered with polythene and soil to prevent it from going mouldy. He will feed it during the dry season. It was cut in one day with family and neighbours' help," the Laois man said.
George also met Karisa Kambi who farms one-and-a-half acres and leases a further two acres of outside land to grow maize silage.
"Cows are fully fed indoors using the cut and carry method. The milking platform grows a variety of forage crops including Napier grass, millet and Paspalum. Because he is farming beside a river, he can irrigate the 'milking platform.
"Karisa has six cows and four replacements. Currently five of his cows are milking and after allowing for milk fed to calves and used in the household, he sells 48 litres per day.
"The morning milk is sold to neighbouring households while the evening milk is sold to the milk co-operative. He has one full time worker on the farm and part time help as well. He rears and sells the bull calves at one-to-two months of age," George outlined.
George and the team ran a focus group with 15 members of seven groups attending at the DP research farm.
"We focused on three core questions: what can be done to ensure that farmers make enough forage for their animals for the dry season?; what is preventing farmers from improving their milk yields? And why do they wish to improve the dairy enterprise on their farms?"
The contingent visited the farm of John Washira, a follower farmer. He owns five acres and has four cows and one heifer.
"He is currently constructing an 80,000 litre water pond for his cows. This will contain sufficient water to meet one-and-a-half years of his cows' water requirements.
"He had to dig the pond himself and save money and then borrow 75% of the amount they have saved from the DP savings group to purchase the liner. DP purchased the liner for him and provided the services of an engineer to advise on its construction," said George.
"John has an avocado grove on the farm and intercrops with potatoes and beans.
"The cows are currently milking seven, seven, four and three-and-a-half litres per head per day. He sells surplus milk to the neighbours," he said.
The team met Geoffrey on the farm of Zachariah, an Ol Rongai follower farmer.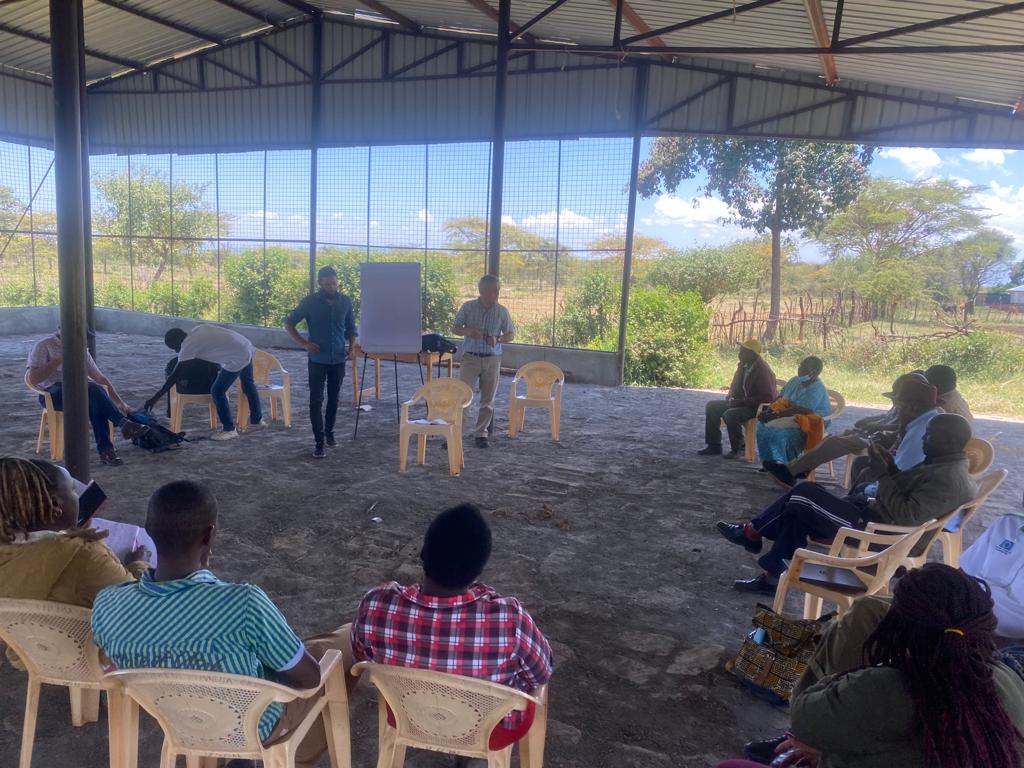 "Geoffrey talked about construction of the water ponds. His savings group got together to raise money toward the purchase of the liners. DP procures the liners and the services of an engineer to advise on construction of the ponds," said George.
Having a reliable source of water is becoming more important to local farmers, George noted.
George told the story of Zachariah who farms four acres. "He is growing a quarter of an acre of Sorghum to feed to his cows during the dry season as a high energy feed.
"He expects that in two cuts it will yield ten tonnes of fresh weight per acre. He has been storing the Sorghum he's already harvested in a sealed plastic bag. These bags must be stored in rodent proof sheds.
"They're suitable for storing small quantities of the crop. He learned about making Sorghum silage and Napier grass from the group. Zachariah plans to build a 240,000 litre pond. "
Josephat, the AI tech for Zachariah's farm, purchases semen from native and imported sources through a stockist, George recounted. "There are 2,200 cows in his area and he inseminates 30 of them per month."
The Laois man was impressed with Margaret Wambui who farms ten acres which includes two acres of grazing land for her cows. She also owns two calves and two sheep.
"The forage crops that she's sown since joining the group were sourced by DP and include Lucerne and Sorghum, both being grown for the first time this year, and Napier grass which is growing for its second year on her farm," George said.
"She needs to secure a water pond with 85,000 litres of storage capacity. She sold her bull recently and AIs the cows. Both were dry at the time of our visit.
"We observed little emphasis on milk quality on any of the farms visited. None of the processors seem to pay on composition or Somatic Cell Count (SCC)/Total Bacterial Count (TBC). One purchaser tests for added water," said George.
George also met Harrison Simoto, a lead farmer from near Molo in the Kenyan highlands.
On his five acre farm he grows one acre of eucalyptus trees in addition to forage crops for his two cows. He plans to increase the number to five cows. Crops grown include forage oats, Rhodes grass, forage maize, Desmodium, sweet potato vines and forage trees (tree Lucerne.)
He made silage for the first time in 2021. "He made Sorghum and maize silage. His freshly calved cow is yielding 11 kg per day. Surplus milk is sold," George recounted.
The contingent met with Sheilla Bengo, a community development facilitator employed by Baraka College. Her work aims to enhance community members' livelihoods, promote sustainable agriculture and showcase the role of the kitchen garden with a focus on water and sanitation.
A community group was established to construct a borehole for households in the area. Three hundred households are involved.
"School principal Josephat Muli discussed the challenges of sourcing clean water from a stream close to the school. The school has 700 primary school going pupils and 200 kindergarten students who walk to school from a 4km radios. The average class size is 48, with 18 teachers.
"School starts at 7 am and finishes at 5 pm, Monday to Saturday. He said that 100% of his pupils transfer to secondary school. It's apparently law for all to attend secondary school," said George.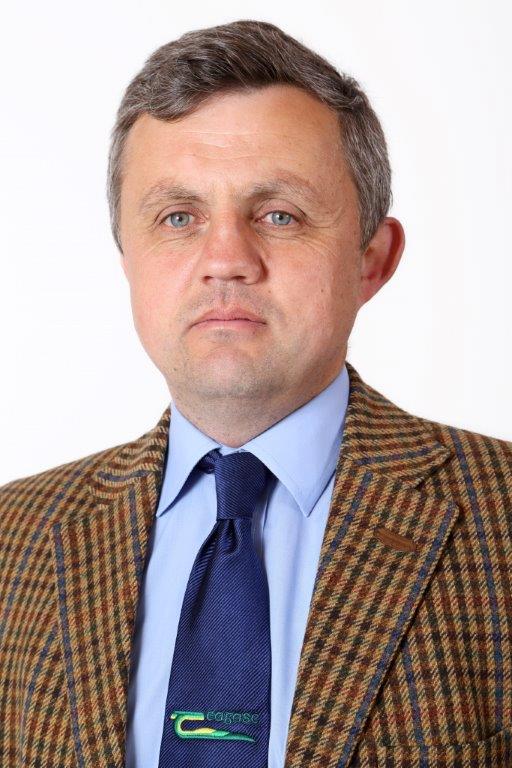 "Kisindogo village is one of the major recipients of water from the system. It was established following the post-election violence in 2007.
"Around 85 families came together to buy 12 acres of marshy land. They obtained title but left it undivided so all own the land together.
"Access to the water allows them to keep a kitchen garden and they can sell surplus vegetables to supplement their income.
"The group is also in the process of purchasing fuel efficient stove pipes.. They reduce the quantity of fuel needed to cook a meal substantially," the Laois man said.
George said that the visit underlined that the benefits of a targeted advisory programme on farming families are universal.
"Some of the things the farmers are adopting are beneficial, other things may not be as suited to their conditions. Very high yielding cows can't reach their potential on the quality of the forage that's presented to them," he said.
"Agriculture in the region is in transition from a semi-nomadic system of farming to a more enclosed system with dairy farmers looking to store water for the dry season for their cows," George said.
"From an Ireland perspective, the big learning was around food security. We take it for granted that our food supply is secure. In the region I visited in Kenya, this is much less certain.
"While milk yields are low by our standards, when the cow dries up, there is no milk to feed your family or to sell to your neighbours. Similarly, rainfall has become increasingly uncertain in the area.
"Many of the farmers had sown beans in the expectation of the 'small rains' coming before the dry season which is from December to March.
"However, at the time that I visited these rains hadn't arrived and if they didn't come soon the bean harvest would fail. The staple maize had already trebled in price and the expectation was that its price was set to rise further as the dry season set in," said George.
SEE ALSO – REVEALED: 17 clubs represented as Laois GAA, Camogie and Ladies football award winners for 2022 announced