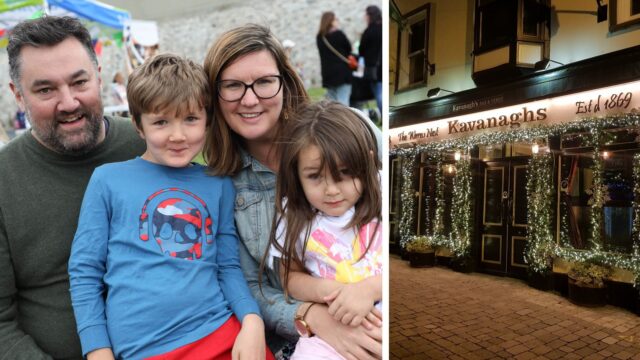 A seismic shift in building regulations is needed to make good use of the empty upper floors on our high streets, architect Hugh Wallace recently said.
One Portlaoise man who knows all about the benefits of living over the shop is PJ Kavanagh who grew up over The Wren's Nest on Main Street and who continues that tradition with his wife Niamh and children Noah (7) and Suzie (5.)
Having taken over the running of the pub from his father PJ, he gutted the entire building, incorporating contemporary living quarters over the expanded pub and music venue, now known as Kavanaghs Bar & Venue.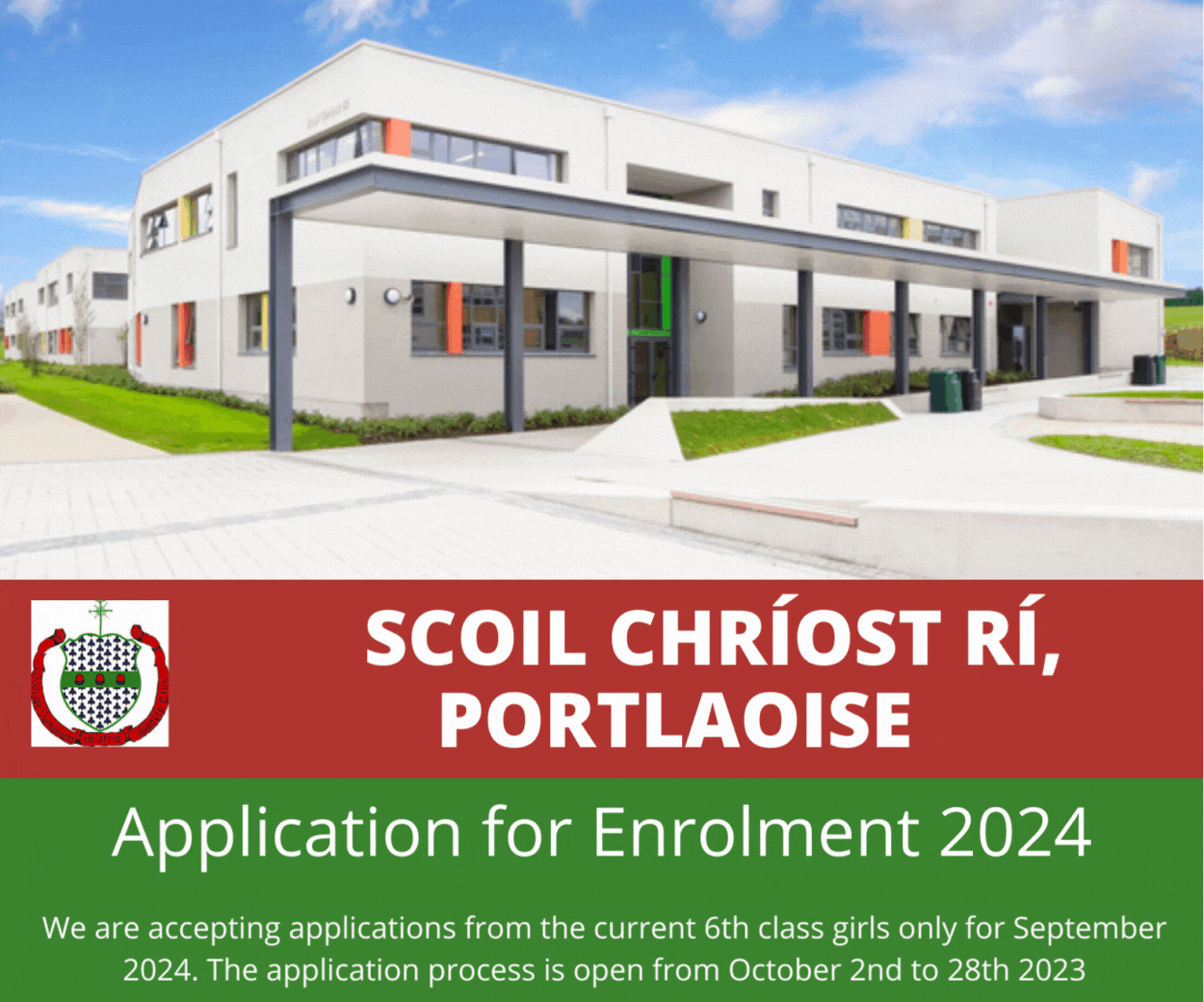 The arrangement combines a sense of continuity with the comfort and convenience of having a zero commute to work.
"I'm the fourth generation here. My great grandparents, Edward and Margaret Ramsbottom, would have bought the premises way back in the day.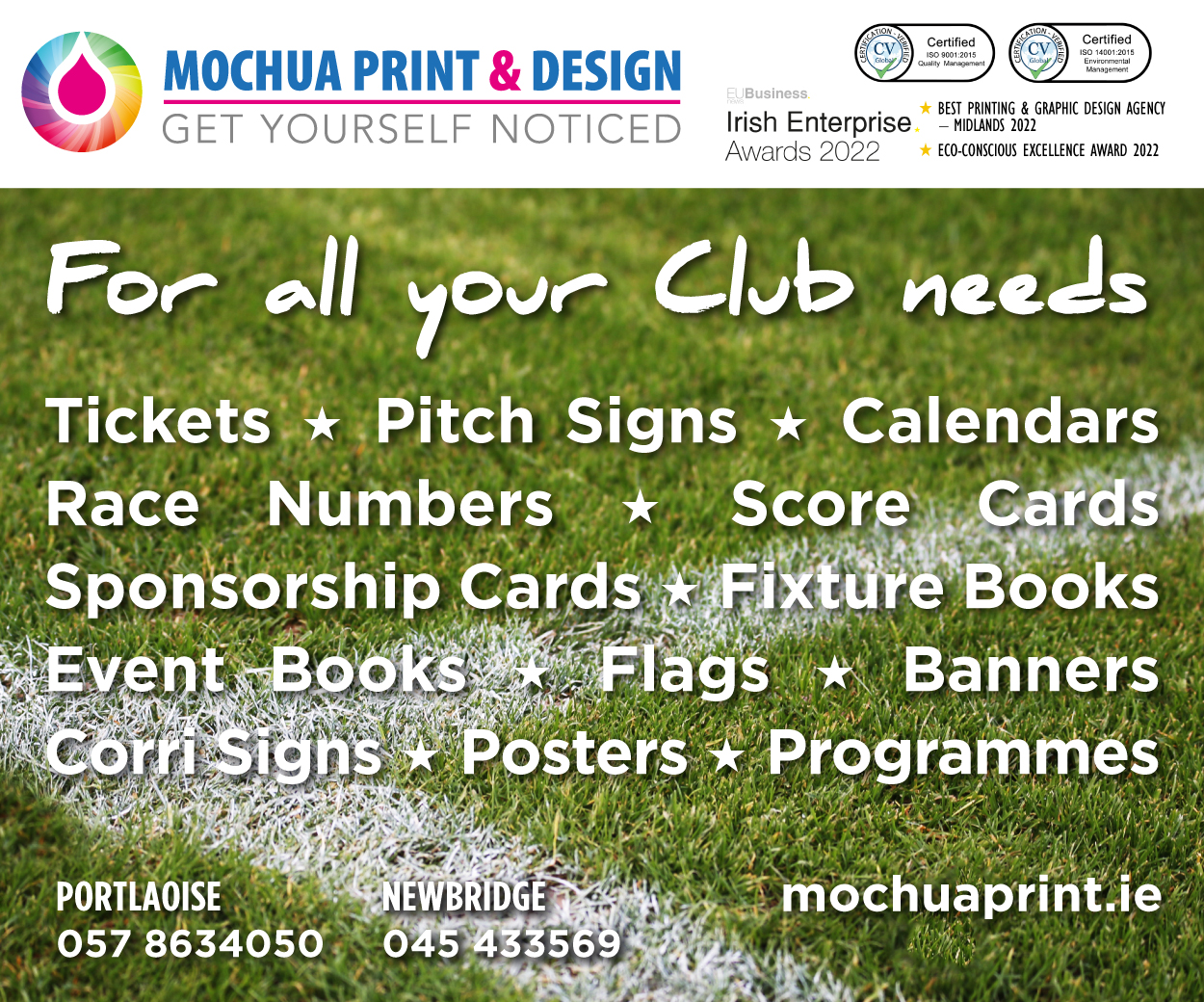 "It goes back as far as 1869. They ran it as a pub and grocery shop. It's gas, we have a few different copies of the census back from 1911 that show the family along there," PJ said.
"My grandmother was Norah Ramsbottom. She married Patrick Kavanagh. Some of the older photos of the street have Ramsbottom over the door. Her brother was Paddy Ramsbottom who had the pub which is currently Ramsbottom's on Lower Main Street. He was down there, she was up here, so lots of history," he reflected.
"Her brothers, my granduncles, were involved in the 1916 Rising in Laois so he goes down as the man that fired the first shot in the 1916 Rising at Colt Woods. We have a long history in the town," PJ said.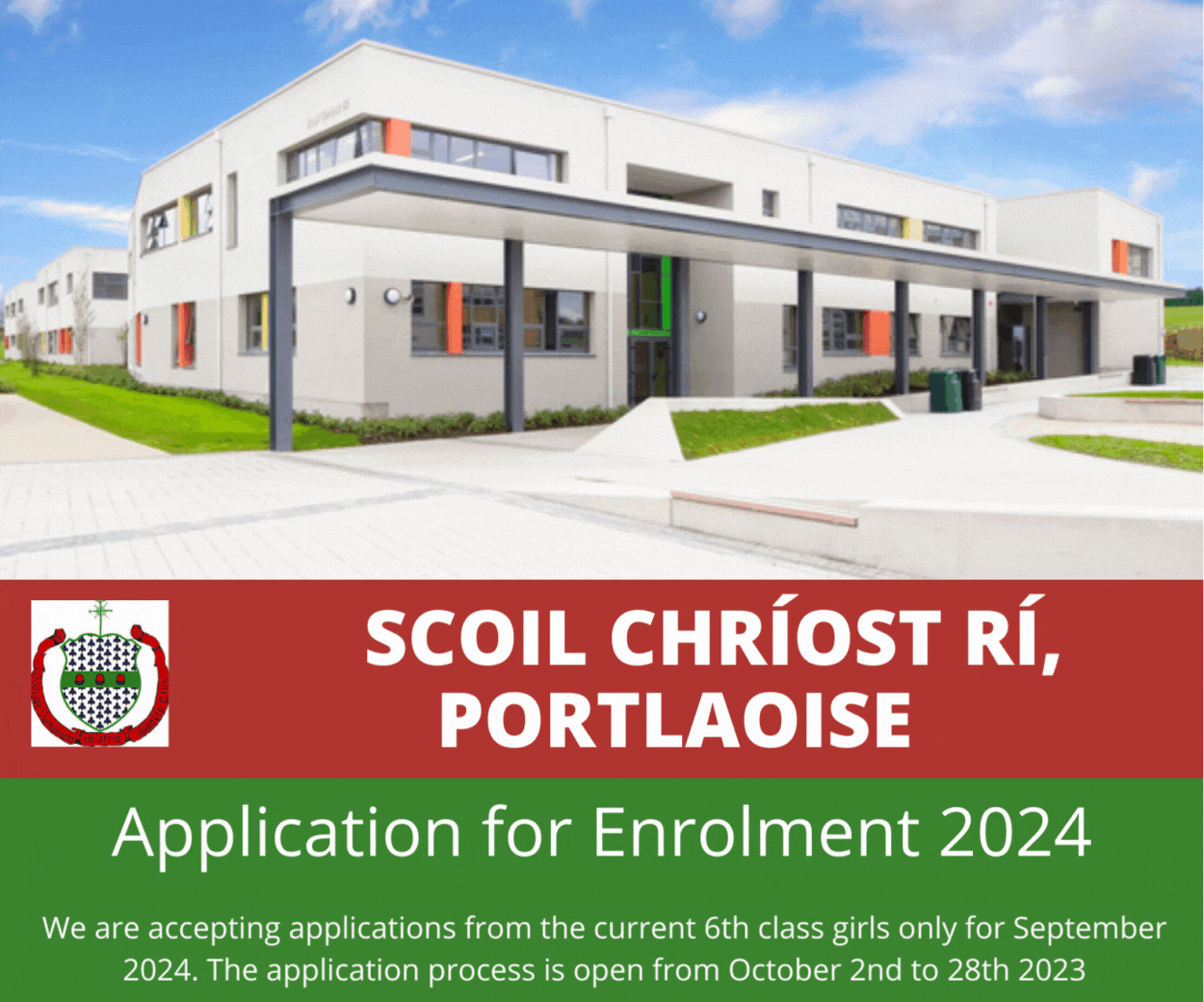 "I have five sisters. My father was here all his life and my mother Vera a good few years. The five sisters are older than me. As I grew up, my oldest sister was heading for college."
PJ remembers going to school literally around the corner in the convent.  "Mrs O'Keeffe was my first teacher all those years ago. A lot of people in the town would have had her as a teacher and she is still hale and hearty. Then we went up to the CBS on the Borris Road and back to the CBS in Tower Hill."
The Kennedy, Fergus and Ryan families also lived over the shop and were friends of his sisters while his friends were mainly in Glenside, not too far away, PJ noted.
PJ is content to continue living over the shop on Main Street. "We enjoy living here. There's a huge convenience with it in that everything is on your doorstop, food, restaurants, shops, it's all there. With kids going to the Gael Scoil, it's very handy. Music Generation is just around the corner," he said.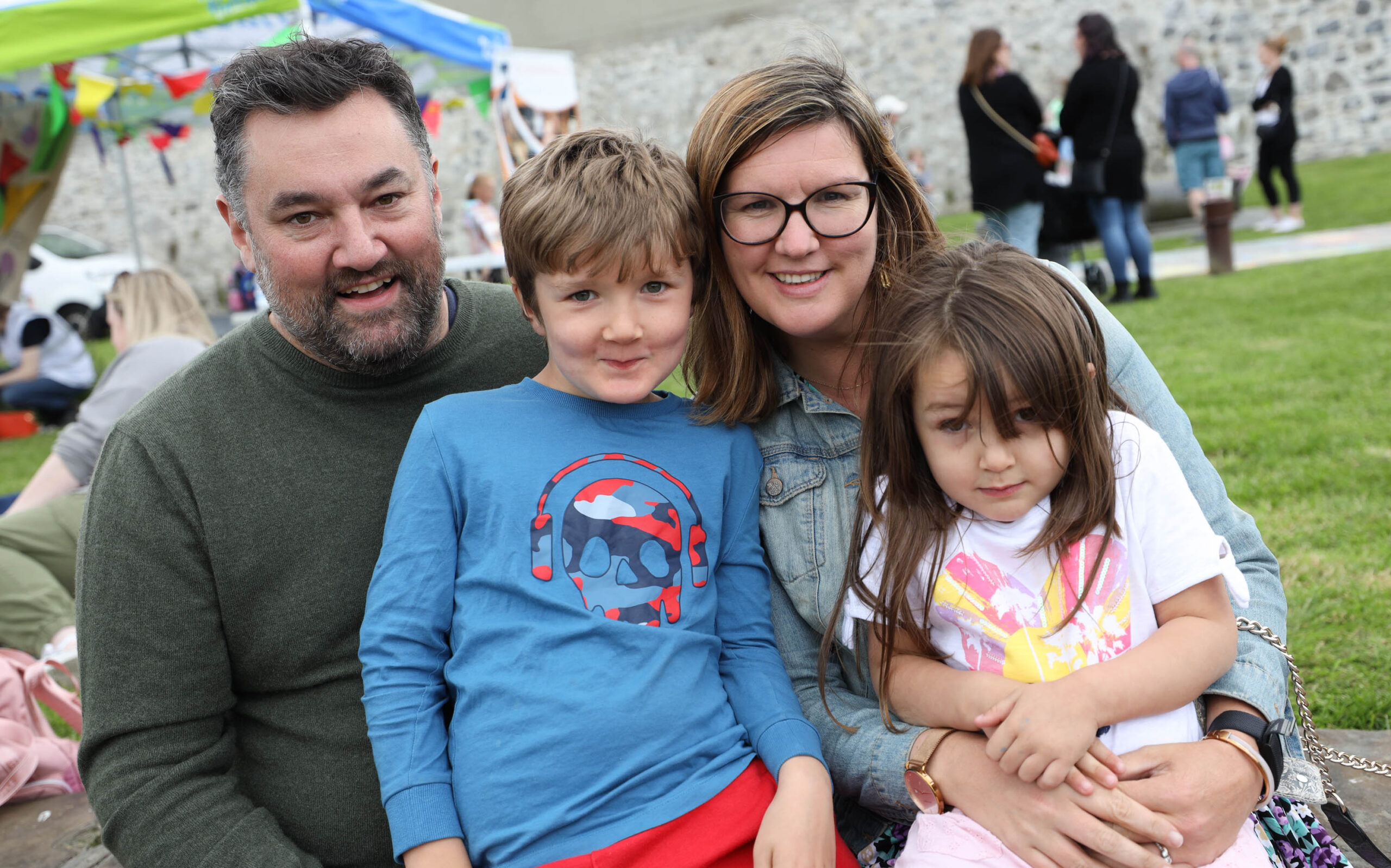 "If you are older, accessibility when you have to go up a few flights of stairs every day, is an issue.
"It keeps me fit though – it's the only bit of exercise I get! Also you're at the mercy of public parking, it is what it is but I think that's something that's going to have to be addressed in years to come.
"We don't have a garden and we miss that, particularly during the summer but Fitzmaurice Park is just around the corner and the swimming pool is also around the corner.
"The town park isn't a million miles away. The kids have a track particularly during the summer beaten down to the playgrounds. My wife is very active and is brilliant about getting them out and about.
"It can be loud, being a music venue as well. The kids are just used to it, no more than ourselves growing up when there was a night club – Egan's – directly beside us and behind us was O'Loughlin's, Club 23."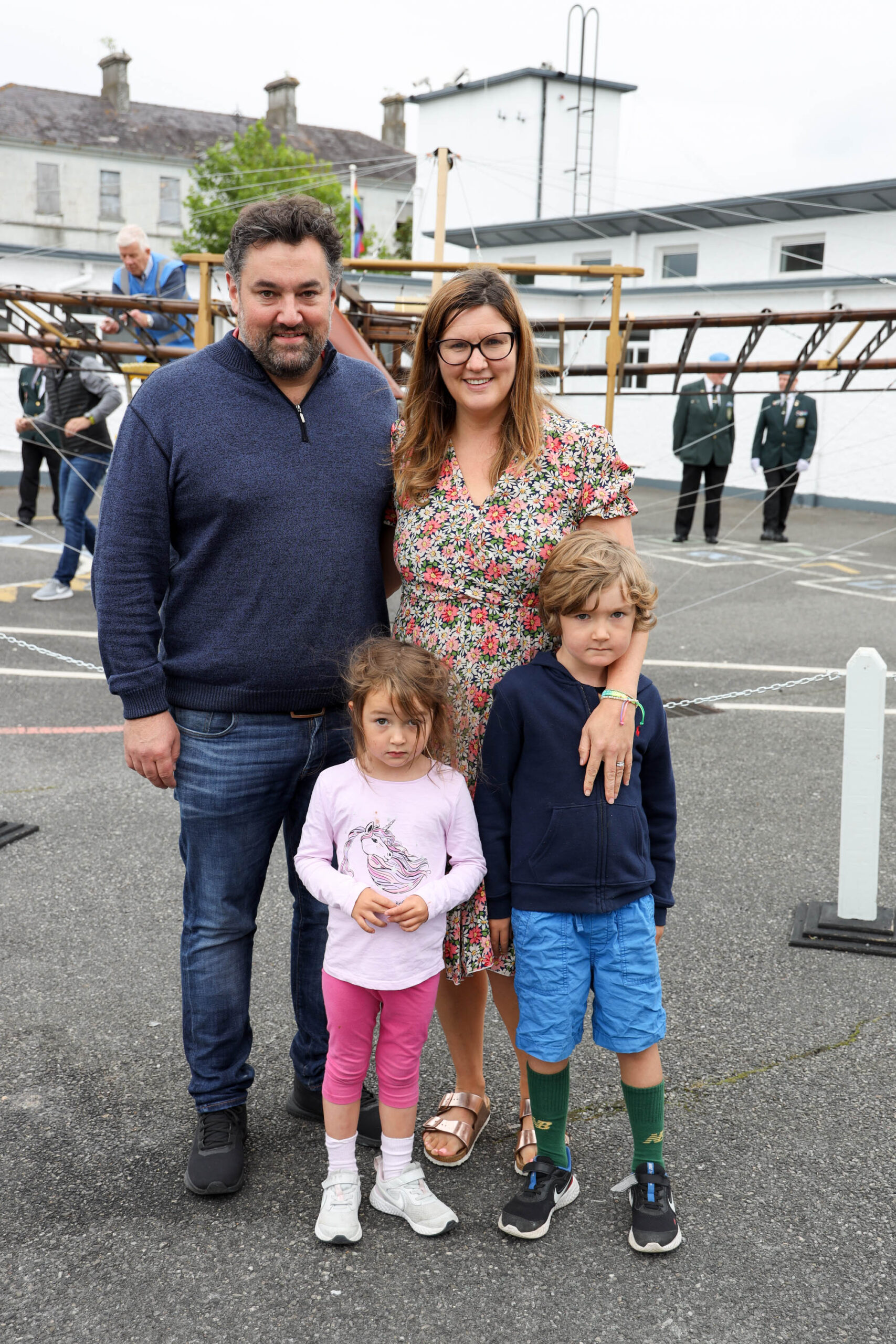 He gets a kick out of seeing how much his own children enjoy living over the shop.
"It's good for their personalities, they're meeting people regularly and we're down at the school Christmas show in the last few days. You can see that they're well able to converse with people and they're well used to mixing.
"We're lucky that the facilities in the town centre have improved a huge amount.
"So there are plenty of places to walk around and we can bring them swimming, and to different bits and pieces. It would cost you a fortune sometimes with ice cream!
"During Covid, it gave you the idea of how quiet the town centre could be because obviously the businesses were closed and the only people you would see knocking around would be people living on the Main Street which has been very few.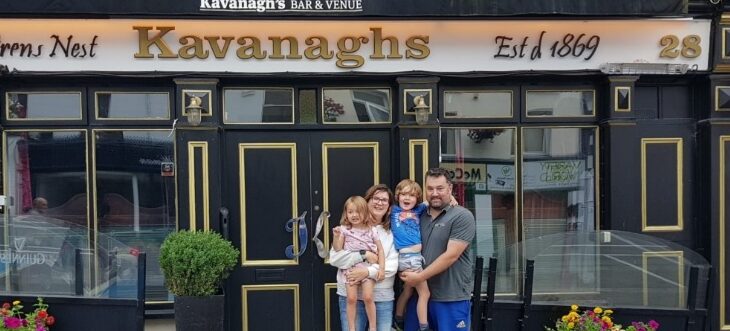 "At Ryan's pub, Mick and Joan still live above the pub. They have three daughters and we are fortunate in that we have their youngest daughter as our babysitter.
"She's great friends with the kids. Only last week, she was on about taking them to the cinema as their Christmas present."
Having always had an interest in the running of the family pub, PJ studied bar management in DIT, Mountjoy Square.
"My dad fell ill when I had just finished my first year in college and I had to come back and give him a hand with the pub while he was recovering.
"At that stage then, my parents were keen to do some work on the building. The plan was to change the shopfront, to get out the old stained glass windows and rotten windows.
"So what was a small job ended up being the demolition of the entire building and rebuilding it. That was in 1999/2000," he said.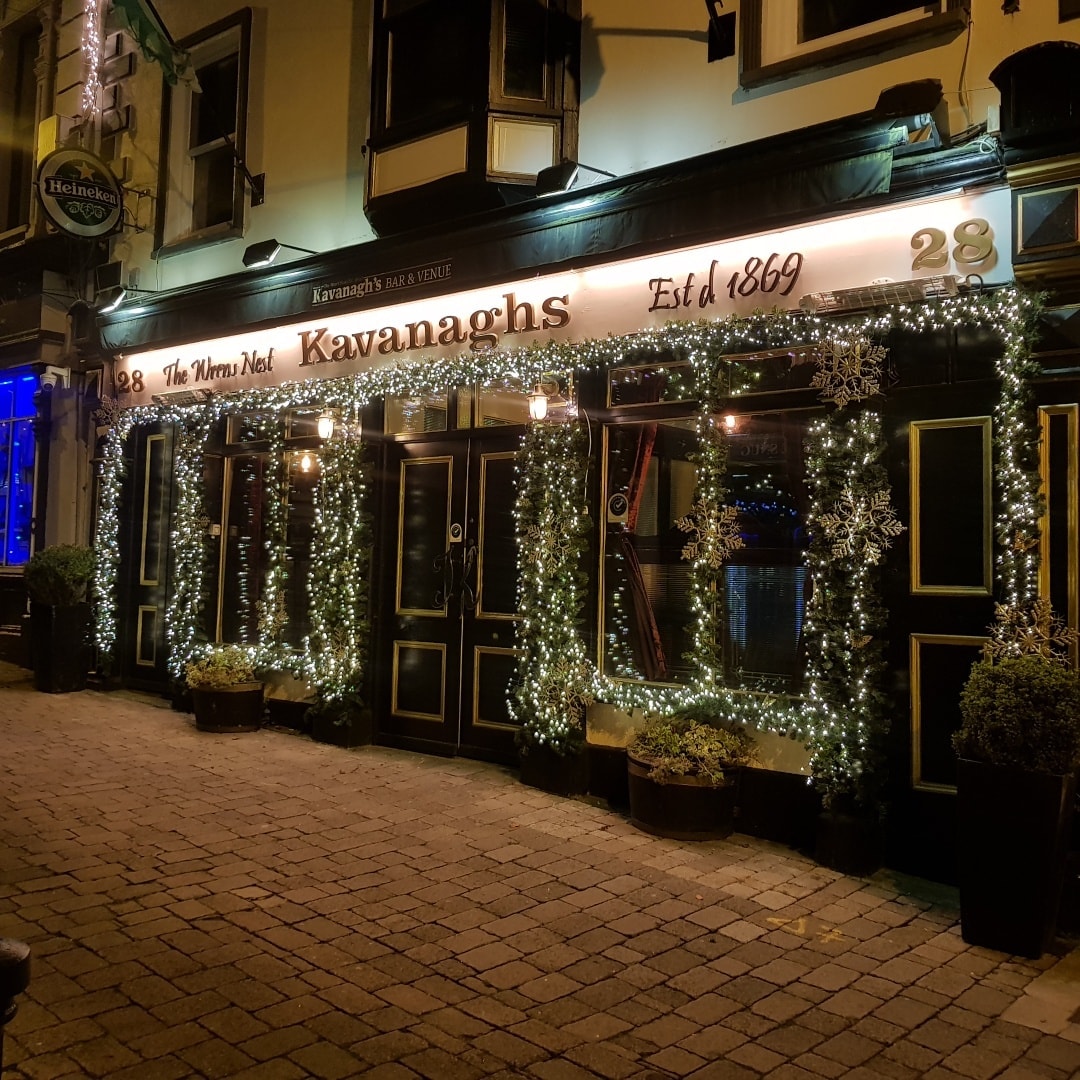 "I was about 20 at the time when I came back and my parents had enough faith in me to demolish the old family home and move out.
"We were closed for about seven months for the demolition and rebuild. From then on I was more or less in charge of the pub and took it on from there.
"My parents lived out on the Abbeyleix Road at that stage and both of them said they should have moved out a lot earlier for a quieter life.
"Living over the shop on the Main Street you probably wouldn't want to be in your retirement with stairs and heights.
"But all that being said, the Council is putting in a huge amount of accommodation around the corner at Church Avenue aimed at elderly people which will rejuvenate the town centre, with the library and shops there too.
"You hear that you can't get a newspaper on Main Street but SuperValu is just across the way.
"While there is talk about the doughnut effect on town centres where there isn't that many people living there, there is a lot of money being spent on the town centre at the moment to rejuvenate it and the number of empty shop units is reducing. So hopefully we're turning a corner on it."
PJ has made his mark on the business, developing it as a busy venue that attracts high profile entertainers and personalities.
"When I was in college in Dublin, I obviously enjoyed the nightlife. One of the gras I had was to go to the International Bar comedy club up there and I got to know some comedians through that.
"That was back 20 years ago. We started the comedy club here back in 2002 upstairs with Flight of the Conchords from New Zealand and that just grew wings.
"It was probably a ten-year overnight success, you could say! It wasn't for the want of trying. There was plenty of good nights and plenty of bad nights but we persevered with it.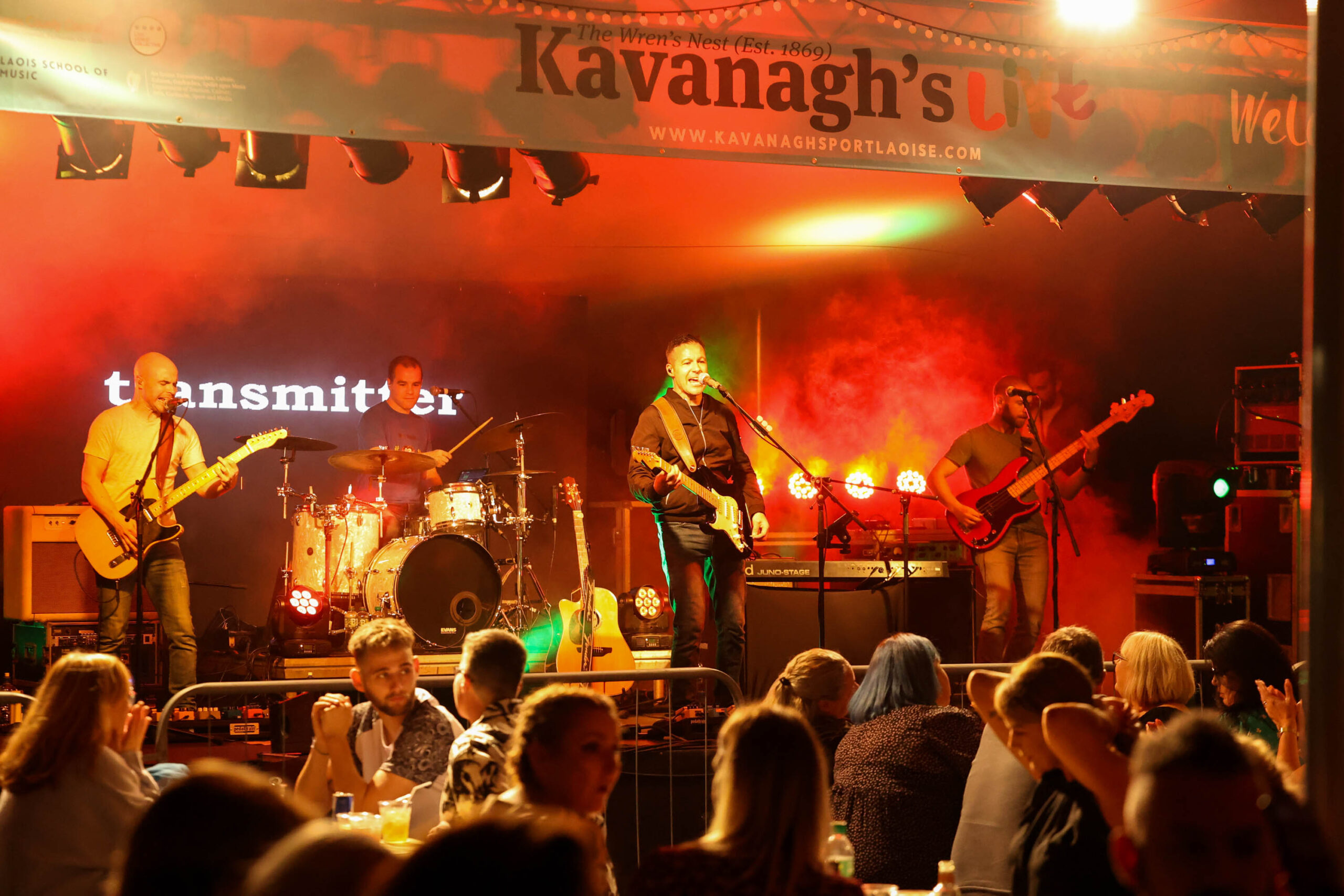 "We have Tommy Tiernan coming in a few months' time. We also promote music and comedy gigs in the Midlands Park Hotel.  That's evolved onto festivals and events as well where we have the Old Fort Quarter Festival in Portlaoise which is a 2,000 capacity venue.
"We also do outside bars, such as at the National Ploughing Championships, and others which were used during Covid.
"Years ago when my dad was here, the pool table was the focus. It's different strokes for different folks, and it was a different time.
"It was a big thing to go off and play your pool tournaments in the different pubs around the county. He had a travelling shop a long time ago as well so there was always something driving him to think outside the box.
"We started an online business during Covid, www.thebeergod.net. We are selling beers all across Ireland and into some countries in Europe.
"It's a draught beer system, it's called the Blade system. They are made by Krups, Heineken have the patent for it world-wide. We import the units from across Europe.
"We got set up for customs and excise during Covid, establishing a different business and got a warehouse and the forklifts and all that sort of stuff.
"It has been expanding ever since. We have all the boxes here right now, waiting for DPD to go out. It's items you can't get in the Republic of Ireland and some countries in Europe. They're eight litre kegs.
"They're bought by businesses such as barber shops but primarily individuals. For want of a better description, it's a beer version of a Nespresso machine. If you don't want a can or a bottle, you'll get the perfect beer at home," said PJ.
"Even before Covid, the figures were that 78 per cent of alcohol sold is for home consumption. You can open an off-licence and your captive audience is in the locality but if you have a unique selling point to diversify and sell a bit broader.
"It's very difficult for a pub to go into an online business even though a lot did takeaway pints during Covid, it's not really what we'd be into."
So how did he come up with the idea? "We had an awful lot of time off over Covid.
"We did a lot of research into it and we got a bit of help from Laois Partnership and mentoring from there as well. Through the different contacts we had made across Europe, we were able to get into the market and get going on it so we are very well set up.
"We are diversifying a bit more into alternative wines, beers and spirits in the next year that you can't get in the Irish market."
Looking to the future, PJ said it will be entirely up to the children as to whether they want to continue the business.
"If they want to, we will present the opportunity for them. If they don't, they don't, it's their own decision. "
Right now, they are showing an interest in the premises where 15 people are employed.
"They're forever asking me for bar shirts! Suzie in particular loves to polish the tables on weekend mornings.
"The two of them are big into music so if there is a drum kit left from the night before it's tested.
"Hopefully the neighbours don't hear it! They are also into sports which is a big part of our business with live sports on the whole time."
The business model for pubs has changed considerably over the last two decades and it's still changing, according to PJ.
"I find that the pub business is very customer friendly focused in terms of  say casual visits but more and more it's becoming event driven and giving people a reason to come into the pub whether for a gig or their Toastmasters every second Monday, the rally club for their meetings upstairs or for their music classes out the back.
"It's important to accommodate all those sectors. We have a room upstairs that is used six or seven nights for meetings.
"There are music classes out the back where there is a music school and parents sometimes come in for a coffee. It's something we encourage and help out with."
A lot has been done but PJ said he won't be standing still.
"There's always plans for the future. We have loads of plans for next year that we're excited about in terms of gigs.
"The town centre is getting busier so the business will have to evolve to meet the needs of the customers but we're not too bad at that.
"During Covid, we ran a huge number of events in association with the Department of Tourism which kept musicians and artists employed and kept us alive as a venue. We are hoping to evolve that market and bring bigger acts to town for the whole area to enjoy."
SEE ALSO – Mulhare and Maher take individual honours but double gold for St Abban's at Laois Cross Country championships