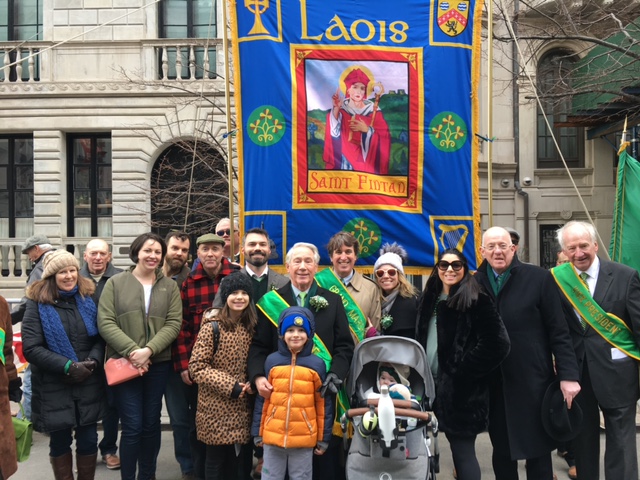 Ballinakill native Mike Dunphy was honoured by Laois County Council in September, acknowledging the work he has done in representing and promoting the county in New York.
---
Having set sail from Cobh for New York on Easter Sunday 1955 with his parents and four siblings, Mike Dunphy remembers the passengers cheering and clapping as they passed the Statue of Liberty.
"At that time, I didn't know anything about the statue," said Mike who went on to enjoy an illustrious career and become president of the Laois Association in New York.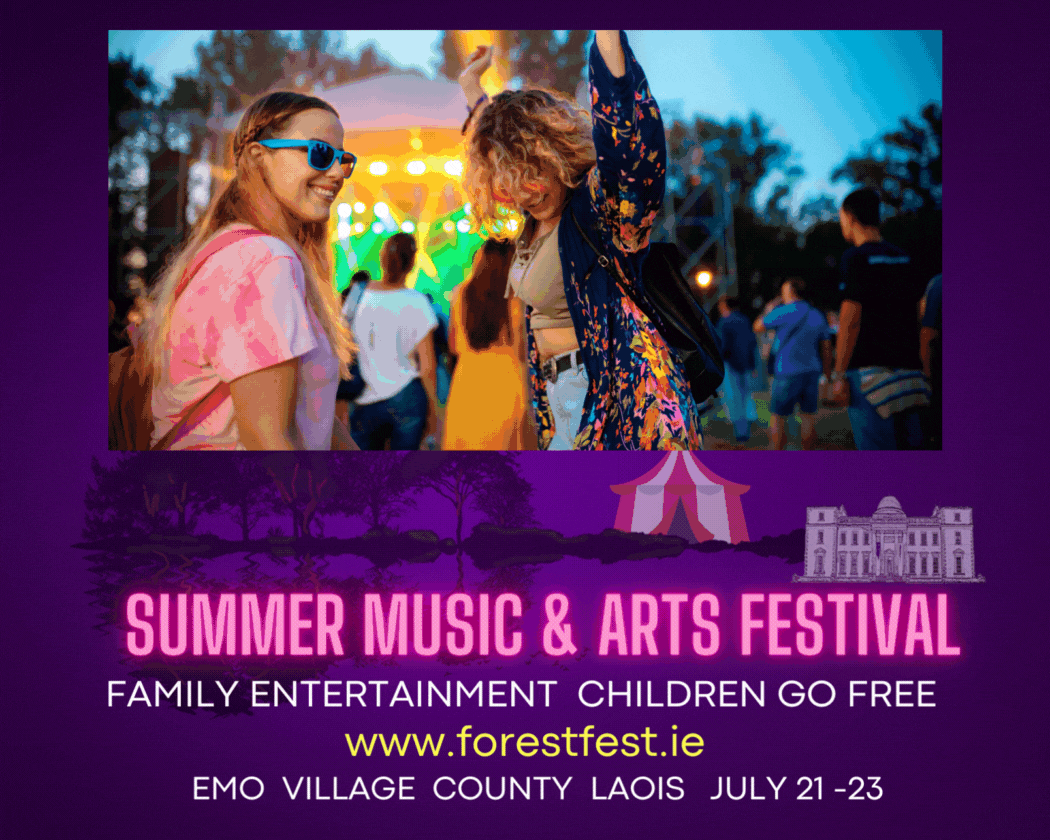 The Ballinakill native who was recently honoured with a civic reception by Laois County Council in acknowledgement of the work he has done in representing and promoting Laois in New York and New Jersey, emigrated to New York with his parents Mick Dunphy from Brandra and Kitty Dunphy, nee McCabe, along with his brothers John and Bernie and sister Kathleen.
"My mother had three siblings living in New York, and they had an apartment waiting for us on 105th Street in Manhattan. Her sister and husband lived in the same building," recalled Mike.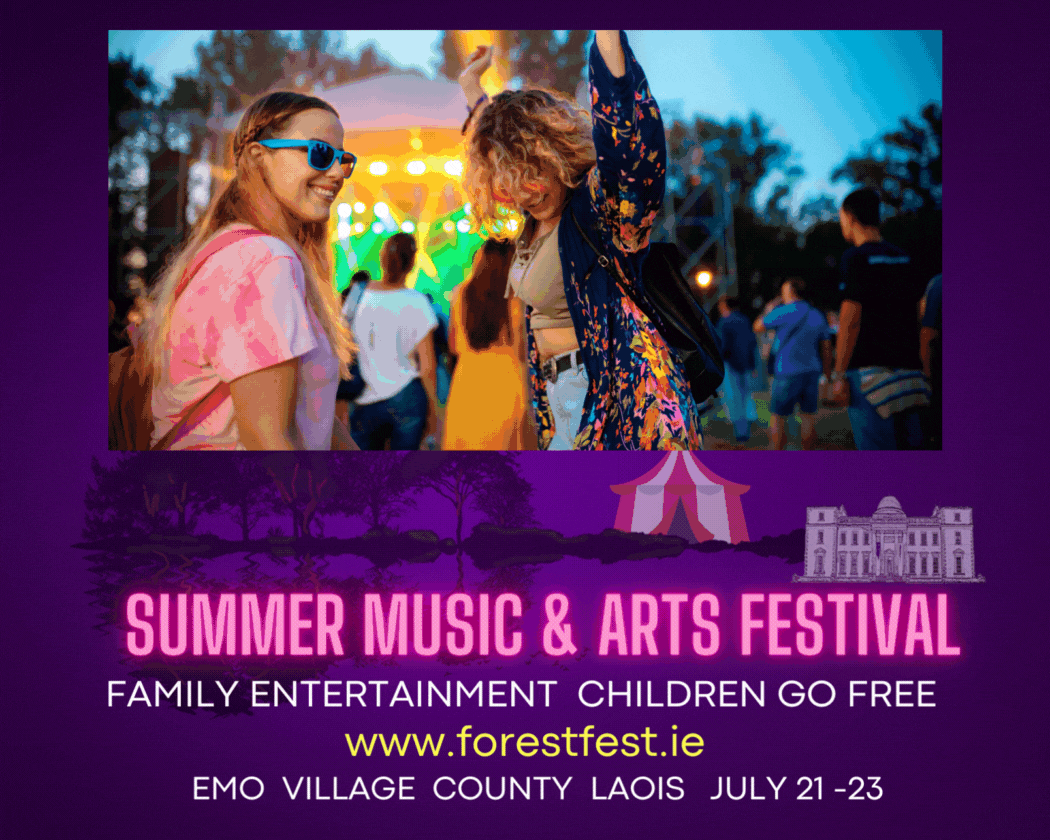 "Everything was very strange and very big. We had difficulty finding the door to our apartment, since all the doors looked alike to us," he said. It was all very different to life back on the farm in Clohogue.
"I remember the fields we had; our house with no electricity or running water. We had cows, chickens, and turkeys, and burned coal in our fireplace. We walked a mile to school in Ballinakill every day," said Mike.
"I was pretty good in my subjects, and I learned to play the tin whistle. I also have vivid memories of the shops in town and how they were decorated at Christmas time, especially the ones with toys.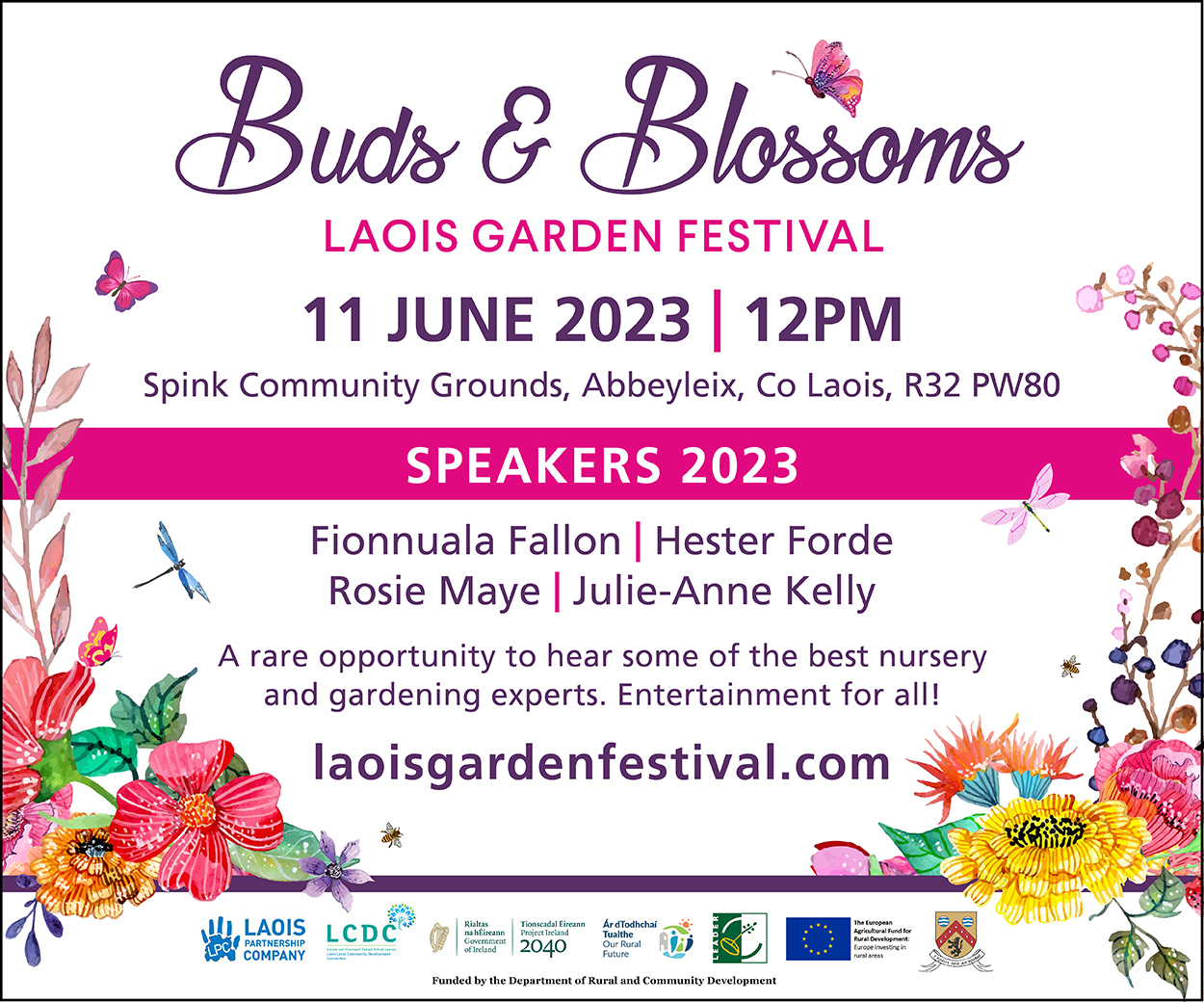 "I also remember things such as picking potatoes and putting them in a pit to keep them safe from the harsh winter and turning the hay to dry it off after it rained on the already cut hay," he said.
It took time for the family to settle. "My father had a hard time finding employment.
"After about a year, he got a job as a bank security guard but didn't like it very much. Some time later, he found a better job as an elevator operator on Wall Street for Cities Service Oil Company, where he enjoyed interacting with many of the workers and executives of financial companies until his retirement.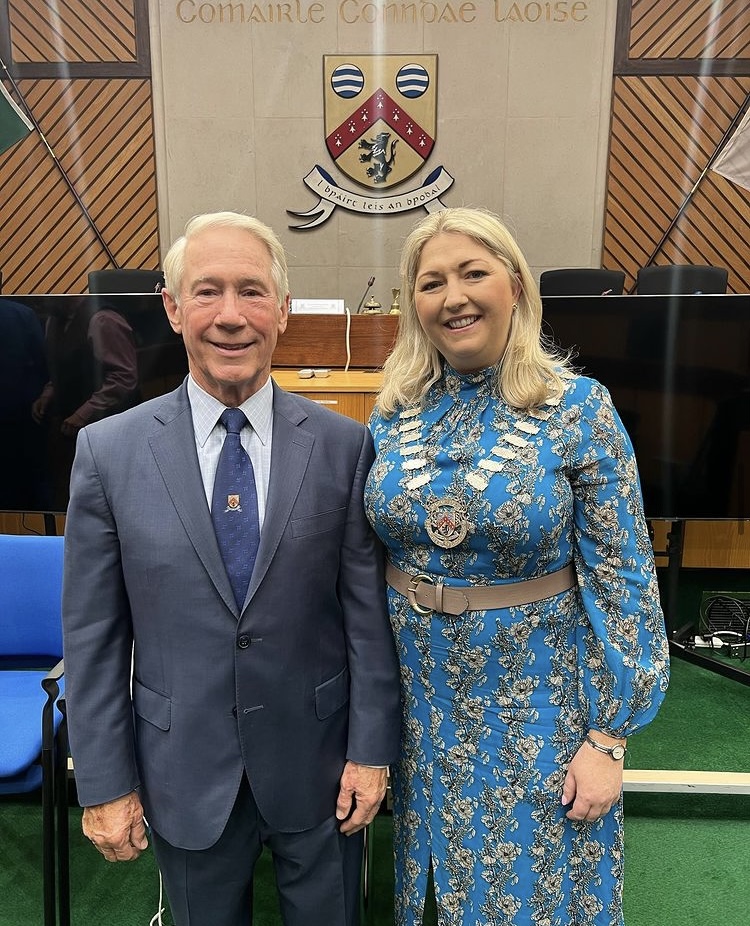 "My mother was a stay-at-home mom who had four young children in school and a new baby, Maureen," Mike said.
"My uncle, Joe McCabe, already was a member of the Laois Association in New York and my mother and father got involved almost from the beginning. We all belonged to the Laois Association and started marching with them around 1960," he said.
"I have marched in the parade every year since then, and my wife has marched with us every year since we met.
"Our children have marched every year since they were born, and now their children are continuing the tradition.
"Also, my uncle and father were the primary people in establishing the Laois football club in the early '60s, and a few years later, the Laois hurling club, and these clubs existed until the early '80s when they were disbanded due to the effects of reduced immigration," said Mike who played hurling.
His enquiring mind led him to a successful career in engineering. "My brother tells me that I was always asking my parents questions. One day when my aunt was visiting, I asked her how does a radio work. She told me to become an engineer to find out.
"That response turned out to be prophetic and stuck with me through high school so I decided to major in engineering in college.
"I earned a Bachelor's of Engineering in Electrical Engineering from Manhattan College, and a Master's of Science in electrical engineering from New York University."
After graduation, he was hired as an engineer by Grumman Aerospace.
"After working on a few projects, I was assigned to the Lunar Module programme which landed the first astronauts on the moon in 1969. I then joined Bendix Aerospace as a lead engineer and was given increased responsibilities throughout my career.
"Some other programmes include the B-2 Stealth Bomber, the F-16 Fighting Falcon, Special Operations helicopters, and Iridium Satellite System.
"After a merger with Honeywell, I was appointed as vice-president of engineering for the defense and space systems and continued in that role until my retirement.
"Then I became certified to teach high school mathematics and enjoyed the next five years teaching at St. Rose High School in Belmar, New Jersey," said Mike.
Currently, as president of the Laois Association, he is a member of the United Irish Counties and a member of the NYC St. Patrick's Day Parade organisation. He is also on the board of trustees of the Friendly Sons of St. Patrick – Jersey Shore, and he chairs their grant committee.
"We raise funds throughout the year and then award a $1,000 grant to 25 high school seniors of Irish heritage who are going to attend college.
"I also was the recipient of their Order of St. Brendan which honours Irish-born men who promote Irish heritage and traditions.
"Additionally, I volunteer for the TaxAide programme and have done so for the past nine years. This group provides a free service to anyone who need help in completing and submitting their annual federal and State income tax documentation.
"We focus our efforts on low-income people and on older (over 50) persons," said Mike.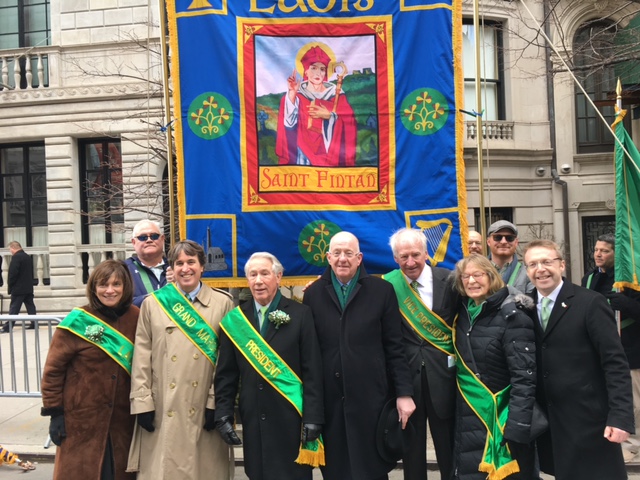 He and his wife Brooklyn-born Fran Reynolds whose parents were from Leitrim and Sligo, chose to get married on St Patrick's Day 1974.
"We have a daughter, Laura, who is married to Mike Erlinger. They have two children: Sophie (15), and Desmond, (11.) We also have a son, Kevin. He and his wife Joanna have three children: Dylan (4), Connor (2) and Maeve (seven months.)
"I am proud that the Laois Association continues to exist up to the present time, considering that there never have been many people from Laois in the U.S.
"It hit a low point in the late eighties, and we reached out to everyone we met to see if we could increase our numbers. We did get some new marchers.
"We bussed a group from New Jersey into New York and then provided them with a corned beef dinner afterward.
"We still get reasonable crowds for a small county. Unfortunately, we lost many of our stalwarts over the years, especially over the past few years.
"I am a member of a group called 'Drive to Revive' where we are running social events to attract new, younger members to the county organisations. We welcome all contact information about any Laois people in the New York area," said Mike.
Being honored by Laois County Council was, Mike said, one of the most rewarding events of his life. "Not alone were most of my family present but many cousins in Ireland were in attendance. It really was unexpected but definitely appreciated.
"Heartfelt appreciation and thanks to cathaoirleach Thomasina Connell, chief executive John Mulholland and the entire Laois County Council for making this event an extravaganza, with such a huge turnout of relatives and friends, complimentary words from many councillors, videos from friends back in America, and a reception afterwards.
"And it significantly exceeded my expectations and the Council, working with my wife Fran, kept the majority of it a secret from me. Also, many thanks to them for the certificate of recognition, the Mountmellick embroidery of County Laois, and the Vale Ceramic dish."
Mike's plans for the future are to continue volunteering for the many organisations he currently serves. "I really enjoy working with and contributing to the many groups to which I belong.
"Additionally, I want to continue spending a lot of time with family and friends, which is one of my favourite activities. Playing golf will continue to be one of my favorite things to do.
"Taking trips back to Laois for family gatherings or to play golf with my uncle Noel, Rev. Noel Dunphy, Mountmellick, will be on my priority list. Over the years I enjoyed visiting my uncle Jack and aunt Nancy in Ballinakill.
"Now I enjoy keeping in touch with their nine children, all of whom attended the Council's presentation and reception."
With indications that many school leavers and college graduates are considering moving abroad, Mike has some advice for the new crop of emigrants.
"If young people want to come to the U.S., they should come here legally, through various visas (H-1B, J-1, E-3) and work permits.
"There are many job openings in the area which can be researched ahead of time. We are experiencing high inflation and high housing costs, but that shouldn't deter anyone from coming here.
"Also, there are immigration centres in New York City, eiic.org, which do a wonderful job and can help anyone who is here already or anyone who wants to come here. They should be used as a major resource for anyone exploring work opportunities in this area."
SEE ALSO – Check out all our 2022 Remembered stories here