Small businesses and budding entrepreneurs will have the opportunity to sample 14 events aimed at helping them to start or grow their business as part of this year's Local Enterprise Week in Laois.
The initiative of the Local Enterprise Offices nationwide, supported by Enterprise Ireland and the local authorities, takes place from the 6th-10th March this year across the country.
While there are hundreds of events taking place nationally during the week, including 5 Spotlight events that are available for free online, there are also plenty of events in Laois open to all to attend, the majority of which are in person, with great presenters and great networking opportunities.
The programme includes events with a focus on optimising your business during these inflationary times, together with development and growth opportunities for those in the food business in Laois.
There is also an opportunity to get expert advice on what steps you need to get started if you are thinking of starting your own business as well as opportunities for you to meet with experts to discuss key areas of business from financial skills, raising funds and boosting your business online. 
A flavour of those taking part in Local Enterprise Week includes a seminar from Blaise Brosnan, published author and highly successful business mentor/coach who will deliver a masterclass on 'Optimise your business's bottom line during these inflationary times'. 
This workshop will give you PRACTICAL advice and guidance on how to adjust your business model, so that you and your business can trade even more successfully during this inflationary cycle. This talk will take place in Bloom HQ on Tuesday 7th March at 7pm. 
Local Enterprise Office Laois in collaboration with Laois Chamber Alliance will host a Women in Business Networking lunch on Wednesday, 8th March to celebrate International Women's Day as part of Local Enterprise Week.
This event will take place in Midland's Park Hotel from 12.30pm to 14.30pm. The special guest for this event is Dr. Diane Cooper, clinical exercise physiologist, health researcher and the founder and CEO of EduFIT.
Blathnaid Bergin set up The Business of Food in 2010.  She has devised unique courses for the business side of food and acts as consultant to many hospitality businesses – both startups and established businesses.
Blathnaid has been the Business Lecturer to the Ballymaloe Cookery School on their world-renowned Certificate Course for the past 20 years and is Food and Beverage Operations Trainer on the Licensed Vintners Association Diploma in Bar Management.
Blathnaid is also a keynote speaker at her Alma Mater, Shannon College of Hotel Management.
Blathnaid will deliver an excellent workshop on Small changes – Big Savings aimed at food service providers i.e., restaurant, cafe, pub, coffee shop & food truck owners. The workshop will be interactive and include discussion, group activities and actions to take away. This workshop will take place in the Maldron Hotel, Portlaoise from 2pm – 5pm on Thursday 9th March.
Mark Clancy, Acting Head of Enterprise Laois said: "Local Enterprise Week is a fantastic marker in the road for any business. It's an opportunity to take stock of where you are, see where you can grow, where you can innovate or maybe become more sustainable and see what resources are available on your doorstep.
"There is something for everyone and those who maybe always had that ambition to start on their own, or a great idea, this is the week to see how to get started and make it happen.
"We have an incredible line up of presenters and business owners across our many events which have been organised in collaboration with some of our key business support partners in the county.
"There are hundreds of events taking place all over the country covering everything from exporting and digital to going green or growing that idea.
"We also have five National Spotlight events taking place online and open to everyone, that include experts from a range of industries. So online or on your doorstep, I would encourage everyone to check out the schedule of events and get involved."
 Each of the 31 Local Enterprise Offices will be running a full programme of events in their area that will tackle a variety of areas relevant to small businesses and starting up.
The events are open to all, from budding entrepreneurs to established businesses and gives them the opportunity to get expert advice on key areas of business from financial skills, raising funds, exporting, and boosting your business online to future trends such as sustainability and digitalization.  
Deirdre O'Neill, Senior Regional Development Executive with Enterprise Ireland, said: "Enterprise Ireland is delighted to support and be involved in Local Enterprise Week. Working closely with the Local Enterprise Offices across the year, this week is a chance for small businesses to focus on key areas, the areas where they can make a real difference for their future ambitions.
"This may be in relation to digitalization or becoming more sustainable, or those who have ambition to grow internationally and begin to find new markets.
"If you are a business who wants to grow, internationalise, or innovate, then there is something for you at Local Enterprise Week and we would encourage every small business out there to see what is happening in their area this year and take that next step".
Details for all the events taking place across the country during Local Enterprise Week, from March 6th to 10th, are available at www.LocalEnterprise.ie/Week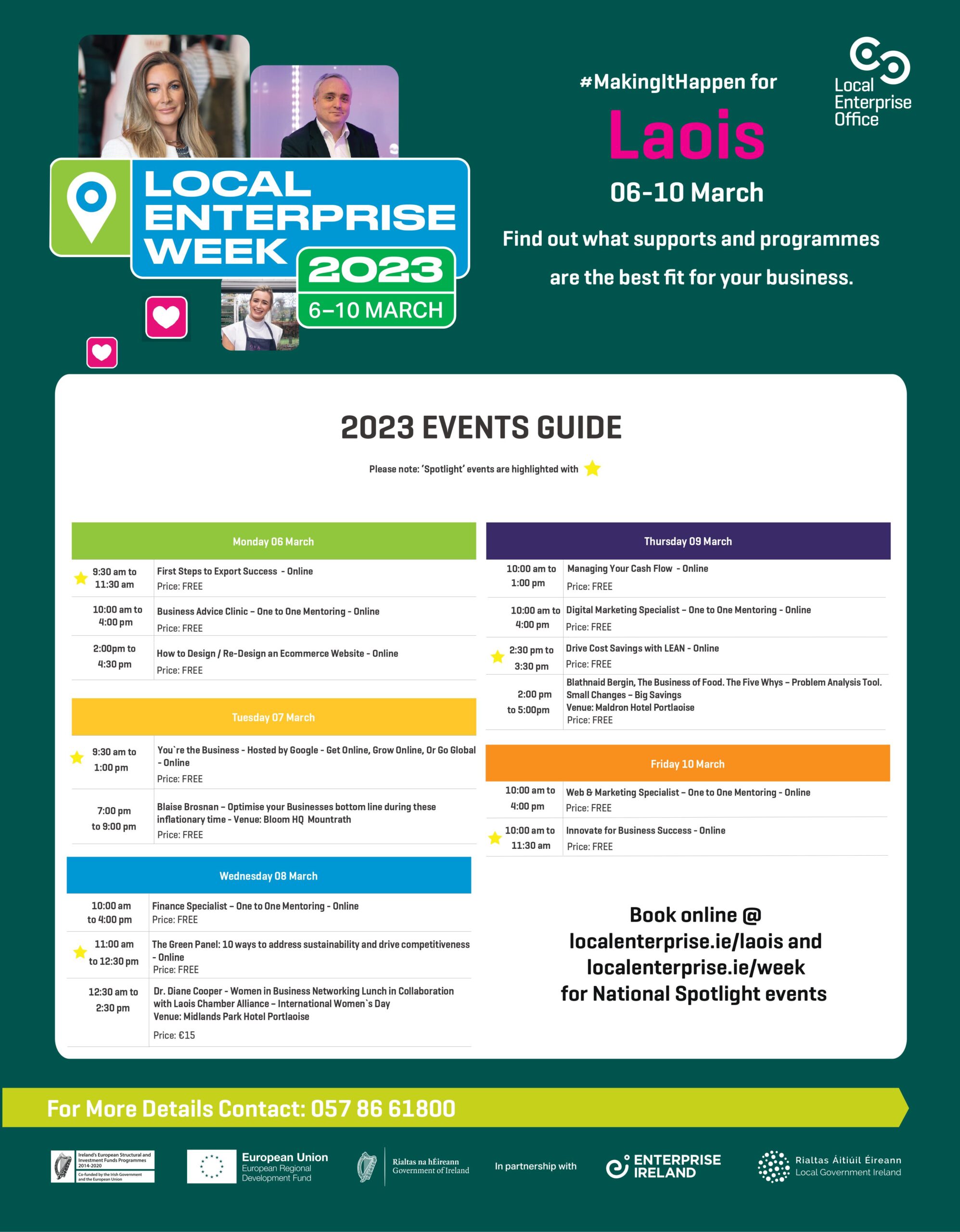 Please check out Local Enterprise Office Laois website – all events and mentoring clinics need to be booked online and places are limited. 
The full calendar of events for Local Enterprise Week is  available through www.localenterprise.ie/laois or www.localenterprise.ie/week.  Most events are Free of charge, but all participants must register online at www.localenterprise.ie/laois All local businesses and aspiring entrepreneurs are invited to take part.  
For further information on all our events please contact Local Enterprise Office Laois on 057 86 61800 or by email localenterprise@laoiscoco.ie 
5 National Spotlight Events (Online & Free to attend)
MONDAY, MARCH 6 – 9.30am to 11.30am
First steps to export success
Considering expanding into international markets? Or are you an early-stage exporter? Then this Spotlight event is for you. This webinar is designed to outline the steps to export success. 
TUESDAY, MARCH 7 – 9.30am to 1pm
You're the Business @ Local Enterprise Week
No matter where you are on your digital journey, You're the Business is the programme to help you go further. As part of Local Enterprise Week, Google are hosting three online trainings, live from Google in Dublin, for businesses that are looking to Get Online, Grow Online, or Go Global.
WEDNESDAY, MARCH 8 – 11am to 12.30pm
Green, Sustainability and Competitiveness
The Green Panel aims to inform, inspire, and engage owner managers and their key staff in how they can implement green technologies, processes, and products to their business in order to be more competitive.
THURSDAY, MARCH 9 – 2.30pm to 3.30pm
Drive Cost Savings with Lean
Looking for ways to improve competitiveness and productivity in your business? This online panel discussion is a must for all businesses ambitious for growth.
FRIDAY, MARCH 10 – 10am to 11.30am
Innovate for business success
Innovate: to introduce improvements through new methods, ideas, or products. Hosted by Noel Davidson of The Entrepreneurs Academy, this lively event will feature expert speakers.
It will also outline the range of government and financial supports to drive innovation in your business.