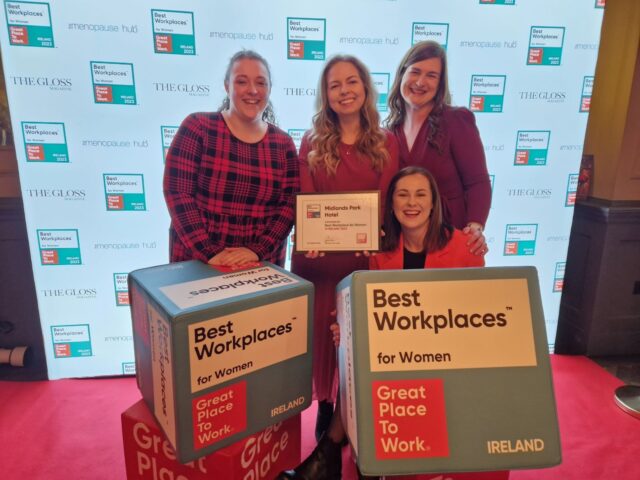 Midlands Park Hotel, a four-star hotel in the heart of Portlaoise, have been awarded as a Best Workplace for Women 2023.
The awards ceremony took place in conjunction with Great Place to Work in the beautiful Stella Cinema in Dublin.
There were 30 companies from all over Ireland that were nominated as a best workplace for women. 
Four representatives from Midlands Park Hotel represented the company on the day.
There were talks from Loretta Dingam from the Menopause Hub and Rose O' Donohoe from Challenge Management Coaching Consultancy.
The Hotel's Rooms Division Manager Joyce features in an interview in The Gloss Magazine discussing her career in Midlands Park Hotel.
Jennifer Emerson, Director of People and Culture at the Midlands Park Hotel, spoke about the award: "We are truly honoured to receive this prestigious accolade.
"We are very fortunate to have 126 women who share their knowledge, mentorship, support to each other and create strong bonds between all our teams.
"We are immensely lucky to have proud women working here from 23 different nationalities, we feel that we are representing our community and the wider female population.
"Thank you to all our women warriors here at Midlands Park Hotel, Great Places to Work for recognising our wonderful Laois Hotel and the amazing women who continue to support us at the Midlands Park Hotel".
SEE ALSO – JOB VACANCIES: Midlands Park Hotel seeking to fill a variety of roles