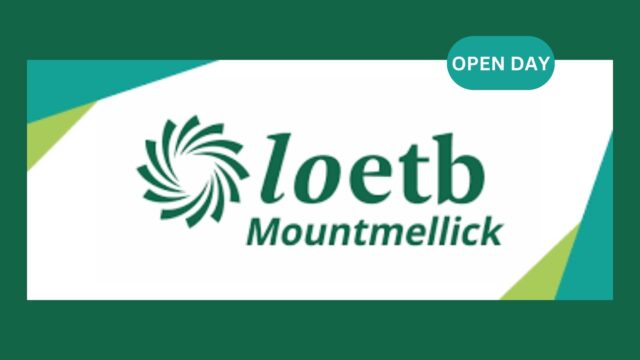 Education and Training
Mountmellick FET Centre provides a range of full and part time options from Level 3 to 6 on the National Framework of Qualifications.
Part-time courses
There are multiple part-time courses on offer in our centre covering a wide range of topics.
Some of the course on offer include:
Literacy Classes
Beginner computers
English for speakers of other languages (ESOL)
Horticulture
Electronics
Cookery
Introduction to Catering
Art, Craft and Design
Painting and Decorating
Word Processing
Healthcare
Early Childhood Care and Education
Health and Fitness
And more based on demand from within the community.
Traineeship
Traineeships are available in Barbering, Medical & Office Administration as well as Pre-apprenticeship for trades.
Return to learning
The Youthreach Programme is open to young people aged 15-21 for those who have left school early. The programme offers a range of courses at Level 3 and Level 4.
Community Education
Community education is also at the core of what we do at the centre. Community education course on offer include:
Sewing
DIY
Hairstyling
Basket weaving
Music
Beauty, Nails and Make-up
Gardening and Horticulture
Dress Making
Mindfullness
Cooking
Digital photography
Art and Craft
Woodwork
Staying Connected
Creative Writing
Mountmellick FET Centre has been fully upgraded and benefits from state-of-the-art facilities.
These include:
pre-apprenticeship room
fully equipped kitchen
installation of a new IT room
Community Ethos
"Mountmeillick's FET Campus continues to evolve and grow to ensure we meet the changing needs of our learners, employers and our community," says the centre manager.
"My philosophy is to remain student-centred and community-minded.
"Our staff are ready to teach, mentor and care for our learners who are beginning their journey here.
"We promise an experience that includes involvement, personal growth and academic quality which will prepare learners for transfer onto other courses or the workplace. This is what we do."
Discover what we have to offer at our open day
Tour the facilities
Meet tutors and students
Register for September
Meet our Adult Literacy, Community Education and Adult Guidance Teams
When: Tuesday, May 23
Time: 9.30-12.30 and 18.00-20.00
Location: R32 TND3
Contact: mountmellick@loetb.ie or 057 8624196
---