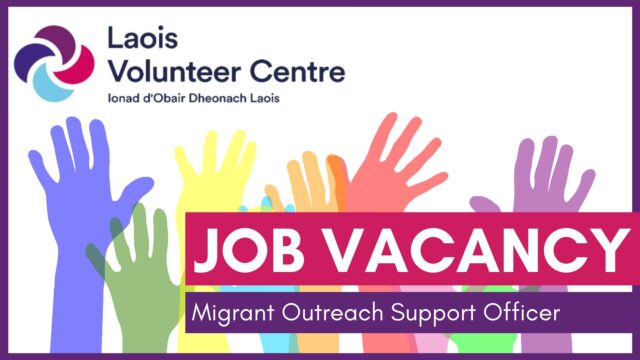 Laois Volunteer Centre CLG are currently seeking to hire a Migrant Outreach Support Officer. 
This is a part-time, fixed-term 35-week contract, 20 hours per week.
Job Title: Migrant Support Officer
Reporting to: Manager, Laois Volunteer Centre
Location: Laois Volunteer Centre, Unit 7, Bloom HQ (remote working hub), Mountrath, Co. Laois, R32DT9F. However, the role will require a reasonable amount of travel, within and around the county, to promote the Centre and to engage with migrants and people from new communities.  Infrequent travel to other volunteer centres (in Ireland) may also be required as part of the role.
Overview
Laois Volunteer Centre is the primary resource for both volunteers and volunteer-involving organisations (VIOs) in Co Laois. Our mission is to promote the value of volunteering and increase the range and quality of volunteering in Co Laois.
Laois Volunteer Centre provides a professional, person-centred approach to supporting volunteers and volunteer involving organisations across Co. Laois. 
Laois Volunteer Centre was established in 2021 and the aim of the service is to become a "one stop shop" for volunteerism in county Laois.
The service builds upon the existing volunteering infrastructure within the county, and our role is to provide advice and support to members of the public (to become volunteers) and to not for profit/charitable organisations who require the support and assistance of volunteers to carry out their vital work in the community. 
The Migrant Outreach Support Officer will play a key role, working with the Manager, Development Officer, Outreach Officer and Board of Directors in creating, planning, organising and delivering a migrant outreach support service in the county.
They will also be involved in promoting volunteering to members of migrant/new communities in Co. Laois and in the ongoing promotion of the Centre to various stakeholders within and around the county. 
There is a healthy and enthusiastic appetite for volunteering in Co. Laois and to date, Laois Volunteer Centre has recruited approximately 1,000 volunteers and 80 organisations. 
We have been involved in event volunteering at Shine in Emo, Laois Africa Day and The Old Fort Festival. 
In December 2022, we secured funding to recruit a Ukrainian Support Worker and this has enabled us to help members of the Ukrainian community to integrate more easily into Co. Laois through participation in volunteering and other community events.
Primary Purpose of the Role of Migrant Outreach Support Officer:  
This position will focus on promoting volunteering and civic participation across migrant/new communities in Co. Laois. 
In order to fulfill this objective, this position will focus on building relationships with people from migrant/new communities through information provision and support.  Assisting migrants to identify and secure suitable volunteering roles in the county is the primary focus of this position. 
The Migrant Outreach Support Officer will report directly to the VC Manager.
Outreach, Communication & Support:
Deliver a fit for purpose Migrant Outreach Service to enable the Centre to meet its strategic objectives. 

Work with the other Volunteer Centre staff to create, plan, organise and deliver a Migrant Outreach Service in various public settings and in Direct Provision Centres etc. 

Presenting information about volunteering to groups and individuals e.g. the range of Volunteering roles in the county, the benefits of volunteering to the individual and the community etc.

Assisting migrants/people from new communities to understand the concept of volunteering and provide factual/practical information about the process, that is, how to volunteer/I-VOL. Achieving targets set on increasing migrant participation in volunteering is key.

Whilst conducting outreach, the candidate will, in effect, be a spokesperson for Laois Volunteer Centre, communicating its aims and objectives, promoting engagement with the service, registering members of the public for volunteering opportunities and engaging with organisations who need volunteers. 

Collaborating with various local stakeholders/services to develop and deliver initiatives that will enable migrant/new communities to participate in meaningful volunteering activities

Liaising with the Outreach and Development Officers and local volunteer-involving organisations/not for profits to develop inclusive volunteering roles and referring potential volunteers

Attending networking and promotional events on behalf of Laois Volunteer Centre

Providing ongoing assistance to Laois Volunteer Centre's existing volunteering projects

Keeping accurate records on the CRM (i.e. I-VOL) software

Contributing to the implementation of our workplan activities, delivering outreach, contributing to website and social media content and participating in various initiatives as required

Work with the Manager and other staff to ensure that there is publicity and communications for Laois Volunteer Centre when appropriate.

Work with the Manager and other members of the Laois Volunteer Centre team to identify and reduce the barriers to volunteering that marginalised groups such as migrants face.
General Administration Duties:
Provide administrative back up and support to Laois Volunteer Centre Manager, Development Officer and Outreach Officer in the delivery of quality-based, person centred volunteering service within Co. Laois.

To undertake administration duties to support communication, maintenance of website, promotion, social media etc.

General administrative duties as they relate to the post including reports as requested.
Essential criteria
Ability to work on own initiative

Ability to schedule, diarise and prioritise work

Relevant third level qualification

Flexibility, with a willingness to travel and work outside normal office hours – some of the work associated with this role will take place in the evenings, and occasionally at weekends.

Excellent people/interpersonal skills.

Excellent communication skills.

Strong presentation skills.

Computer/IT literate including proficiency in Microsoft Office 365 including Word, PowerPoint; Salesforce or similar CRM package.

Full clean driving licence and use of own car.
Desirable criteria
Commitment to the development of volunteering in Laois. 

Experience of working in a communications or outreach role in a not for profit/charitable

organisation or in the private sector.

Awareness and understanding of the experiences and issues facing migrants.

Experience of the community and voluntary sector including issues relating to volunteering in Ireland.

First-hand experience of being a volunteer.
Core Competencies 
Communicates effectively (through all modes of communication, and at all levels, both internal and external to the organisation)

Interpersonal skills

Person-centred approach.

Drive (self-motivated) and Commitment (to achieving the aims and objectives of Laois Volunteer Centre in line with its work plan, ethos and policies).

A collaborative (constructive and progressive attitude to working as part of the staff team and ability to develop partnerships with the wider community).
Hours of Work
20 hours per week for 35 weeks 
To Apply
For further information, please contact the Manager BY EMAIL ONLY on info@volunteerlaois.ie. This post is funded by The Department of Community and Rural Development. For further information or to submit your CV, please email the Manager at info@volunteerlaois.ie ' 
---
If you would like to advertise a job vacancy, get in touch with LaoisToday by calling 057 8670722, 085 7180700 or emailing info@laoistoday.ie
SEE ALSO – Check out the dedicated jobs section on LaoisToday