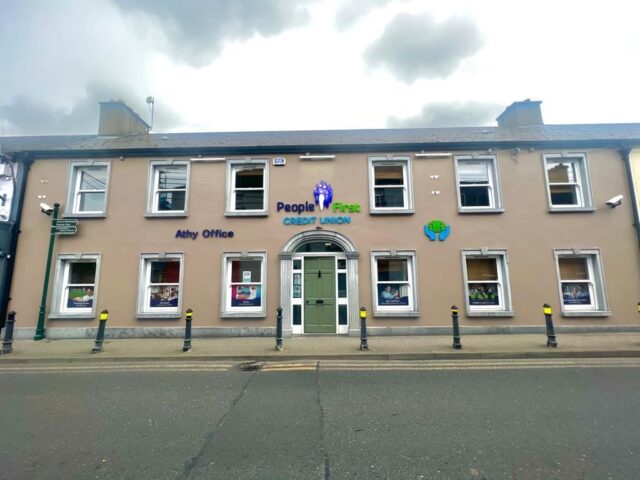 People First Credit Union Ltd is now inviting applications for the following position
Loans Officer – Athy Branch (Ref LO 2023 LT).
About People First Credit Union
People First Credit Union is a progressive financial services provider, with over 41,000 members.
We have branches in Portlaoise, Abbeyleix, Stradbally and Athy. PFCU is firmly rooted within the community and our core value is to serve our members and the community, whilst striving to maintain the highest professional standards.
At People First Credit Union, we look to recruit enthusiastic, friendly and motivated employees.
Principal responsibilities of the Role:
The Loan Officer (LO) reports directly to the Head of Lending and will work closely with Head of Lending to deliver quality loan services to members. 
The LO will be the point of contact for existing and new member loan queries and applications across all business channels & be responsible for underwriting process for all lending approvals at Athy branch and online applications assigned to you. 
A key part of the role will be managing member engagement throughout the lending process, particular at application and underwriting to ensure;
All relevant loan documentation is gathered, recorded and documented correctly

Turnaround times are as fast as possible and all loan and AML documentation is in order 

All communication to members is designed to optimize conversion from initial loan application to loan drawdown in a swift and efficient manner.
Key Responsibilities:
Be the point of contact for the loans in Athy branch, online and phone. 

Ensure, in all member engagements that communication is accurate, clear, concise, and in compliance with People First Credit Unions Loan Policy and Procedures.

Understand fully the benefits of PFCU products and be capable of selling these valued benefits to

members (new and existing) across all channels.

Responsible for the follow up of all loan applications for which you are assigned in a timely fashion and manage your work flow.   

Taking & processing all loan applications assigned to you and following up diligently, across all business channels, be it; 

Over the counter 

Phone

Online/App 

Email
Grants loans to members in accordance with the Rules of Credit Union as well as the policies and procedures set out in the Credit Union's formal written Credit Policy & Procedures documents

Operating strictly within the specified limits of responsibility and authority and practicing responsible lending & in accordance with the Credit Union ethos.

Conducts loan appraisal interviews, face to face, over the phone or online and other meetings with members; 

Obtain all necessary information in a courteous and efficient manner; 

Exercise good judgement as to the suitability / appropriateness of loan applications;

Accepts and resolves queries from colleagues or members as required obtaining support / assistance from the Management team when necessary

Contribute to Lending Department meetings, communicating member needs aimed at improving the member experience and efficiencies and helping to develop a member centered, dynamic and proactive lending function.

Help develop a "value" based sales ethos and member centered lending service that can be followed by other areas of the credit union.

The work location will be Athy but occasionally may be required to attend Portlaoise, Abbeyleix or Stradbally offices as business needs arise. 

The above list is not exhaustive and may be subject to change in line with the needs of the credit union.
The successful candidate should have the following attributes: 
Self-motivated individual

Right First Time work ethos and excellent attention to detail.

Excellent organisational skills, with proven ability to prioritise work.

Consistently meet service commitments to members and the loans department.

Diligent in dealing with members immediately across their preferred communication channel

to best enable conversion from application to loan payout.  

Ability to genuinely engage and listen to members, understand their needs and best match those needs with People First Credit Union's product suite.

Excellent communication and interpersonal skills. 

Excellent Microsoft Office skills

A Team player within lending department and wider PFCU team, focused on continually improving the service & product offering and efficiency of PFCU. 

Discretion in dealing with confidential information.
Required Experience and Qualifications:
Min APA in Loans and working towards QFA qualification with 1 year credit union or financial services experience.

Loan payout & fulfilment experience essential. 

Credit & Lending experience essential 

Underwriting experience desirable. 
This position is a full-time contract with a probationary period of 6 months applying to Loans Officer position. 
To Apply
Applicants should state clearly the position they are applying for by quoting the reference PFCU LO 2023 LT
Applications including CV by email only addressed to Jane.Watts@peoplefirstcu.ie
Closing Date for receipt of applications is Monday 17th August 2023.
Short listing will apply and assessment will be done on the basis of the information provided in the application.
People First Credit Union Ltd is an Equal Opportunities Employer
---
If you would like to advertise a job vacancy, get in touch with LaoisToday by calling 057 8670722, 085 7180700 or emailing info@laoistoday.ie
SEE ALSO – Check out the dedicated jobs section on LaoisToday