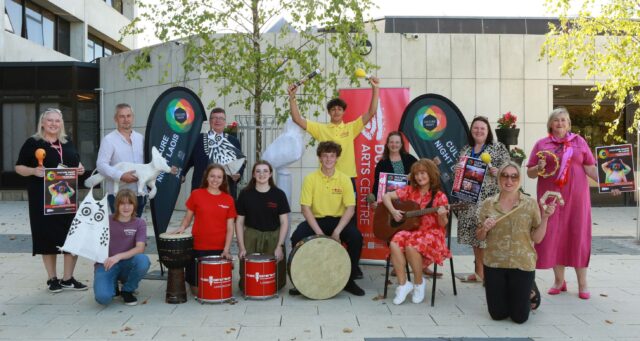 Culture Night/Oíche Chultúir is a national moment, celebrating culture, creativity and the arts, and seeks to actively promote the belief that this rich and varied culture is alive, treasured and nurtured in people's lives, today and every day.
Laois have a broad spectrum of events to enliven the county happening until late. 
The events will take place on Friday, September 22, and entry to all events is free to the public.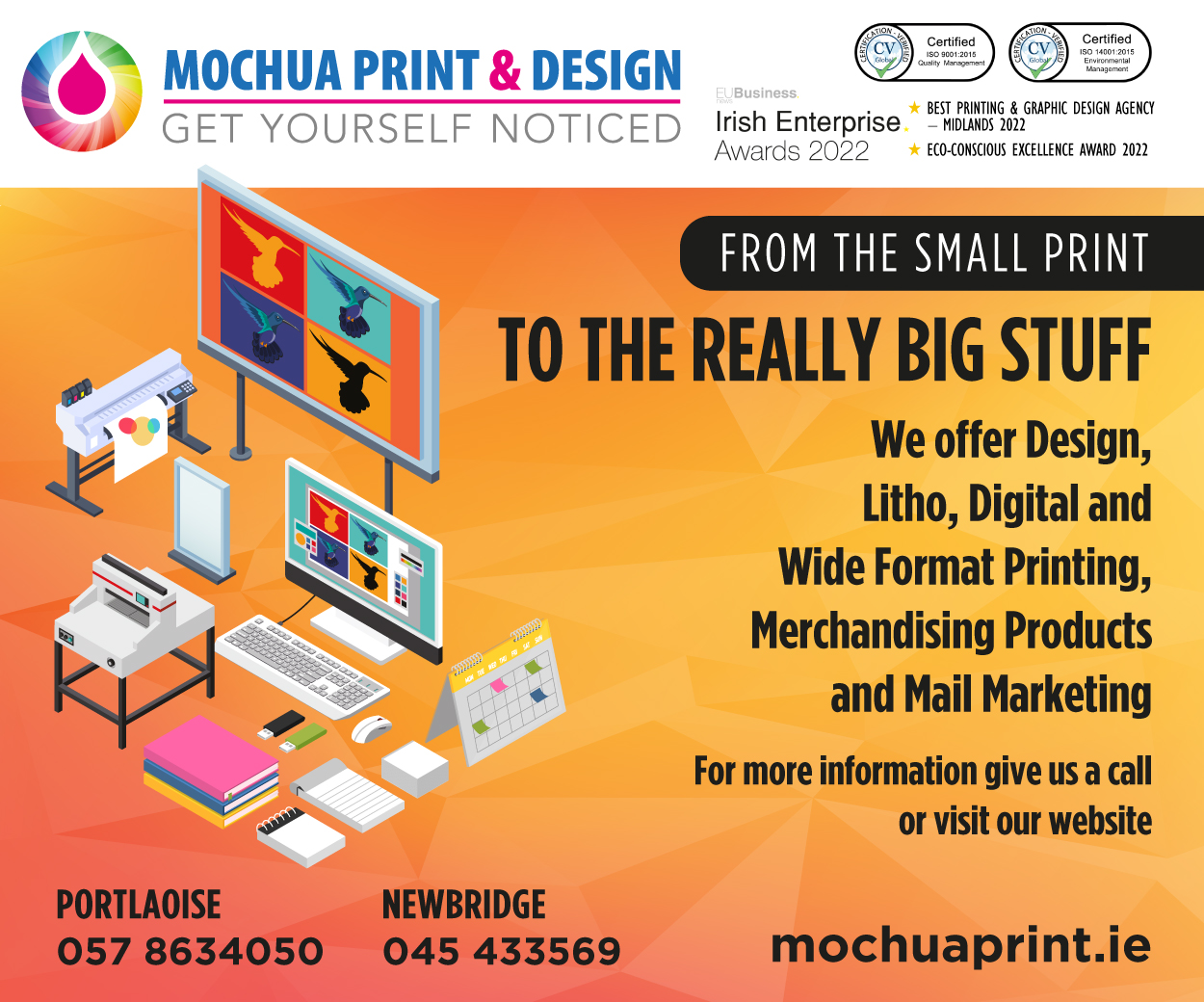 Local groups, musicians, artists and venues have come together to make this a night to remember for everyone in the county.
Portlaoise
The official launch of 'Fragments of Time and Space,' a cast terrazzo sculpture and bench created by artist David Beattie will take place at its permanent home, outside the Library on Main Street Portlaoise at 4pm.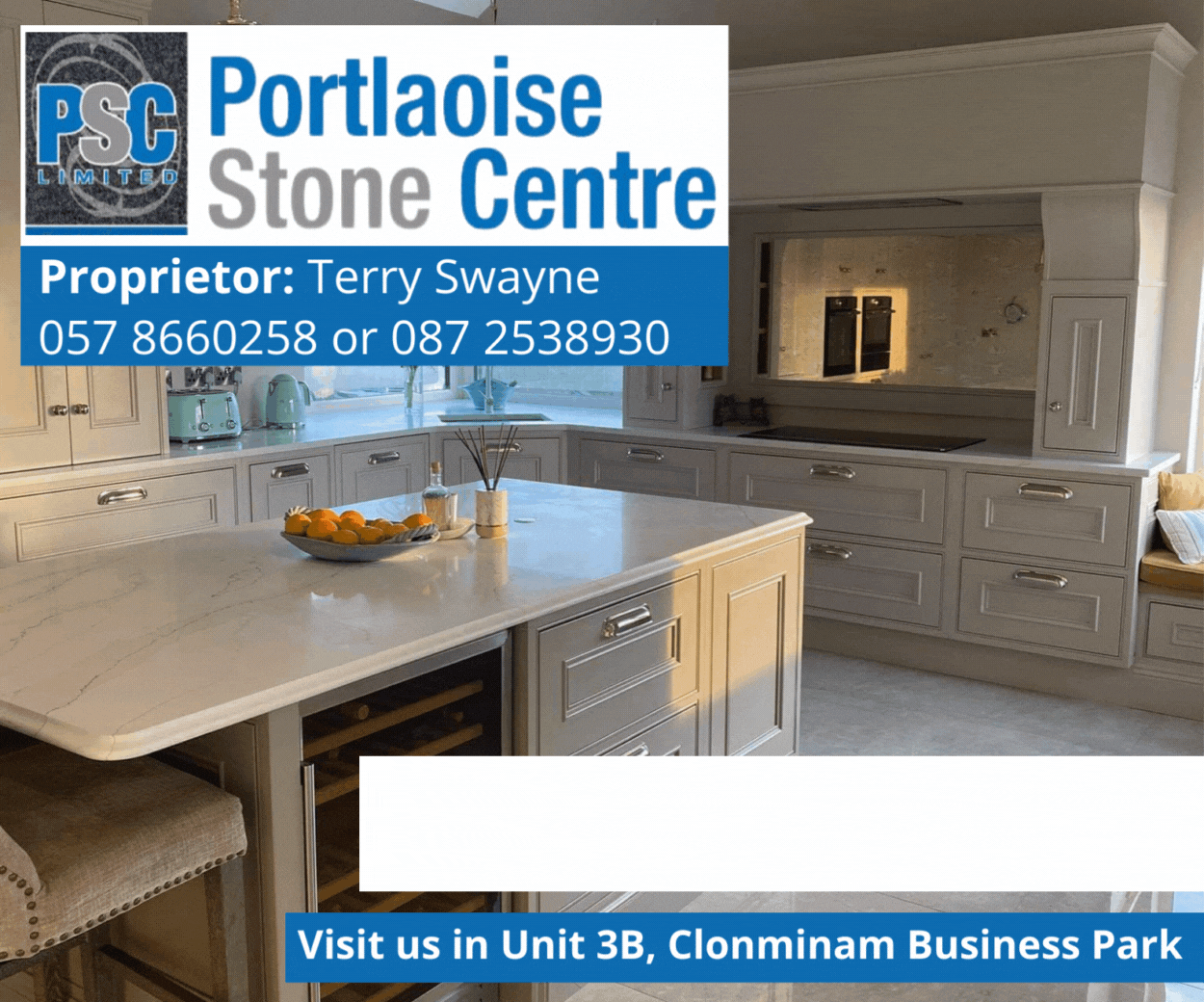 The sculpture was created in response to the musical tradition of Portlaoise and as part of the new Cultural Quarter and Library in the centre of Portlaoise.
The curved bench includes an inscription from Laois born writer Pat Boran 'listen: the streets still dreaming us' that further extends this invitation to listen.
Refreshments will be served.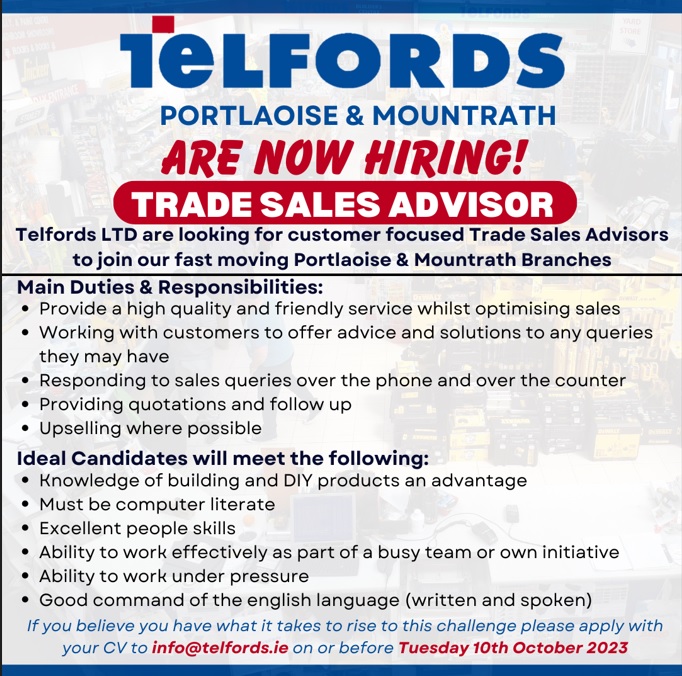 Laois Africa Support Group will host a staged performance through music and dance, poetry, storytelling and food at the Portlaoise Library from 5pm to 6pm.
Dunamaise Arts Centre
Explore, Experience and Enjoy arts and culture at Dunamaise from 6pm to 10pm.
The arts centre will also be celebrating its new re-brand and website with a wonderful line.
All events are free for all to enjoy. Details below but lots more free activities to enjoy on the night.
Special guest Laois Influencer and Digital Media Artist, Mary Claire will join in on the night to celebrate all things Laois Culture.
Artist Demo and Talks – Meet local artists Paddy Critchley and Greg Hallahan, exhibiting individually at Dunamaise.
Greg's work is exhibited in the café gallery space, where he will give a live demonstration of his artwork from 6pm, using recycled cardboard.
Paddy will open his new exhibition of paintings; Ragged Trousers from 7pm. Paddy is interested in the representation of working-class life.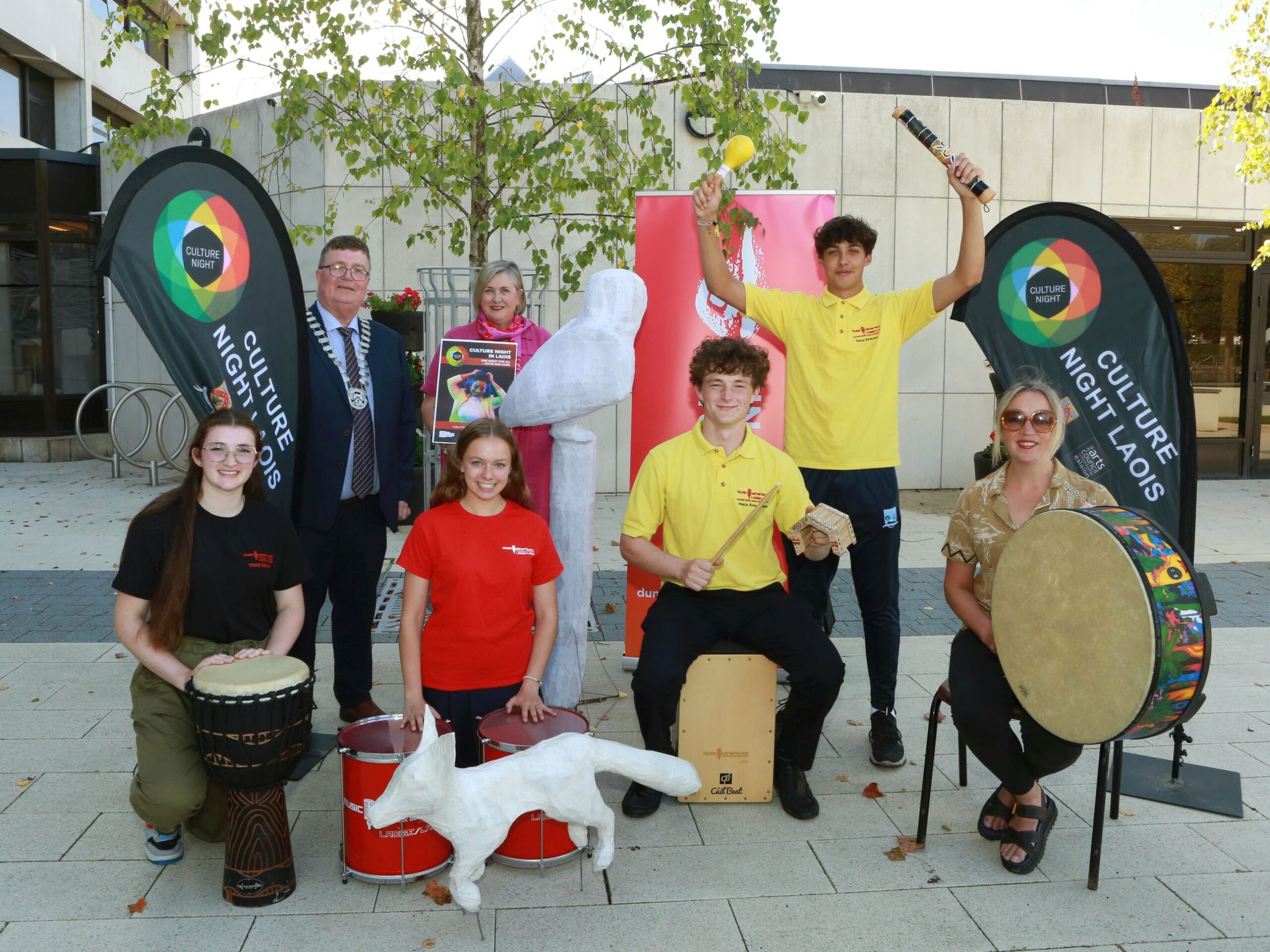 Portlaoise Musical Society will also be at Dunamaise tonight to launch ticket sales for their sensational 2023 show, with DJ Stephen Keegan banging out some musical tunes.
Music lovers can experience the exquisite sounds of NOTIFY, with Séamus and Caoimhe Uí Fhlatharta at Dunamaise at 8pm.
NOTIFY features six Irish traditional and jazz musicians, lead by concertina player Padraig Rynne.
Teaming up with Sean-Nós musicians Séamus and Caoimhe Uí Fhlatharta; harp, fiddle and sean-nós singing for this very special gig from 8pm (pre-booking advised).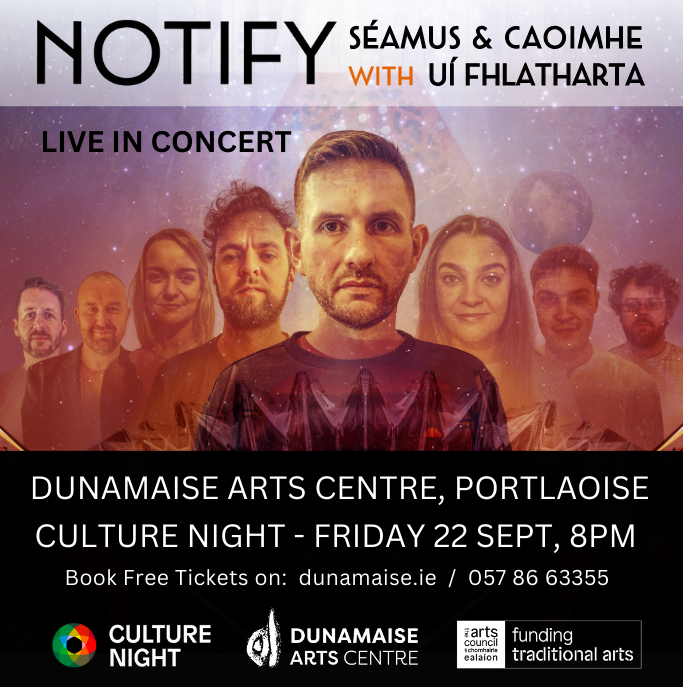 Mountmellick
Emer Dunne & Folk Threads is a unique, versatile folk music show that brings together the ethereal voice of Emer Dunne.
Venue: The Balcony Theatre, Mountmellick Community Arts Centre, Parnell Street, Mountmellick, Co.LaoisTime: 8.30pm – (with interval) until 10.20pm
Mountmellick Arts Collective Evening of Culture by the Mountmellick Writers Group – Mountmellick Arts Collective will host an evening of art, poetry, film, fiction, memoir and music.
The collective will launch the second issue of their magazine on the night. All are welcome. Refreshments will be served.
Venue: Mountmellick Library, O'Moore Street, Mountmellick, Co. Laois, R32PX61
Time: 7.00pm – 8.30pm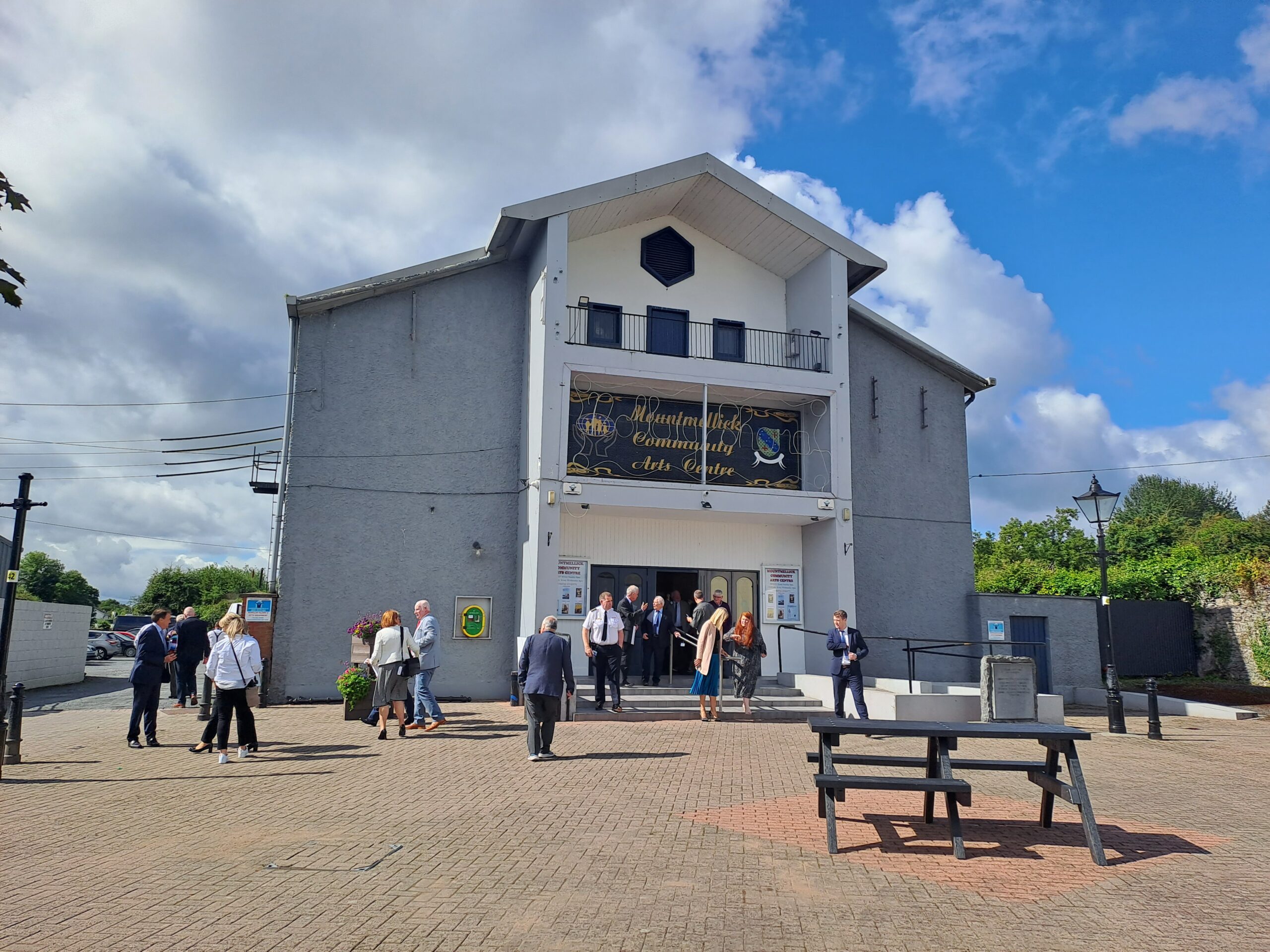 Navigation exhibition by Hazel Restrick – The Gallery in Mountmellick library is delighted to host Laois Artist Hazel Restrick's exhibition Navigation, a captivating multimedia exhibition that delves into the artist's quest to find her place in the world.
A graduate of Limerick School of Art and Design, her work explores the profound connections between these spaces and our inherent sense of belonging.
Viewing during library opening hours and from 6.30 to 8.30 p.m.
Mountmellick Comhaltas –  Mountmellick Library, O'Moore Street, Mountmellick, Co. Laois, R32PX61
An evening of Traditional Irish Music by children and adults from Mountmellick Comhalatas Group, all are welcome to join in from 6.00pm – 7.00pm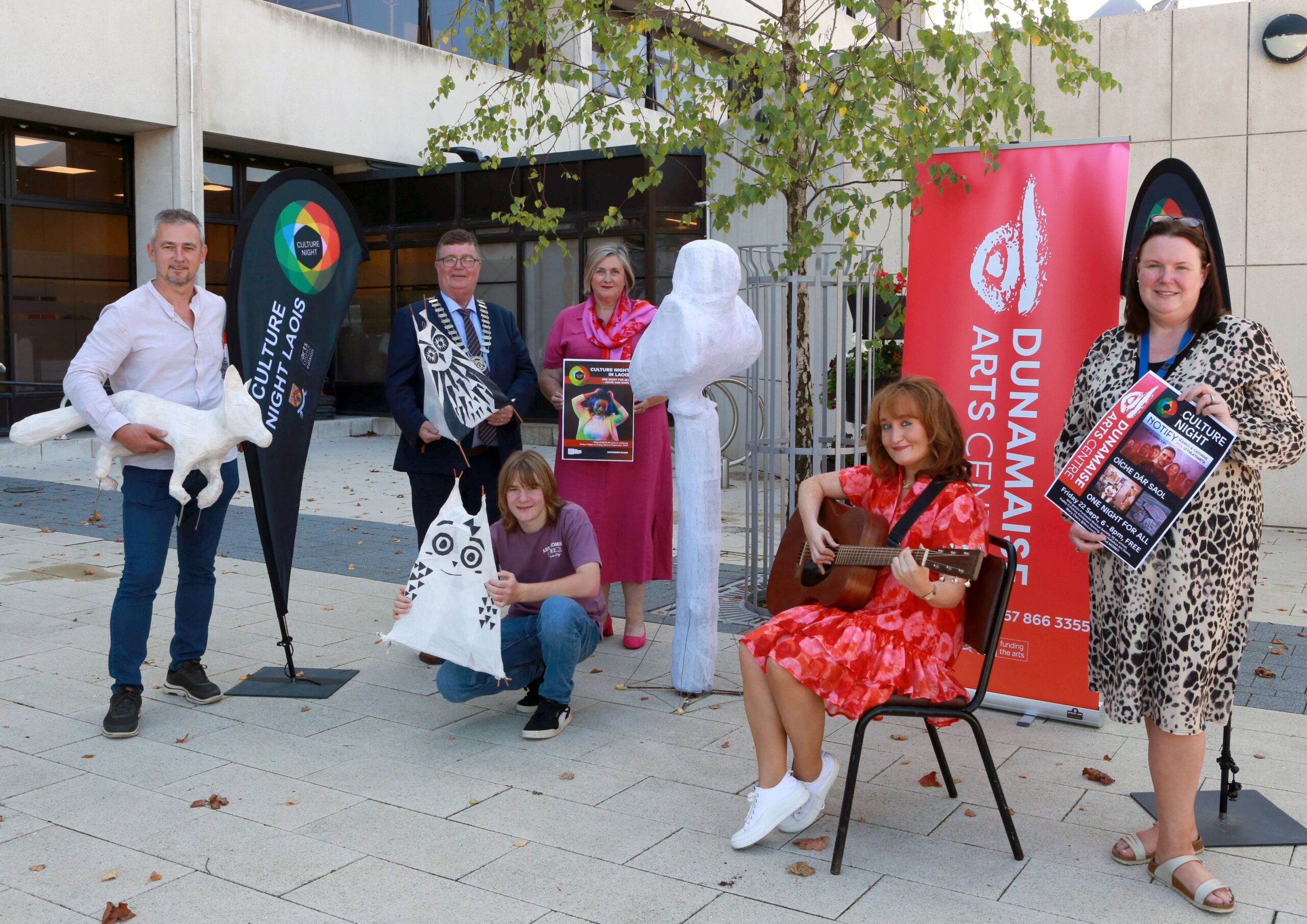 Stradbally
Stone Sculpture, Áille na hÁille by Benedict Byrne – A classical stone sculptor, using only hammer and chisels to create forms and textures as has been the way for centuries.
Electrical or mechanical tools are not used in his work. Benedict though originally from Dublin is now living in Sicily but spends time in Stradbally working on projects every few years.
McKeon Stone Ltd, Brockley Park, Stradbally, Laois, R32 XH52 from  4.00pm – 6.00pm
Local Materials, My Vision. Solo sculpture exhibition by Evgeny Chubatyy – The concept of this event is to showcase the boundless creativity of artists, emphasizing that there are no limitations in artistic expression, and any available materials can be used to bring their ideas to life.
The exhibition will feature a diverse range of art forms, including paintings, sculptures, designs, and craftworks, all created by Evgeny over the past 3 years, deeply influenced by his 7-year experience of living in Vicarstown, Laois, Ireland.
Official opening at 6.30pm at The Gallery, Laois Arthouse, The Arthouse and Library, Stradbally, Co. Laois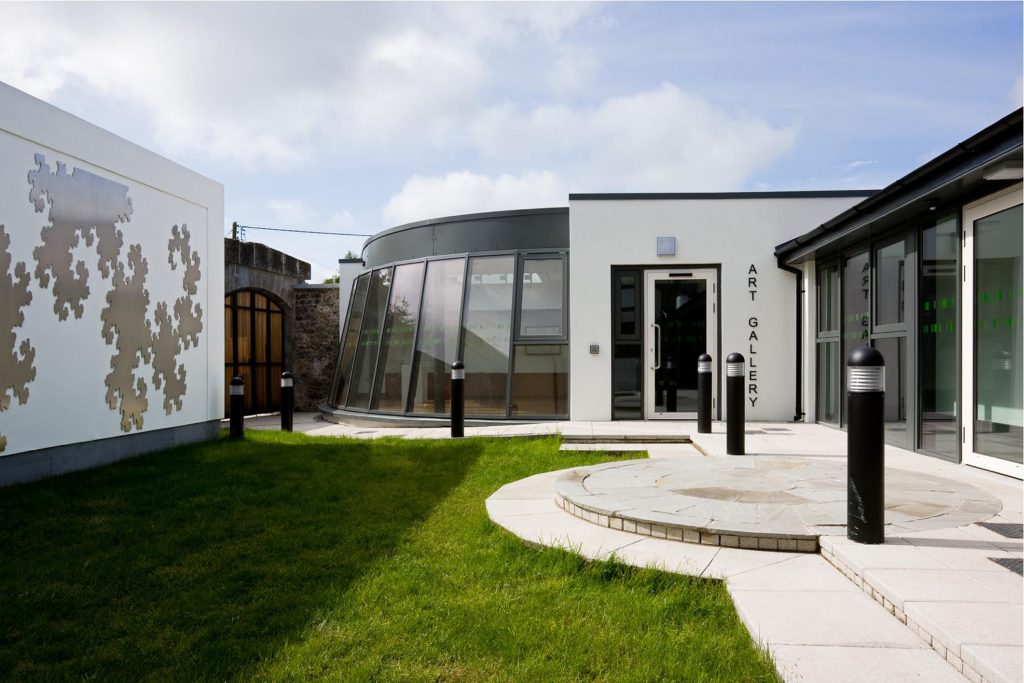 Night Creatures Parade – everyone is welcome to Stradbally to participate in this celebration of nocturnal creatures.
The parade includes dancing, music and illuminations, infusing magic and wonder in the town of Stradbally.
This special evening is curated by Artist Caroline Conway, Sculptor Evgany Chubatyy and Circus Performer Maria Corcoran.  Participants include children from St Colemans NS, Cosby NS, participants from the recent Summer Art Classes, Buggie School of Dancing & Drumming by Music Generation Laois.
Note: This will be an outdoor event. In the case of unkind weather, the event will move to the Malthouse, Main Street, Stradbally.  Court Square.
The venue is The Square in front of Arthouse and Library, Stradbally, Co. Laois, R32DT28 starts at 8.00pm
Hank Wangford and The Messages presented in association with Music Generation Laois – Join iconic C&W legend Hank Wangford.
The twisted Godfather of the English alternative country music scene, has been picking at the dark and troubled soul of Country music for more than thirty years.
The show will feature songs from Hank's latest album Holey Holey, and shiny new tracks from his forthcoming album, Promises Promises, due for release in November… plus songs from his extensive back catalogue and featuring original songs and tunes from The Messages.
Refreshments will be served. The Venue is The Library, Stradbally, Co. Laois. Starting time: 9.30pm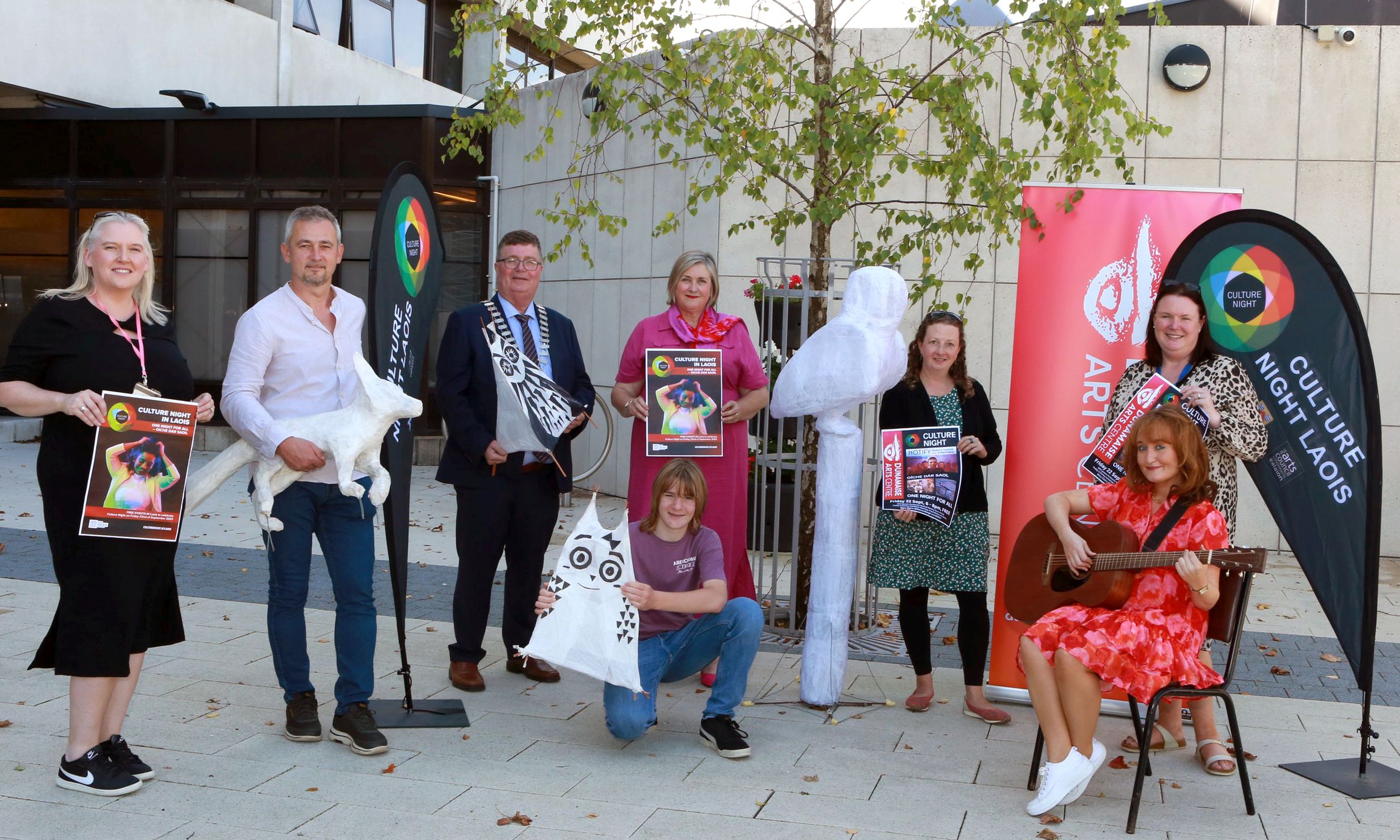 Mountrath
Mountrath Youth Theatre will present an enchanting evening of storytelling with our 'Between Light & Dark' Storytelling Event for all.
Note: This will be an outdoor fireside event (weather depending) or an indoor candlelit event if the weather is unkind.
Venue: MY Creative Space, Dysartbeagh, Castletown Road, Mountrath  Event Start Time:  8.30pm – 9.30pm
Portarlington
Print Making with Artist Mary Slevin – Mary Slevin, Artist, is delighted to welcome adults and children to her art studio at Mount Henry to explore print making using everyday material.
During each workshop participants will work with Mary to develop the print process. Each person will engage with the planning, styling, and production of their own individual artwork.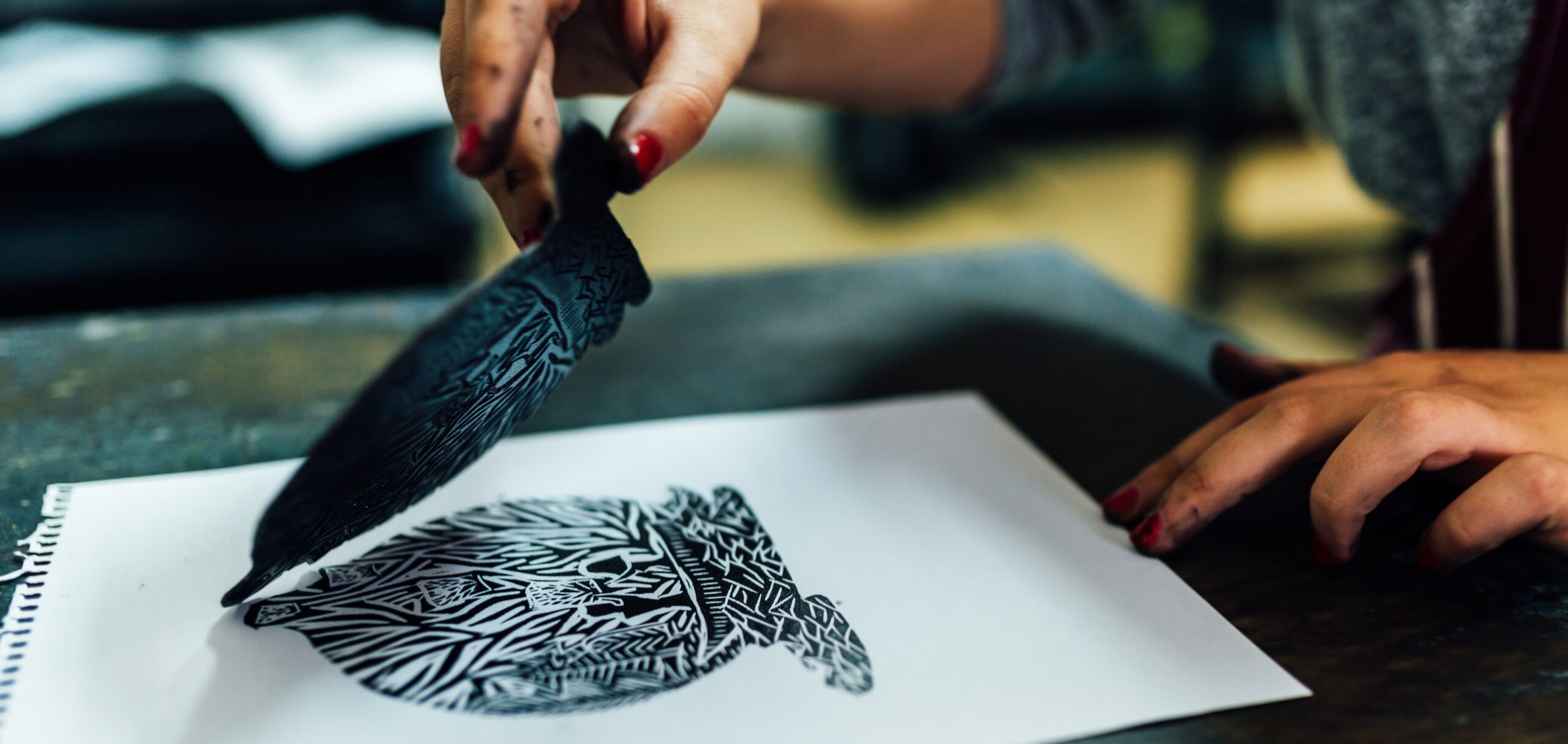 Children will work towards creating personal journal covers and adults towards a mounted print.
Venue:  Mount Henry Art Studio, Killenard, Portarlington, Co. Laois, R32 Adult Workshop  from 11-12.30pm and children's Work Shops 4-5pm.
Join Port Art Collective for an art crawl for all-ages, a cultural extravaganza showcasing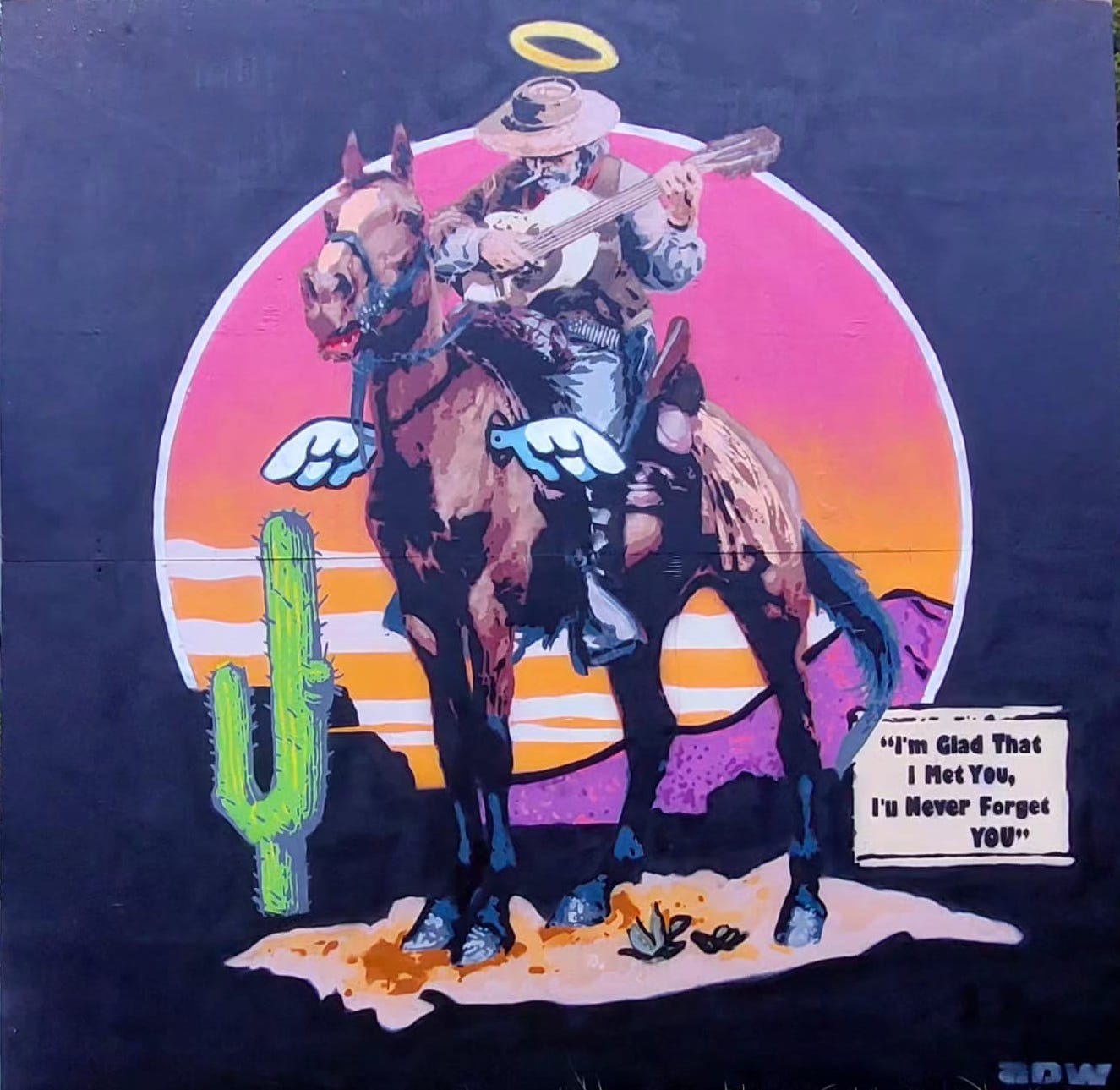 Street Art from artists ADW; DMC; KIN MX; Zurdie; KLOW! And Myfanwy Nia created during the Forest Fest in Emo which will bring colour and vibrancy to the hoardings around the Market House which is currently undergoing an ambitious renovation by Laois County Council.
The Port Art Crawl will start at 6.30pm sharp in Portarlington Library with crafts demonstrations from the Brat Bhrídes and Made with Knots
There will also be a presentation by local illustrator David Butler on the illustrated life of Michael Collins, produced in collaboration with writer Mario Corrigan at 7:00, Portarlington Museum, Catholic Club, Main Street.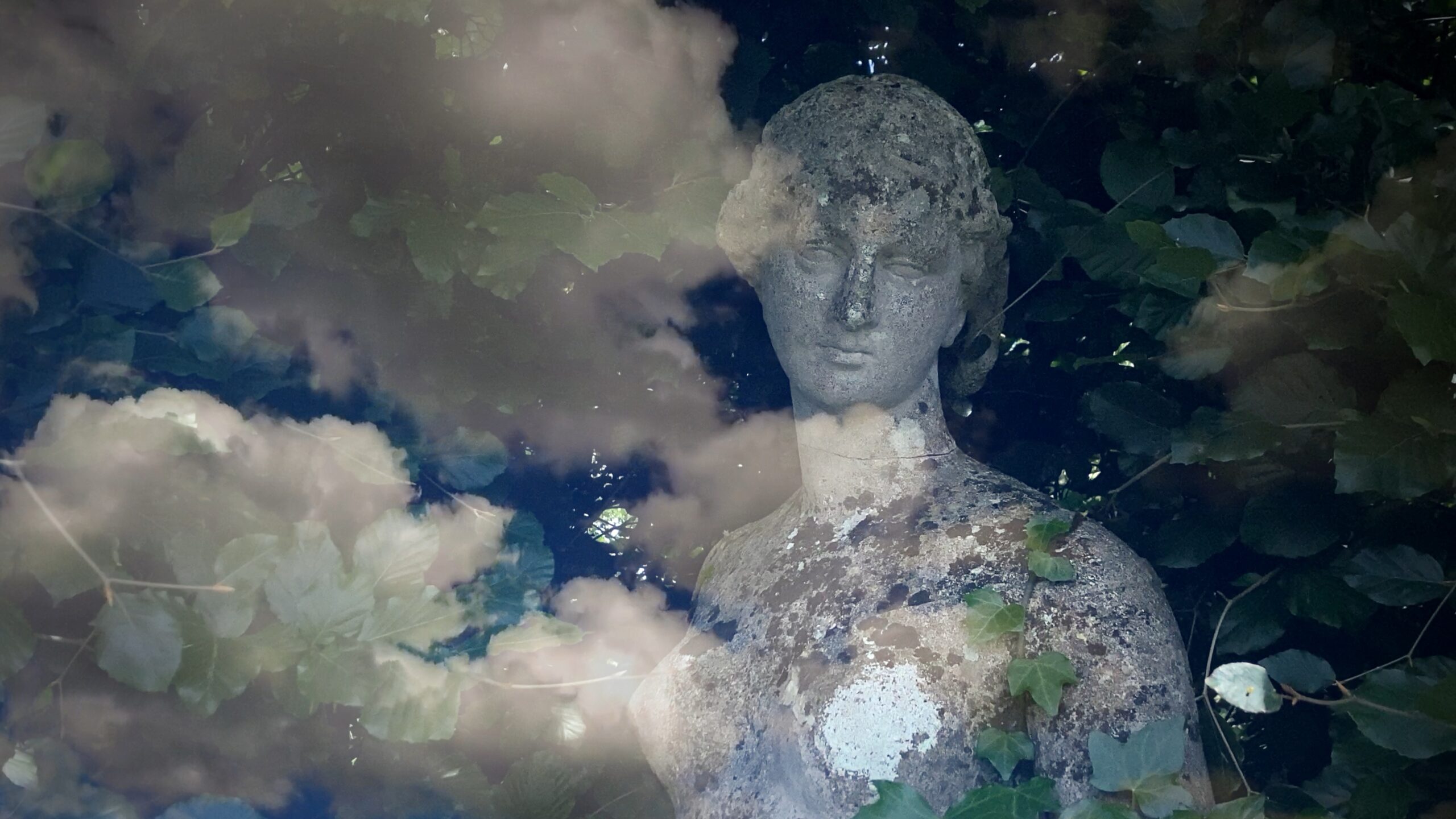 A talk by local historian David Orford will bring some of the artefacts in this fascinating collection to life.7:30 Iwona's Studio (over Lyles Shoes) Main Street.
Crawlers will have an opportunity to view and discuss an exhibition of recent work from artists Iwona K Tiernan, Catherine Terrett and Leonie Connellan to an eclectic backdrop of instrumental music from Kim Melia. From 8.30pm The Parochial Hall, Market Square.
There will be music from the Port Concert Band, Ukrainian Choir and Georgian Folk Group to bring the swing and the hall will be lined with paintings and sculpture from local artists Mary Slevin, Pauline Hyland and Vasili Grdzelidze
Award winning Laois poet Pat Boran will read from his work.
The French Quarter will deliver the cool from 8:30 with DJ Filip Kral dropping ambient beats alongside an exhibition of prints by local photographer Frank Smith and some great food and drink.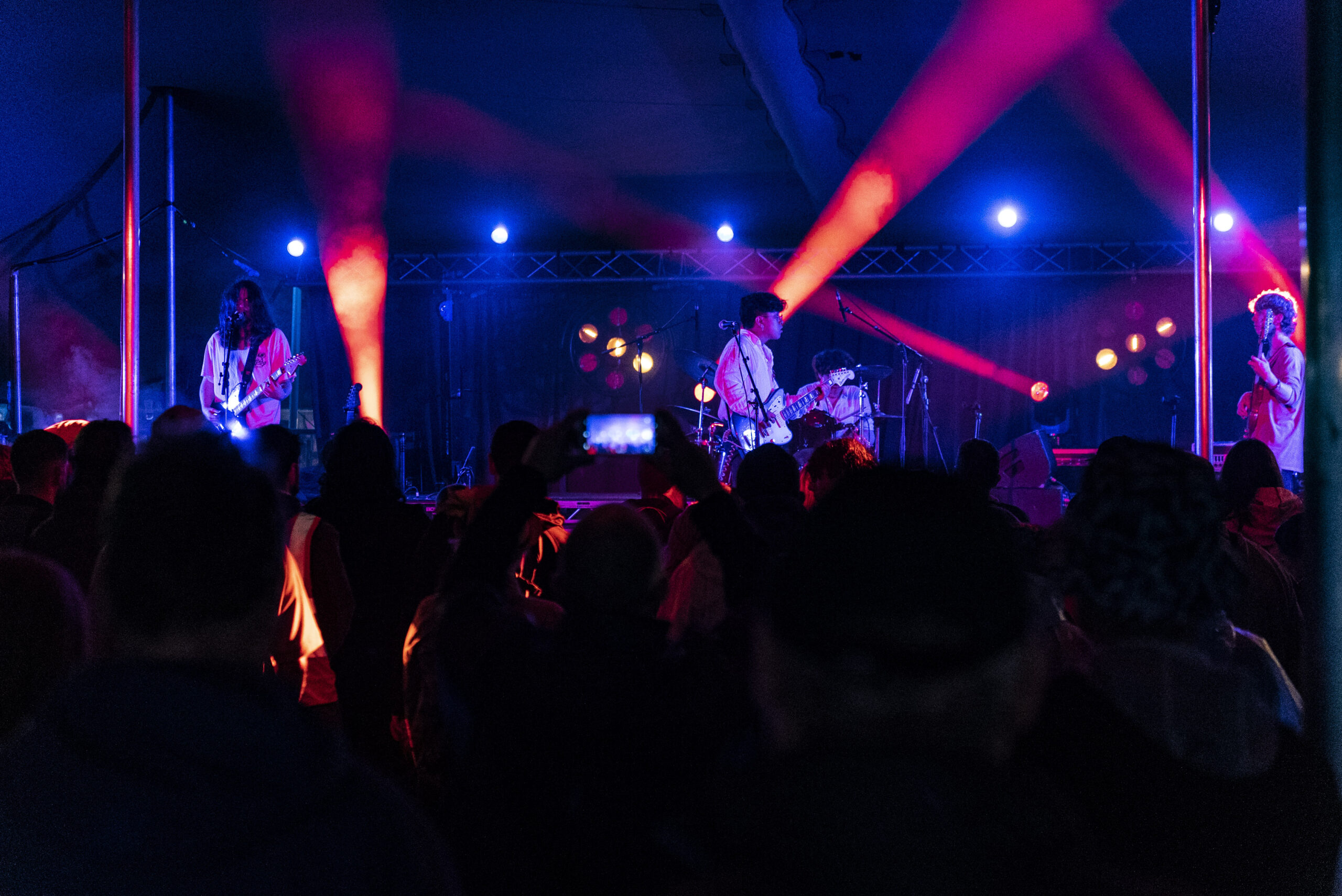 Port Sounds at the Anvil Inn – From 9pm there will be an exciting and eclectic night of the best local performers featuring Dopamine, Rocz, Thanks Mom, That's Alright, Insomniacs and more.
The night will be compèred by Adam Cullen who's will also perform spoken word pieces between acts.
Emo
Emo Court will host an Interior Guided tour of the house, with guides dressed in period costumes. Emo Court. Co Laois. R32C44V 6pm (tour 40 minutes).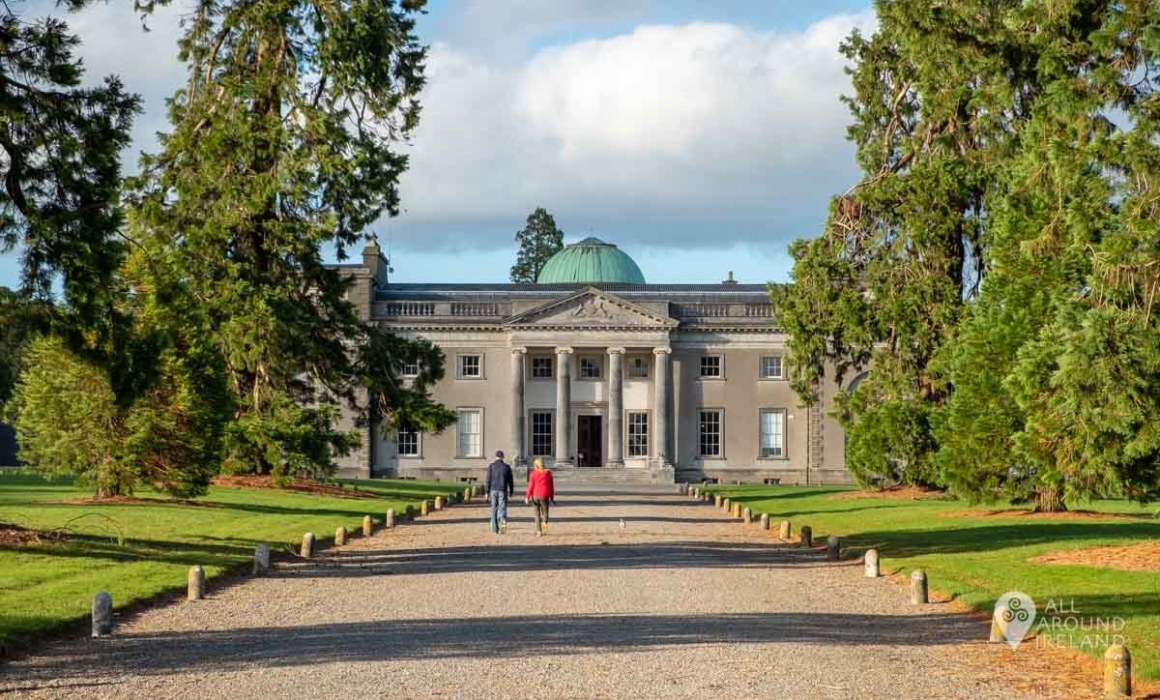 Shanahoe
Irish dancing by the Aishling Walsh Dance School of dancers followed by the marching band.  Some music from the pupils of Shanahoe National School, the pupils will also present a spoken piece on history and heritage.
Shanahoe Community Hall, Shanahoe, Portlaoise, Co. Laois, R32E3FRT  7.00pm – 8.30pm
Spink
Ceol agus Craic by Spink Comhaltas – Music performances by children and young people aged 6-18 years, tea/coffee and scones will be served in the evening, all are welcome.
Venue:  Knock Community Hall, Spink, R32DK70   7.00pm – 9.00pm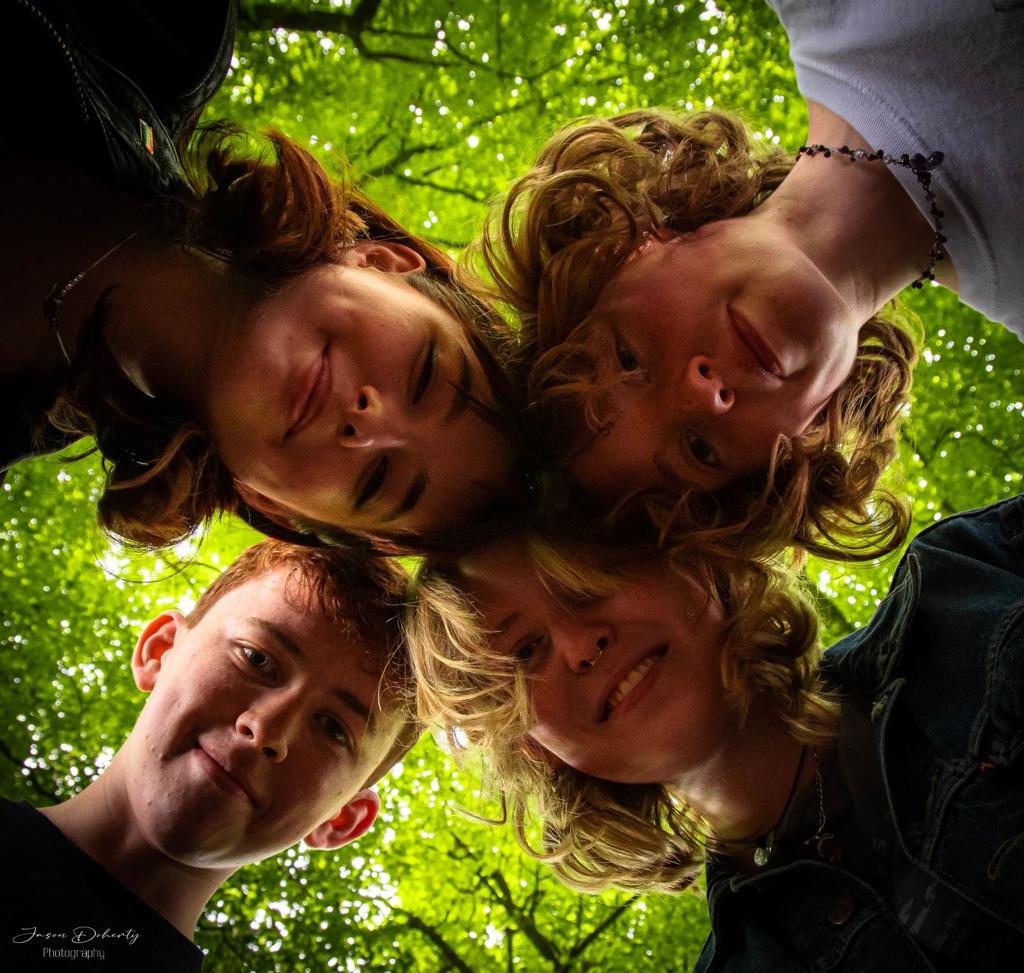 Visit www.Culturenight.ie for all details on times of events and further information or visit www.laois.ie download the Laois Programme of events 2023. Brochures available from Laois Co Co, Libraries and Arts Centres.
Further details from the Laois Arts Office.
Culture Night is brought to you by The Arts Council in partnership with Laois County Council.
SEE ALSO – Laois councillors keen to support calls to make Portlaoise an autism-friendly town