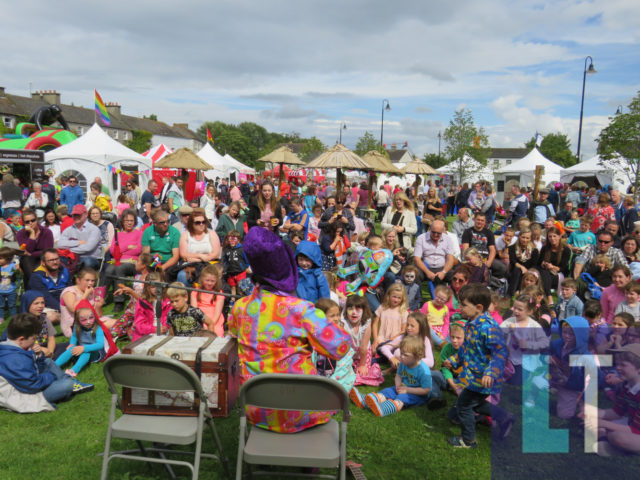 THIRD LAOIS DURROW SCOUTS
The group would like to wish Tullamore Shark Patrol event the very best of luck as our scout Evan Campion has joined with Tullamore recently. This is a great achievement for Evan. The best of luck also to Roscrea Scouts – both teams are representing the Slieve Bloom County.  We also have our Venture Scout – Oisin Tunan staffing at the event, well done as it is very hard to get on staff list for this event. To have two of our youth on this event is great for the group – well done to you both. Also well done to Edward O'Brien who was also to attend the Patrol – a great honour for all.
AFTERNOON TEA IN AID OF LAOIS HOSPICE
Teresa Dunphy and family are hosting an afternoon tea in their garden on Patrick St, Durrow on
Saturday, August 26th
next from
2pm until 5pm
. All are most welcome. We are hoping to raise much needed funds for Laois Hospice so that they can continue to support all the palliative services in County Laois. These vital and exceptional services allowed Simon to be cared for throughout his illness and final days in his own home. Your support would be very much appreciated.
COMMUNITY ENDEAVOUR AWARD
Durrow Development Forum were delighted to present Hughie Sheppard with the Community Endeavour Award 2017. Hughie returned from England in the early 1970's and became one of the founder members of the Lions Soccer Club. He also founded the first schoolboy's team. Hughie was also chairperson of the Harps GAA Club from 1989 to 1992. He was one of the founder members of Durrow Development Forum and was instrumental in the development of the Mill Wheel and Cannon Carrigan amenity areas, The Leafy Loop Walk, The Courthouse Library, The Community        Playground and the Scarecrow Festival. Since retiring from the Durrow Development Forum in 2011 he has been involved in cycling trails and other local projects. Well done Hughie.
PRESENTATION
Congratulations to the Moylan Family, Barnhill, Durrow who were presented with a  remembrance on behalf of Durrow Development Forum and the people of Durrow which acknowledges the vocation in community nursing by Nurse Sheila Moylan. The reward was accepted on behalf of Nurse Moylan (R.I.P.) by her husband Johnny and daughters Marie and Ann.
SCARECROW FESTIVAL – A HUGE SUCCESS!
A most sincere "thank you" to all our sponsors, service providers, scarecrow makers and volunteers who helped before, during and after the Scarecrow Festival. The atmosphere in Durrow was brilliant and none of it would have been possible if not for the volunteers that gave up a large part of their time, by volunteering to ensure that the festival and its visitors had a great nine days. The commitment of the volunteers show the best things about our community that you can't find anywhere else. We had so many volunteers that we cannot reach on thanking you all individually, so on behalf of Durrow Development Forum, we want to once again say thank you to all who made this Festival a success once again.
Arts & Crafts Exhibition and Sale: A big thank you also to all the volunteers and craftspeople who helped out at the Arts & Crafts in the Community Centre during the Scarecrow Festival.
GIVE BLOOD
The Blood Transfusion Mobile Unit will visit Durrow on
Thursday September 21st
. Please put this date in your file and reserve one hour to donate blood on the day because your donation will save lives.
CHURCH NEWS
Church Cleaning Rota – August 2017: Maeve Thornton, Eileen Keenan, Brigid Traynor and Angela Drennan. September 2017: Daisy Dollard, Mary Dollard and Babe Duggan.
Mass Readers: Saturdays –
August 19th and 26th
: Kay Sheppard;
Sept 2nd and 9th
: Bernie Murphy. Sundays – August 20th: Liam Phelan;
August 27th
: Bea Alley;
September 3rd and 10th
: Declan Phelan.
SYMPATHY
Sympathy is extended to the Jacob family, Kyle, Durrow on their recent bereavement.
HAROLD LAWLOR WINS ALL-IRELAND COMPETITION
Harold Lawlor from Durrow was the Toast of Tullamore Show when his collection of Vegetables was judge to be the best entry in the Bridge House All-Ireland Collection of Vegetables. Ninety Four years young Harold won with his Celery, Carrot, Parsnip, Potato's and Cauliflower. His victory was all the more sweet as his Grandson Colin was second only one and a half points behind him. Both Harold and Colin got many prizes in the vegetable section. Well done to both on achieving such high standards!
Midlands Champion: While his Father and son were winning all around themselves, Harold's son Martin was winning most of the Dahlia Classes at the Show. Martin won the Midland Dahlia Championship with his two vases of Hillcrest Candy and Mary's Jomanda; he also got the best Vase at the show and five more first prizes. All and all it was a very good day for the Three generations of the Lawlor Family. Well done to all three for doing so well and keeping Durrow to the fore at these events.
DISTRICT LIONS CLUB
Abbeyleix and Portlaoise District Lions Club are delighted to announce that  Abbeyleix Estate Open Day by kind permission of the Davies Family will be held
on Sunday
next
August 27th
from
1pm to 5pm
. Admission is €5 per adult with light refreshments.
STOLEN
A large 22" World Lawnmower with a Briggs & Stratton Engine – WYZ2OH – was taken from outside the Kayak and Canoe Club Building on Thursday last, 17th August. Anyone with any information please phone the local FÁS Office on (057) 8736870.
ST VINCENT de PAUL
Anyone looking for help can contact us on (087) 3476012.
SCOUTS APPEAL
Now is the time to contact Delphine Lawlor on (086) 3655178 if you wish to join us as Scouters/Leaders as we need adults to make the meetings more active for the youth in September. A planned information night will be held in July to show what we do and what is needed to become a  Scouter. Required: over 18, likes the outdoors and wanting to live an adventure with kids… having fun!
CONGRATULATIONS
Congratulations to Tomas and Claire Woods, Carrigan Street, Durrow, on the birth of a daughter.
LAOIS COMMUNITY AND VOLUNTARY AWARDS 2017
Laois County Council in participation with Laois Public Participation Network are proud to announce that the Laois Community and Voluntary Awards, 2017 are being held on the
17th October, 2017
. Nomination Forms and details available from the Community Development Section or email
dce@laoiscoco.ie
. The closing date for nominations has now been extended to
Friday 25th August, 2017
.
LAOIS BUSINESS NETWORKING EVENING
We will also be presenting Certificates of Attendance for our Spring 2017 Training Courses at this event. If you have attended one of our Spring 2017 courses and would like to receive a certificate on the evening please email
localenterprise@laoiscoco.ie
before
1st September
.
DURROW PARISH LOTTO RESULTS
Monday 31st July 2017 – There was no jackpot winner of €2,200. The numbers drawn were 04, 08, 20 and 21. The small draw winners were: €30: Kathleen Doyle, Dunmore, Durrow; €25: Aideen Kenny, Lisdowney, Co. Kilkenny and €20: Lar Dunphy, Rath, Durrow.
Tuesday 8th August 2017: There was no jackpot winner of €2,350. The numbers drawn were 06, 08, 12 and 23. The small draw winners were: €30: Tom & Nuala Phelan, Dairyhill, Ballacolla; €25: Amy Doheny, c/o Paschal's, Cullohill Village; €20: M. Kenny, Newtown, Durrow, County Laois.
Monday 14th August 2017: There was no jackpot winner of €2,500. The numbers drawn were 07, 11, 13 and 23. The small draw winners were: €30: Terence Brophy, St. Fintans, Durrow, Laois; €25: Zaine Biske, c/o Our Lady's Meadow School; €20: Ray Campion and Family, Durrow, Co. Laois.
VARIETY CONCERT DVD
The official DVD of the Variety Concert is available to purchase at a cost of €10 and it is well worth having as the concert was excellent. Many thanks to Pat Farrell who filmed the show and then edited and produced the finished product. The DVD is available from Mick Dunphy, Mary Walsh and Pat Farrell.
COMHALTAS
Spink Comhaltas are continuing their popular Summer Seisiún series
on Wednesday
nights between
8pm and 10pm
during August. The weekly Seisiún takes place in the Heritage House Museum, Abbeyleix, and all are welcome. There is no entry fee, but donations are accepted to cover the cost of the venue. The Seisiún has a different event every week – but it will comprise the best of Laois musicians in traditional Irish music, song, story telling and the occasional dancer. All are most welcome.
DURROW REMINISCING GROUP
A book with 200 pages of Photographs spanning almost 100 years of Durrow and Cullohill memories including ICA, Hurling, Camogie, Soccer, School to mention but a few. Books for sale €25 each or two for €40. Please text or call Tom on (087) 2936531 or Kathleen on (086) 8263368 for further information.
 SCARECROW RAFFLE RESULTS
First Prize – Wheelbarrow Hamper won by: Noel and Majella, Ralish, Abbeyleix; Second Prize – €150 voucher for Dunne's Nurseries won by: Aneliese Farrell, Inchicore, Dublin; Third Prize – €50 voucher for Ashbrook Arms won by: William O'Grady, Bruckana, Johnstown; Fourth Prize – Small Hamper won by: Declan Byrne, Loughboy, Kilkenny. Congratulations to all the winners and our thanks to everyone who supported this raffle.
PHOTOGRAPHY COMPETITION RESULTS
Senior Competition: First Prize – Margaret Quinn, Athy; Second Prize – Frank Fanning, Athy; Third Prize – Adam Sheridan, Co. Meath; Special Award – Vera Fogarty, Dereen, Durrow. Junior Competition: First Prize – Helen Wellwood, Woodsgift Johnstown;  Second Prize – Edward O'Brien, Derry Road, Durrow; Third Prize – Emma Rumble, Sean Doire, Durrow; Special Award – Louise Wellwood, Woodsgift, Johnstown. Congratulations to all the winners!
 SCARECROW FOOSBALL TOURNAMENT 2017
Congratulations to Bob's Bar on winning the 2017 Pub Foosball Competition on the
Saturday
evening in the Scarecrow Festival Village. Bob's Bar defeated The Castle Arms Hotel in a pulsating game that went on to Sudden Death after 10 goals each in normal time. Well done to both teams on giving us a great sporting game. Many thanks to all teams who took part!
CULLOHILL COMMUNITY CENTRE
Progressive 25 Card Games are held in the hall every
Sunday
night at
8.30pm
sharp followed by tea and sandwiches. Please support!
TIDY TOWNS
Assessment is carried out by an independent panel of adjudicators and takes place during the months of June, July and August each year. This assessment is always conducted in secret and on unspecified dates and Durrow Tidy Towns are appealing to everybody and to all businesses and homes to be active and keep the outside of their homes, premises and public areas clean and tidy. Extra effort has been put in for this years competition and without your help we can't achieve better marks. Your ongoing assistance would be greatly appreciated. Many thanks for your ongoing help.
DURROW HIGH NELLY CLUB – UPCOMING EVENTS
August 20th
: Join us for the highly anticipated Jack Moyney re-enactment and High Nelly Cycle in period costume. The cycle commences at
3pm
with the re-enactment at
5pm
. VIP tickets €10, Bar view €8 and bridge area €5.
October 7th
: Greenway cycle from Waterford to Dungarvan. Leaving Bobs at
9am
and staying overnight in Lawlor's Hotel, Dungarvan. Booking details: Phone (058) 41122 or email
olivekiely@lawlorshotel.com
– the rate is €75 per person sharing and includes breakfast and dinner. Quote "High Nelly Cycle" when ringing. Book ASAP as places will fill fast.
DURROW LIBRARY
Upcoming Events: The following events have been planned for Durrow Library…
Wednesday 23rd of August at 12.15pm
– Introduction to Irish Wildlife (Children's talk)
Friday 22nd of September at 7pm
– Culture Night event Author reading and Book-based crafting with Helena Duggan, author of A Place Called Perfect (Waterstones and Easons Children's Book of the Month for August) This event will be for children aged 9+ and booking will be necessary as there is a limited
amount of places for this event.
Irish Rural Link – Computer Classes for Beginners: Free computer and internet classes are being offered by the Irish Rural link group. If anyone is interested please contact Durrow library or call in!
Summer Reading Stars: The reading challenge is just coming to an end. Remember to bring your challenge cards with you to the library so that they can be stamped! The Prize giving date will be announce as soon as possible.
Library Opening Times: The open times are as follows: Tuesdays:
1.30pm to 5.30pm
and
6pm to 7.30pm
; Wednesdays:
10am to 1.30pm
and
2pm to 5.30pm
; Saturdays
11am to 1pm
. Phone: (057) 8736090 or e-mail:
Lmoriarty@laoiscoco.ie
for further information on any of the above.
ALZHEIMERS SOCIETY
Laois Alzheimer Society are holding a Social Club meeting on
Thursday August 31st
from
2.30pm to 4.30pm
in Portlaoise Parish Centre. Our Social Club is open to people with Dementia and their families as an informal get together. For further information please ring Ann on (086) 8372168.
MARKET
The Cottage Market Mountrath brings you all things home-made, home-grown and hand-crafted. Located at The Macra Hall, Main St. Mountrath – from
10am to 2pm
on the first
Saturday
of each month. Contact Anne or Lucy on (089) 2048089 for more details.
HERITAGE WEEK 2017
The Fly Fishing Museum is open with free guided tours all during Heritage Week –
August 19th to 27th
. Please phone (086) 3152088 in advance of your visit. The Irish Fly Fishing and Game Shooting Museum explores 300 years of hunting and fishing in Ireland. It is a treat for anyone interested in country life. Exhibits tell the stories of hunting and fishing and the museum also displays the exquisite guns, rods and tackle used by the well-to-do who hunted and fished for sport. One of the main highlights of the museum is its collection of fishing flies, some of which date to the early 1800s.
LIVE WEATHER DATA
Up-to-the-minute local weather conditions for Durrow are available online at
www.laoisweather.com
which includes day-to-day records going back to the year 2008.
VOLUNTEERS NEEDED
Hidden – But Still Among Us. Would you like to Volunteer in the 'Guild of St. Philip'? Prisoners are easy to forget, locked in institutions, they seem to disappear from society"s sight, but prisoners still belong to society that incarnates them. Most will eventually be released and the experience they have in prison will greatly affect their ability to adjust to life 'outside' as law abiding   citizens. That experience can be influences for the better through the action of concerned, informed citizens. If you wish to be involved please text (086) 0462405 or email
judy.p@hotmail.com
CASTLEWOOD FARMSHOP
Now re-opened. Organic meat, apple juice, eggs and other produce. Farmshop and tearoom open Fridays and Saturdays
10am – 5pm
;
Sunday
11am – 5pm
. Enquiries to Dominic (087)9694070.
APPEAL
This year, 2017 is the 100th anniversary of the O'Brien's starting their Headstone business in Durrow. If anyone has any old pictures of the Quarry on the Derry Road, Sean would be delighted to hear from you. You can email them to
seanobrien1957@eircom.net
or phone Sean on (086) 2656657 if you have them in paper form. Any additional details such as the names and date of the picture would be greatly appreciated.
FOOTBALL CÚL CAMP THIS COMING WEEK
LIONS AFC NEWS
Congratulations to the Lions U9 team who got to the final of the DB Dublin Cup in Terenure on Saturday 5th August. Playing against top class opposition the lads won six games to make the final where they lost out to a strong Cherry Orchard team. The following week they travelled to Cherry Orchard's tournament where they won the shield beating a strong Rathoath team in the final. They were 3-1 down at half time but showed great character to come back and win 4-3. Training for the coming season will start on
Saturday 26th August at 5pm
in the soccer field. All are welcome.
HARPS GAA
The Senior A hurlers play Clonaslee
this Saturday
evening at
7.30pm
in O'Moore Park, Portlaoise for a place in the Championship Semi-Finals. Best of wishes is extended to the team as they face a tough challenge to progress. Should the lads win, their next game will be played against Ballyfin at
2pm
in O'Moore Park, Portlaoise on Sunday, September 10th.
The Junior A Hurlers meanwhile are awaiting results elsewhere to find out who they will be playing in their semi-finals. Please keep an eye out on the club's Facebook and Twitter pages for updates.
HARPS CAMOGIE
Best wishes to the U16 Laois Camogie team in their All Ireland B Final playing against Antrim on
Saturday the 25th August
. We are very proud to have five girls representing our club on this panel: Molly O Connor, Jade Bergin, Eimear Fitzpatrick, Roisin Phelan and Sophie McCabe. Look out on our Facebook page for venue and time updates during the week!
Congratulations to our August winner of Barneys Bonus Bonanza: Jimmy Mahony.
Congratulations to Senior Camogie player Laura Saunders who recently got engaged to Lorcan Dooley.
Senior Camogie Championship Update: The Senior Camogie team have played three of their four championship league games. Firstly, they beat Naomh Padraig convincingly but without five starting players for the O'Moores game, the team suffered a major defeat. With two starters returning for the Camross game the girls put on a better show of fight and determination but were beaten as a strong second half display by Camross sealed the win. The girls take on rivals St. Brigids for their final game on the
27th of August
. A win in this would see the girls through to a semi final against Camross. A loss would see them through to a semi final against defending champions O Moores.
DURROW-CULLOHILL PARISH ANGLERS
Local Angler Shane Lawlor, Fermoyle, Durrow got the shock of his life while fishing on Lough Derg
on Sunday
last. Only fishing for about ten minutes Shane hooked a fish and after a long struggle he landed a Brown Trout weighing just over eleven and a half pounds. This is a massive achievement for Shane and his fish is of specimen. Well done Shane you will always be in the records as all specimen fish are recorded in the Fishery Books.
LAOIS KAYAK AND CANOE CLUB
Interested in Kayaking? Midweek Paddling is
on Tuesday
or
Wednesday
evenings from
7.15pm
, please see Facebook for details. If you are interested in taking up paddling please keep an eye out on Facebook and on our website for introduction nights, training sessions and events for Junior and Senior paddlers, details at
www.laoiskayak.com
online.
NEXT NEWSLETTER
The next newsletter will be on sale this weekend of
September 2nd and 3rd
. All adverts must be booked with Angela Drennan (087) 1928522 or Mary Walsh (086) 3055157. Advertisements cost €2 per issue of Durrow Parish Newsletter and must be paid for in advance.