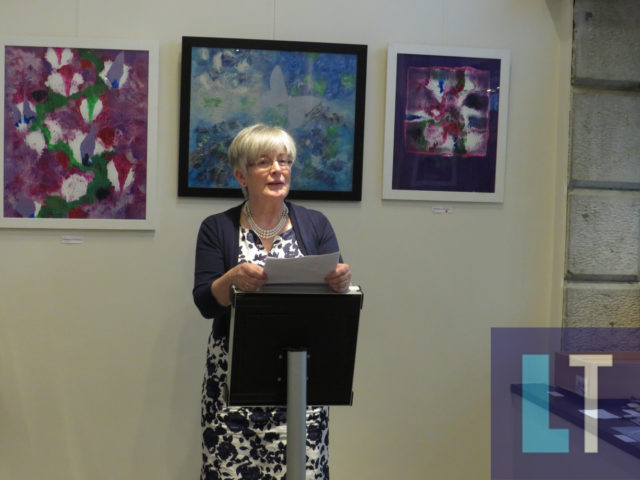 Thirty paintings were sold and €2,500 raised for charity at the launch of Abbeyleix Art Exhibition which opened on Thursday night last and runs for another month.
If, while driving down the main street of Abbeyleix recently, your eye has been drawn to the pop of colour in the library window, you've been looking at paintings from the In Search of Joy exhibition, the launch of which took place on Thursday night.
This exhibition is a colourful collection of acrylic and oil paintings which celebrate the beauty of God's creation and is the work of artist Susan Green. The Thursday-night exhibition launch was a great success and saw an incredible €2,500 being raised through the sale of 30 paintings.
The event was organised by Camross woman and retired secondary school teacher Josephine Phelan. Josephine has had an affinity with Africa since the '70s when she spent two and a half years teaching in Zambia and previous to the exhibition, Josephine had already raised €10,000 in aid of Malawi.
She has travelled to Malawi four times since 2014 where she has used the funds raised to help with the missionary work of Bishop John Ryan (St Patrick's Missionary Society, Kiltegan) in Mzuzu. This particular missionary work has centred around the development of the Lusekelo School of Computing, a school which provides education in information and communication technology at a nominal fee to vulnerable young people in Northern Malawi.
The money raised has been used to help refurbish the school and also buy computers, photocopiers and textbooks.
The proceeds raised from the art exhibition will also be used to help educate street children in Brazil in projects run by the Missionary Sisters of Our Lady of The Holy Rosary. Sr Anne Coleman is a member of this order and a personal friend of the artist Susan Green and she officially opened the exhibition on Thursday night. Sr Anne has spent many years educating street children in Brazil.
There was another Sr Anne present on the night, in this instance a Medical Missionary of Mary nun, and a close friend of none other than Bono! Sr Anne is based in Dubin but has also done a lot of work in Malawi. Bono came to Malawi and visited Sr Anne's hospital.
Sr Anne brought him around but she didn't want the patients to think she was introducing them to a random stranger so she told them Bono was her nephew. Bono has since written a song called Crumbs from the Table and Sr Anne is mentioned in it!
The final formality before the exhibition was officially opened was a blessing for missionary work performed by Parish Priest in Camross, Fr Lalor.
There were lots of gaps on the exhibition walls at the end of the night as people took their paintings home and exhibition organisers ran out of red stickers to put on the paintings (these indicate paintings have been sold!)
The exhibition runs until the end of September and is open in line with Abbeyliex Library opening hours (9.30am-5pm Tuesday, Wednesday and Friday, 9.30-7pm Thursday and 10am-2pm on Saturday).
If you're interested in making a purchase, paintings range in price from €20 to €150 while photographs, also taken by Susan Green, range in price from €3 to €10. Many of the paintings and photographs have also been incorporated in the design of a range of custom-made greeting cards and these are priced at €1.
All paintings and photographs in the exhibition were very kindly donated by artist Susan Green who studied music at the Royal Academy in London and is now the resident musician in Mount Melleray Abbey in Co Waterford where she has lived and worked for the last 26 years. Susan took up painting and photography to express her joy in life.