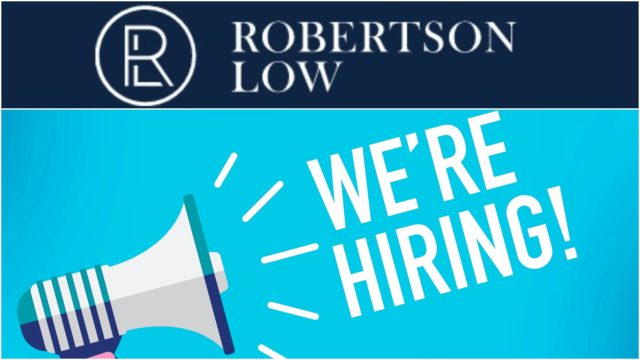 Robertson Low Insurance are offering an Apprenticeship Vacancy in their Portlaoise Personal Lines Department.
Earn and Learn Insurance Apprenticeship
Established in 1995, Robertson Low is an insurance broker for today's challenging environment, advising our clients on insurance for their businesses and personal lives for traditional and emerging risks such as cybercrime.
Our Head Office in Dublin and we have offices in London and Portlaoise.
We strive to forge partnerships, identifying the most appropriate insurance for our client's needs. Crucially, we actively support clients at times of potential loss and through complex claim handling.
We place great emphasis on trust and our professional approach in securing peace of mind for our clients and their long-term security.
An excellent opportunity is available by way of a three-year fixed term contract apprentice scheme that will provide you with training in all aspects of our business.
In addition to gaining on the job practical experience, you will complete the Insurance industry professional qualifications APA and CIP along with a Bachelor of Arts (Honours) in Insurance Practice(Apprenticeship) which is level 8 on the NFQ awarded by IT Sligo.
The Role
The role will involve all aspects of personal lines insurance. Some of the duties that will be involved, under supervision, are:
Complete some or all aspects of motor, house and travel insurance quotations and policy placement.
Day to day management of policyholder's requests regarding their policies
Assisting in the administration and settlement of claims.
Deliver excellent customer service, both over by telephone and at public counter.
Deal effectively with referrals, escalations and complaints where appropriate including upward referral to relevant team leader
As a trainee, be flexible within the role to undertake other duties as assigned by your Team Manager to develop your skill set
Who should apply?
We are looking for an ambitious and talented individual who can commit to a 3-year contract of apprenticeship and who is self-motivated with the discipline required to study at a BA (Hons) level and work at the same time. The following are the entry criteria:
Be 18 years of age or older
Mature students – if over 23 years there are no minimum educational requirements
FETAC Level 5 qualification holders
Under 23 – Leaving certificate, minimum of 140 points to include Maths and English/Irish with specific requirements on grades/levels*
Further Information
Further information on the programme can be found on www.earnandlearn.ie
To apply
If you are interested and think you are the right person to help enhance our business please forward your CV to lwalsh@robertsonlow.com, referencing 'Apprenticeship Application' in the subject line.
SEE ALSO – Check out the dedicated jobs section on LaoisToday.ie