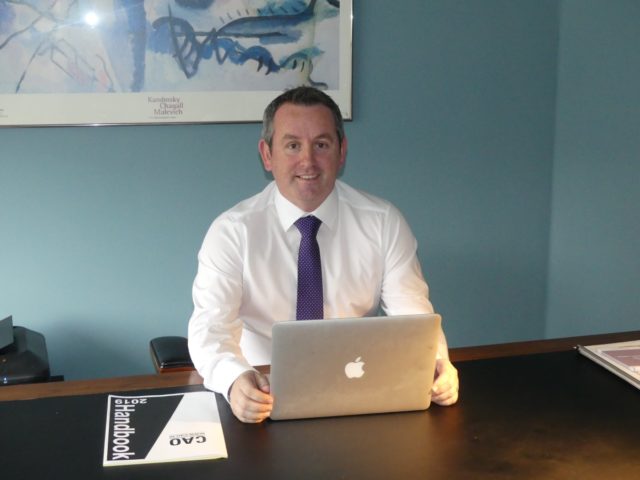 Donnchadh O'Mahony set up O'Mahony Careers Guidance Service to help ease the decision making for adolescents when they complete post-primary education.
"Since guidance services were cut during the 2012 budget there has been increasing demands on Guidance Counsellors in secondary schools" Donnchadh said.
"It can be more and more difficult for students to get the necessary time needed to explore their options due to the growing work load heaped upon school counsellors."
At O'Mahony Careers students are given the every opportunity to explore all the diverse strands of education and training available to them on the completion of secondary school.
"Making the wrong decision can be costly for both students and parents.  Repeating a year or changing an undergraduate course can be expensive. So, it is important for students and parents to research their options thoroughly."
Based in Killenard, County Laois, Donnchadh O'Mahony set up his careers service to help guide students to make those tough career and college decisions.
Mountmellick man Donnchadh has plenty of experience in helping people forge their own career path.
Donnchadh has a Post Graduate Diploma in Education from UCD and Post Graduate diplomas in Educational Leadership and School Guidance and Counselling from Maynooth University.
He is a member of the Institute of Guidance Counsellors in Ireland, the Teaching Council of Ireland and the Psychological Society of Ireland.
Donnchadh qualified as a History, RE and English teacher from UCD in 2008 and has taught at the post-primary level since then.
In 2018, Donnchadh became the Guidance Counsellor at Loreto College, St Stephen's Green, an all-girls private secondary school.
Donnchadh goes on to say that "Students need to be informed about their choices and how to make them.  In 2017 over 1000 students who received 500 plus points got no CAO offer at all because they had no 'backup' courses on their application."
Among the plans Donnchadh can offer include:
Choose your Leaving Certificate subjects best suited to your strengths and needs.

Discover your learning style

Improve your study skills and exam techniques

Select a course and university/college

Prepare CAO applications

Complete DARE and HEAR applications

Choose Post Leaving Cert Colleges (PLC)

Consider study options in Europe, America or elsewhere
For graduate students, you can discuss your options going forward whether it is going straight into the workforce or choosing postgraduate study.
For a free initial chat about your individual requirements, you can contact Donnchadh on 086 1638597 or email donnchadh@omahonycareers.com.
You can also check out his website on www.omahonycareers.com. 
SEE ALSO – WATCH: Little Laois girl makes plea for funds for the organisation that saved her life