Opening a new business is an exciting venture at any time but when it's a mother-and-daughter team it brings it to a different level again.
That's what Meghan Quinlan and her mother Bernadette Rigney have done recently, opening their own hair salon on Bridge Street (at the bottom of Main Street) in Portlaoise just last week.
Q & R Sublime opened its doors for business on Thursday, February 21 – and the well wishes have been flooding in for the popular duo ever since.
Together they bring years of experience as well a huge level of energy and enthusiasm to their new project.
Bernadette was trained by David Marshall and Robert Chambers in Dublin and worked with Kevin Hogan in The Company in Portlaoise among others.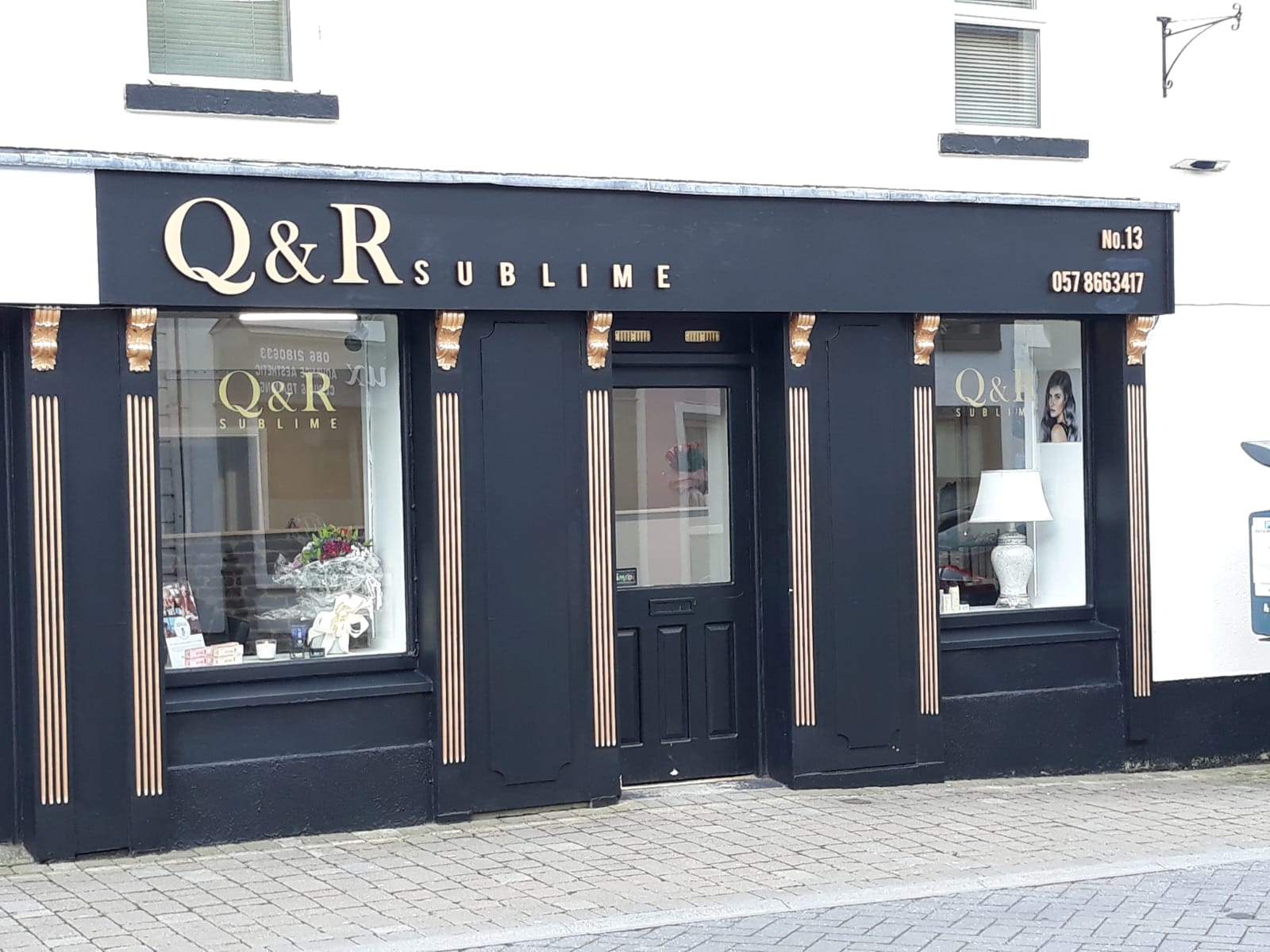 She stepped away from working directly in hair-dressing for a while as she concentrated on other things – but continued to keep her hand in the game so to speak, upskilling and training with the likes of the Alfaparf studios and Sassoon. Indeed it's now mostly the Alfaparf products that they use in Sublime Q & R. 
Meghan trained with Redz (now The Talbot Hair Company) in the Top Square in Portlaoise as well as in the Queen Beauty Emporium in Aungier Street in Dublin.
In more recent times she worked in Society Salon (formerly The Hair Gallery) in Hynds Square but she was always interested in going out on her own.
"Up until now, the timing wasn't right," she explains. But when the premises on Bridge Street came available – following the closure of the long-standing Kay's Salon late last year – Meghan and Bernadette decided to go for it.
The unit has been completely revamped – with plenty of practical hands-on help from Bernadette's husband Des and Meghan's husband Shane.
"I was very happy working in the Society Salon and worked right up until the Saturday before we started here. But I did have ambitions of having my own place," adds Meghan.
Bernadette specialises in cutting and colouring and having trained also with Warren Flynn of The Dublin Barber fame, they'll also look after men.
Cutting and colouring is a big part of Meghan's repertoire too as well as upstyles – and she's also planning on doing her masters in colouring this year.
"We've had a great welcome from the businesses of the area," adds Bernadette. "Both The House of Fades and Ultalux (barbers and beauty specialists, respectively) have been in to wish us well.
"We like the idea of keeping Main Street and the centre of Portlaoise alive. We had great family support and we used lots of other local businesses in revamping the salon.
"We also feel that two generations working together bring two different sets of skills, which we see as a big advantage under the one roof."
Q & R Sublime is open Tuesday to Saturday with late openings on Thursdays and Fridays.
They can be contacted on 057 8663417 and you can check them out on Facebook here. 
SEE ALSO – Check out the dedicated jobs section on LaoisToday