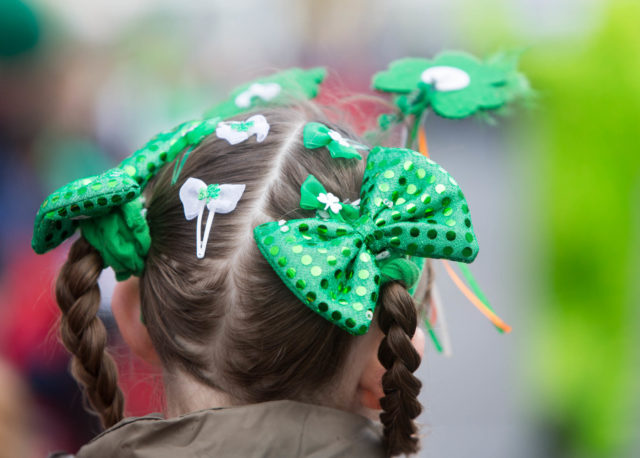 Whether you love it or hate it, it's hard to avoid St Patrick's Day.
We're a helpful bunch here in LaoisToday so we've compiled a useful list to help you get through the day.
Root out your green jumper, any green jumper that you might have. This works particularly well on middle-aged men.
If you can get a big fist full of shamrock to pin to your jumper, you're going really well. If you can't find shamrock, then clover will suffice. If not clover, any sort of green-coloured weed will do the job.
A green hat, that you bought ages ago in Carroll's Gift Shop on O'Connell Street, is appropriate for the parade or the pub but not for mass.
Not all parades go on forever and seem to last all day full of stuff you're mostly not interested. Some of them are great craic.
Get yourself to your local parade and if you're lucky you'll get your picture taken. If you're really lucky you could even feature on the Six One news.
The more local the parade the better. You don't need floats, just loads of people hanging around. More often than not they'll parade into or out of mass. In these places, most people at the parade are in the parade.
Any lad with bag pipes will lift you out of it with the noise and you can't guarantee that he'll be in tune.
Local Irish Dancers have to be commended for how nimble they are after their performance.
It's perfectly acceptable to have tea, buns and sandwiches at 9 o'clock in the morning with all your neighbours.
If you're in a restaurant, you feel obliged to order Irish Stew or Bacon and Cabbage. It makes you feel more Irish.
If you're in a pub, you'll be given a plastic glass. This is something you should feel free to complain about.
Drinking in the middle of the day becomes very evident. This will lead to some people saying that "the towns can attract a bit of a rough element".
St Patrick's Day is always a 'free day' from Lent. The day after usually is too.
Everything goes green for the day. We'll brag to ourselves about that. "Did you see the White House went Green?" "Yeah and the Big Ben." A cynic somewhere will point out, "that is because Bord Failte or some other crowd like them are paying for it". Can you still get green Kit-Kats by the way?
The parade in Dublin – with one of the annoying RTE Martys on the telly – will annoy you and seemingly never end.
For some people, it means a second Sunday dinner in the week and then (hopefully) a bit of peace and quiet to watch the club finals on the telly. Fair play to TG4,.
In fact you could sit in the armchair all day and watch some great sport. It's a Cheltenham-free St Patrick's Day unfortunately but there's still some good sport on. A brilliant day in front of the telly, if you could get away with it.
You could be a contrary hoor and say it's like Christmas. "A whole load of fuss about nothing."
You could be busy sowing corn. That has to be done too, no matter what day it is.
The weather on St Patrick's Day can look good when you're looking out the window but when you're standing around waiting to see someone you know in the parade it's always absolutely freezing.
'St Patrick' is usually a local character.
The real St Patrick ran the snakes out of Ireland, we'll be told. We could do with his likes again.
SEE ALSO – Gardai issue warning to drivers this St Patrick's weekend