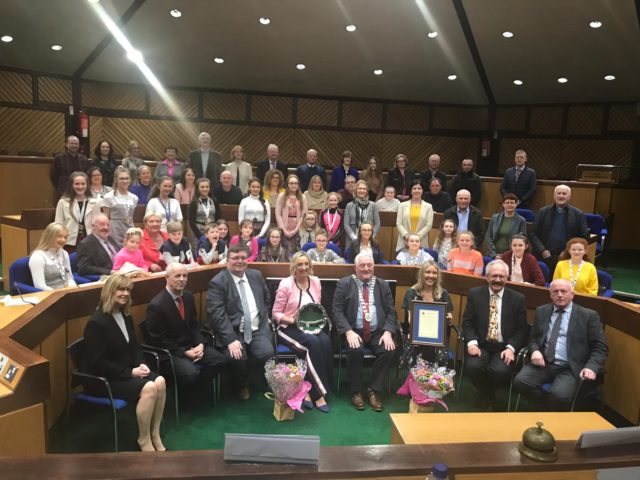 The Chamber of Laois County Council was packed on Friday night as some of the county's best Irish dancers were honoured at a Civic Reception.
Cathoirleach John King was joined by fellow Cllrs Padraig Fleming, Tom Mulhall and Paschal McEvoy as they recognised the fantastic achievements of Irish dancers from Stradbally for the past five years.
The girls are all part of the Buggie School of Irish Dancing and under the tutelage of sisters Grainne and Brid Ann, they have won an incredible amount of titles at the Community Games since 2013.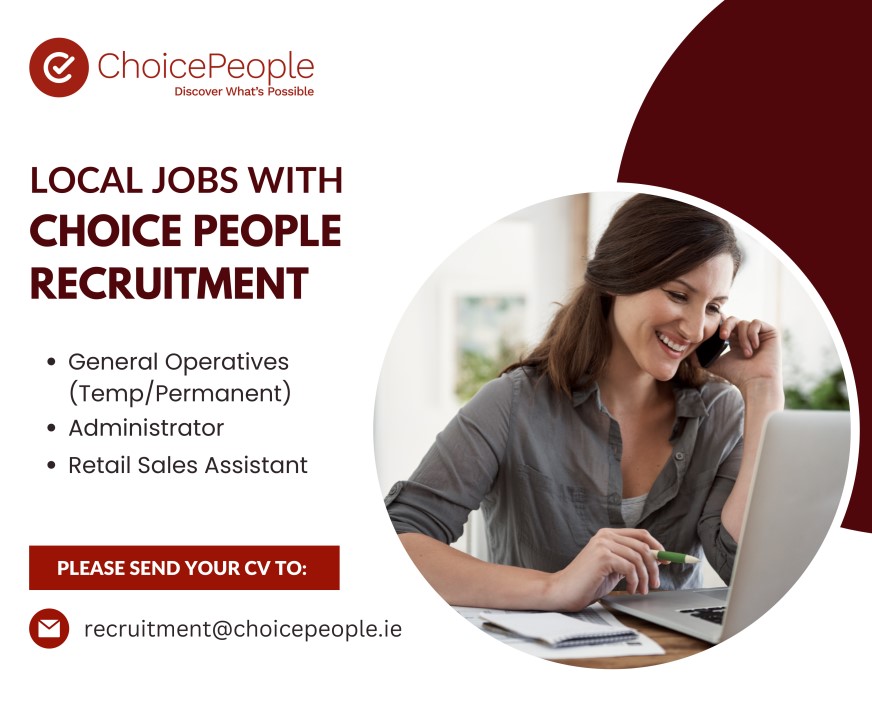 Beginning proceedings, Cathoirleach of Laois County Council John King recalled some of the events that the dancers have won over the years.
He said: "It all started in March 2013, when Grainne and Brid-Ann became involved with Stradbally Community Games.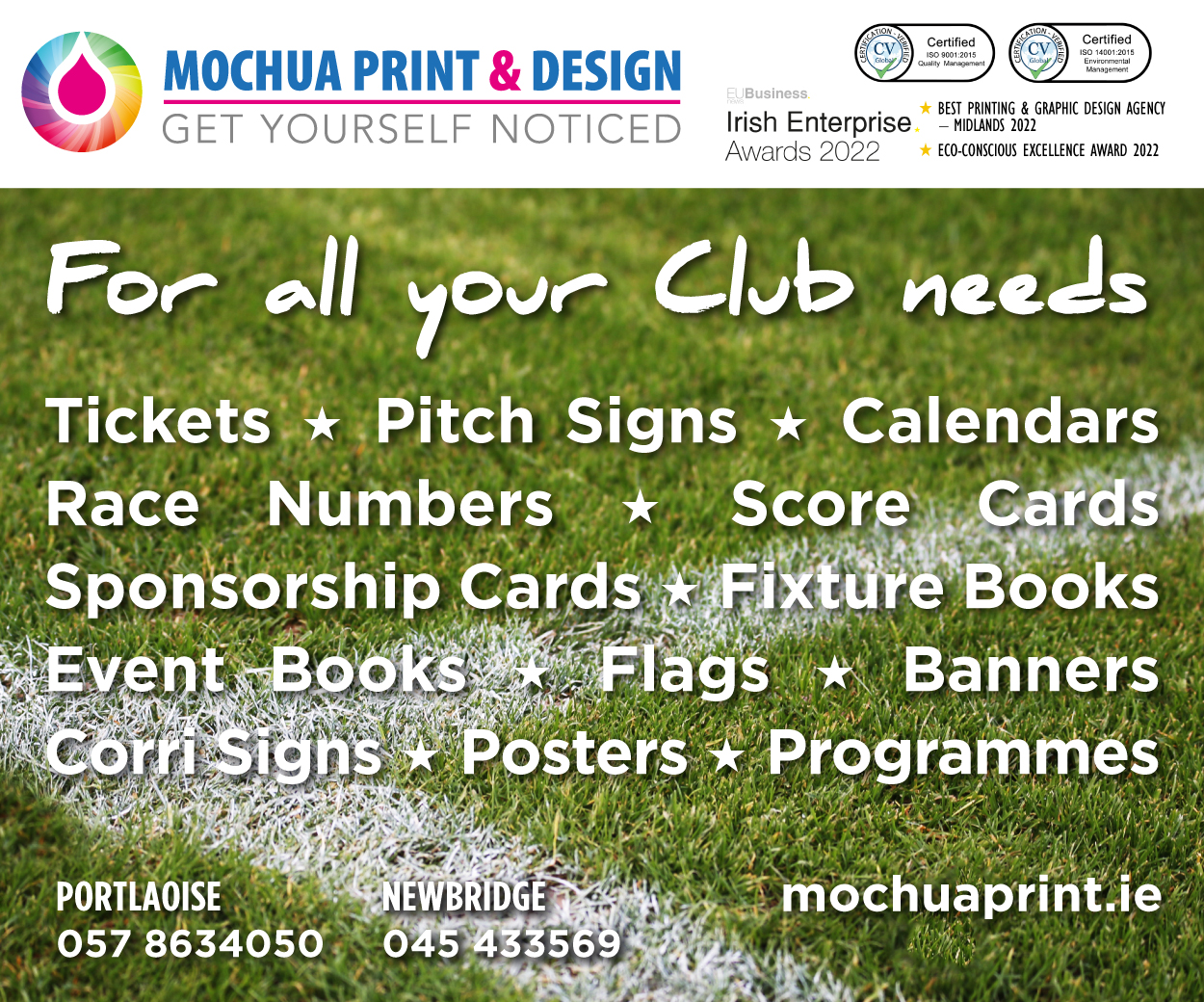 "Under their leadership, the Stradbally U-12 team of contemporary Irish dancers made their very first appearance at the National finals and exceeded all expectations by winning the competition outright.
"Since 2013, the dancers have had an amazing record. The current U-16 team has won gold medals in four of the last six years – 2013, 2014, 2017 and 2018.
"At U-12 level, Stradbally have won silver on three occasions."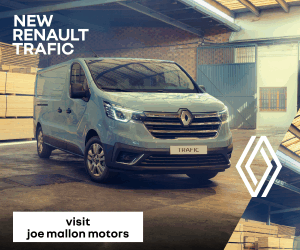 The Stradbally Irish dancers compete in the contemporary section and Cllr King explained exactly what this is.
He said: "The contemporary Irish Dance competition at Community Games is a test not only of Irish dancing skills of the participants, but also their ability to tell a story through the medium of dance, drama and their use of costumes.
"Success at the games depends heavily on the involvement of the local community, parents and volunteers. And I would like to congratulate all involved."
Grainne Buggie of Buggie School of Irish Dancing said she was 'over-whelmed' when she and her sister Brid-Ann got the news that they are their dancers would be recognised by Laois County Council for their efforts over the last number of years.
She paid tribute to the efforts of their dancers and also mentioned two people who go the extra mile to help – Margaret-Mary Kealy and Mary McCaul.
Grainne said: "We would like to thank an amazing lady called Margaret-Mary Kealy who came on board from the very beginning.
"She is an outstanding seamstress and she made all of the costumes for us. She has great ideas and she pulled out all the stops every year.
"I'd also like to thank Mary McCaul, she is a brilliant artist. Our dances have to tell a story so the make-up is extremely important.
"And Mary did a brilliant job with the girls every year with the face-painting. It would take hours. And recently in Athlone she had to start at 6.30am in the morning to get them all ready by 9.
"So a huge thanks to Mary for all her hard work. All of the parents have worked so hard for us and the girls over the years – in particular Kathleen (Sheridan) and Suzanne (Scully).
"You'd only have to phone them up the night before and they'd always help you whatever way they could."
Fr Sean Kelly and Rev Peter Tarleton were also in attendance last night and Grainne gave a special mention to former parish priest Fr Sean for all the support he has given over the years.
She said: "Fr Sean has been a great support to us since we started dancing in Stradbally.
"He is one of the reasons why we are where we are now and I am very grateful to him for all he has done over the years."
Cllr Padraig Fleming explained how he learned of the Buggie's exploits at the end of his term as Cathoirleach and he thanked his colleague Cllr King for recognising the Stradbally group during his time in office.
Cllr Tom Mulhall spoke about the brilliance of the Community Games and joked that now Stradbally would be as famous for its Irish Dancers as it is for its footballers.
While Cllr Pashcal McEvoy paid tribute to two more Stradbally Community Games stalwarts who were also in attendance on the night – Joe Oakley and Mary Dwyer.
Photographer Michael Scully was there on the night and we will have a selection of pictures from him on site in the coming days.
SEE ALSO – Electric Picnic organisers reveal new festival details