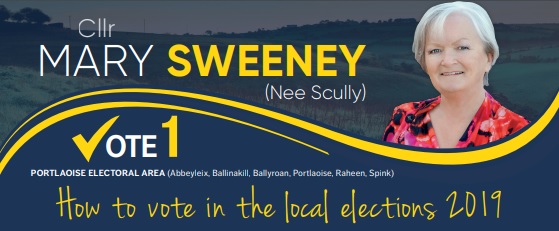 Mary Sweeney, Ballyroan native and Fine Gael candidate in the Portlaoise Municipal District, has put together a very helpful guide ahead of the 2019 Local Elections on Friday, May 24.
1 – Register to Vote
Ensure you are registered to vote. Visit www.checktheregister.ie
to be sure you have a vote. If you are not registered, contact me on 087-2423772 for a relevant form. The closing date is May 7 for applications.
2 – Your Polling Card
Once registered, you will be sent a polling card in advance
of Election Day on May 24, 2019. This card will tell you where your local polling station is. Keep it safe and bring photo ID on the day.
If your polling card does not arrive in time for the election, you are still entitled to vote provided you are registered to vote. You are required to have proof of ID regardless of whether you have a polling card or not.
3 – On Election Day
On Friday May 24, between 7am-10pm, you will need to go to your local polling station. Staff there will ask your name, address and check you are on the electoral register. Show them your poll card and ID.
4 – Your Ballot Paper
Once verified, the staff will give you a ballot paper which contains a list of the people you can vote for. Take your ballot paper into a polling booth so no one can see how you vote.
5 – I would appreciate your Number 1 vote
On the ballot paper, you will see my name, SWEENEY
NEE SCULLY MARY, and I would appreciate if you can put 1 in the box beside my name.
This means that you are giving me your first preference vote. You may wish to continue your voting preferences (2,3,4 etc.) for other candidates.
Please don't write anything else on the paper other than numbers as your vote may not be counted.
6 – Ask for Help
If you need any help when filling in your ballot paper, or are unsure what to do, ask the polling station staff for their assistance.
7 – Your Ballot Box
Once finished making your preferred candidate choices, place your ballot paper in the ballot box. Remember that polling
stations close at 10pm.
8 – Thank you for casting your vote
And if it's your first time, congratulations!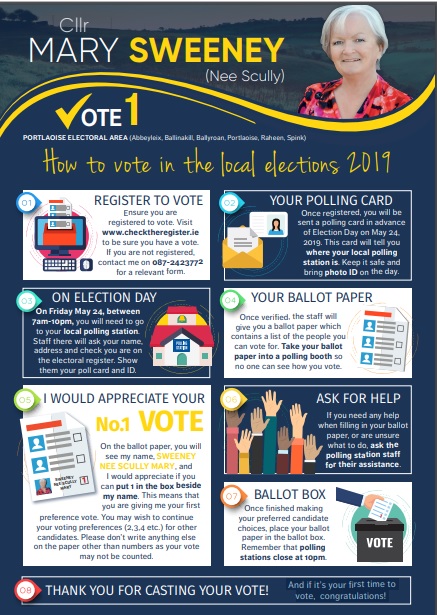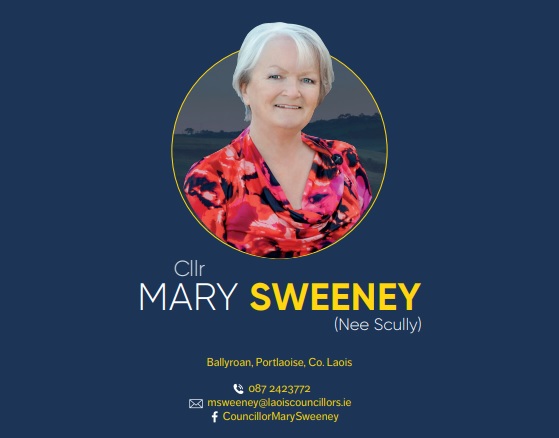 SEE ALSO – Check out the dedicated jobs section on LaoisToday