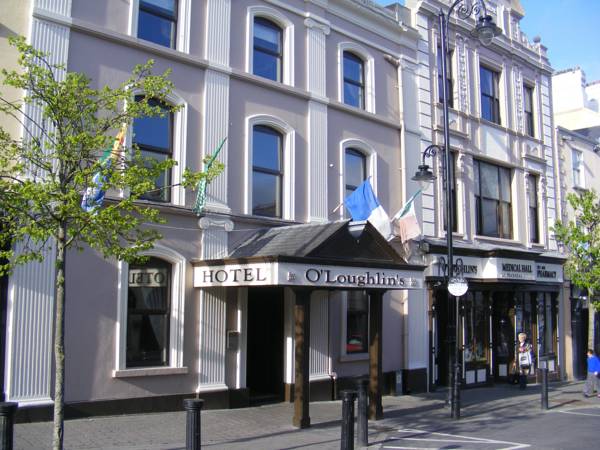 Simply. Good. Food.
O'Loughlins Hotel is delighted to announce its new menu. The new menu has been developed with Chris Metzger the Head Chef in O'Loughlins, who has previously developed menus for Paris Texas in Kilkenny and Judge Roy Beans.
Chris joined the team in December and has firmly established himself in O'Loughlins Hotel. He brings a wealth of experience to the Main Streets landmark food venue.
O'Loughlins Hotel has been at the centre of family food offerings in Portlaoise for over 24 years now. Although the hotel is currently on the market, Ivor O'Loughlin says
"Our ethos has not changed since the hotel was put on the public market.
"We are still producing quality food at reasonable prices. Our aim all along was to provide good wholesome food that people can afford. That hasn't changed. We had signs around the town for years advertising with the tag of 'SIMPLY GOOD FOOD', and that's how it is still!!'
"The new menu has a distinct flavour to it to reflect the changing trends in Irish food but retains the classic elements that O'Loughlins have become known for.
"The new recipe chicken wings (with sauce to your specified heat level), half/full rack of ribs, slow braised beef cheeks, seafood/wild mushroom risotto and a delightful Snickers tarte are just some of the new additions to the menu.
"There is a full range of burgers, pork baps and steak sandwiches along with homemade desserts. Commenting on the new menu and his impact on O'Loughlins, Head Chef Chris Metzger said,
"I have developed a menu here in O'Loughlins that really has something for everyone. O'Loughlins has a great reputation as a food venue and I was delighted to come on board as head chef.
"I have balanced the menu so that regular customers of O'Loughlins still have their favourite dishes available to them whilst adding some new dishes that I think there is an appetite for. It turns out that the people of Laois have a huge appetite for good quality chicken wings!!!'
When asked about the sale of the hotel, Ivor O'Loughlin said,
"Yes, the hotel is for sale but it being sold as a going concern. That means that everything stays the same, our bookings are going ahead as normal, our 40 staff are here as normal and our attitude to our customers experience remains the same.
"We have a proud history here as a focal point of Portlaoise and I can assure that O'Loughlins Hotel is very much – still here!!"
To mark their new menu O'Loughlins are offering a 10% discount to all lunchtime customers who reference this article or the hashtag #stillhere
Additionally, they will be giving away a €40 meal voucher to one lucky winner on Friday the 10th of May 2019. To be in with a chance of winning this great prize, simply share this post. The winner will be chosen randomly and notified on social media.
SEE ALSO – Check out the dedicated jobs section on LaoisToday.ie