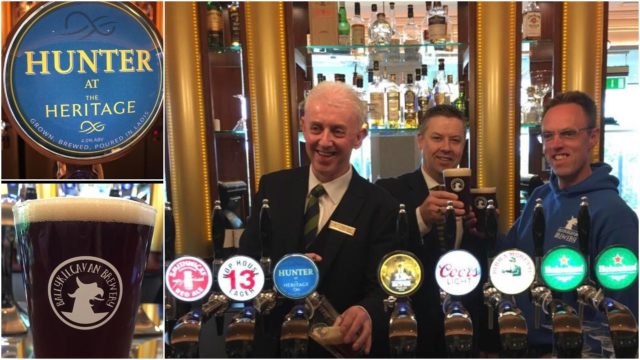 Hunter at the Heritage is a unique beer, brewed exclusively for the Heritage Hotel in Killenard by Ballykilcavan Brewing Company.
It is a beer very much of County Laois. All the barley used to make it was grown in the county including some Hunter, a resurrected barley variety from the 1950s.
It was grown on the farm of Seamus Duggan at Donaghmore, near Rathdowney after four years of work by Minch Malt to bring it back from just 25g of seed to restore it as a commercial malting barley variety.
The rest of the barley was grown at Ballykilcavan Farm, near Stradbally, Co. Laois. Ballykilcavan has been the home of the Walsh family for 13 generations since 1639.
The current owners, David and Lisa Walsh-Kemmis, have opened up a small new craft brewery on the farm where they grow barley and hops. All the water used to make the beer comes from a well in the 240 year old courtyard beside the brewery.
The beer is a smooth, refreshing Irish red ale with a rich malty base and a hint of roast from the roasted barley used to give it its ruby red colour.
It has notes of toast and caramel and is balanced with a gentle bitterness, derived from traditional Fuggles hops.
SEE ALSO – Life's a picnic with culture, heritage and history at The Heritage this summer