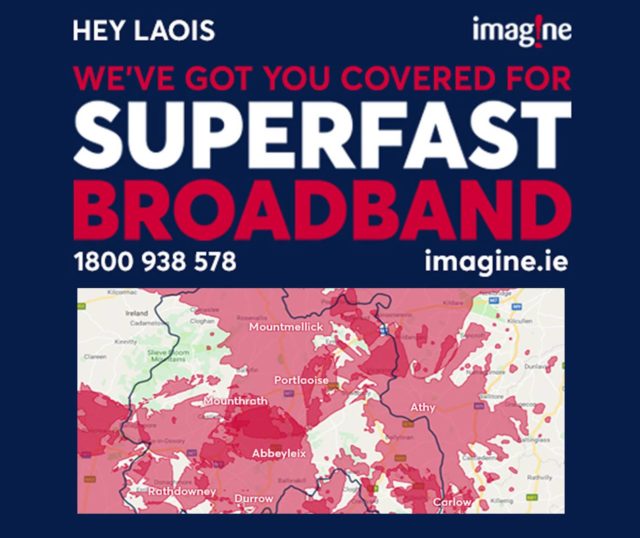 Superfast Broadband is now a reality for homes and businesses in County Laois thanks to Imagine.
Laois is starting to see the benefits of the €300m investment Imagine is making in Superfast Broadband to cover over 1 million homes and businesses across Ireland within the next 18 months.
While communities in the likes of Durrow, Borris-in-Ossory, Mountmellick, and the areas in between are already benefiting from Imagine's new network build, a number of other areas have also been added, giving some 3000 plus properties in the county access to superfast broadband.
Extensive coverage works have taken place in the county with the area's from Killeshin to Clonaslee and Killenard to Rathdowney now also in coverage for Superfast broadband.
Imagine Broadband's Product offering to consumers
Up to 150Mb Unlimited Home Broadband + Phone (Inc. All local, national and UK landline calls and 60 mins calls to Irish mobiles) Price €59.99 month Inc. Vat

Basic Business Product – Small Office/Home Office includes 

Unlimited Broadband + Phone and Calls (inc. All local, national and UK landline calls are 60 mins calls to Irish mobiles). Price €48.77 month ex. Vat
About 5G Fixed Broadband 
The latest generation of 4G Fixed broadband is capable of delivering 300Mbps services which far exceeds current user demand and has become an established alternative high-speed broadband solution.
It faced the challenge of traditional fixed line companies marketing FTTH as the only solution that could meet future demand for high-speed broadband.
Having failed to deliver, the arrival of the next generation of 'Massive' capacity 5G technology, capable of speeds well above 1Gbps and expected to exceed 10Gbps has changed all of that. 5G Fixed Broadband has become a game changer in the industry and significant challenger to traditional fixed line telecoms companies. 
Avoiding the significant cost and time to bring cables across poles and through underground ducts to homes, 5G technology allows providers to deploy high-speed broadband to large numbers of consumers in a short timeframe.
5G itself allows for extremely rapid download (up to 100 times faster than 4G) and upload speeds and decreased latency (i.e. the time it takes for devices to communicate with each other).
5G Fixed Broadband has now become a mainstream alternative to FTTH to deliver future-proofed Next Generation high-speed broadband to homes and businesses.
With major telecoms companies around the world, including Google Fibre, Verizon, AT&T and Sprint in the US already rolling out 5G Fixed Broadband as an alternative to FTTH and a quicker way to deliver high-speed broadband.
Developed to provide the massive capacity needed to support the next generation of 5G mobile services including the internet of things, driverless cars, artificial intelligence and virtual reality, 5G Fixed Broadband is currently the primary business model and driver of commercial 5G infrastructure investment across the world.
With the early release of 5G spectrum, Ireland will be one of the first countries in Europe to see the benefit from further innovative 5G services.
The first 5G commercial launch of Imagines 5G Fixed Broadband Network will immediately deliver the benefit of high-speed broadband to homes and businesses.
SEE ALSO – Rural Laois being connected to Imagine's superfast broadband network