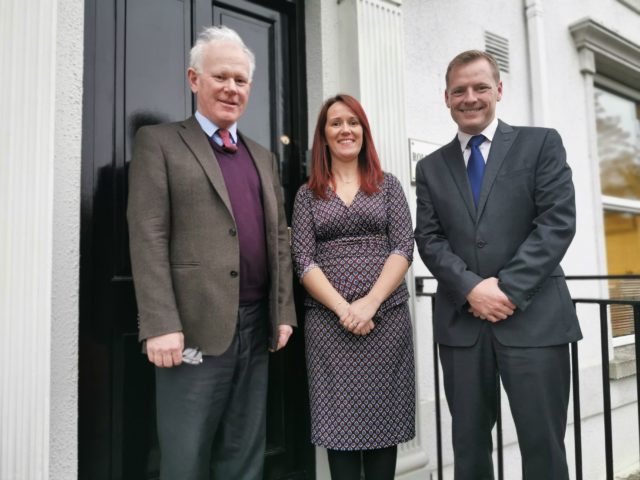 Eugene O'Connor of Rollestons Solicitors and James McElwee of McElwee Solicitors are delighted to announce the merging of their respective firms starting from the 1st November next.
Rolleston McElwee Solicitors will be situated at 4 Wesley Terrace, Portlaoise, Co Laois where Rollestons Solicitors has been based, with a sub-office being maintained at McElwee Solicitors office at O'Connell Square, Mountmellick, Co Laois.
All services will continue as normal for all our clients.
Established in 1899 and 2011 respectively, Rollestons Solicitors and McElwee Solicitors' client base includes companies, owner-managed businesses, farmers, banks, as well as private clients.
Rolleston McElwee Solicitors promises to be a dynamic, client-focused, forward-thinking firm concentrating on such areas as commercial and company law, property sales and purchases, litigation, landlord and tenant law, wills and administration of estates (probate), tax, liquor licensing, intellectual property, personal injuries, litigation and agricultural/farming law.
Making the announcement, Rolleston McElwee Solicitor's managing partner Eugene O'Connor said, "This merger represents further strategic growth for the firm and will allow us support our clients with additional expertise and experience and enable us to expand into new areas of legal practice whilst also concentrating on our core values, most important of which is a commitment to providing high quality and commercially focused advice to our clients".
Eugene O'Connor undoubtedly brings the wealth of knowledge and expertise of Rollestons Solicitors from many years of experience in private practice, together with his knowledge in the area of tax.
James McElwee is a Notary Public who also has a Diploma in Commercial Property and is a registered Irish and EU Trademark Agent.
Deborah Holland, senior solicitor within the firm, is a member of the Society of Trust and Estate Practitioners Ireland, with expertise in the area of trusts and estates and the administration of wills and estates of loved ones who have passed.
Together as a merged firm, Rolleston McElwee Solicitors have achieved the Q6000 standard, which is an advanced practice, risk and quality management standard awarded to solicitors' firms which have demonstrated exceptional levels of client practice and risk management.
Rolleston McElwee Solicitors will operate a comprehensive range of expert legal services including property, wills and probate, litigation, personal injury, agricultural licensing and commercial law services.
Together, Eugene O'Connor, James McElwee and Deborah Holland will play a leading role in driving Rolleston McElwee Solicitors forward in an era of uncertainty to best advise and assist clients in all legal and business matters.
We hope to be able to do business with you in the very near future.
SEE ALSO – Check out the dedicated jobs section on LaoisToday