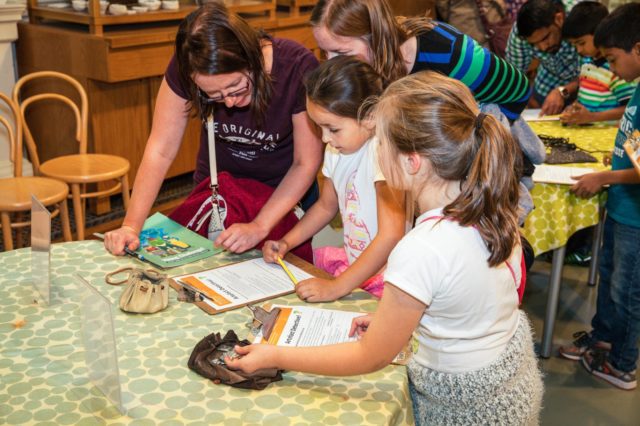 Midlands Science has announced details of unique Science Week activities in Laois this year which are part of a new collaboration with the National Museum of Ireland which will see the National Museum bringing educational outreach activities to the Midlands region for Science Week.
This year's activities in Laois are presented in partnership with the Heritage Office of Laois County Council.
Siobhan Pierce, Education Officer, Archaeology & Natural History at National Museum of Ireland commented: "We are excited this November to bring a day of events to communities in Laois, that will explore the rich archaeological evidence of life in the past in Ireland.
"Science Week is always busy for the Museum as we hold events to explain the science in archaeology and it is great to have a strong partnership which enables us to bring these events to the people who live in Portlaoise.
"Families can discover by joining in the Viking Artefact Challenge, just how archaeologists and museums discover evidence of everything from what Vikings ate, to their dress sense, and later that evening one of the Museum's Archaeologists will give a public lecture for adults on one of the largest scientific projects of the Museum, the Bog Bodies Research Project.
"We were delighted when Jackie Gorman of Midlands Science approached us and to work with Heritage Officer Catherine Casey on this Science Week partnership.
"These events are the result of what is to the Museum an important partnership between the Museum with Midlands Science and the County Heritage Officers of the midland counties, and one which will continue for a number of years to plan and bring Science Week events to towns in the Irish midlands."
The public event in Laois is appropriate for aged 14+ and will explore the history and science of bog bodies in Ireland with Isabella Mulhall, Assistant Keeper at the National Museum of Ireland.
The NMI Bog Bodies Research Project was established in 2003 following the discoveries of two remarkably well- preserved Iron Age bog bodies in the Irish midlands. The scientific investigation which followed produced a wealth of exciting results.
Since 2003, further finds of bog bodies have come to light in Ireland's peatlands and include the exceptionally well-preserved remains of Cashel Man unearthed in Cúil na Móna Bog in 2011 and subsequently radiocarbon dated to 2000 BC.
This event entitled "Secrets of the Bog Revealed – The National Museum of Ireland Bog Bodies Research Project" takes place on Thursday November 14 at the Midlands Park Hotel and booking is available online on www.midlandsscience.ie.
Earlier that day at Treo Nua from 3pm to 5pm, there is a free family drop in event which does not require booking. This event will allow participants to explore the archaeological evidence of the Vikings with reference to Laois.
Did you know that archaeologists use lots of scientific techniques to figure out what life was like in Ireland hundreds and even thousands of years ago? Educators from the National Museum of Ireland will have lots of replica artefacts and raw materials, which you can pick up and take a closer look at.
Use this evidence to solve the puzzle and discover how the Vikings cleverly used antler, wood, bone and amber in centuries past!
Jackie Gorman, CEO of Midlands Science said: "A key focus for Midlands Science is the provision of activities which demonstrate connections between science and culture.
We are delighted to be working this year with the National Museum in Laois. The drop-in event for families and the public event for adults will enable us to reach new audiences and stress the important of science in understanding our heritage and culture.
"Our aim is to engage people of all ages and increase public awareness of science and it wouldn't be possible to do this without the support of organisations such as the National Museum, so we are really grateful for the commitment and passion they have shown towards this outreach.
"We are also extremely grateful to the Heritage Office of Laois County Council whom have been so supportive, engaged and involved in our Science Festival since its inception and it's a pleasure to be working with them on this project.
"Archaeology draws on a wide variety of science disciplines such as geology, physics, chemistry, statistics and botany, providing us with the tools with which to explore and understand our past and these events are a unique way to engage with science and heritage."
Catherine Casey, Heritage Office of Laois County Council said: "We were delighted to once again be supporting the annual Midlands Science Festival.
"Whether your interest today is in science, heritage, culture, engineering, maths or elsewhere, this year's festival programme will have something special to spark the imagination and feed your curiosity.
"These events which takes place as part of national Science Week are a fantastic opportunity to promote science education to Laois pupils and especially to reach young children with the more fun and hands-on workshops.
"Visitors are also offered a unique chance to listen to real historical and scientific data, broadening their understanding from a completely fresh perspective."
SEE ALSO – WATCH: Laois teenager stars in stunning Irish rendition of 'Shallow'