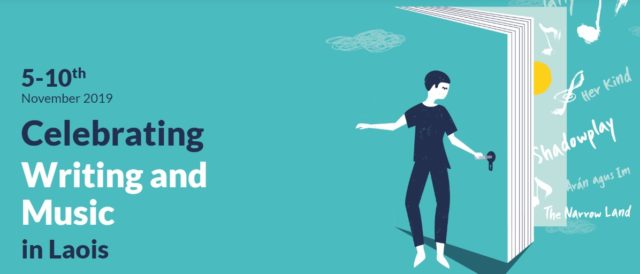 The Leaves Festival of Writing and Music, running from the 5-10th of November celebrates the diversity and richness in today's literary, music, theatre and film scene. Leaves aims to excite and engage with audiences young and old.
Now a weeklong festival with over 17 events the diverse and exciting programme has something for all genres.
***Festival Pass – Choose any 3 evening events for just €30! ***
Some of the highlights from this year's festival include:
---
Manchán Magan – Arán & Im in Dunamaise Arts Centre on Tuesday, November 5, at 8pm. 
Arán & Im is a theatrical performance in which Manchán Magan bakes sourdough bread for 70 minutes while offering insights into the wonders of the Irish language – exploring potent words of landscape, terms of intuition and insight, and the many phrases that bring to life the mysterious glory of our natural world.
Free showing to schools on November 6 at 10 am and 2pm. Call Dunamaise Arts Centre to book 057 86 63355
Supported by Creative Ireland Laois, as part of the Creative Ireland Programme in partnership with Laois County Council.
Tickets €10. Book here 
---
Three Irish Voices in Dunamaise Arts Centre on Thursday, November 8, at 8pm
Joseph O'Connor and Christine Dwyer Hickey in conversation with Dermot Bolger with music by Sibéal Ní Chasaide.
An evening where the written word comes alive, aloud and off the page.
Joseph O'Connor, Christine Dwyer Hickey in conversation with Dermot Bolger will chat about the challenges of writing fiction that brings in the lives of real people. Joseph O'Connor will read from his new book Shadowplay.
This is a humorous retelling of Bram Stoker's life. In the novel our hero is involved in a love triangle with two giants of the Victorian stage.
Christine Dwyer Hickey will also read from her latest novel. The Narrow Land tells the story of ten year old Michael who forges an unlikely friendship with the artists Jo and Edward Hopper. Her writing shows a deep understanding of human weakness, longing and regret.
Sibéal Ní Chasaide will bring her unique haunting contemporary sean-nós music to this wonderful evening.
Tickets €15 – Book Here
---
An Irish Legend – John Sheahan in conversation with Dermot Bolger with a reading by Niamh Boyce
In St Peter's Church of Ireland, Portlaoise, at 8pm on Saturday, November 9. 
The great John Sheahan in conversation with Dermot Bolger and prose by Niamh Boyce.
Legendary John Sheahan, violinist, last surviving member of the original Dubliners, acclaimed composer and poet will read from his novel Fiddle Dreams and entertain with some of his incredible tunes. If we are lucky we'll hear 'The Marino Waltz'!
Niamh Boyce, award winning novelist and poet, will read from her latest novel Her Kind. Enjoy an eclectic mix of chat, novel excerpts, poetry readings, nostalgic stories and well-loved tunes.
The intimate & cosy setting of the 18th Century St Peter's Church is the perfect backdrop for this truly special event of the Leaves Festival.
Tickets €15.  Book here
---
John Minihan – Legendary Photographer
In Dunamaise Arts Centre on Saturday, November 9, at 3pm  
In a rare public conversation with Dermot Bolger, John Minihan, one of Ireland's most distinguished living photographers, especially noted for his portraits of writers (Beckett in a Paris Café), artists (Francis Bacon), and celebrities (Princess Diana) presents his fascinating slideshow of his world famous photographs.
This is a must for lovers of literature and photography.
Tickets €7/€5 – Book Here
---
Ballintubbert, a house full of characters – with John MacKenna and guests
In Ballintubbert Gardens and House on November 10 at 2.30pm
Ballintubbert Gardens and House in collaboration with St Bridget's Church welcome you to the closing event of the Leaves Festival. Join us in celebrating the characters who once called Ballintubbert home.
Enjoy music and readings in the church where Poet Laureate Cecil Day Lewis's father once ministered, led by short story writer, playwright and novelist John MacKenna.
Return to Ballintubbert House to enjoy supper and an atmospheric evening of literary discussions with John MacKenna and special guests.
Tickets €25.  To book call 087 312 7639
---
Writing Workshops
As part of the Leaves Festival you don't just get to listen to established writers, you can also take part in a number of workshops.
Poetry in the making – workshop with Enda Wyley
Dunamaise Arts Centre 10am -1pm Tickets €20 Book  here
Enda Wyley is an award-winning Irish poet, teacher and children's author.
She has published five collections of poetry and her work has been widely broadcast and anthologised. In this workshop discover ways to make your poems succeed through the power of imagery.
Limited places left.
---
Writing Workshop with Christine Dwyer-Hickey
On Saturday morning the workshops continue.   Join Christine Dwyer Hickey, one of Ireland's most beloved writers, in an informal workshop to chat about aspects of writing your novel.
Christine will work with you to delve into your concerns, it may be regarding the plot, characters, dialogue and location.  This is an immersive workshop for any budding novelist.
Dunamaise Arts Centre 10am-1pm. Tickets €20 Book here
---
Library Events 
Book Launch – Arthur Broomfield with Laois Writers Group
Portlaoise Library. 8pm FREE
The Laois Writers Group is hosting the launch of Arthur Broomfield's new poetry book, 'The Giant's Footsteps in the Rock of Dunamaise'.
Arthur will be joined on the evening by Ballyfin sean nós singer Paddy Fitzpatrick. Paddy's ballads are honest and beautiful depictions of life in the Slieve Blooms.
---
Outlanders – by Séan Ó Tuathaigh in Portlaoise Library
On Friday, November 8, at 11am. Free admission
Séan Ó Tuathaigh was born and raised in Sligo and has an M. Phil in Creative Writing from TCD. Before that course, he taught English in Hanoi, Vietnam. A
fter graduation, in 2016, he moved to the US for 18 months, where he worked as a refugee biographer in a resettlement agency and, following that experience, he wrote Outlanders in which he tells their story.
What would you do to survive? What sacrifices would you endure for a better life? Would you swim a vast river? Would you trek across a desert or float through a malarial rainforest? How about breaking out of a slave plantation?
Boarding a leaky ship? Escaping a siege? Outlanders offers a glimpse into the lives of the displaced, not through screen or newsfeed, but through the very eyes of those who survived.
---
Find out more
The festival is organised by The Arts Office in Laois who can be contacted by emailing artsoff@laoiscoco.ie.
The full programme can be seen at leavesfestival.ie. Festival updates and news can be found on Facebook, Instagram and Twitter.  Tickets for evening events are on sale at www.dunamaise.ie.
A festival pass offering three evening events for €30 can also be purchased.
SEE ALSO – Check out the official Leaves Festival Website here