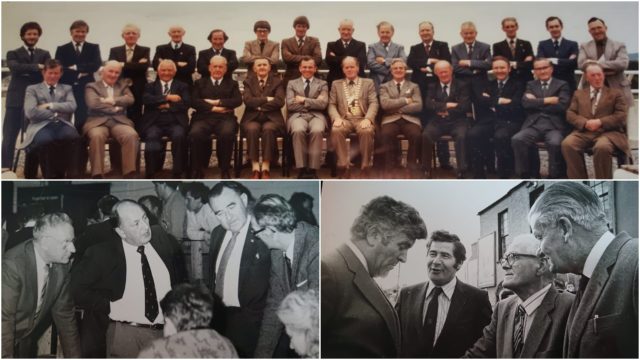 Forty years ago in 1979 the first ever direct elections to the European Parliament were held in tandem with the local elections on June 7 that year.
Back then the EU was better known as the EEC, the European Economic Community, which Ireland had voted to join in a referendum in May 1972.
The custom of holding the locals and EU elections on the same day has prevailed ever since and has helped sustain interest and a reasonable turnout for both, 52% nationally for the locals in 2014.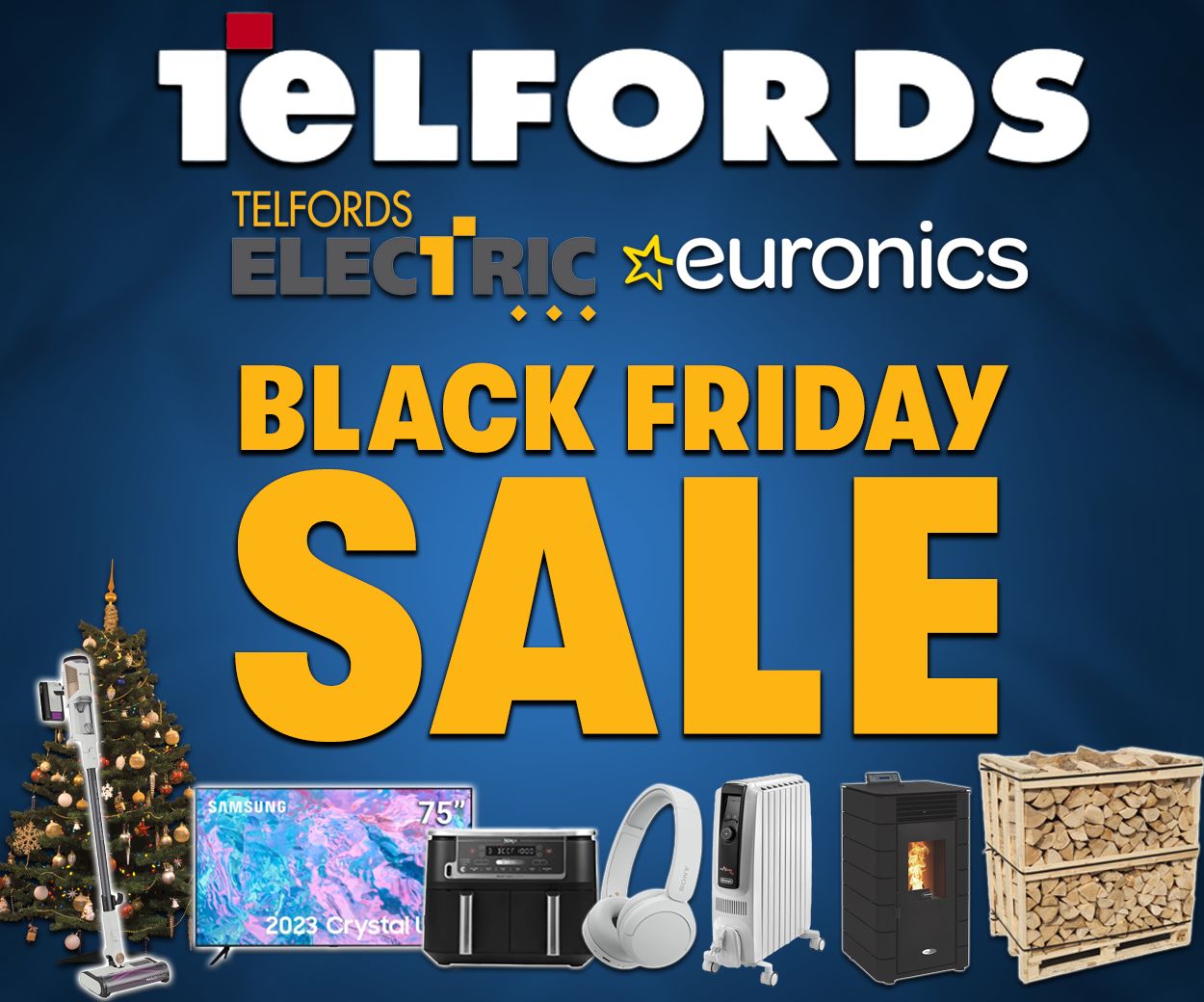 1979 was the last local elections in Laois in which only men were elected. That year was the last of grey suits only in the corridors of County Hall.
In the next locals Mary Wheatley made history as the first woman on the Council in 1985, to be followed by Cathy Honan and Theresa Mulhare in 1991.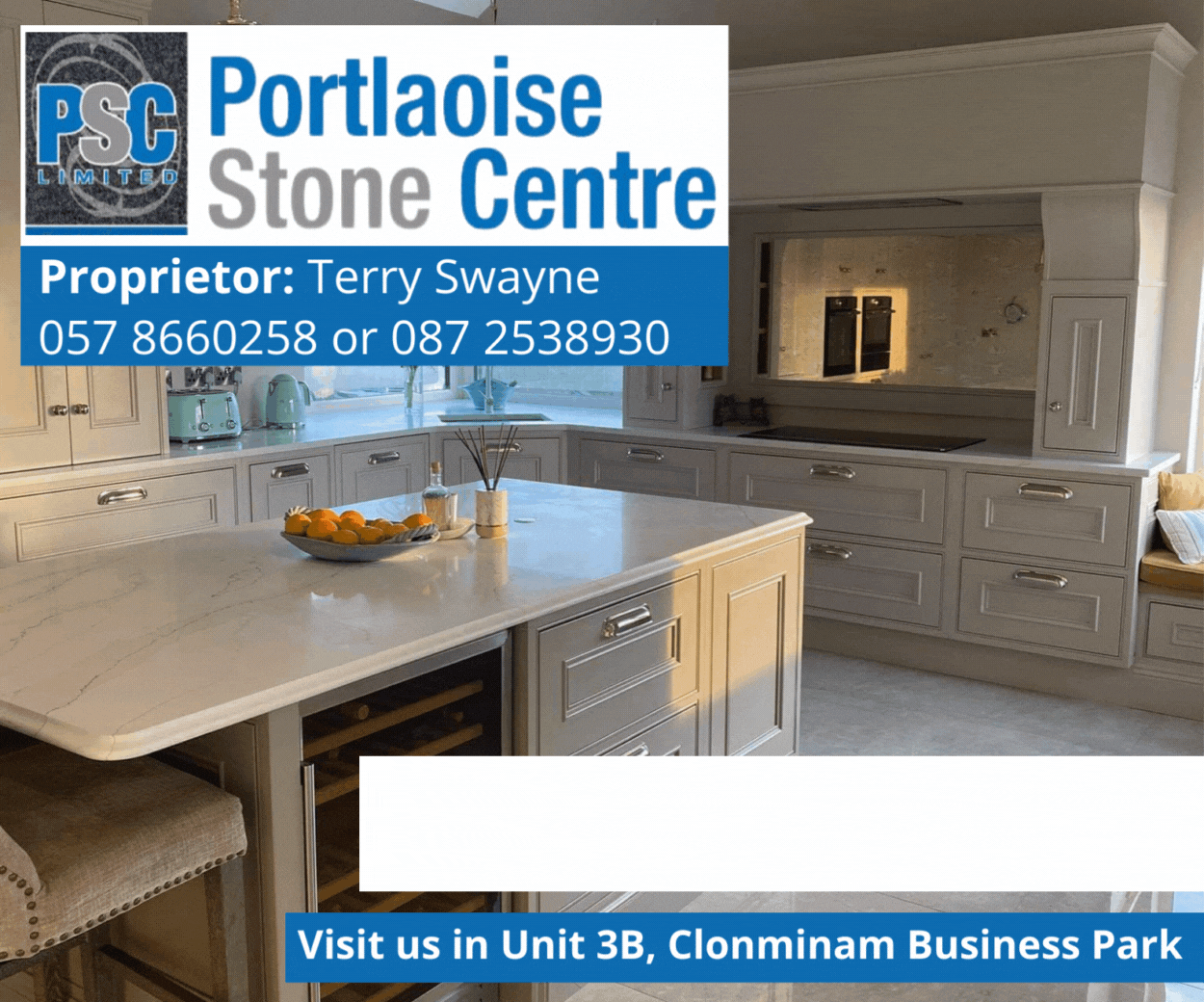 Today the outgoing Laois County Council has four women members in the Portlaoise electoral area – Catherine Fitzgerald, Mary Sweeney, Caroline Dwane-Stanley and Pauline Madigan.
There have been lots of other significant changes in the interim too as in '79 Laois County Council conducted its business from a variety of offices scattered all over the place but primarily located in the old Courthouse, which today is home to the Dunamaise Arts Centre.
Back then the Council shared the cramped and labyrinthine building with the Courts Service and the Midland Health Board.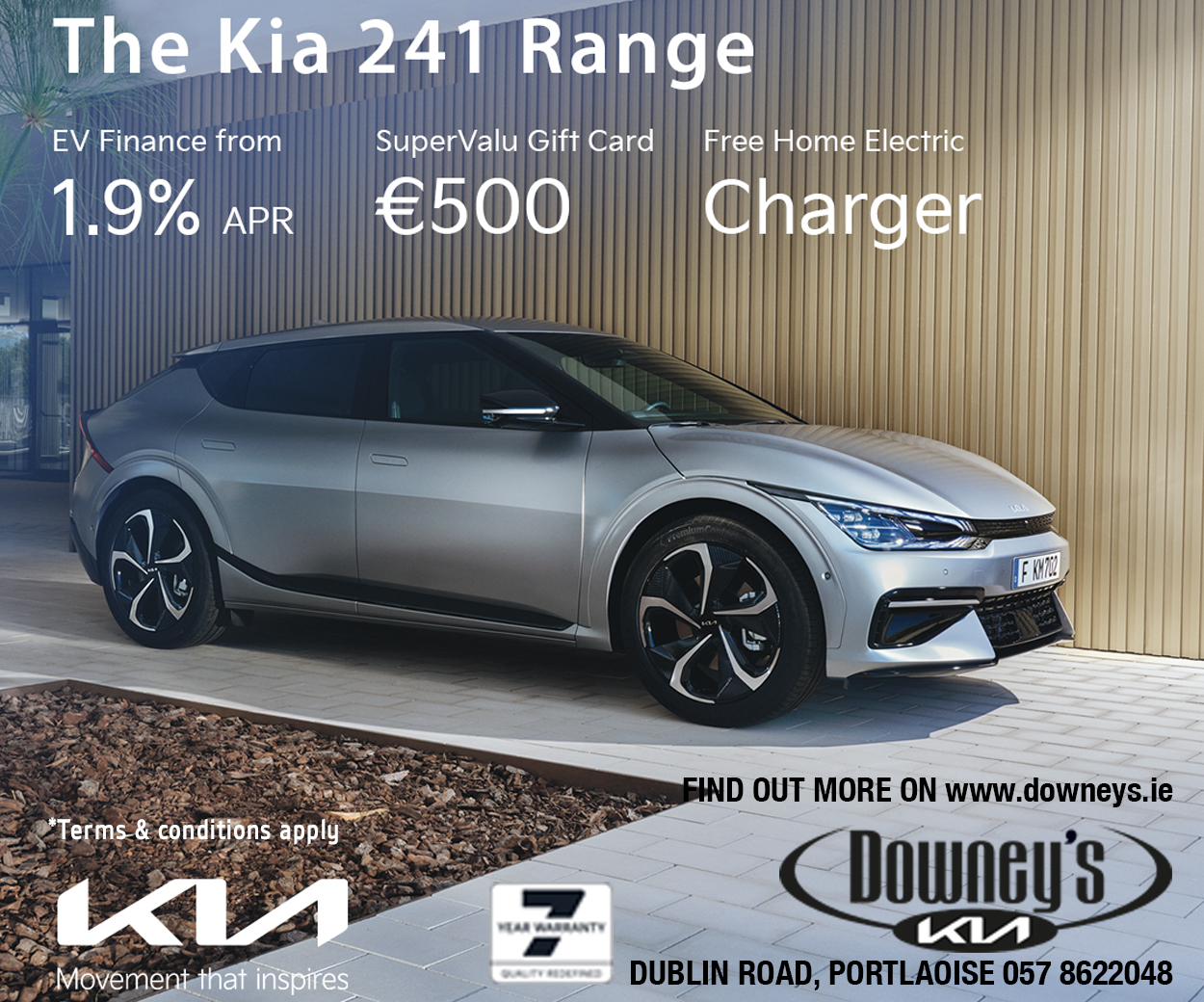 Thanks to the foresight, ambition and vision of Cllr Tom Keenan the local authority put in play plans for a new modern state-of-the-art purpose build HQ for the Council.
Not one to play second fiddle to anyone, especially a government Minister, Tom Keenan duly officially opened the new County Hall when he cut the ribbon on the new complex on May 14, 1982.
Mind you not all the important business of the Council was always conducted in the old courthouse or even the new County Hall.
Donoghues Pub in the Market Square was the well-known rendezvous for councillors, officials, reporters and hangers-on alike in the aftermath of the monthly council meetings.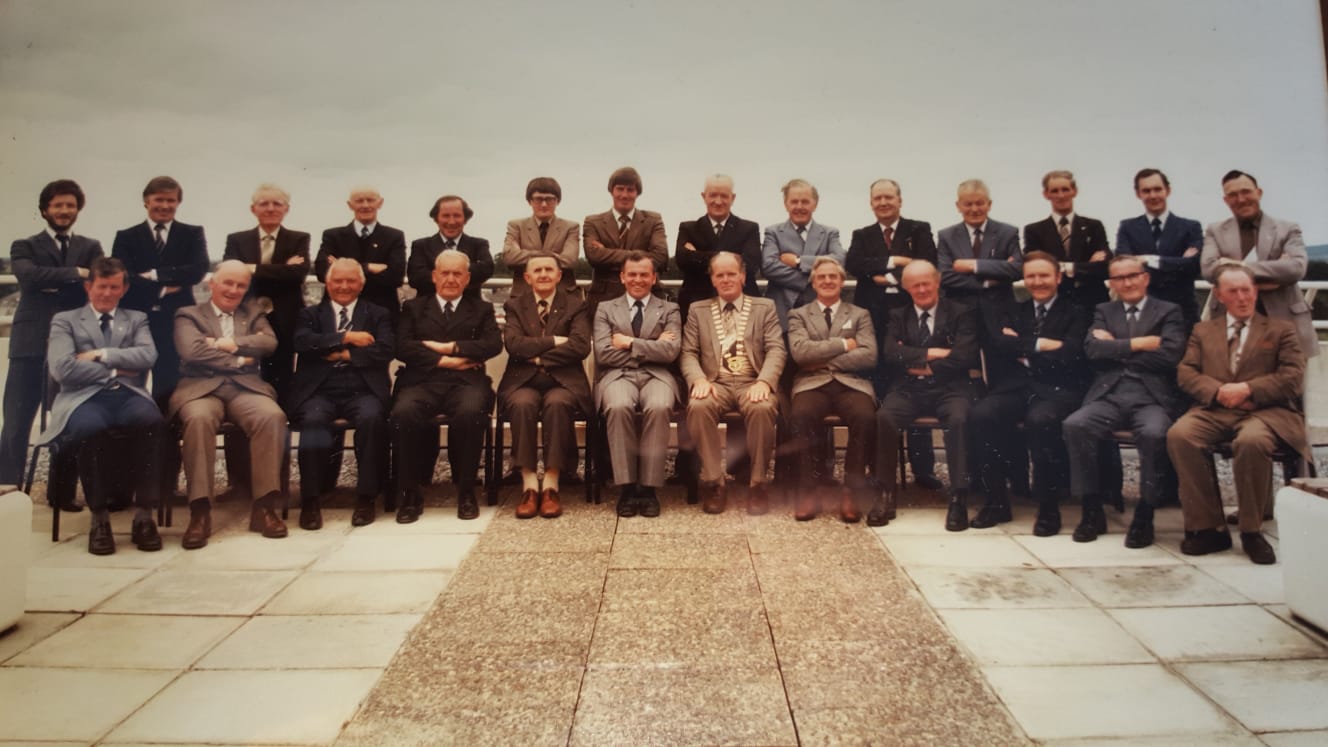 The meetings were held religiously on the last Monday of every month from 3 to 5pm, at which stage almost everyone would adjourn to the bar. The meetings were held on Mondays to facilitate the members of the Dáil and Senate, as the Houses of the Oireacthas do not sit on Mondays and this ensured that the TDs and Senators could attend.
It was around this time also that the practice of Laois and Offaly being administered by a shared management structure came to an end with the tenure of County Manager and County Secretary, Paddy O' Dowd and Jack Taaffe.
Laois got its own County Manager and County Secretary in Michael Digan and John Quinlivan.
One of the most respected and highly regarded officials of them all was a Stradbally man, John Kennedy, who did go on to serve his own term as County Secretary and Acting County Manager before his eventual retirement. He was an out and out gentleman.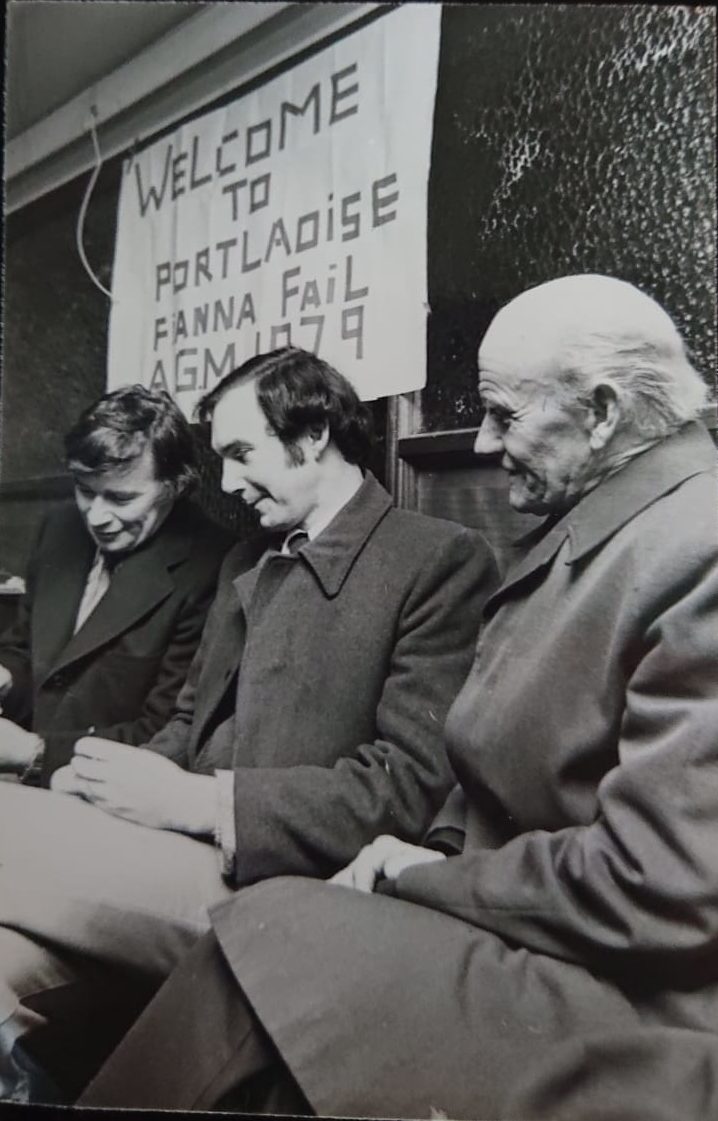 Back in Donoghues they got down to the serious business of the real exchange of information, tittle-tattle and the wheeling and dealing around planning, rezoning, housing allocations and the infamous Section 4s – a process whereby the elected councillors voted to ignore the advice of the County Manager and to proceed with the granting of planning permission.
Very often it was as straightforward as granting planning permission to a son or daughter to build a house on their own family holding adjacent to their parents homestead.
James Fintan Lalor Avenue and 'Lucifer's Highway'
Sometimes it wasn't so simple. The very land that County Hall itself is built on had been at the centre of a bitter Compulsory Purchase Order (CPO) and legal battle between the Council and the local landowner and dairy farmer, Frankie Meehan.
The land was initially acquired to facilitate the construction of the inner-relief road, James Fintan Lalor Avenue, as Portlaoise town's Main Street was clogged up, just as Naas was at the time, with heavy traffic and lorries on what was a notoriously narrow street for two-way traffic heading to Dublin, Cork, Limerick and Kerry.
However, it was subsequently rezoned and designated for preferential urban renewal tax status and witnessed wholesale commercial and industrial development, where the Laois Shopping Centre, Lidl, Aldi, Kelton House and Lyster Square and County Hall stand today.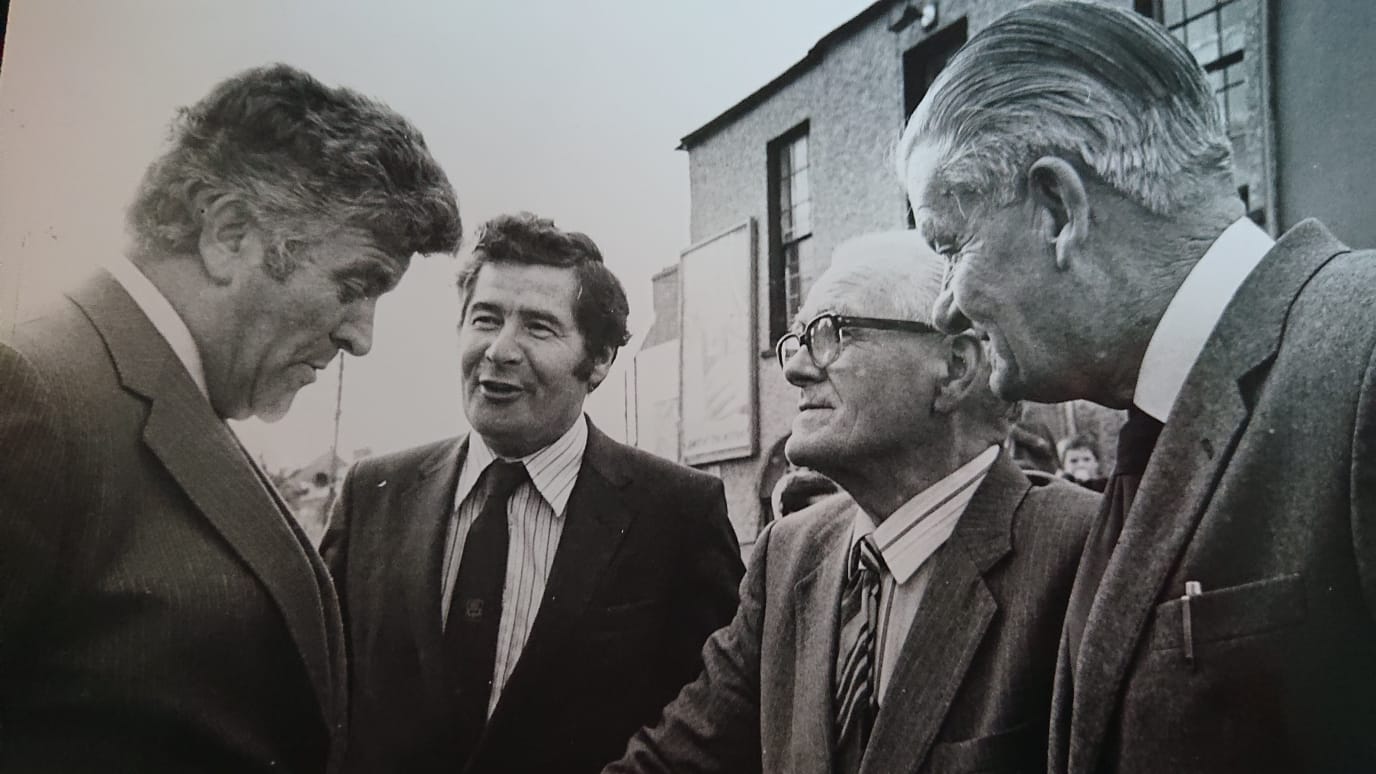 Frankie Meehan received a mere pittance, less than £30,000 for his entire farm on which all the development took place. Frankie and his family lost out badly and small wonder that he branded James Fintan Lalor Avenue, 'Lucifer's Highway', a grievance that he took to the grave.
Back in Donoghues it was brandy, half coronas, whatever you're having yourself, drinks all round.
In the 1977 general election Fianna Fáil had swept to power under Jack Lynch, thanks to his dubious 14-point manifesto ousting the Fine Gael-Labour Coalition government of Liam Cosgrave and Brendan Corish.
However, in Laois, while Fianna Fáil were breaking all the records with poll topping performances from the likes of Liam Hyland (1,785) and Joe Dunne (1,062) the Fine Gael – Labour partnership held up extremely well with FG retaining its 12 seats to FF's 11 and the two Labour councillors Jimmy Kelly and Ned Kelly holding the balance of power.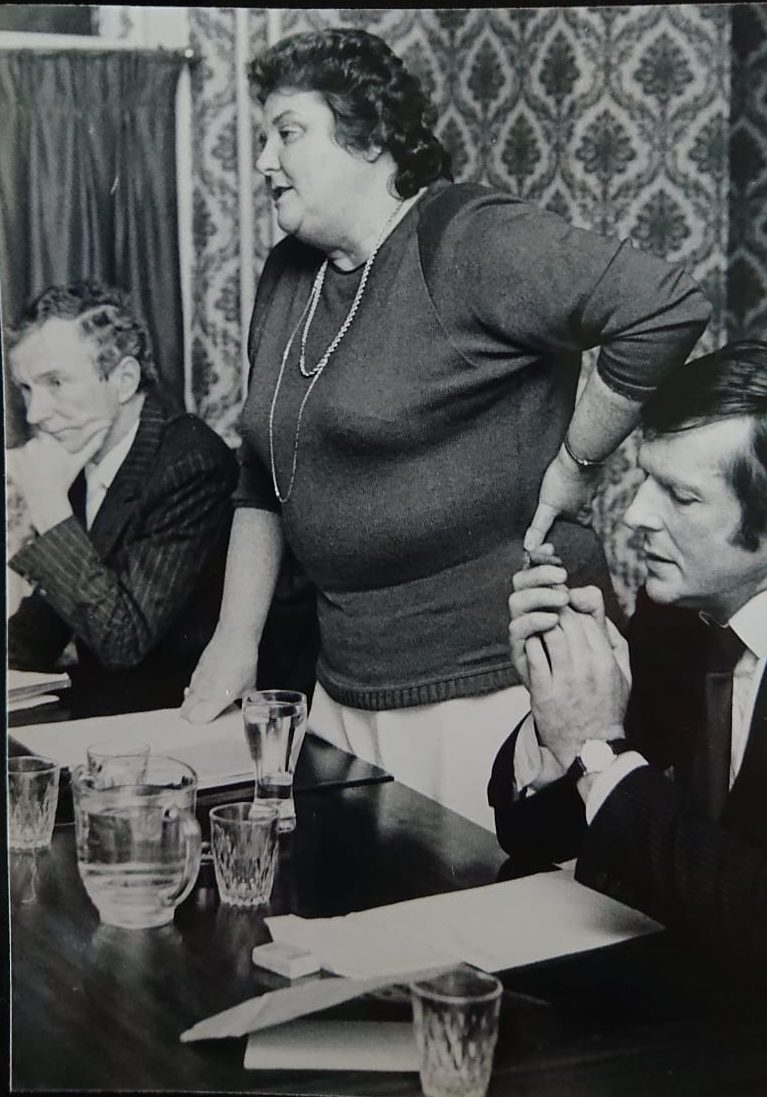 It was to be their last hurrah and final time to do so as Fianna Fáil romped home with 14 seats and an outright overall majority next time round in 1985.
But in 1979 it was still Tom Keenan's Town, 'My Town', as he would say. He served continuously as Chairman of Laois County Council from 1978 to 1985. Generous to a fault, he held court in Donoghues. Brandy, half coronas, whatever you're having yourself, drinks all round.
While the head count for the parties remained the same following the '79 election there was some notable changes in personnel.
Newcomers to the Council in 1979 were John Daly, Seán Jacob, Mick Lalor and Willie Mansfield, all for Fine Gael and Mick Nerney for Fianna Fáil.
Paddy Delaney and Chris Finnegan did not seek re-election and neither did Senator Charlie McDonald who opted not to defend his Council seat and to concentrate instead on trying to get elected to the European Parliament.
Paddy Quinn lost his seat in Borris and in what was seen as a big shock at the time, Fianna Fáil's Seamus Martin lost his seat in Luggacurren to John Daly.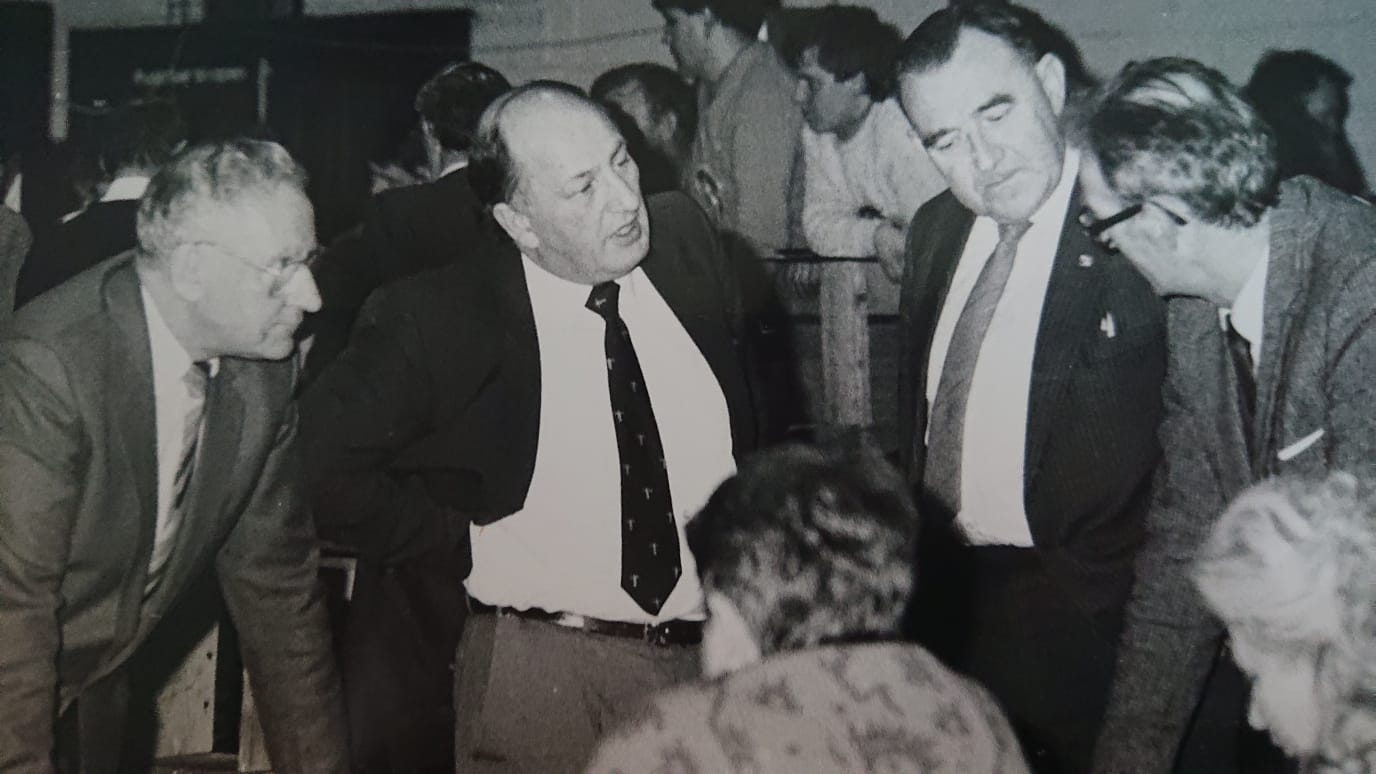 John Daly causes a shock in Luggacurren
The defeat of Seamus Martin by first time runner John Daly who topped the poll, was a surprise to many as Martin was expected to retain the seat which had previously been held by his late father Senator JJ Martin.
Ironically, Johnny Daly was to lose the seat in 1985 when Charlie McDonald switched from the Portlaoise electoral area to Luggacurren, merely to unseat his own colleague. But the seat returned to Timahoe once again when it was won back by John Daly's son, James Daly in 1991 and held successfully for 23 years thereafter until 2014.
In 1979 Laois was divided into four local electoral areas of Borris-in-Ossory, Luggacurren, Tinnahinch and Portlaoise which was a most unwieldy nine-seater spanning from Mountrath into Portlaoise, Stradbally and across over into Portarlington.
The councillors returned in that election were:
Borris-in-Ossory – Liam Hyland (FF), Jimmy Kelly (Lab), Jim Phelan (FG), Pat Phelan (FF), Seán Jacob (FG), Eamon Rafter and Willie Mansfield.
Luggacurren – John Daly (FG), James Cooney (FF), Martin Rohan (FF), Bill Fleming (FG).
Tinnahinch – Oliver J. Flanagan (FG), David Goodwin (FG), Michael Moloney* (FF), Chris Horan (FF) and Mick Lalor (FG). (John Moloney was co-opted on to the Council on the death of his father Michael during this term. This was the start of John's successful political career as he was subsequently elected to the Council in 1985 and later to the Dáil where he served as a TD and Minister for State at the Department of Health until 2011).
Portlaoise – Joe Dunne (FF), Jerry Lodge (FF), Joe Carroll (FG), Tom Keenan (FG), John Hosey (FF), Jimmy Buggie (FG), Ned Kelly (Lab), John J O' Reilly (FG) and Michael Nerney (FF).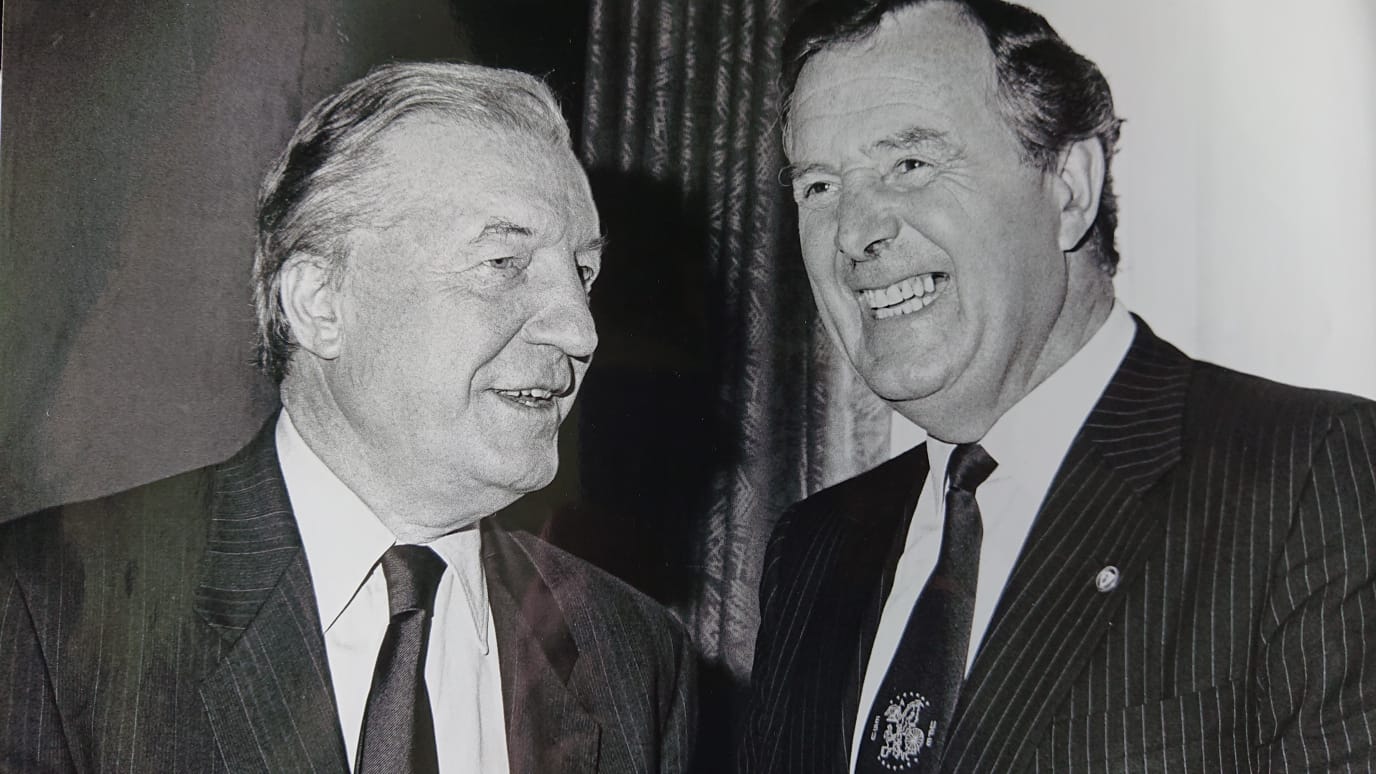 Fine Gael run five general election candidates and it works
Charlie McDonald served for a term as a Fine Gael TD from 1973 to 1979, the only occasion in which the party had managed to win three out of the five seats in Laois-Offaly.
The Ballyroan man won the seat at the expense of Fianna Fáil's Ber Cowen when Fine Gael's unusual strategy of running five candidates paid off, as Oliver J Flanagan and Tom Enright were also elected with Cllr Tom Keenan and Cllr Johnny Butterfield in Offaly also on the FG ticket.
Paddy Lalor and Ger Connolly were returned for Fianna Fáil with Mountmellick's Thomas Culliton also on the FF ticket. Thomás was the school principal at the Rock NS.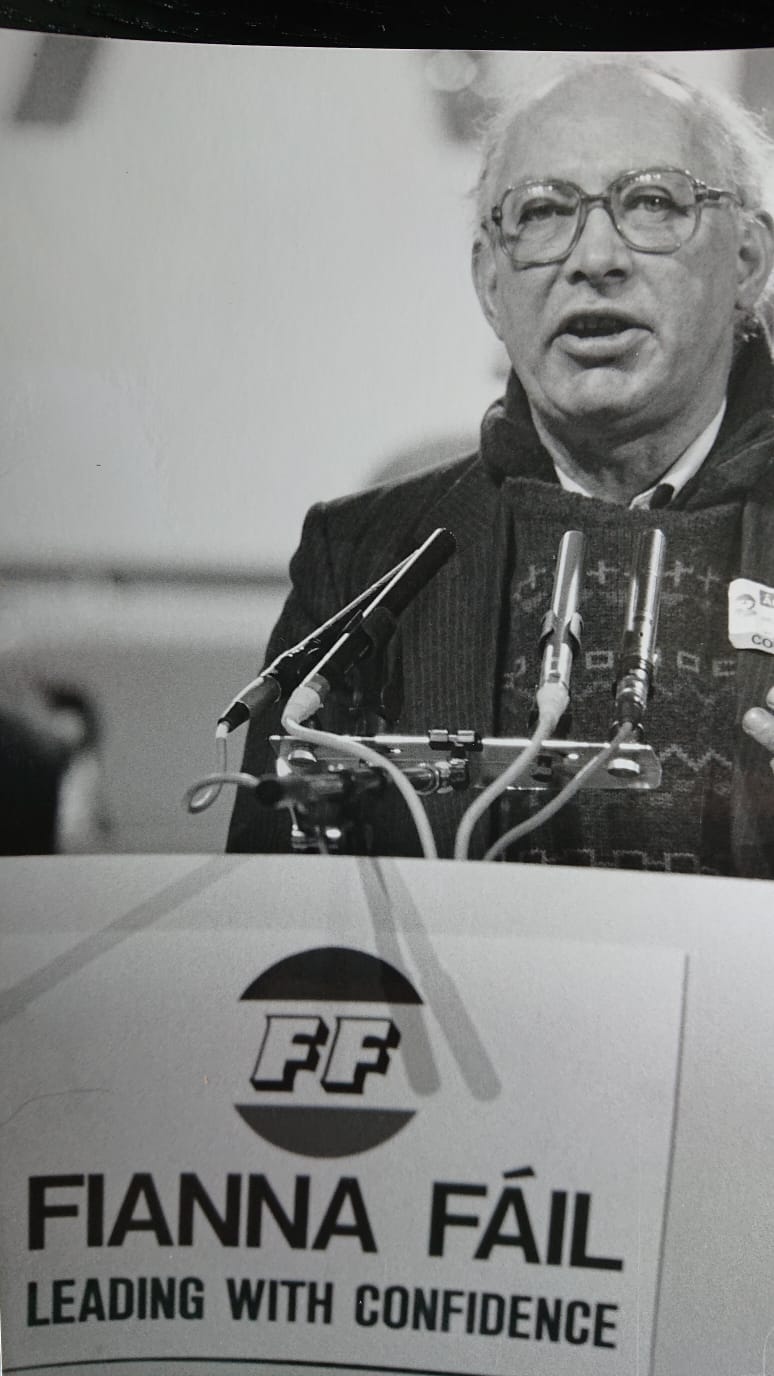 Charlie McDonald lost his Dáil seat in 1977 but was subsequently elected to the Senate. In 1979 he opted to forego defending his Council seat in the Portlaoise electoral area, in preference for his bid for Europe.
Bizarrely, the two Laois men, based in Ballyroan and Abbeyleix, Charlie McDonald and Paddy Lalor were to go head to head again in the first ever European elections in 1979.
On paper Charlie McDonald had the edge as he had served for six years as a nominee to the European Parliament. He later conceded that he didn't receive sufficient support in his own Laois-Offaly base to mount a successful challenge for Europe.
The count for the Leinster Constituency was held in St Kieran's College in Kilkenny.
The popular Fine Gael Minister for Agriculture, Mark Clinton (78,762) topped the poll and romped home, followed by Paddy Lalor (62,094) and Labour's Liam Kavanagh (40,072) taking the third seat.
Charlie McDonald finished off the pace with 24,875 votes and effectively lost his Council and European Parliament seat on the same day. Following his defeat in the 1977 general election Charlie McDonald contested four further general elections but he was never to return to the Dáil. He did however successfully retain his Senate seat on the Agricultural panel right up until 1993.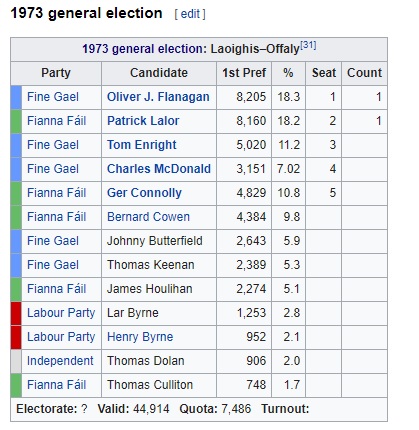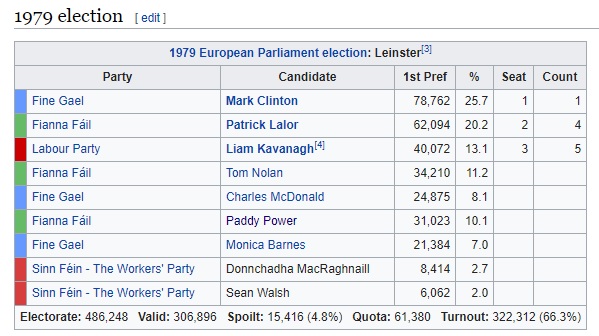 SEE ALSO – 1985 Election Memories: A Fianna Fáil landslide, first woman elected, some big casualties, and losing out by just four votes