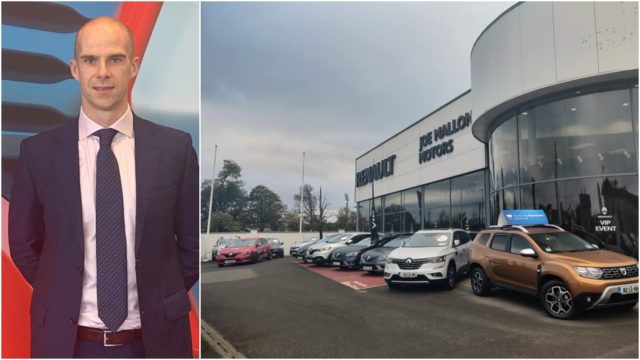 Nearly everybody has been effected greatly by the Coronavirus and the restrictions imposed – with businesses having to come up with all sorts of ways to stay active and engaging with their customers.
For Joe Mallon Motors in Portlaoise, main dealers of Renault and Dacia, their showrooms have been closed since March 27 with the garage open only for emergency repairs.
The after sales service is permitted to re-open this Monday, May 18, with the showroom to follow on June 8.
But they haven't been idle. In fact they've been quite busy embracing new ways of selling cars in what is a challenging environment while also going over and above to help the frontline workers.
Stephen Butler, a salesman in their Portlaoise showroom, explained on the LaoisToday Talking Business podcast how they've sold cars to customers using their new online showroom.
"It has been working well. We actually launched a new website in middle of March which was perfect timing in a way," he said.
"(There are) new functions on the website (and) we'd have 20 images of the car online plus a video.
"The first couple of sales happened in the very first week of the lockdown. People enquire online, see the videos and if they want we send a more personalised video."
Customers can they apply for finance if that's the route they want to go and in some cases they've had the new car delivered to them without once stepping into the show room.
"We have a lot of customers who have bought used cars from us in the last six to eight weeks since the lockdown and in most instances they haven't driven the car until we hand it over to them.
"And people seem to be ok with that. They are buying from a reputable dealership. They are buying a car that is still within manufacturer warranty and you know that we are only a call away if you feel that car isn't right for you or if you feel you're not satisfied."
And Stephen explained that many of the sales have been new customers.
"The first handful of sales we got in the first week of the lockdown were all new customers that hadn't been with us before which is great. Getting a service like that we have had a few that have passed on friends and family to us.
"Then we had people who were originally customers who decided during the lockdown to upgrade. Again they have done it through the online channels."
A good few customers have availed of the three-step process – look at car, requesting a personalised video and apply for finance.
Though new car sales are down, there is still a desire for 202 cars.
"Renault Ireland have stepped up with an offer for 202s. They're giving customers a break. A three-month payment deferral on finance payments. Customers won't have to worry about their first instalment for three months."
And Renault Ireland have also teamed up with Axa to give cars to frontline workers coming home from abroad to work. This week Joe Mallon Motors gave a woman a 201 Megane for the next two months.
"Renault and Axa have teamed up. Any returning doctors or nurses coming home from abroad, Renault have asked dealers to put up a Covid cover cars.
"Axa cover the insurance for two months, we supply the car for two months free of charge to these returning nurses or doctors. A good news story in the greater scheme of things.
"Everyone is dooing their bit for frontline workers being very charitable and this is Renault's way of saying thanks."
The showroom will be open on June 8 with the team in Joe Mallon Motors currently preparing for that with temperature checks and a log book of people coming in and out to be kept.
"We're looking forward to getting back into a routine and getting back meeting customers. We do know from the level of phone calls – the phone hasn't stopped ringing since the lockdown – from after sales and a sales perspective people want to do business."
You can listen to the interview in full below or subscribe to our podcasts on Apple Podcasts or Spotify.
SEE ALSO – EXPLAINED: What changes will happen on May 18 as Ireland moves into Phase 1 of Coronavirus roadmap