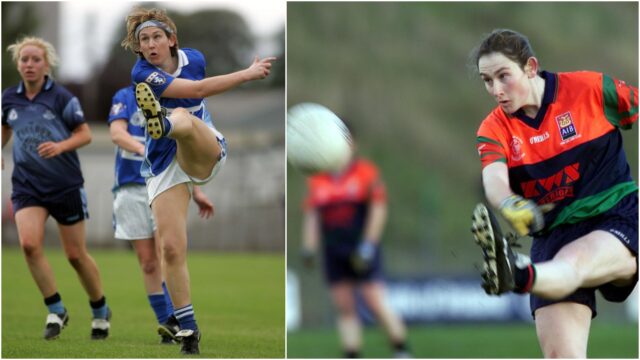 Brought to you in association with Laois Library Service
There have been many great Laois ladies footballers over the years but the name of Sue Ramsbottom is one that is often as cited as one of the best ever.
Highly-regarded in the ladies game, she has seven All Star awards and played for the Laois senior team for the best part of 20 years, the highlight coming in 2001 when they won the All Ireland final after so many previous losses.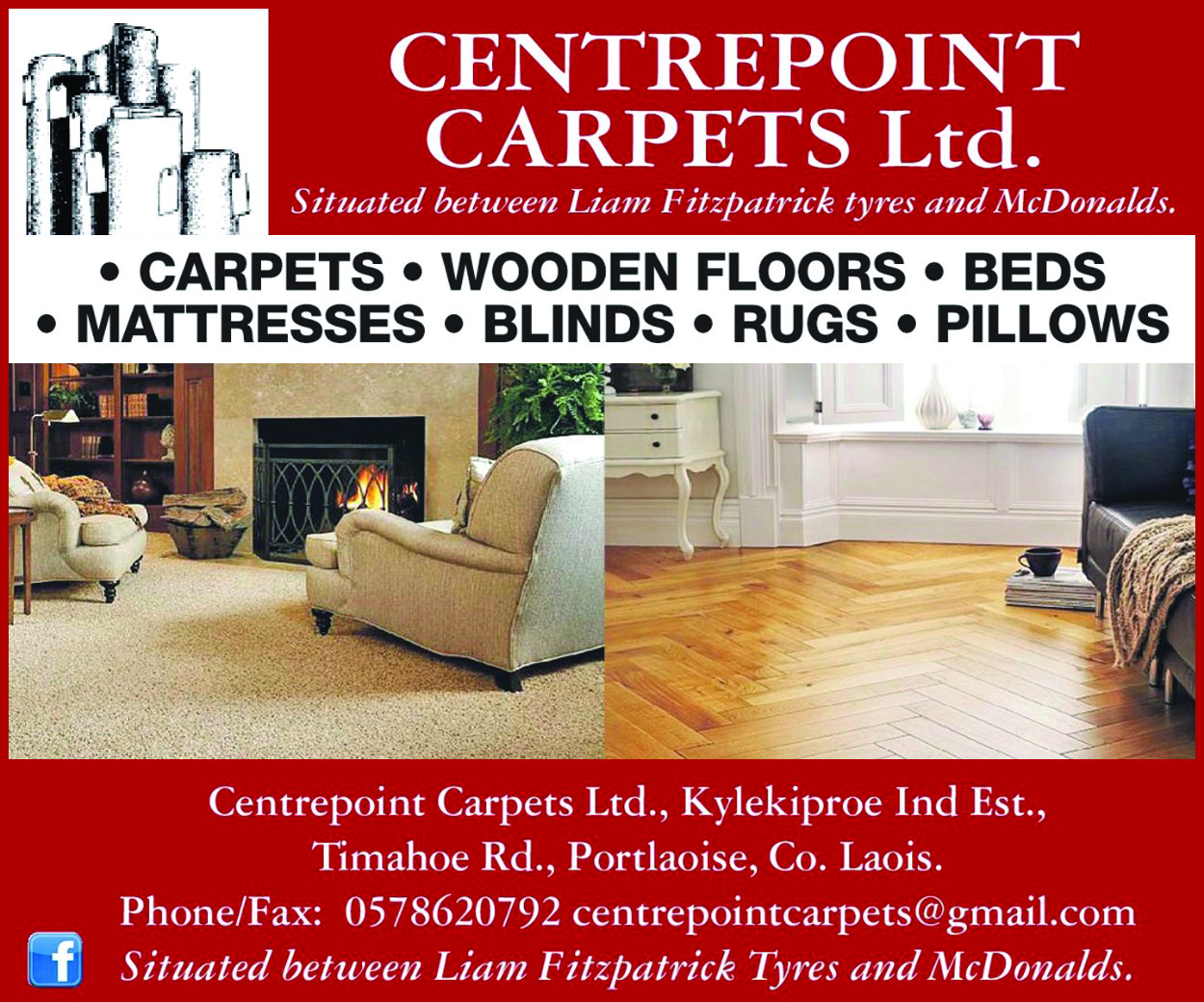 Though from Timahoe, her first involvement with the ladies game was with the brilliant Heath team of the 1980s and she helped them to All Ireland club success in 1986 at the age of just 12.
Following the formation of the club in Timahoe, she later starred for them in numerous Laois and Leinster club successes.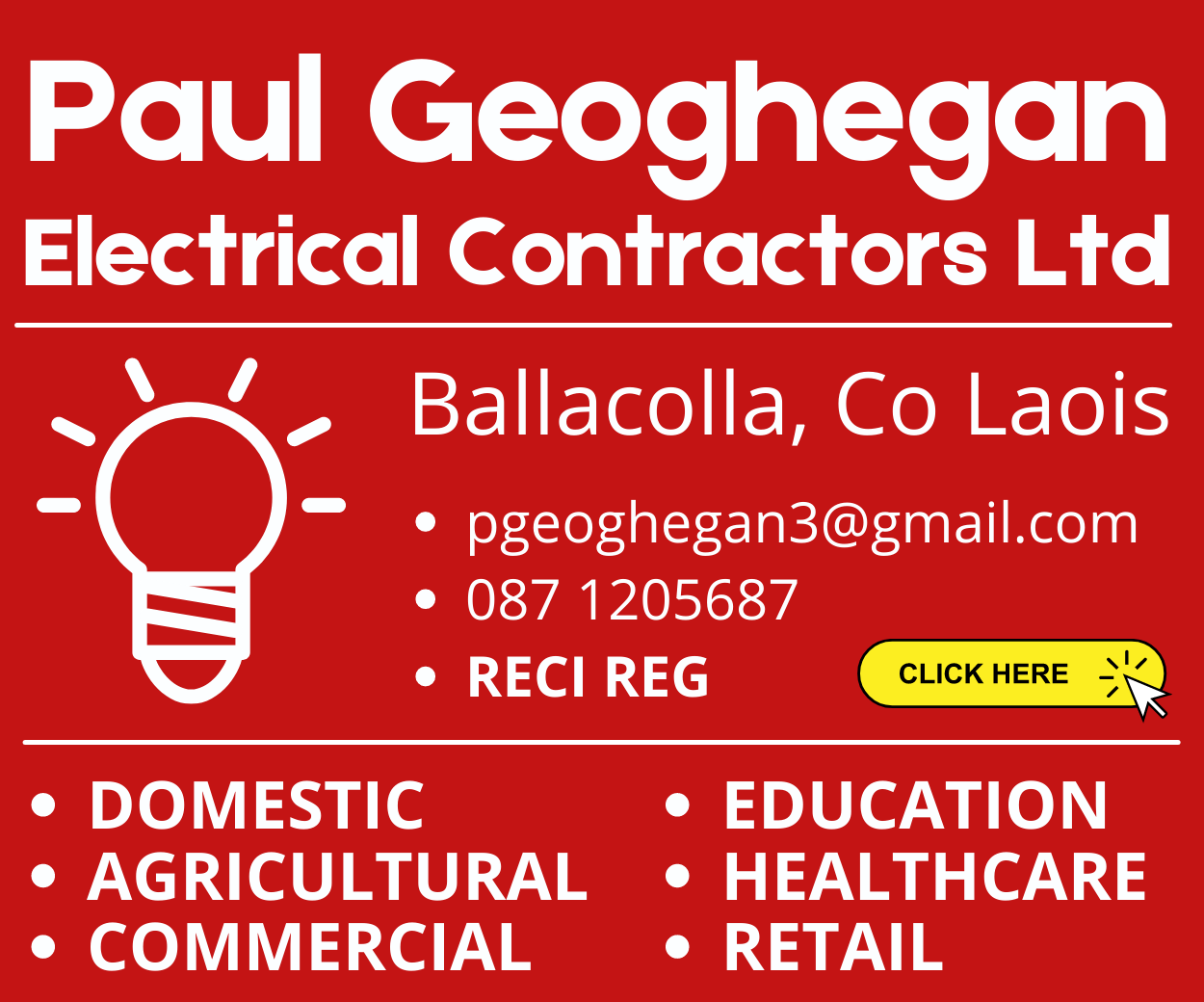 Among her hefty medal haul are Laois and Leinster titles with Timahoe, Leinster, All Ireland and National League medals with Laois, those seven All Stars and a Texaco Sports Star award in that 2001 All Ireland winning season.
A talented all round sports person, she also played rugby for Connacht and Ireland.
An officer in the Irish Army, she is not long back from an overseas tour of duty in Sarajevo.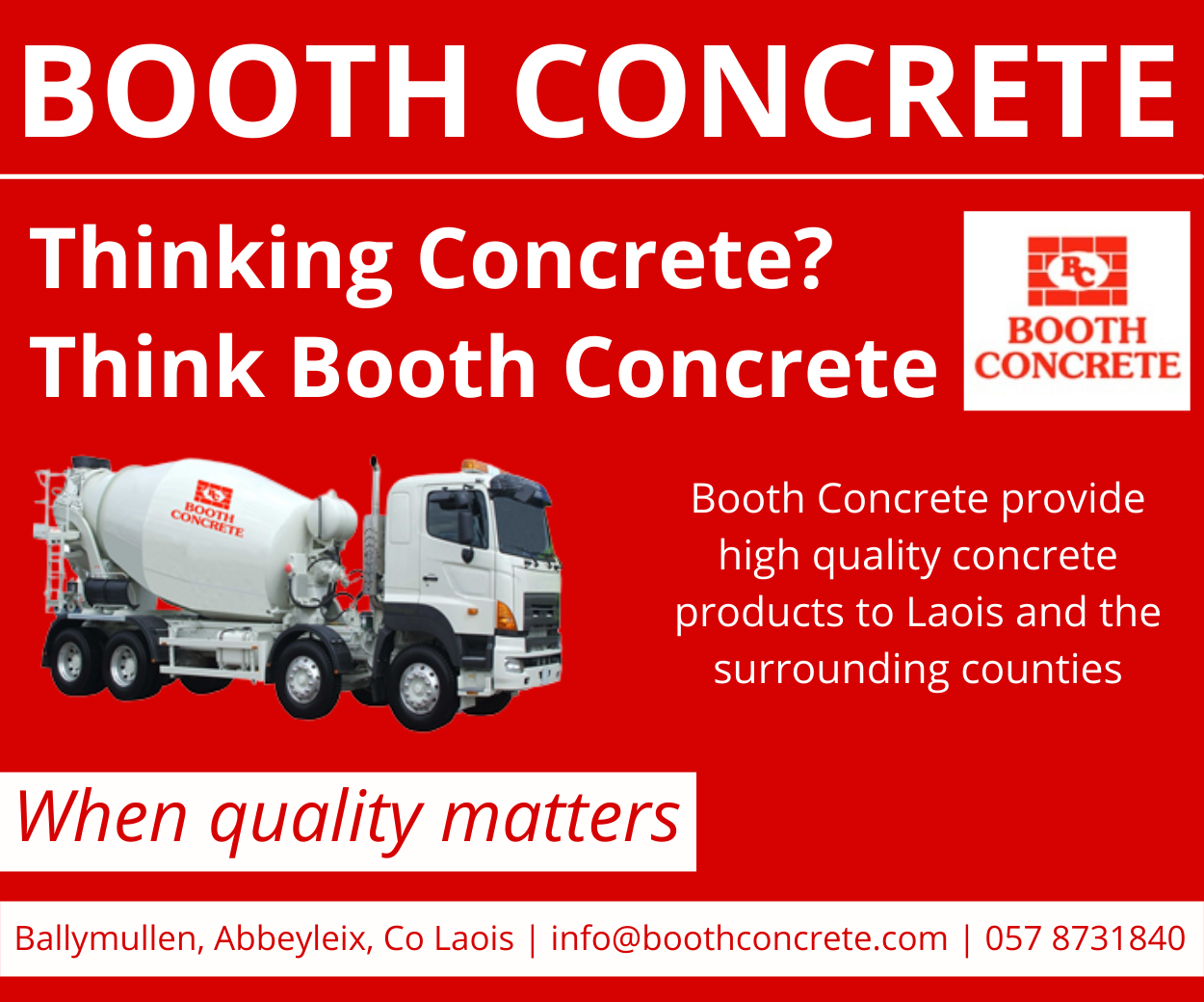 She is the latest to feature in our Sporting Memories interview series.
What's your earliest football memory?
My earliest memory is playing with the boy's school team in Timahoe National School.  I also remember kicking the ball with my brother at home.
The reason why I kicked the ball out of my hand with my left foot and from the ground with my right is due to the fact I was trying to mirror what my brother was doing as he kicked the ball to me.
He was using his right foot to kick and I believed I was also doing the same thing!!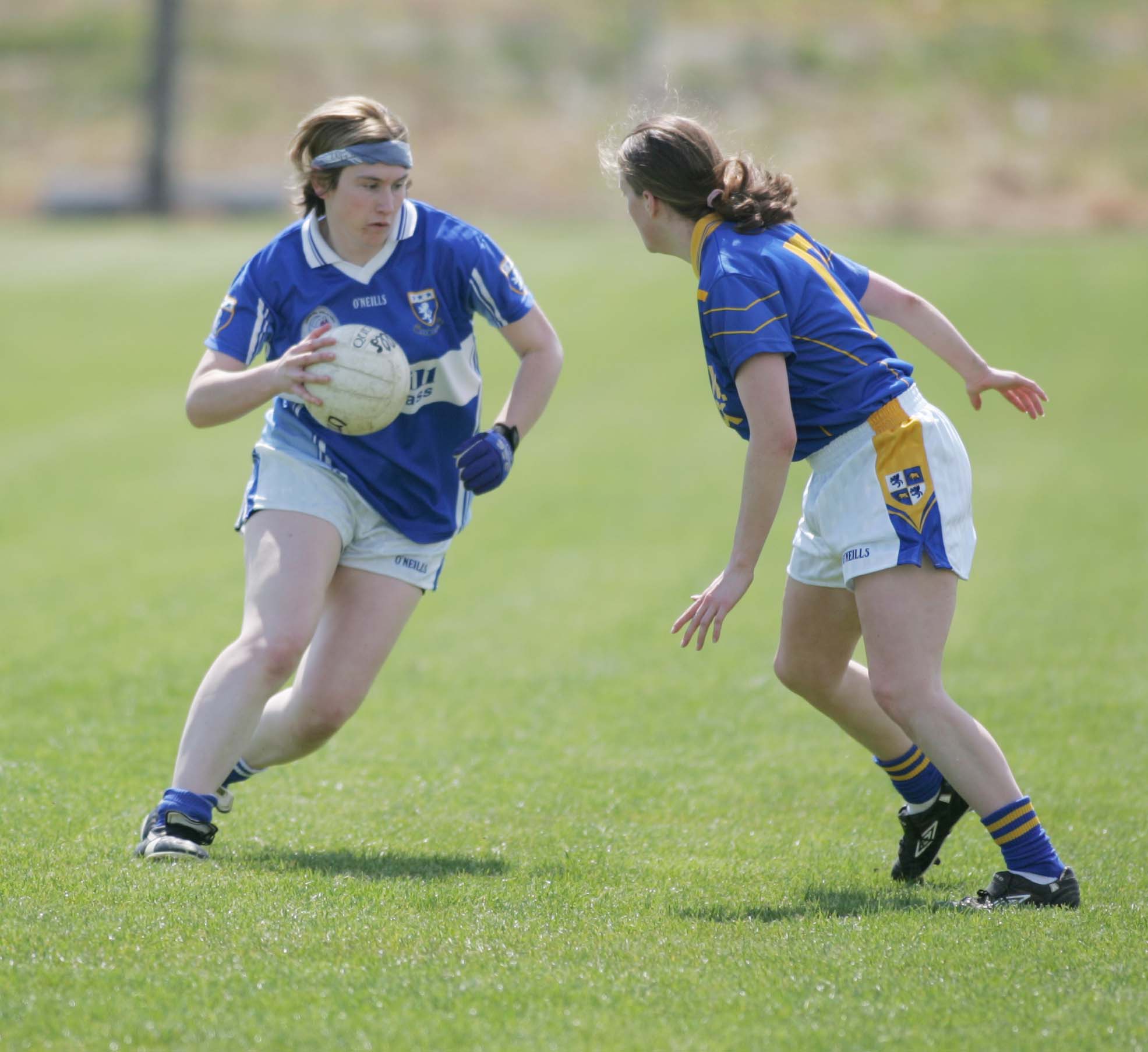 Do you remember your first game with your club?
My first club was The Heath as there was no club in Timahoe.  Yes I remember putting on the Heath jersey and it was way too big for me.
I was still only in primary school about 12 years of age at the time when I won my first and only club All-Ireland.
They were a great club who were well set up and managed by Mr. Paddy Conroy who had two daughters Breda and  Sile on the team.
Ann Cushin, Helen Kelly, the Downey and Conroy sisters along with numerous others all ensured I was well looked after and I felt very much part of the team.
That group of girls were fantastic footballers but they were certainly much more than that as they were a great example in every way to a young girl setting out in life.
I was so lucky to be part of the team that went on to win an All Ireland club final against Castleisland (Kerry).
Who were the main influences on your career?
I had numerous influences but my parents and family are certainly number one.
I had great trainers/managers all the way up starting with Paddy Conroy from the Heath to of course Sean (Goggy Delaney), Pat Ryan, Pat Critchley just to name a few.
I certainly couldn't go without mentioning Mary (Lalor) Ramsbottom who gave great time and effort to every child who played football or was involved in the community games.

Mary along with Tom Donoghue were the backbone of the community and I certainly wouldn't have been so successful at the game only for their effort and time.
Mary Wheatley from Crettyard also was a big influence on my football career.
She has given so much to the county teams over the years. (Lulu did a great job in winding her up including on the way by train to an All Star game in Kerry she took her very young niece off the train in Limerick to wave at her and got her back on the train just as it was moving away from the platform!)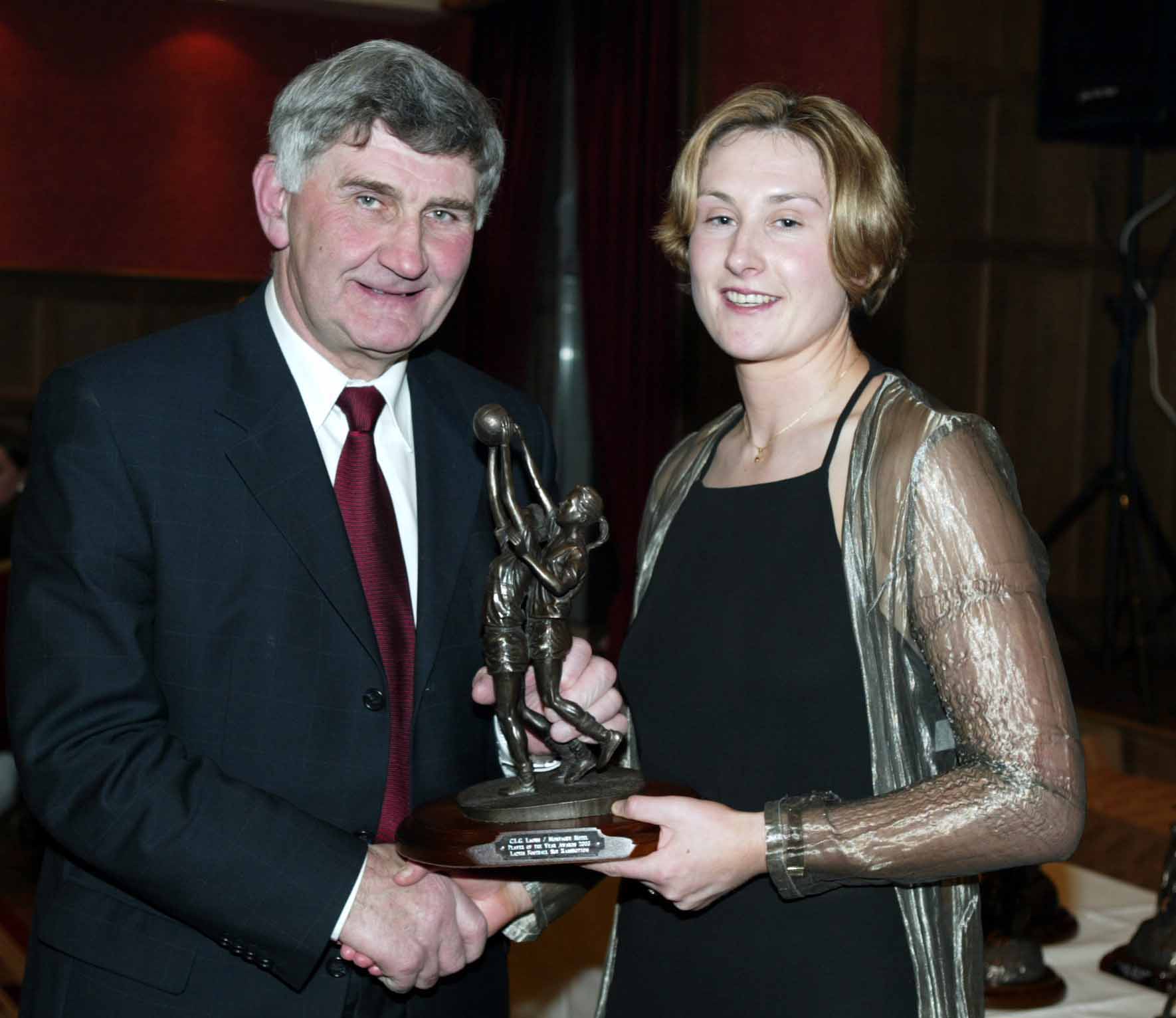 What players did you look up to growing up?
I loved Barney Rock with his seven steps back and two steps to the side free taking technique!
Mary Joe Curran, Katie Liston and Connie Conway were also players I looked up to.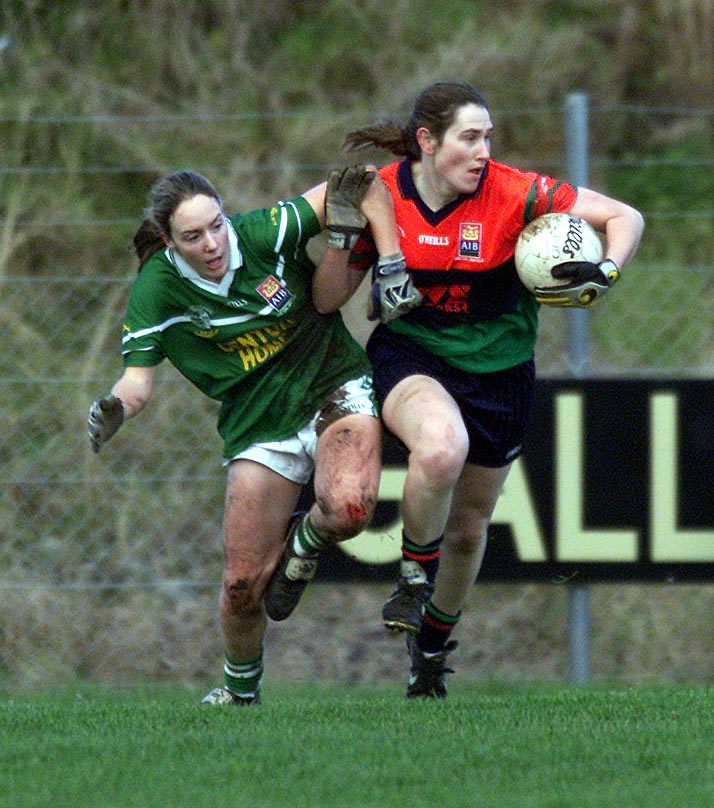 Did you play other sports growing up?
I just love all sports. Football, hurling, camogie, running, volleyball and basketball were the ones I enjoyed most.
We had a great running club in Timahoe which was affiliated to the NCCA and run by Arthur Kerr who tirelessly drove a gang of us around the country each Sunday to run in road and cross county races.  Community Games football played a huge role in all my summers as a child.
We had great success in Mosney year after year in the football finals.
I turned my hand to Volleyball and Basketball in Secondary School in Mountrath where we had fantastic success in numerous All Ireland finals.
Then in college in Galway to keep fit over the winter for the pending GAA season I took up rugby with Galwegians, Connacht and Ireland.
I have had the honour of receiving three Irish Caps playing on the Irish rugby team.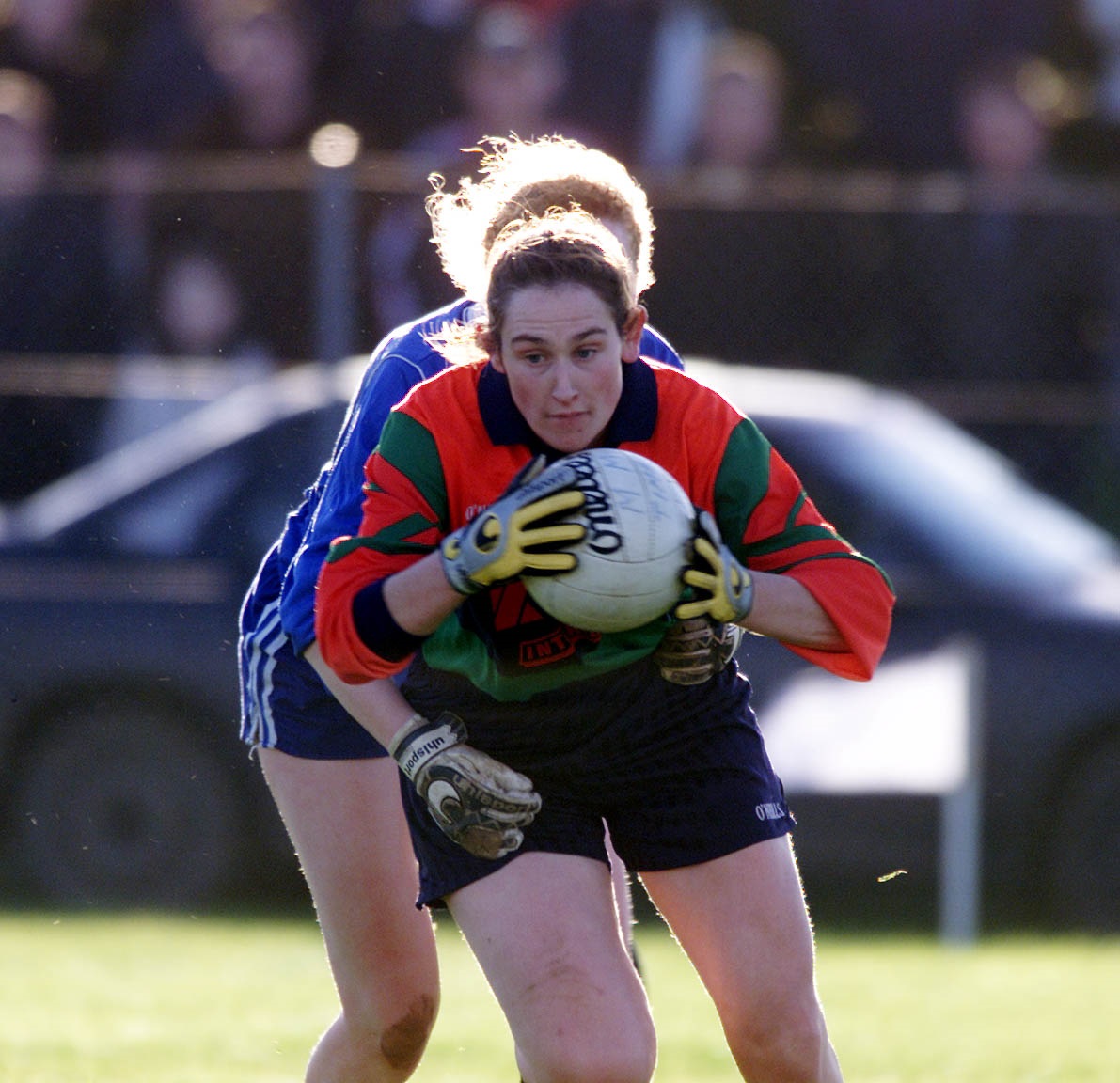 Do you remember your first time seeing Laois play?
I remember watching Laois ladies play in my local pitch against Kerry who arrived in a big bus at the time.
Do you remember your first and last time playing with Laois?
Not really but I remember my last Leinster Final where I got to play alongside Lulu Carroll.
It was in Dr Cullen Park Carlow against Dublin. Football wasn't the same for me when she stopped playing even though she got highly involved in coaching.
We grew up together and pushed each other along. Lulu loved and played all sports.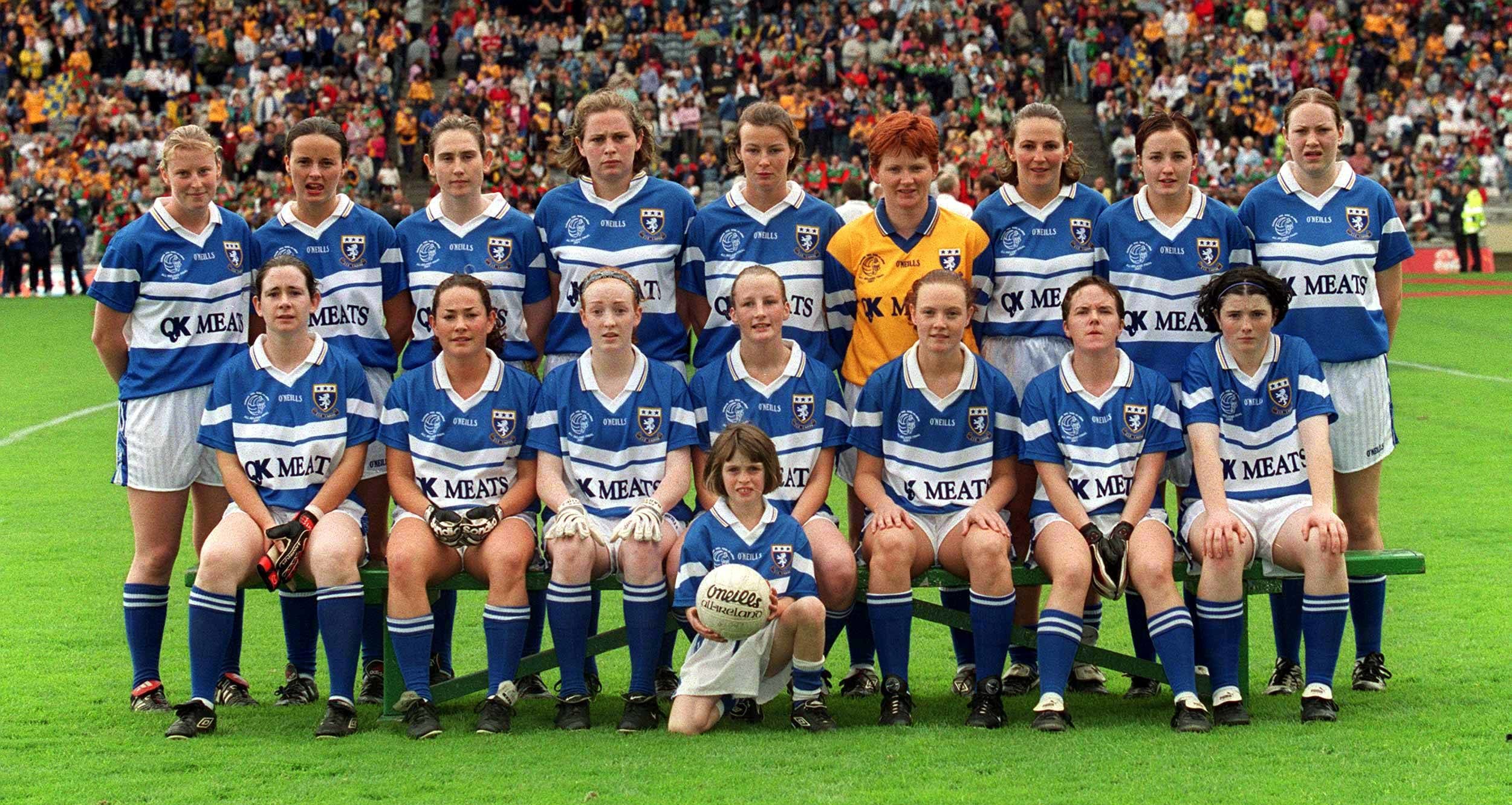 And what's your memories of the 2001 All Ireland final and the celebrations?
The first person I turned to when the final whistle went was to my teammate Mags Brennan and we both had to reassure each other that we certainly won. We had lost too many All-Ireland prior to this that we could hardly believe it.
Stopping the bus as we crossed the border into Laois with the Brendan Martin cup held high by Anglea Casey and greeted by a huge crowd in the Final Furlong in Ballybrittas with Anna Connolly and gang singing "Simply the Best".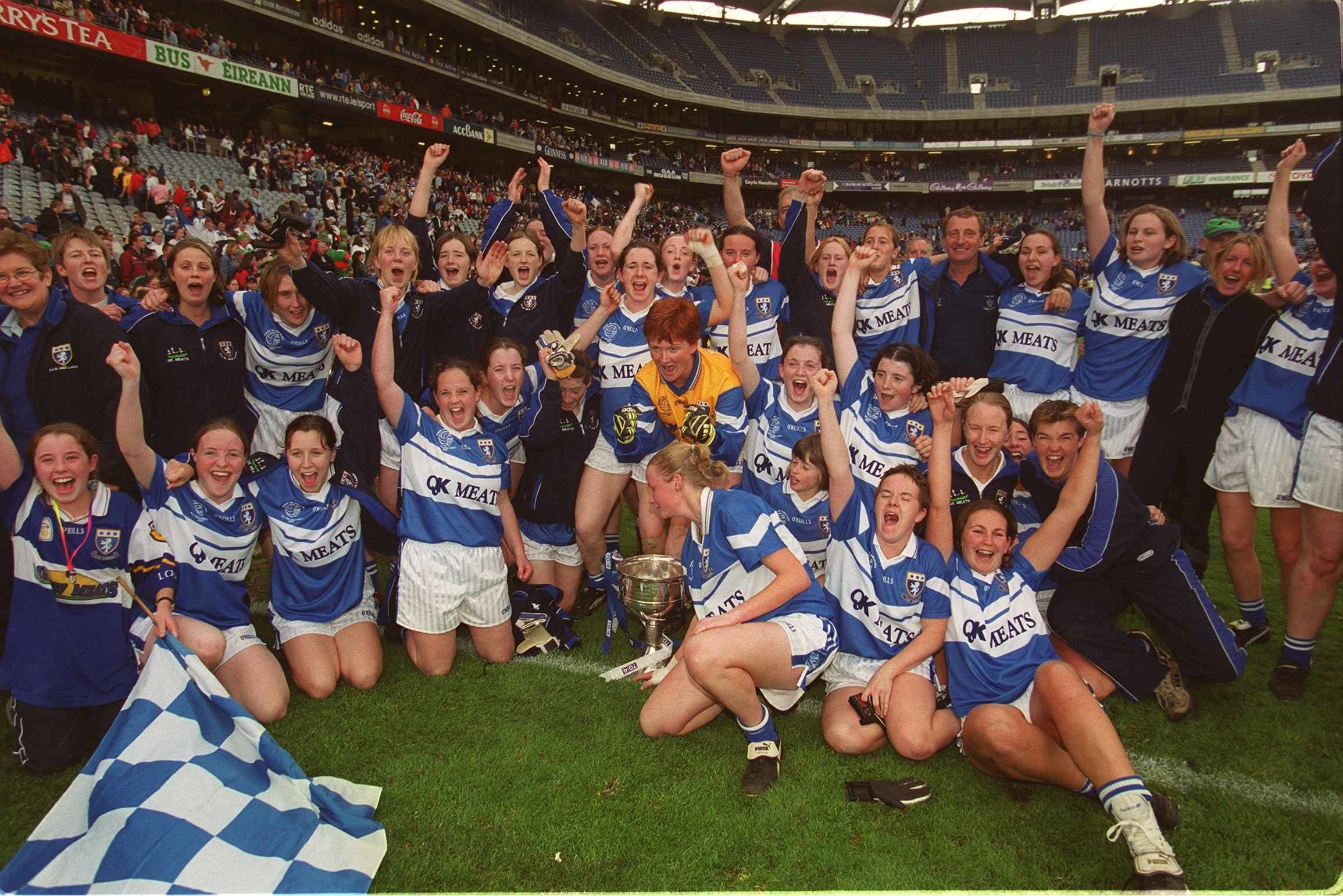 What was the best game you ever played yourself?
Not too sure of that one as some games roll into others. I can think of moments when I scored some crucial scores such as when we won the League final in Clare and I had to take the last kick of the game from a free from a huge distance out and was successful in its execution!!
A point I scored at the age of 12 in the Club All-Ireland final with The Heath. I also remember it was a difficult angle and even I was surprised to see it go over.
I also enjoyed the goal I got against Monaghan in the drawn game in 1996 and the look Connie Conway gave me as I wheeled away after scoring it.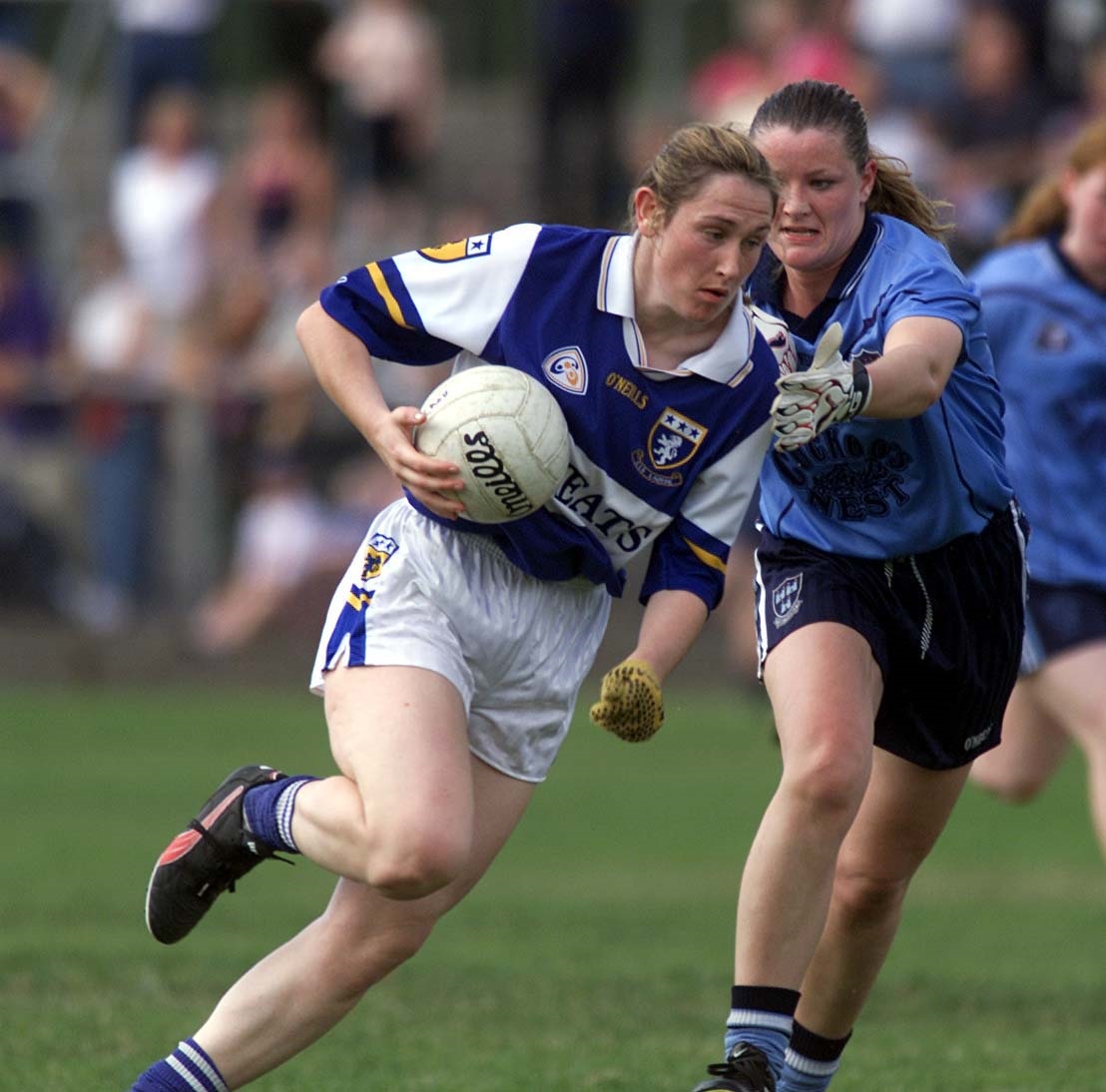 What is your favourite moment with Laois?
Winning the 2001 final.
What was the low point?
Losing the replay to Monaghan in 1996 and of course losing the other 7 All-Irelands (I think)
What was the best moment with your club Timahoe?
Winning the Club All-Ireland Seven A Side competition. A great team from Bernie Deegan , Mary  & Angie Casey, Grainne Dunne and excellent selectors in Martin Cahill and Mary Ramsbottom.
If you could go back and do things differently, what would you do?
Nothing.  As one of our managers used to say "Leave no stone unturned" and in fairness to all the girls I had the honour of playing with we certainly gave it our all so hence that is why we had so much success on the field.
Who were the best players you played with and against?
Big question. Each team member has a huge role to play. I played for so long that I couldn't name them all.
Lulu, Niamh McEvoy (RIP), Breda & Sile Conroy, Angie Casey, Anna Connolly, Connie, Mags Phelan, Bernie Deegan, Mary Kirwan, Mary Kehoe.
On the boys teams it would be Goggy Delaney Junior and Hughie Emerson
Have you any involvement with the game now?
Timahoe U-8s. Look out for this team!
What's your view of Ladies football at the moment?
Great to see it evolve and gain the audiences it deserves. It is a great sport and I would encourage all girls to play. You don't have to be good at it but you will get great enjoyment out of it and friends for life.
SEE ALSO – Check out the full Sporting Memories interview series here