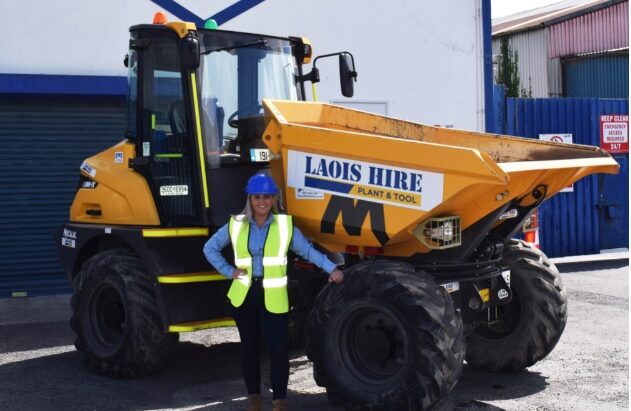 With over 28 years of expanding business, Laois Hire has a vast wealth of experience in Hire & Sales.
Their solid knowledge isn't just in relation to their product range but also their experience in Health & Safety, and delivering services in a secure way to give peace of mind to both staff and valued customers.
As with every other business in Ireland, Laois Hire had to rapidly adapt when Covid-19 came along.
Branches were only open for critical hires to essential services. They supplied equipment to the Gardai Siochana, HSE, the OPW and many other businesses that needed to carry on.
The person at the helm of their staff and customer's safety is Grace Murphy, their HSEQ advisor, who has been with the company for 3 years.
She tells us about her experience so far, and what strategies have been implemented to help prevent the spread of the virus.
"This is a very challenging time in the plant and tool hire industry.
"As this is an unprecedented situation, we are finding ourselves constantly learning & having to find innovative ways to trade whilst keeping the wellbeing of our Staff & Customers at the fore. We are continually monitoring and reviewing our Covid 19 procedures to ensure adherence to Government Guidelines.
"Risk Assessments are carried out on every task that presents itself to us and we have implemented operating procedures in all Laois Hire depots in line with the Government's and HSE recommendations on the management of Covid-19.
"First and foremost we have obviously implemented changes to our stores to try to limit customer interaction. We are open for business and walk-in customers, but with a couple of changes; we have a limit of two customers inside the shop at any one time and social distancing must be adhered to whilst in the shops.
"We have installed plexi glass screens at our counters to protect both our staff and the customer.
"We encourage our customers to use the hand sanitiser available at the shop door. We are temperature checking staff and reminding them that their purpose is to help protect themselves and their colleagues at all times.
"Our Laois Hire drivers are essentially the face of our company; they are on the ground day to day meeting customers while carrying out deliveries & collections.
"We have instigated procedures to ensure we are reducing the risk of our drivers contracting the virus.
"For example all drivers have been provided with extra PPE such as face visors, disposable masks, disposable gloves, disposable overalls for hospital sites.
"Each vehicle is supplied with a hand sanitiser and an anti-bacterial sprayer and our driver will spray down all equipment before handling it.
"This is done before the equipment is handed over to the customer on delivery, and again upon collection of the equipment.
"All vehicles are thoroughly sanitised at the end of each shift."
Laois Hire are also casting their minds forwards, on how the virus will change future operations on a long term basis.
Grace says: "In terms of the future, I feel that product sanitisation will play a huge role in our Industry in the coming months, both within the company, and on site.
"In Laois Hire we have introduced a comprehensive product sanitisation process that protects both our staff and the customer.
"Any one piece of equipment will have gone through our sanitisation process three times in the turnabout from one customer to the next, namely at delivery, collection, and the test & run stage with particular attention to the 'Touch Points' such as levers, buttons, handles, plugs, grip points, triggers, cables, doors etc."
Grace also feels strongly that we can't let the pandemic draw attention away from regular procedures.
"It is paramount that the normal health and safety requirements of any operational activity must not be compromised at this time.
"They are no less important than usual and if an activity cannot be undertaken safely, it should not take place."
Ending on a positive note, Grace says "One encouraging thing we can take from this is that we have used this time to focus on retraining and upskilling our team for the challenges that lie ahead.
"Many staff members have completed fire marshall training, manual handling and mental health awareness.
"We also have our office staff set up and working comfortably and safely from their own homes".
So, needless to say, in the uncertain post Covid-19 world, you can rest assured that Laois Hire will be there with a wealth of experience and knowledge to lead you forward and provide you with a reliable and safe hire & sales experience.
SEE ALSO – Check out the Laois Hire website here