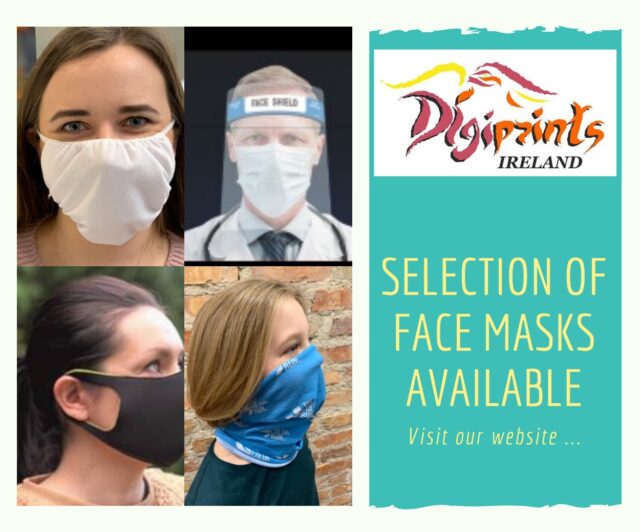 Are you getting ready to re-open your business? Do you need PPE – Face Masks and Visors?
Local Laois company Digiprints.ie have a selection of re-usable Face Masks, Face Shields and protective equipment available to order.
The HSE's Chief Medical Officer Tony Holohan recently said that there will be a role for non-medical grade face coverings in the community as part of the response to Covid-19.
A professor of immunology said that the use of face coverings will be "critical" in reopening the country.
Luke O'Neill of Trinity College in Dublin stressed that "most countries" have already issued instructions on coverings, "because they all know it's a key element".
Professor O'Neill believes that using coverings should be a "key strategy" along with existing public health advice like social distancing and handwashing.
"Wearing a mask will help to stop the transmission of the virus in public places. If we don't wear masks, there is a risk of transmission, a risk of infecting people. So I see it as a key strategy with all the rest of it," he said.
From Digiprints, the equipment can be ordered from a minimum quantity of 100.
You can check out a selection of details below and more on their site here. 
All prices quoted are subject to VAT at 23%.
Further information
---
Re-usable, washable Face Masks
Washable face masks available
1 and 2 layer options

Call now to place your order on 057 8668530
---
Disposable Face Masks
Available in 3, 4 and 5 layers

Call now to place your order on 057 8668530
---
Re-usable Face Masks – Custom Printed
Washable and resusable two-layer face mask
Made of 100% polyester (140 gr/m2) and 100% cotton (140 gr/m2) fabrics OEKO-TEX fabrics

Call now to place your order on 057 8668530
---
Neck-gaiter/snood – Custom Printed
Custom printed with crest or logo
1 polyester layer

Call now to place your order on 057 8668530
---
Face Shield/Visor
Available to order in a minimum quantity of 5
Budget option available

Call now to place your order on 057 8668530
SEE ALSO – Check out the Digiprints website here for their full range of products