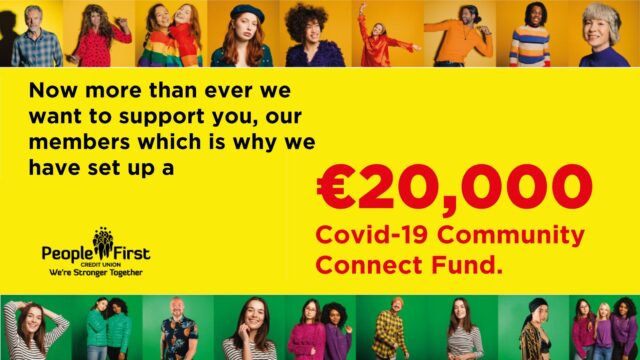 People First Credit Union want to help!
That's why they've established a fund of €20,000 for the community to apply for, which is aimed at the immediate needs of non profit organisations impacted by Covid-19 and focused on the following:
Initiatives that directly support those most at risk as a result of Coronavirus.
Initiatives that are responding to immediate needs including food, shelter, education, and mental health.
Non-profit organisations whose projects and budgets are realistic and detailed and that outline how the funding will be spent to support those most at risk.
Applications can be made to continue or adapt existing work or to pilot new work that will support those most vulnerable as a result of Covid-19.
Any non profit organisations affected by Covid-19 and working with groups of people can apply.
Everything you need to know about it you will find here. It's an online application form so easily accessible.
It's a great community initiative and something to show that as always People First Credit Union is here to support our community especially when they need us the most.
---
The Covid-19 Community Connect Fund cannot fund (but is not limited to the following):
Initiatives that involve physically bringing people together
Profit-making enterprises
Sport organisations
Projects that have already happened
Applications from individuals
Projects taking place outside of the Republic of Ireland
Examples of projects that qualify may include:
Projects that enable organisations to use and access technology to work remotely and to deliver their services to the groups listed above.
Projects supporting those most at risk, for example, those suffering from domestic violence, children at risk, those in unsuitable accommodation.
Projects that enable older people to access a nutritious meal by connecting them to services providing groceries and/or ready-made meals.
Projects that enable and encourage isolated people of all ages to use and access technology to keep them connected to the outside of their homes.
Remote welfare checks for those isolated and in need of support.
Social prescribing initiatives, in line with government guidance around isolation and social distancing. For example, online projects and volunteering opportunities, such as arts activities, group learning, gardening, befriending, cookery, healthy eating advice or a range of exercise activities.
---
Applying for the Covid-19 Community Connect Fund
Applications must be from organisations or charities within our common bond. The Fund will remain open on a rolling call basis. At this present time there is a total of €20,000 available for organisations to apply.
We do, however, expect a high level of interest in this fund and we may decide to close for applications within a relatively short space of time, if we do not have enough funds to meet the demand for support.
You can apply for the Covid-19 Community Connect Fund here.
Applications must fit the criteria above and must include a realistic budget for the project. We will only accept one application per organisation.
People First Credit Union will not enter talks or discussions from organisations about your application. Applications are made by email or post only. Please return your application to info@peoplefirstcu.ie.