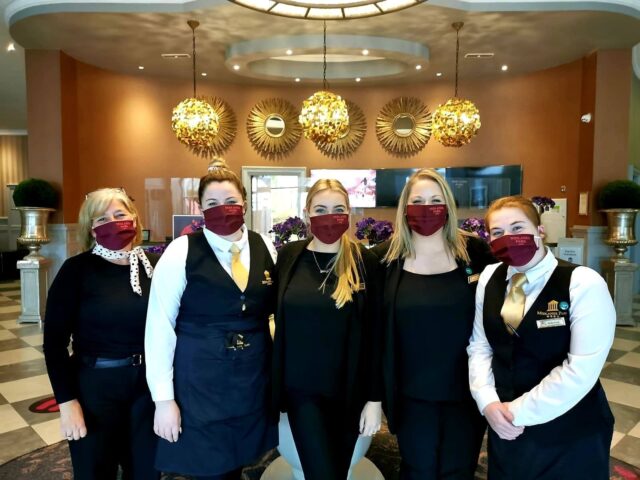 Midlands Park Hotel are delighted to re-open their doors once again in Portlaoise town centre.
The hotel was forced to close their doors for two weeks when the Government announced a localised lockdown for Laois, Kildare & Offaly due to a spike in the number of COVID 19 cases in the three counties.
The hotel offers an array of dining experiences for you to safely enjoy. The award winning Kelly's Steakhouse is open from Wednesday – Sunday 5pm-11:30pm.
Booking is available on their website www.midlandsparkhotel.com or phone your booking on 05786 78588.
The menu was carefully prepared to suit all tastes and palates. There is really something for everyone from Dry-Aged Hereford Beef, Chicken Fajitas, BBQ Ribs, Fillet Steak, and lots more.
Charter Bar & Eatery is open 7 days a week from 12pm – 11:30pm. Delight in great quality food in a safe environment. Carvery is served daily, Monday – Friday 12pm – 2:30pm and Sundays 12pm – 4pm.
There is an extensive menu available from 2 :30pm daily until 9pm. From 9pm -10:30pm pizza can be enjoyed. To book your table visit www.midlandsparkhote.com or call 05786 78588.
With the current government guidelines meetings and events can hold a maximum of 6 people.
Midlands Park Hotel can cater for these meetings and events and are delighted to be able to offer virtual meeting packages to the guests, should they want more delegates to virtually attend the meeting. Please contact the events team on 057 8678588 for a quote today.
Intimate weddings can be enjoyed at Midlands Park Hotel with plenty of space in the ballroom for guests to safely enjoy their day.
If you are interested in having your wedding in Midlands Park Hotel please do not hesitate to get in touch on 05786 78588 or email events@midlandsparkhotel.com
Midlands Park Hotel has one of the finest swimming pools in Laois. Enjoy a swim in a 22m swimming pool.
"The Health Club at Midlands Park Hotel have a fully equipped gym that you can enjoy a workout in safely. Opening Hours Monday – Thursday 6.30am – 9pm Friday 6.30am-8pm, Saturday & Sunday 9am-6pm. For membership rates please contact the health club team on leisure@midlandsparkhotel.com or phone 05786 78588 or visit our website for more information www.midlandsparkhotel.com
SEE ALSO – Portlaoise College welcome record 168 first year students for a new school year like none before