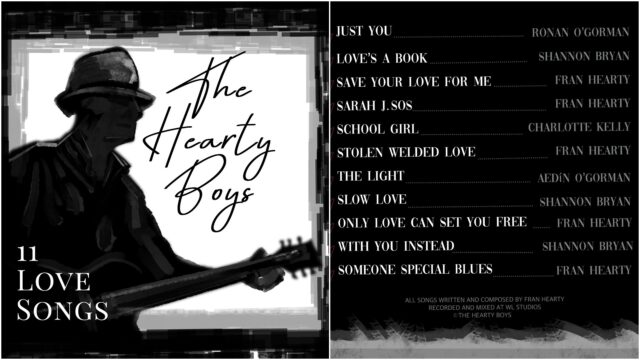 Portarlington-based musicians The Hearty Boys have just released their new album 11 Love Songs. 
The album consists of 11 original songs taken from albums and unfinished work from studios down through the years.
Various artists sing on the album and The Boys would like to pay special thanks to Shannon Bryan who sings three full tracks and also does backing vocal for four more.
"Thanks to Ronan O'Gorman and his beautiful daughter Eve who did the video for the song Just You which was released a couple of weeks ago to promote the album during the initial Covid lockdown," they said in a statement as they released the album.
Aedin O'Gorman, Charlotte Kelly and Sinead O'Riordan also sing tracks as well on the album.
"It isn't easy to come up with ideas for a video with only two people but they did a wonderful job."
"Also The Boys would like to take this opportunity to apologise to all the people who worked on the album that due to the Covi-19 restrictions, a launch night was completely out of the question."
"It's really sad that we couldn't have a night out and a bit of a party, a live band and a bit of a party," said Fran Hearty.
"I suppose if we got going, Golf-gate down in Clifden would have looked like the Teddy Bear's Picnic but we are where we are so we just have to get on with it.
"Really it's only minor stuff as to what other people have to endure."
You can purchase '11 Love Songs' by The Hearty Boys exclusively on Apple iTunes for €8.99. Please note: the album is not available on Apple's streaming site/app Apple iTunes Music.
Or if you want to purchase a hard copy of the album, CDs will be available within the next week to ten days. To inquire about purchasing the CD version, priced at €10, please contact us on heartyboys2019@gmail.com.
The album was mixed and produced at WL Studios. All songs were written and composed by Fran Hearty.
SEE ALSO – Click here to buy the new Hearty Boys album on iTunes