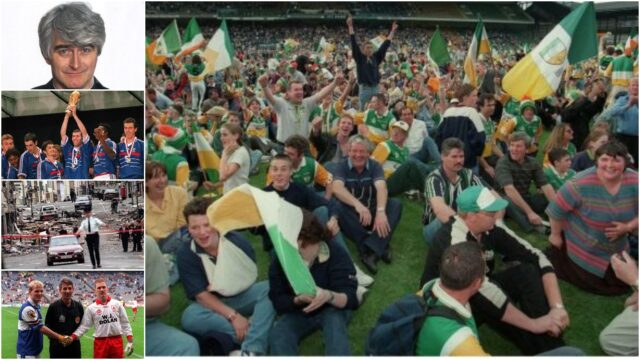 There are some years that just will never be forgotten and 1998 is one of them.
The LaoisToday Down Memory Lane Podcast series look back on the big events of that year, both locally, nationally and internationally.
The Good Friday Agreement was an historic moment in Irish history but it was followed only four months later by the Omagh bombing, the biggest atrocity of the troubles with 29 people killed on a Saturday afternoon in the Tyrone town.
The Tyrone minor football team would later give the county a lift when they won that year's All Ireland final, beating a Laois side going for a third title in a row.
Laois would give Tyrone a guard of honour off the pitch that day in Croke Park, a Tyrone team under Mickey Harte that had already experienced the tragic death of Paul McGirr a year earlier when he died while playing in the championship.
They would later go on to experience success at senior level but suffer even more unspeakable heartache in the years that followed.
Laois also lost the U-21 football final that year to a star-studded Kerry side while the All Ireland senior football championship was won by Galway, when they ended a 32-year-wait by beating red hot favourites Kildare in the final.
But without doubt the biggest GAA story of that summer was the Offaly hurlers winning the All Ireland final after parting ways with manager Babs Keating midway through the season and then staging a sitdown protest on the Croke Park pitch after their All Ireland semi-final was blown up early by referee Jimmy Cooney.
Presenter Steven Miller is joined this week by Offaly's Will O'Callaghan from Newstalk to look back at that time as well as by regular guests Brian Ramsbottom and Niall Miller.
And they chat about many of the other big stories of 1998 too. Like the ending of both Know your Sport and Fr Ted, the sad death of Dermot Morgan, the Ireland soccer team of Mick McCarthy, France's success in that year's World Cup and the curious case of Ronaldo and Brazil.
As always, our Down Memory Lane Podcast is recorded and edited by Paul Downey. You can hear Paul's music show The Vibe on Midlands 103 every Thursday night from 10pm.
You can listen to the episode in full here and subscribe on Apple Podcasts and Spotify as well as listen on Soundcloud and Podbean.
SEE ALSO – Down Memory Lane Podcast: 1997 – The start of the Bertie Era, the Diana tragedy and glory days again for Stradbally and the Laois minors