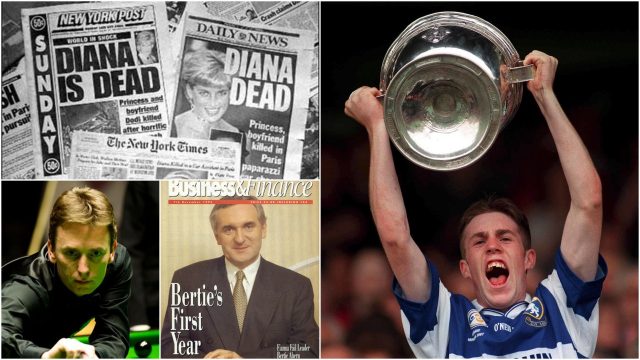 Brought to you in association with Mulhall Meats
In the latest LaoisToday Down Memory Lane Podcast, presenter Steven Miller is joined by John Whelan and Brian Ramsbottom to back on the local, national and international events of 1997.
A General Election year, it was the year that saw Bertie Ahern become Taoiseach following a huge success at the polls when they won 77 seats.
Fianna Fáil's success was typified in Laois where John Moloney and Sean Fleming were elected for the first time, winning the seats previously held by party stalwarts Liam Hyland and Ger Connolly. FF won the first three seats in Laois-Offaly that year with future Taoiseach Brian Cowen comfortably topping the poll.
That election spelled the end of The Rainbow Coalition and John Bruton's term as Taoiseach while Dick Spring would later resign as leader of the Labour party.
It was also an explosive political year in Ireland with Michael Lowry resigning from Fine Gael and details of the £1.3 million given by businessman Ben Dunne to Charlie Haughey.
There was also a Presidential election in Ireland that year with Mary McAleese taking over from Mary Robinson having been supported by Fianna Fáil. A classic exchange between Bertie Ahern and his predecessor Albert Reynolds
The huge story that dominated the latter part of 1997 was the tragic death of Princess Diana in a car accident in Paris.
In the local sporting world, the Laois minor footballers won the All Ireland again, the Laois senior footballers were beaten by 13-man Kildare on a dark day in Croke Park while the Laois hurlers lost narrowly to Offaly.
In club football there was an historic breakthrough for Stradbally, the O'Dempsey's minors pulled off a shock county final win and Castletown continued to develop as a growing power of the club game.
It was also the year of the famous Lions rugby tour to South Africa, the year Ken Doherty won the World snooker title and the year the blockbuster Titanic film hit the cinemas.
And on TV, it was the end of some classic RTE shows like Live at 3, Blackboard Jungle and Sports Stadium.
As always, our Down Memory Lane Podcast is recorded and edited by Paul Downey. You can hear Paul's music show The Vibe on Midlands 103 every Thursday night from 10pm.
You can listen to the episode in full here and subscribe on Apple Podcasts and Spotify as well as listen on Soundcloud and Podbean.
If you have memories you'd like to us to discuss, please get in touch.
Down Memory Lane is brought to you in association with Mulhall Meats, located in Mulhall's SuperValu in Lyster Square in Portlaoise.
SEE ALSO – Down Memory Lane: Minor triumph, the Babs Keating years and Michelle Smith feature in our 1996 Podcast
SEE ALSO – Down Memory Lane: New LaoisToday Podcast series launched with first episode dedicated to 1995