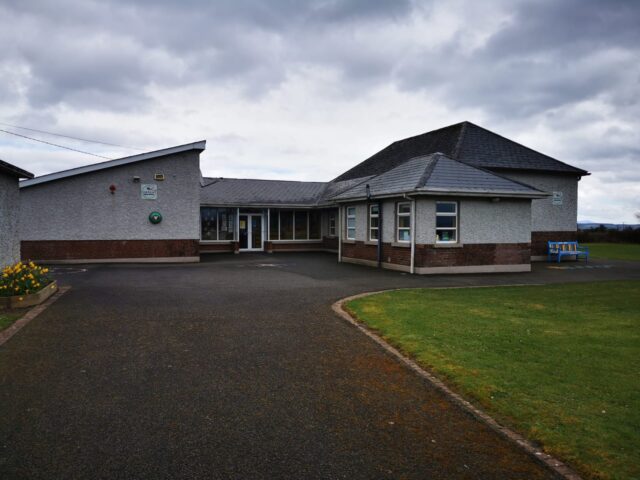 Wolfhill National School, a two-teacher school, is located in a beautiful rural location in south Laois close to the Carlow, Kildare and Kilkenny borders.
We are in close proximity to Stradbally, Ballylinan and Timahoe.
Our school was built in 1943 to replace the existing school, which has since become a ball alley, which is used by locals to play handball to this day.
Our extension, built in 2005 has given us two large, bright classrooms and a dedicated Special Education room with a range of modern facilities.
We are fortunate to have a football/soccer playing field and a large school yard, with a basketball court.
The school's outdoor playshed allows us to play outdoors in all weathers.
It has become our 'music performance room' in the current pandemic. Our large indoor and outdoor spaces have given us all a great sense of safety since our return to school.
While Wolfhill NS is a Catholic school, our school is welcoming to children of all faiths and none.
We promote inclusion and place great emphasis on both the educational and personal development of each of our pupils.
As our pupil teacher ratio is below the national average, each child is guaranteed to receive the level of personal attention they deserve in the way they do at home.
We place great emphasis on the all-round development of our children and we recognise the importance of bringing their differing talents to the fore.
Our pupils take part in a wide range of activities, which gives them the chance of finding the one that suits them best.
Sporting
We have strong links with local sporting clubs (St Joseph's GAA/Athy RFC/St Abban's Athletic Club) and Laois Sports Partnership, which allow us to implement fully the various areas of the PE curriculum, including games, aquatics and athletics.
We have a history of punching above our weight in the Cumann na mBunscol football competition and many of our past pupils have represented their schools, clubs and county at various levels.
Citizenship
The Blue Star Programme teaches primary school pupils about European cultures and the European Union.
We have taken part since 2015 and met our current European
Commissioner Mairéad McGuinness, Minister for Justice Helen McEntee and local TDs Seán Fleming and Charlie Flanagan.
We believe in the importance of promoting environmental awareness and have been involved in the Green Schools initiative since 2006. We are currently working towards our seventh Green Flag: Global Citizenship – Energy.
Children learn in class about the difficulties and problems experienced by others, both at home and abroad, and fundraise for national & international charities.
Annual participation in Laois Bike Week allows the children to appreciate the beauty of their local area while enjoying a cycle and picnic.
We encourage the use of Gaeilge throughout the school as we see it as an important part of our heritage.
Personal Development
We began our Debating Society in 2015 and participate annually in the Concern Debating Competition and inter-school debates.
The children also have the opportunity to take part in the Write-a-Book and Scríobh Leabhar competitions, and participate in Food Dudes & Incredible Edibles programmes.
Our new suite of iPads will enable children to become more computer literate.
The Arts
All children are part of our school choir, learn the tin-whistle and take part in our school plays and carol service.
We have enjoyed taking part in CraftEd in conjunction with Laois Education Centre on many occasions.
Tours
We take the children on as many outings as is practicable so that they can experience a broad variety of our culture and heritage.
Parental Involvement
Being a two-teacher school, we are lucky to meet our parents on a regular basis as they drop/collect their children. This helps create a great sense of unity as teachers and parents work in partnership for our children.
We work together to maintain high standards for our pupils and our school both as individual families and a school community.
This is evident in the involvement of our parents in celebrating all of our achievements and activities.
You can read about what we've been up to every week on our Facebook page.
Testimonial
We are the proud parents of two children. The personal attention received by children in this school is remarkable. Our children have grown in confidence and are flourishing in small classrooms. The teachers in this school really motivate and inspire their pupils.
Geraldine and Kevin Barry
Contact:
SEE ALSO – Check out the dedicated jobs section on LaoisToday