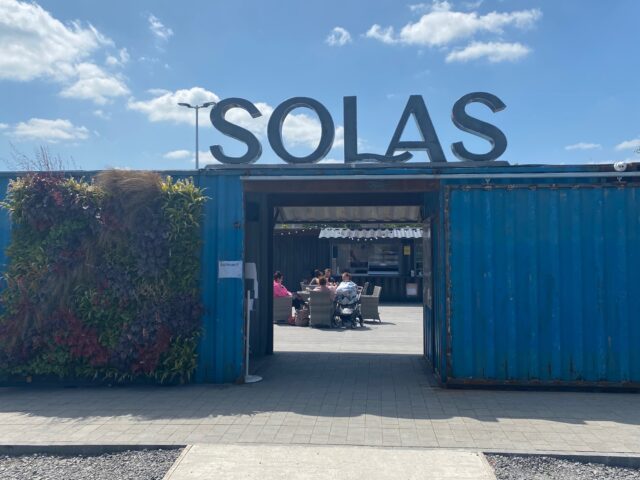 The official launch of the SOLAS Eco Garden Shop (www.ecogardenshop.ie) is to take place this Wednesday in Portarlington.
Co-Owner John Carey explains: "As this is a very new venture to us we decided to do a soft launch back in May with no fanfare as we found our feet.
"We have poured our hearts (and wallets) into this project and we believe we have created something really special – a destination garden centre which espouses the values of sustainability, good food, community involvement and innovative design.
"We are so lucky to have a site which allows us to create a really impressive range of facilities – with an indoor garden shop of 22,000 sq. ft. and over 4 acres of outdoor food courts, a farmers' market, plants, domes and parking".
Launch Details
Location: SOLAS Eco Garden Centre, Portarlington, R32 RPX8
Date: Wednesday, 23rd  June 2021
Ribbon cutting: 1.30pm
Events to include
Midlands Radio 3 from 12 noon to 3pm
Farmers Market 'Container Street' Food market offers a vibrant range of foods
The possibility of TV coverage!
Local and National media have been invited
Competitions and prizes
Co-Owner David Maher continued: "When we initially came up with the concept of building a destination eco Food and garden centre out of recycled 40ft containers we were a little bit nervous that our idea was possibly a bit too 'out there'.
"But as we refined the idea and worked with a range of local builders, welders and artists we became confident we could create something truly wonderful.
"It has been a leap of faith for us as we have invested €2 million into the project on the premise of 'Build it and they will come'."
The centre piece of the development is a 40f high 'Light Tower' which the project's developers say they hope "will act as beacon for environmental and economic regeneration of this brown field site into a vibrant new cultural, environmental and economic hub of activity"
From the start, the project has been supported by local people and businesses alike with not a single objection to the planning permission which was lodged in 2020.
Maher explains "it is wonderful to see the buzz that SOLAS has brought to the whole area. We really feel like we are on a journey to revitalise the site that was once the home of SIAC Butlers engineering and reimagine it as a hub of sustainability and leisure.
Our inaugural farmers market last Saturday (and every Saturday between 10am-2pm) was a huge success with over 1,000 people attending to enjoy the local organic produce for sale and relaxing for coffee in our 'Chill Food Courtyard'.
The official ribbon cutting will be preformed by David's daughter Sadhbh Maher (12). "We really want SOLAS to be about community, sustainability and future generations – so the choice of a young girl to do the honours is apt."
 All welcome on the day.
SEE ALSO – Check out the dedicated jobs section on LaoisToday here