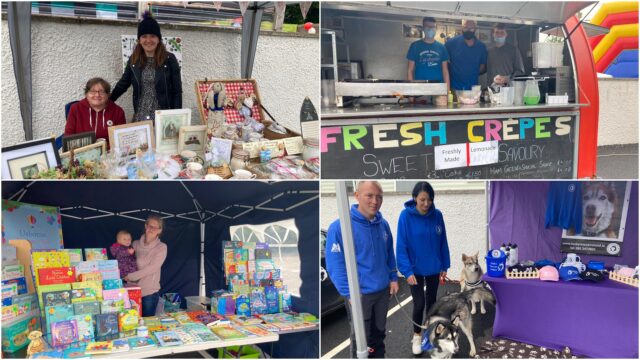 On the second Sunday of every month at the Community Sports Hall, the Vicarstown Canal Artisan Foods and Crafts Market takes place – and will do so this Sunday, August 8, from 10am to 5pm. 
Hosted by Community Hall Vicarstown, Annanough GAA and Vicarstown Church, this is a real community run event.
The chief organiser is Stradbally man Michael Delaney who has great experience organising these events.
Soeaking ahead of Sunday's event, he said: "We have lots of mainly local stalls coming to our second Vicarstown market this Sunday August 8 with hopefully something for all ages.
"Any local traders that want to get involved can contact me at 083 3817980 as we try and build this monthly market to be a day we all look forward to."
At the previous market, The Flying Apron, Henderson Market Garden, Michael Delaney Crepes, Vicarstown Canal Coffee & Tea Shop, Alannah Foley Signs "Give Your Home a Name", Abbey Nursery, Mary Lanigan Nursery, Berryfield Crafts, The Pottery House, Enchanted Book Shelf, Huskey Rescue Ireland, Bee Good Ireland, Amy Duffy Fun Event Hire and Ice Cream Van all attended.
These attended the event last month and organisers hope to have more on Sunday.
There is plenty of parking, clean toilets, seating and high speed broadband on site.
The venue has the advantage of being able to move into the large Sports Hall if there is unfavourable weather.
Organisers are hoping to feature local musicians and artists so anyone interested in performing is encouraged to make contact.
The Buggie School of Dancing wowed the crowds last month and Annanough GAA will have a novelty sideshow at this week's market – with more details on that to be revealed later in the week.
A spokesperson for the Community Hall in Vicarstown said: "We would like to thank Laois County Council and Laois Partnership for their continued support of the Community Sports Hall in Vicarstown – especially the most recent refurbishment and broadband works.
"We would also like to thank the people who helped in any way to make up the shortfall as the projects were carried out.
"It is this combined effort that makes it possible to keep the Community Centre refurbished.
"We hope that everybody in the community and the surrounding areas will benefit from the works going forward.
"Hopefully the monthly Sunday market will help to make use of the facility and benefit everyone. Thanks again to everyone involved."
SEE ALSO – In Pictures: Food and craft market gets off to positive start in Vicarstown