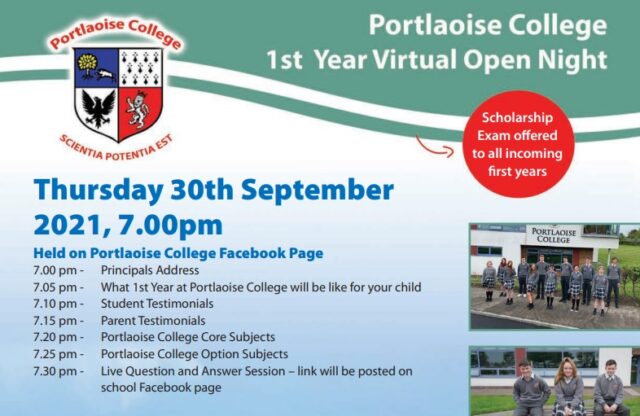 Within the next few weeks, parents and 6th class students from Portlaoise and its hinterland will be making the choice of which secondary school to attend, this decision requires some thought. 
However, what may seem like a difficult decision to begin with will become infinitely clear-cut after engaging with Portlaoise College's Virtual Open Night.
Join in on Portlaoise College's Virtual Open Night on Thursday, September 30, from 7pm onwards on the school Facebook page.
Nerves will be settled and questions will be answered as you hear about the exciting subjects on offer at Portlaoise College, listen to student and parental testimonials, as well as having the opportunity to engage in a live Q and A session.
In addition parents can book tours of the school by contacting the school office on (057) 8621480 or info@portlaoisecollege.ie 
Portlaoise College has been steadily increasing over the last few years and is in excess of 750 students for September 2021.
Portlaoise College has become the school of choice in the Portlaoise area for 6th class students and their families.
Under the current school leadership the school has encouraged all of the pupils to embody the school mission statement to achieve their maximum potential in an engaging, challenging and student centred environment that celebrates diversity in partnership with all stakeholders.
Join in on Portlaoise College's Virtual Open Night and rest easy with the decision you make afterwards, because Portlaoise College is undoubtedly the place to be. 
SEE ALSO – Laois secondary school appoint new Deputy Principal as their growth continues