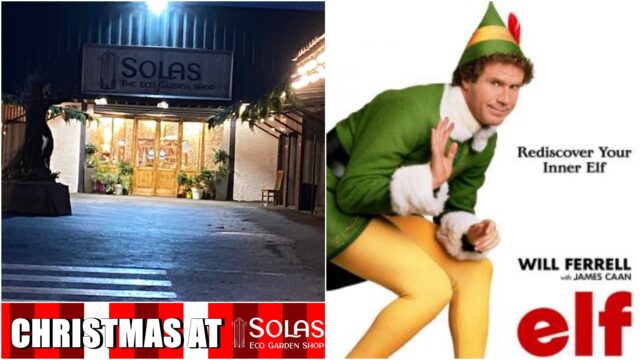 SOLAS is moving into full Christmas mode this week as host a series of Christmas Craft market and workshops over the coming 4 weeks.
Each Christmas market will feature 30 separate stall holders and feature everything from Christmas decorations, Jewellery, Paintings, wreaths and floral arrangements, hand made cards, wooden reindeers, Irish Children's books … and much more."
David Maher of SOLAS explains: "such has been the demand from exhibitors that all the craft stalls are fully sold out and we have had to limit most exhibitors to single Sunday over the four weeks.
"We did this to allow as many exhibitors as possible to participate and ensure that the Craft Fair will effectively be different market every week.
"We have always been very focused on ensuring that the Saturday Farmers' market remains very food focused so it is great to allow so many craft people a chance to display their wares.
Dates:
Farmers' Market – Saturday, November 27, December 4, December 11 & December 18 (10am to 2pm)
Christmas Craft Market – Sunday, November 28, December 5, December 12 & December 19 (11am to 4pm)
Meanwhile the physical market street has been transformed into a winter wonderland including being bedecked in a small forest of Christmas trees, with street canopies being painted in festive red and white and the entire street being wrapped in festoon lighting.
There is will be seasonal food and mulled wine over the weekend in the SOLAS food area and street food stall.
Christmas Craft and Entertainment
SOLAS Events manager Georgina Carey has put together a wonderful action packed build up to the festive season including:
Saturday, November 27 – Christmas Wreath Making Class
Sunday, November 28  – Macramé Christmas Decorations Class
Sunday, November 28 – Christmas Crafts Cards
Saturday, December 4 – Kids Eco Christmas Crafts Workshop
Sunday, December 5  – Macramé Christmas Decorations Class
Sunday, December 5 – Christmas Craft Ideas class
Saturday, December 11 – Christmas Cookery Course for Kids
Sunday, December 12 – LEGO Exhibition @ SOLAS
Saturday, December 18 – Kids Christmas Pine Cone Workshop
Sunday, December 19 – Christmas Willow Weaving Course
Sunday, December 19 – Drive-in Cinema
See full details on: https://www.ecogardenshop.ie/events
Finally visitors this weekend will see the see the first physical signs of the retractable roof which is being constructed over the SOLAS food courtyard.
The plan is to have the roof and heating system fully operational for the 2nd weekend in December.
SEE ALSO – SOLAS – Farmers Market, Hot Food and Electric Cars