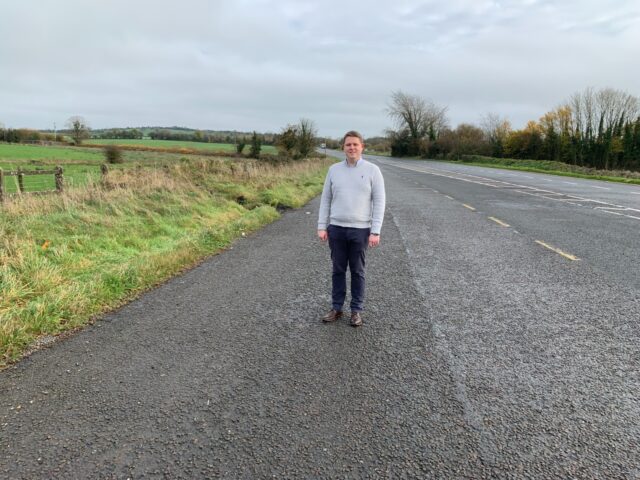 Almost €13.5 million will be spent on improvements to roads and cycling infrastructure following a government announcement.
The majority of the money, €6,549,000, will be spent on restoration improvements.
Local representatives have welcomed the funding and each of them have highlighted some of the different areas where the money will be used.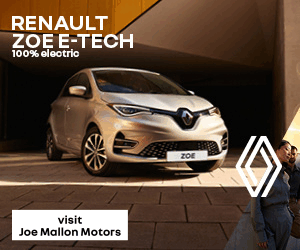 Deputy Sean Fleming said: "I specifically want to highlight the funding for bridge rehabilitation and specific improvement grants. Also €680,000 has been announced to carry out works in Mountrath and Borris in Ossory.
"There is also special funding for Cycle Signs, Active Travel and Rural Speed Limit Signage.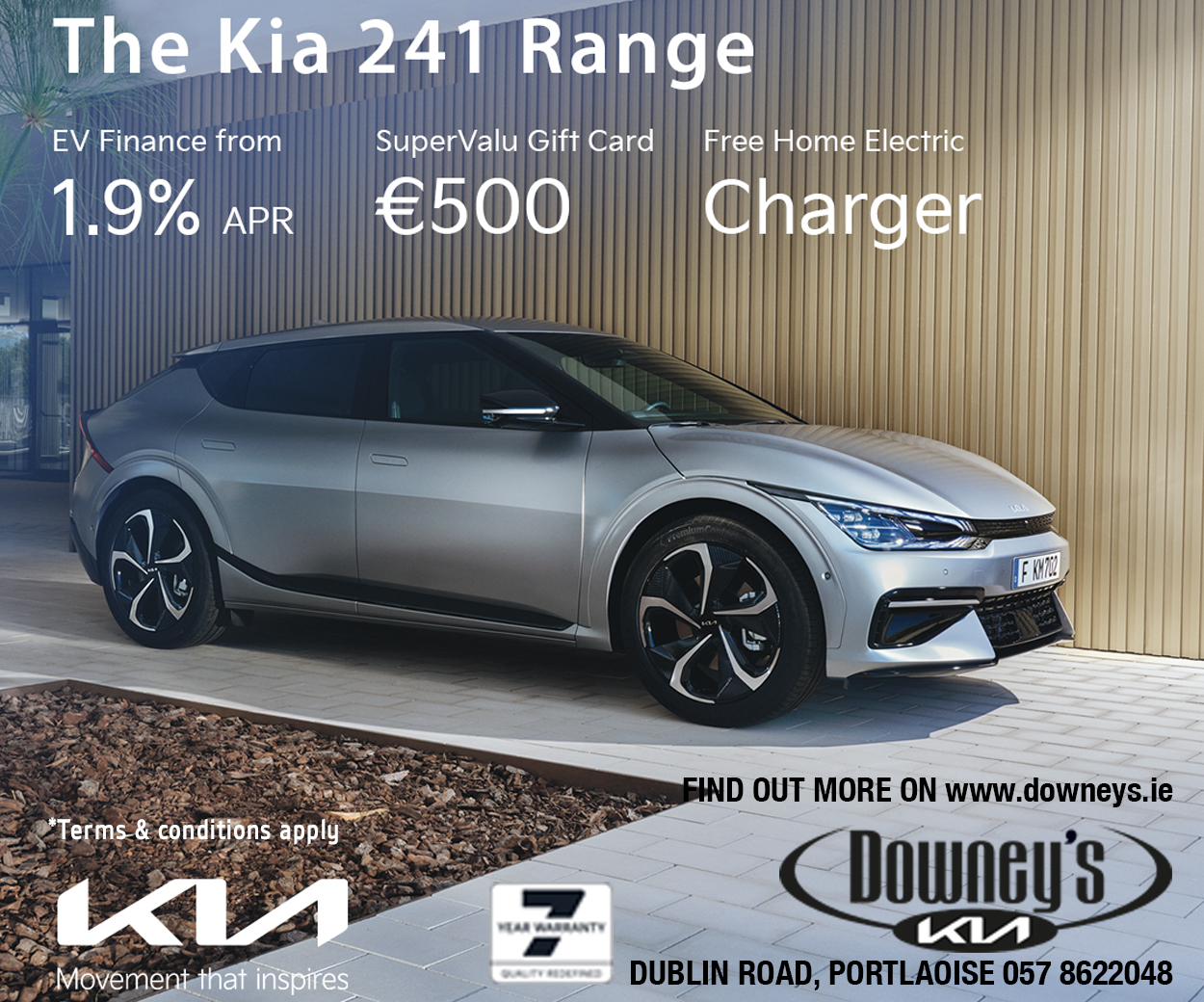 "This announcement, so early in the year, gives Laois County Council ample time to carry out all these very important works in this calendar year.
"This will ensure that the people of Laois will get full value for the money allocated by the Government to Co. Laois for 2022."
Deputy Charlie Flanagan said: ""I very much welcome confirmation that Laois County Council is to receive €13,449,496 for regional and local roads this year.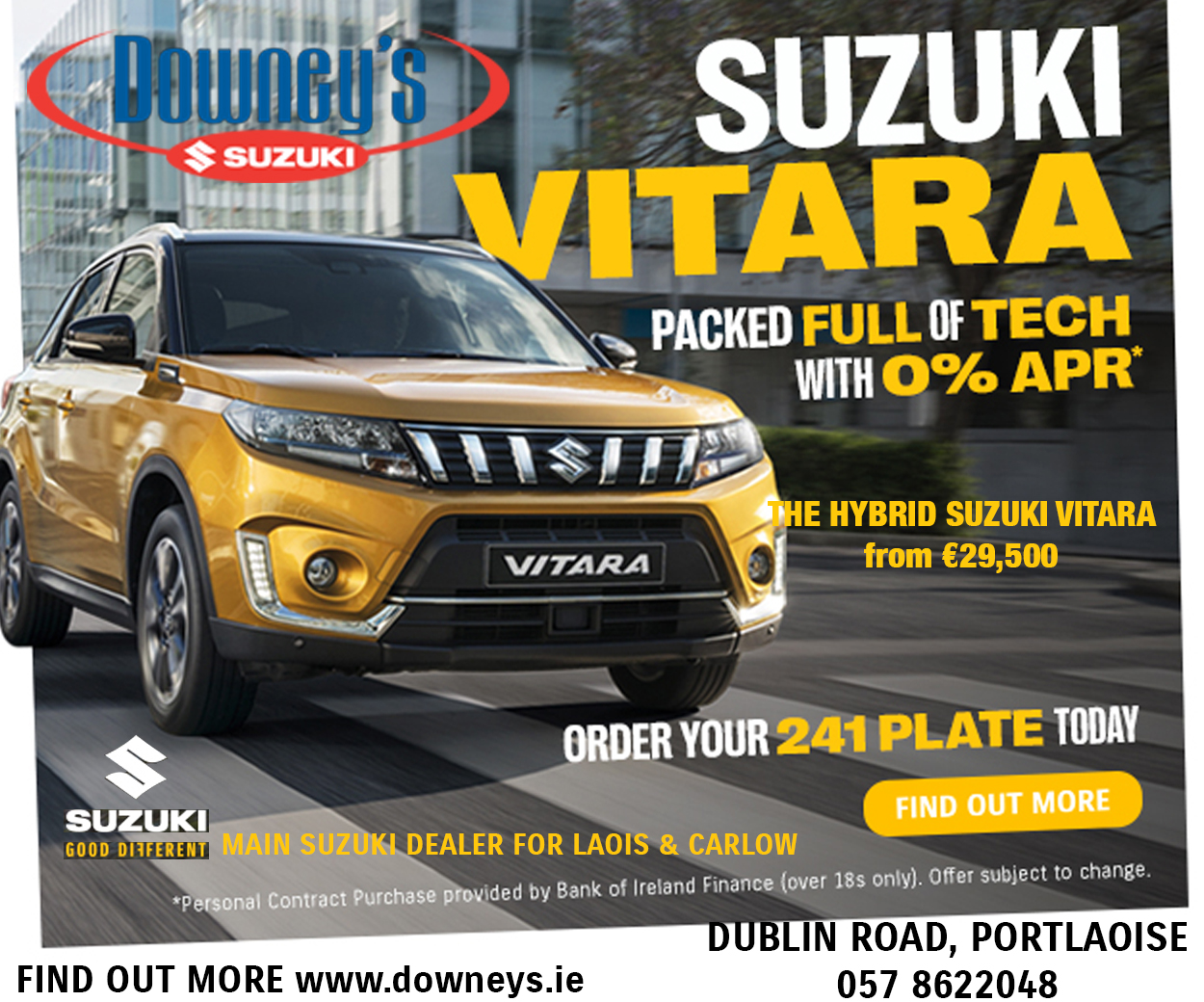 "This is part of a €597 million national investment programme for regional and local roads in 2022.
"The main priority in 2022 continues to be the protection and renewal of the existing regional and local road network.
"This funding is for the local authority to maintain and strengthen our roads here in Laois. The main priority is to be the protection and renewal of the existing regional and local road networks.
"The total figure of €13,449,496 for Laois includes the significant amount of €6,549,000 for restoration improvement, €1,010,500 for Restoration Maintenance and €311,000 for Climate Change Adaption & Resilience Works.
"I am particularly pleased that the works at Poormans Bridge Abbeyleix has been allocated a specific improvement grant of €300,000.
"This funding for roads in Laois will make a big difference to people and businesses locally. Ensuring the upkeep and maintenance of our road network is essential in facilitating our future economic growth and securing job creation"
While Cathaoirleach of Laois County Council, Conor Bergin, welcomed resurfacing improvements to the R445 road between Borris-In-Ossory and Mountrath.
He said: "This is great news for anyone who travels this road between Ballaghmore, Borris-In-Ossory, Mountrath and Portlaoise on a daily basis that significant improvements will be carried out to a number of sections of the road which are most in need of repair.
"I have been raising this issue with Laois County Council and I proposed a notice of motion at our Municipal Meeting last November asking for the Council to apply to the Department of Transport for funding under the Former National Roads category of the Local & Regional Roads allocation to address a number of the worst sections of this road.
"I have been working closely on this issue with Council engineers and I also raised the issue with a number of Fine Gael Ministers, including our local TD Charlie Flanagan who greatly supported this project.
"The R445 road was previously the old N7 road between Dublin and Limerick, arguably one of the busiest roads in the country prior to the opening of the M7 motorway in 2010.
"Once the motorway was completed this road was downgraded to a regional road. However, in recent years we have seen a steady increase in traffic once again and the road is as busy as it was maybe 10 or 15 years ago before the motorway opened.
"Three of the worst stretches of the road which are most in need of repair are at Mountrath town centre structural inlay (€250,000), Moneymore (between Borris-In-Ossory and Ballaghmore) overlay (€250,000) and the roundabouts at Borris-In-Ossory which lead to the M7 motorway at Townparks (€180,000).
"I am delighted to confirm that works will be carried out to improve these three sections of the R445 road in the Western Area, which will greatly enhance road safety for motorists and locals.
"There is a separate section of the road at Ballytarsna which is also badly in need of repair which was unfortunately not included in this year's allocation, however I will continue to work closely with Laois County Council to try and get this section addressed as well."
While Minister for State Pippa Hackett said: "I welcome today's announcement of €14.87 million for Offaly and €13.44 million for Laois for upgrades to our existing regional and local roads.
"This includes an allocation for climate change adaptation works for roads vulnerable to the impact of climate change and severe weather events.
"In Laois, there is a further €148,000 for Active Travel, and this, together with funding for safety projects, including the provision for signage to support lower speed limits in housing areas, rural speed limit signage and "safe passing" cycle signage, means that more and more people will feel safer to use our roads for walking and cycling."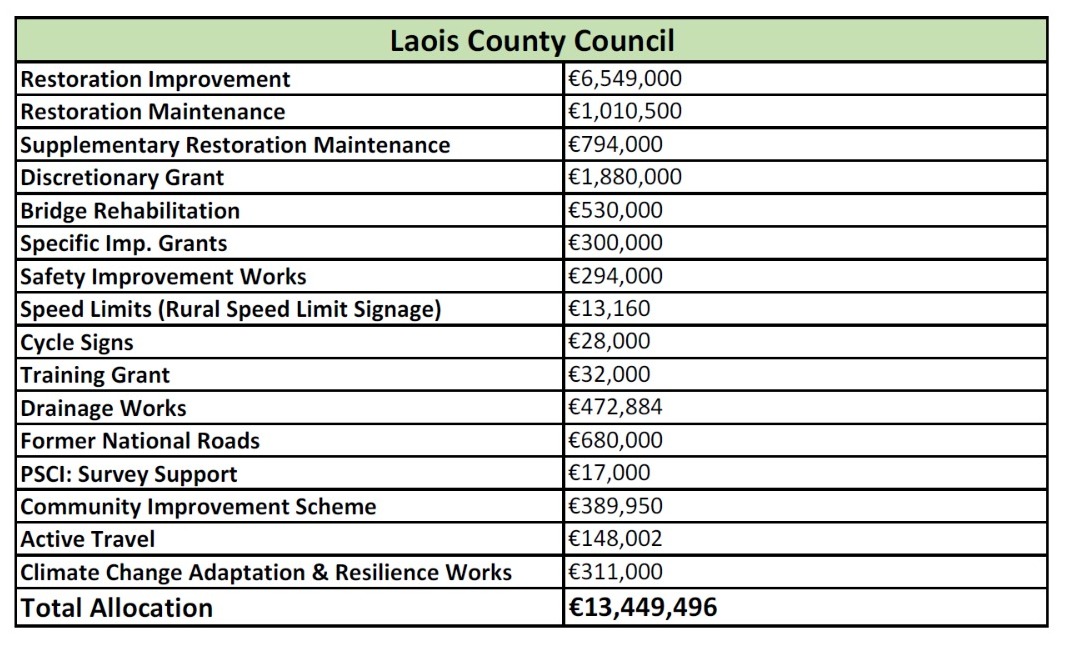 SEE ALSO – Teenager arrested after man slashed in the face following early evening attack in Portlaoise town centre