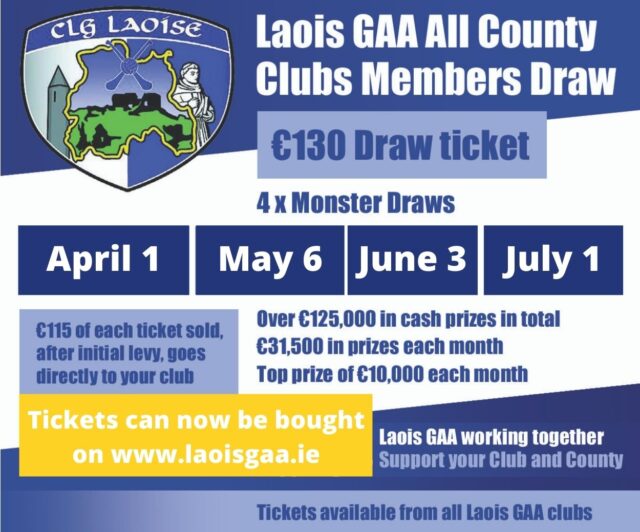 Laois GAA people are being urged to support their local club ahead of the first All County Clubs Members Draw next month.
There is over €126,000 euro prizes to be won across four draws with tickets costing €130 each.
Tickets can now be purchased online via www.laoisgaa.ie. 
For many clubs, these tickets are the clubs main fundraiser for the year. Each club, depending on their status, has an initial levy that they must sell, but, after that has been reached, almost 90 per cent of the money generated from each ticket goes back to the club.
So for example, if your club sells 100 tickets, then it generates €11,500 for itself.
In the current climate where costs are rising constantly, particularly insurance, this money is vital for your club.
The first prize in each draw is €10,000 with a total of €31,500 given out in prize money in each draw. The draws will takes place on April 1, May 6, June 3 and July 1.
Laois County Board Secretary Niall Handy says that the benefits for your club are 'tremendous'.
He said: "The benefits for your club are tremendous. €115 out of every ticket sold after the initial levy and prize fund goes directly to your club. For example if your club sells another 100 tickets, then your club generates €11,500 for itself with no outlay.
"The club is at the heart of your community. In times of difficulty and in times of hardship the GAA club is there as a rallying point for its members and its community.
"The GAA club in your area has given you many special memories that you can treasure. These are memories that money can't buy.
"The GAA in Laois is what we are. We have great pride in our club and great pride in our county.
"This draw will give you the opportunity to support your club and your county – Laois GAA working together – The Laois way – Providing for the future."
For further information please contact any committee member of your local GAA club or the Laois GAA Office (057-86-60674)
List of prizes:
1st – €10,000
2nd – €5,000
3rd – €3,000
4th – €1,500
5th – €1,500
6th – €1,000
x 9 prizes of €500
x 20 prizes of €250
SEE ALSO – Check out the dedicated jobs section on LaoisToday