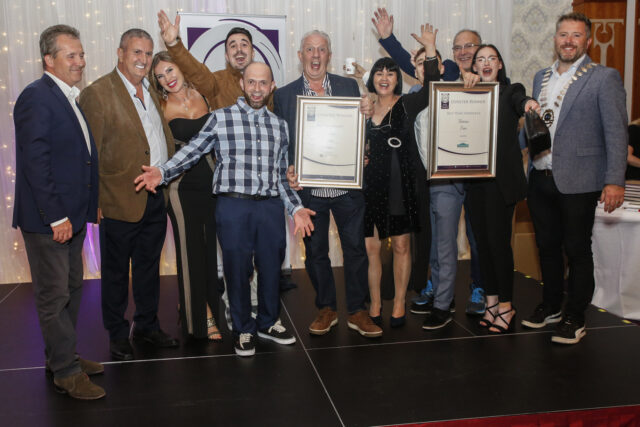 The Leinster Regional Final of Irish Restaurant Awards 2022 took place in the Knightsbrook Hotel, County Meath on Tuesday August 16.
Over 900 restaurant and hospitality business owners and staff celebrated their hard work and achievements at the Awards Event, which saw many well-known restaurateurs of Leinster turn out to see if they had won one of the prestigious awards.
Food outlets were nominated under the categories of Local Food Hero, Best Free From, Best Emerging Irish Cuisine, Best Restaurant Manager, Best Wine Experience, Best Café, Best World Cuisine, Best Newcomer, Pub of the Year, Best Casual Dining, Best Hotel & Guesthouse Restaurant, Best Customer Service, Best Gastropub, Best Chef, and Best Restaurant and finally a new award category for 2022 Best Sustainable Practices.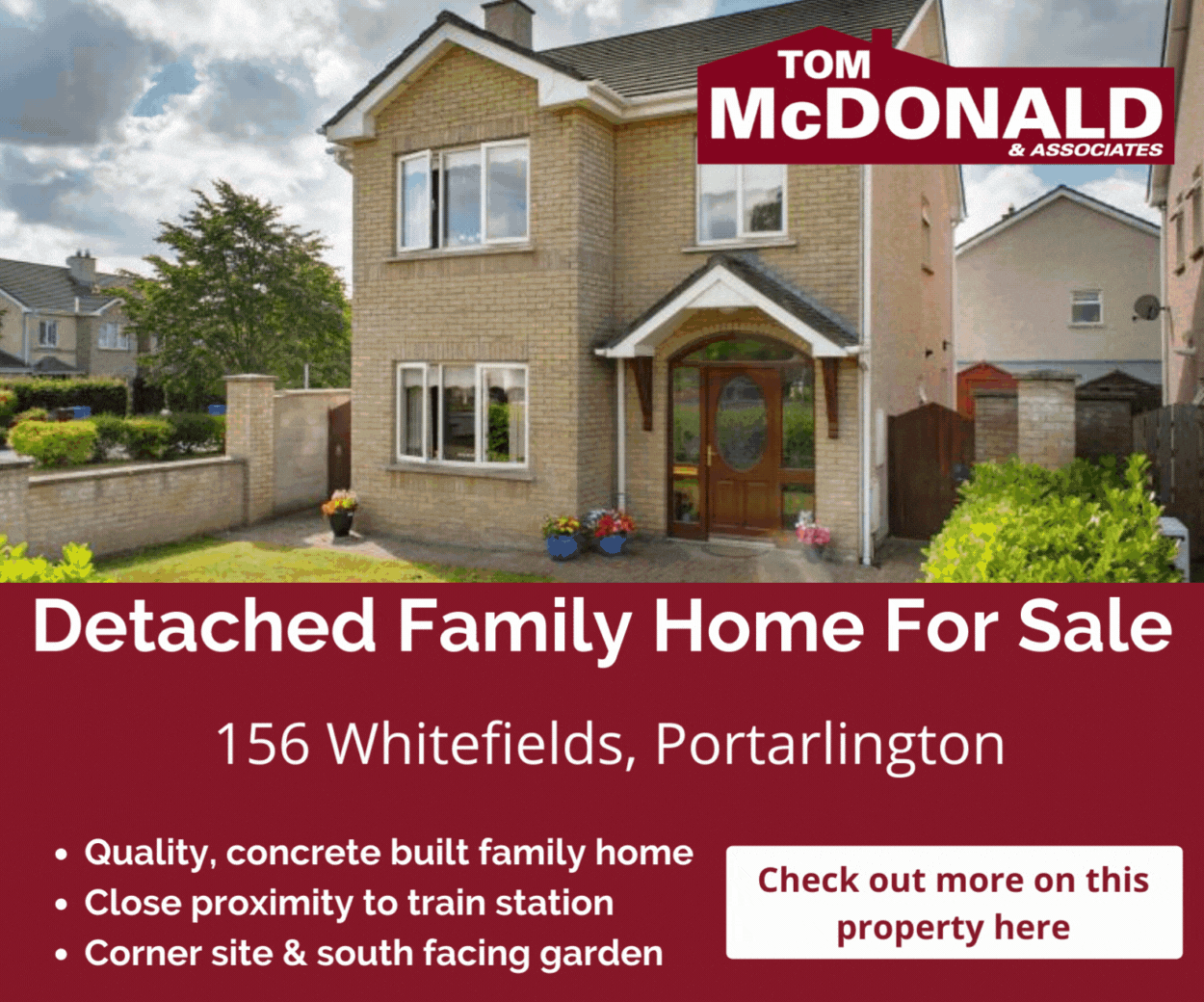 A total of 12 Laois establishments were named as award winners with The Heritage leading the way with three gongs – including best chef which was won by Tom Comerford.
Treacy's Bar and Batonis Emo both finished the night with two awards – with Niall Treacy being named as Best Manager.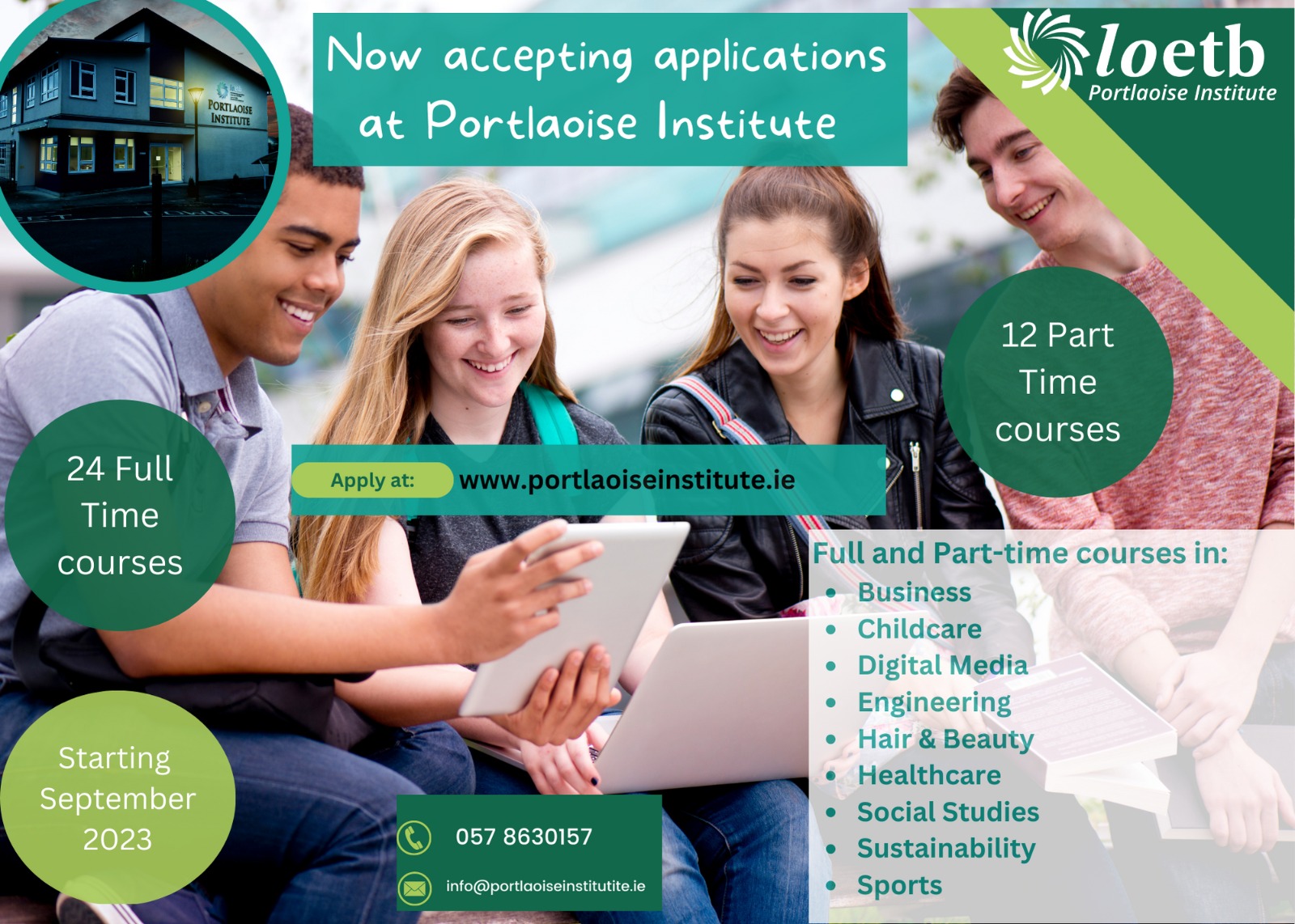 The Pantry, Mayur Indian Restaurant, Bowe's Foodhall, Akayu, Wandering Elk, Bob's Bar, Hare's Corner, Ballyfin Demesne and The Bog Road were also successful.
Speaking at the Leinster Regional Awards Chief Executive of the Restaurants Association of Ireland, Adrian Cummins, said; "Now in their 13th year, the Irish Restaurant Awards returns after the 2020 Awards were cut short.
"The Awards are an opportunity to celebrate the existing and up and coming talent in the sector and are a reminder that hospitality is nothing without the dedicated and passionate staff in the industry.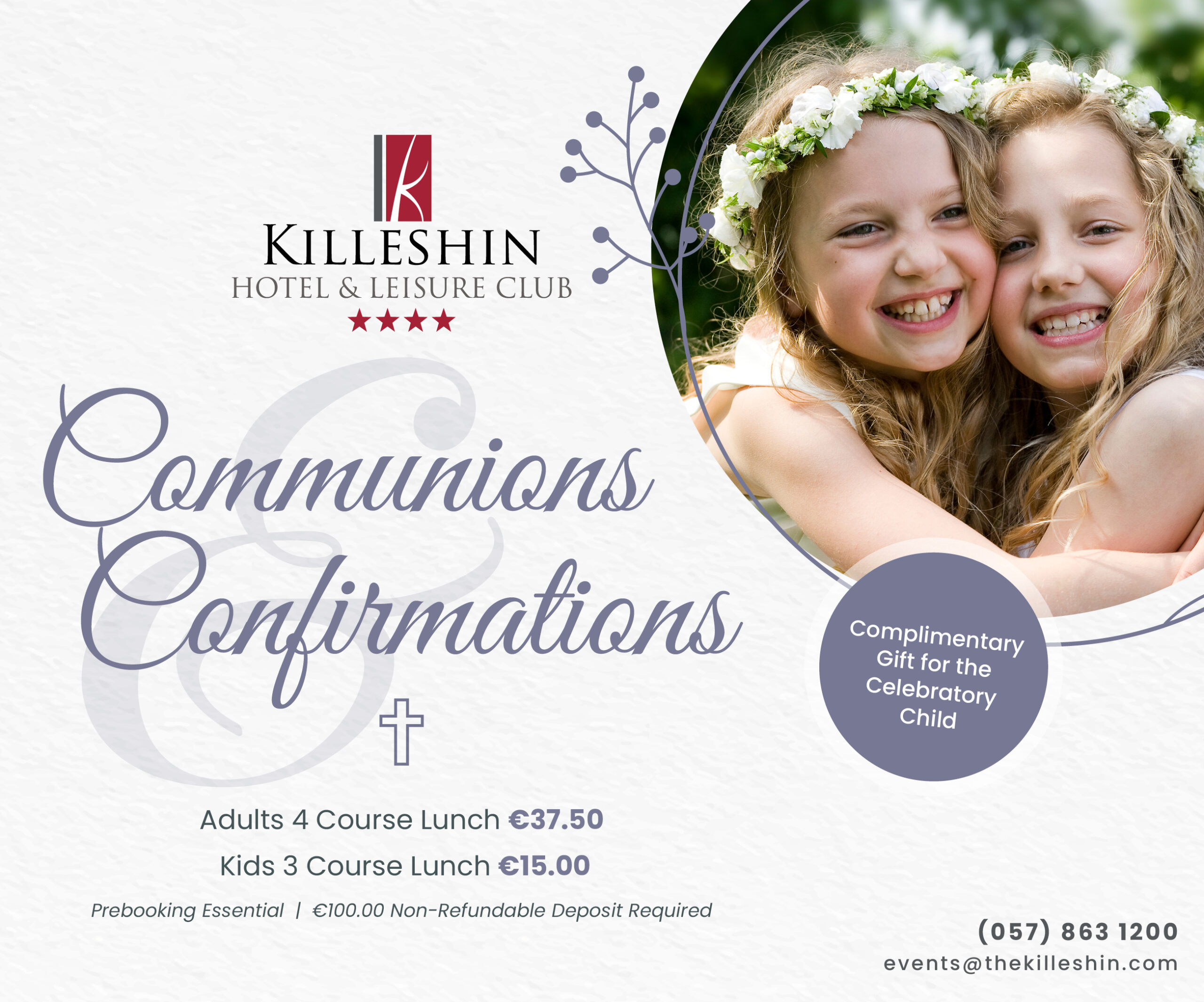 "The Awards continue to showcase the incredible food that is on offer in the cafes, pubs and restaurants of Ireland. With well over 100,000 nominations received from the public this year, the standard for the judging process was higher than ever."
All of the county winners now compete for the Regional and All Ireland Titles, which will be announced at the Irish Restaurant Awards All Ireland Final on Monday September 19 in the Convention Centre Dublin.
The winners on the night were:
Local Food Hero Sponsored by The Irish Times
Carlow Malone Fruit Farm, Tom and Elizabeth Malone
Kildare Kalbarri Cookery School, Siobhan Murphy
Kilkenny Butcher Restaurant Kilkenny, Mark Williams
Laois The Heritage, Killenard, Tom Comerford
Longford Cloughan Farm and Cookery School Abbeyshrule , Fiona Egan
Louth Ballymakenny Farm Heritage Potatoes, Maria Flynn
Offaly Wild Food Mary, Mary Bulfin
Westmeath Lough Owel Organic Farm, Joe Brady
Wexford Regan Organic Farm, Mary Regan
Wicklow Wicklow Way Wines, Pamela Walsh and Brett Stephenson
Meath The Headfort Arms, Olivia Duff
Best Sustainable Practices Sponsored by Gas Networks Ireland
Carlow Thrive Cafe
Kildare The Green Barn Restaurant
Kilkenny The Fig Tree Restaurant
Laois The Pantry
Longford Center Parcs Longford Forest
Louth Wildwood Cafe
Offaly Woodfield Cafe and Garden Centre
Westmeath Bastion Kitchen Athlone
Wexford Cistín Eile
Wicklow The Strawberry Tree Restaurant
Meath The Cross Guns
Best Free From Sponsored by Peroni Nastro Azzurro
Carlow Caffe 500
Kildare Lemongrass Fusion
Kilkenny Truffles Restaurant Kilkenny
Laois Mayur Indian Restaurant
Longford Tus Nua
Louth The Bare Food Company Drogheda
Offaly Sirocco's Italian Restaurant
Westmeath Bastion Kitchen Athlone
Wexford Donna Marina
Wicklow Vital Health Café
Meath Khan Spices Indian Restaurant
Best Emerging Irish Cuisine Sponsored by FBD
Carlow Clashganny House
Kildare Brown Bear
Kilkenny Stratham's by Pembroke
Laois The Heritage, Killenard
Longford Viewmount House Longford
Louth The Bay Tree Restaurant
Offaly Lukers Bar
Westmeath Thyme Restaurant Athlone
Wexford Aldridge Lodge
Wicklow Hollywood Inn
Meath Vanilla Pod Restaurant Kells
Best Restaurant Manager Sponsored by AIB Merchant Services
Carlow Stephanie Stone of Sha-Roe Bistro
Kildare The Barton Restaurant, Jason Dunne
Kilkenny Mount Juliet Estate Thomastown, Aga Kubinska
Laois Treacy's Bar and Restaurant, Niall Treacy
Longford The Rustic Inn Abbeyshrule, Diarmuid Byrne
Louth Fairways Hotel Dundalk, Elizabeth Duffy
Offaly Captain House Restaurant, Arif Soysal
Westmeath Wineport Lodge Athlone, Kash Caleecharrun
Wexford Lobster Pot Seafood Restaurant, Nicola Zammit
Wicklow The Old Ship, John Condren
Meath Vanilla Pod Restaurant Kells, Lareina Quigley
Best Wine Experience Sponsored by Bibendum Ireland
Carlow Mimosa Bar De Tapas
Kildare Ely Wine Store Maynooth
Kilkenny Ristorante Rinuccini Kilkenny
Laois Batonis Emo
Longford Vocella's Longford
Louth No 3 Wine Bar And Restaurant Collon
Offaly Townsend House Tapas Restaurant Birr
Westmeath Thyme Restaurant Athlone
Wexford Green Acres Restaurant and Wine Store
Wicklow Sika Restaurant
Meath Brabazon Restaurant Slane
Best Café Sponsored by Illy
Carlow Mullichain Cafe Glynn
Kildare Avenue Cafe, Restaurant & Bar
Kilkenny Cafe La Coco Kilkenny
Laois Bowe's Foodhall & Cafe Durrow
Longford Torc Café & Foodhall
Louth Strandfield
Offaly The Loft Cafe
Westmeath Bastion Kitchen Athlone
Wexford D'lush Café Wexford
Wicklow Russborough Tea Rooms
Meath Sage & Stone
Best World Cuisine Sponsored by San Pellegrino
Carlow Pimento Carlow
Kildare Jaipore
Kilkenny Indique Indian Restaurant Kilkenny
Laois Akayu Portlaoise
Longford Spice India Longford
Louth Sitar Indian Restaurant And Takeaway Dundalk
Offaly Shishir Tullamore
Westmeath Lalla Mullingar
Wexford The Red Elephant
Wicklow Pink Salt Indian Restaurant
Meath Cinnamon Garden Restaurant Ashbourne
Best Newcomer Sponsored by Square
Carlow The Fermentary
Kildare Grooms At The Ranch Monasterevin
Kilkenny Canal Square, Kilkenny
Laois The Wandering Elk
Longford Indian Sizzler
Louth Birch & Co Dundalk
Offaly Browne's Bistro
Westmeath Praline Chocolatiers Athlone
Wexford Jasper's Restaurant
Wicklow Mortimers
Meath Scullery N°4 Kells
Pub of the Year Sponsored by Jameson
Carlow Corcoran's Bar
Kildare McCormack's Bar
Kilkenny Cleeres Bar And Theatre Kilkenny
Laois Bobs Bar Durrow
Longford Duignan's Tallyho
Louth Russell's Saloon Dundalk
Offaly Giltraps Pub Kinnitty
Westmeath Nuts Corner Athlone
Wexford The Sky & the Ground
Wicklow The Dying Cow
Meath Ryans Bar Navan
Best Casual Dining Sponsored by Musgrave Marketplace
Carlow Lennons @ Visual Carlow
Kildare Butt Mullins
Kilkenny Statham's By Pembroke Kilkenny
Laois The Hare's Corner Mountmellick
Longford Moments Cafe And Restaurant Longford
Louth The Spotted Dog
Offaly The Thatch Crinkill Birr
Westmeath Poppy Fields Cafe Athlone
Wexford 10 West Bistro & Cocktail Lounge – Restaurant Wexford
Wicklow The Enniskerry Inn
Meath Inside Out Slane
Best Hotel & Guesthouse Restaurant Sponsored By Frylite
Carlow Step House Hotel Borris
Kildare Carton House Hotel Maynooth
Kilkenny Mount Juliet Estate Thomastown
Laois Ballyfin Demesne
Longford Viewmount House Longford
Louth Scholars Townhouse Hotel Drogheda
Offaly Bridge House Hotel
Westmeath Bonnies Restaurant of Glasson Lakehouse
Wexford The Duck Restaurant – Marlfield House
Wicklow Wicklow Heather Restaurant & House
Meath Brabazon Restaurant Slane – Tankardstown House
Best Customer Service Sponsored Restaurant-Insurance.ie Provided by Dolmen
Carlow Lennons @ Visual Carlow
Kildare Killashee Hotel Naas
Kilkenny Knockdrinna Cafe Stonyford
Laois Treacy's Bar and Restaurant The Heath
Longford Vocella's Longford
Louth Monasterboice Inn (Donegans) Drogheda
Offaly Balcone Italiano Tullamore
Westmeath Savoury Fare Athlone
Wexford One Hundred Degrees Restaurant & Wine Bar
Wicklow Daata Greystones
Meath Vanilla Pod Restaurant Kells
Best Gastro Pub Sponsored by Worldpay from FIS
Carlow Teach Dolmain Pub & Restaurant
Kildare Hartes Of Kildare
Kilkenny Left Bank
Laois The Bog Road Portlaoise
Longford The Rustic Inn Abbeyshrule
Louth The Trinity Quarter Drogheda
Offaly Hennessys Ferbane
Westmeath The Villager Bar And Restaurant Glasson
Wexford Simon Lambert & Sons
Wicklow Butler and Barry Gastrobar
Meath The Cross Guns Gastropub Navan
Best Chef Sponsored by BWG Foodservice
Carlow The Step House Hotel, Alan Foley
Kildare Aimsir Restaurant Celbridge, Jordan Bailey
Kilkenny Lady Helen Restaurant Thomastown, John Kelly
Laois The Heritage Killenard, Tom Comerford
Longford Viewmount House Longford, Siobhan Macdonagh
Louth Square Restaurant Dundalk, Conor Halpenny
Offaly The Blue Apron Restaurant Tullamore, Kenan Pehlivan
Westmeath Thyme Restaurant Athlone, John Coffey
Wexford La Côte Seafood Restaurant, Paul Hynes
Wicklow Chakra By Jaipur, Dinesh Chander
Meath Brabazon Restaurant Slane, Johnny Sarkozi
Best Restaurant Sponsored by Tindal Wine Merchants
Carlow Sha-Roe Bistro Clonegal
Kildare Aimsir Restaurant Celbridge
Kilkenny Campagne Kilkenny
Laois Batonis Emo
Longford Aubergine Nua Longford
Louth Square Restaurant Dundalk
Offaly The Blue Apron Restaurant Tullamore
Westmeath Thyme Restaurant Athlone
Wexford La Côte Seafood Restaurant
Wicklow Chakra by Jaipur
Meath Room8 Navan
SEE ALSO – New to the Area: Ukrainian family in Portlaoise building a new life and immersing themselves in community endeavours