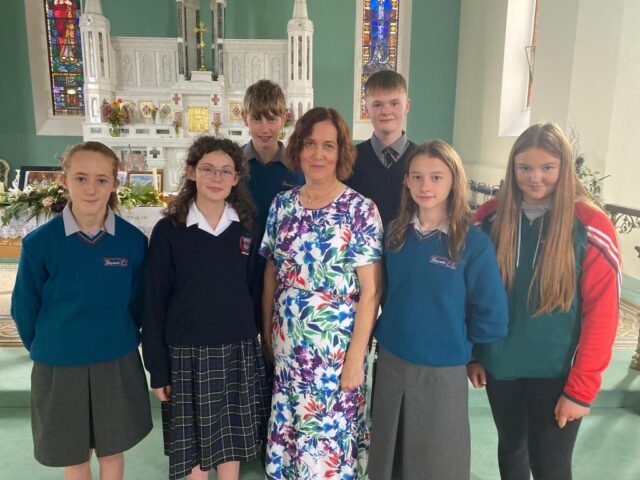 Friday September 30 was a very emotional day at Scoil Mhuire Fatima as the community of  Timahoe celebrated the retirement of Principal Ann Bergin.
In was a bittersweet day from start to finish and it all began in the school hall where students and staff gathered to thank Mrs. Bergin and to wish her well on her retirement.
Pupils Senan, Thomas and Lily presented Mrs. Bergin with a collaborative art piece that every child in the school had a hand in creating.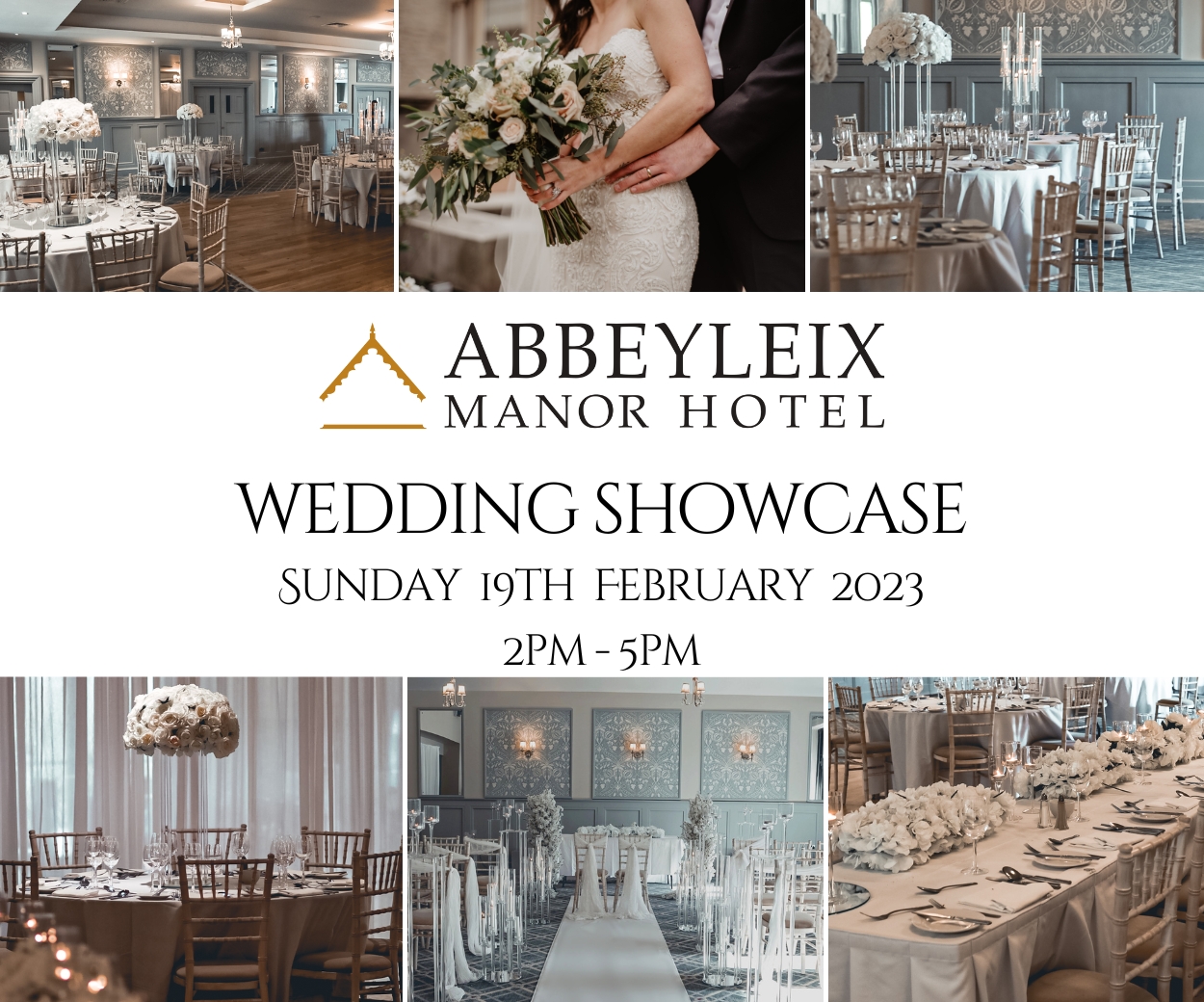 The canvas was titled "Thank You for the Music" in appreciation for all her work and dedication to the school choir over the years.
The walls of the school hall had been decorated with art created especially for Mrs Bergin. She was blown away by the children's efforts. The children also treated Ms Bergin to a rendition of "Happy Retirement to You"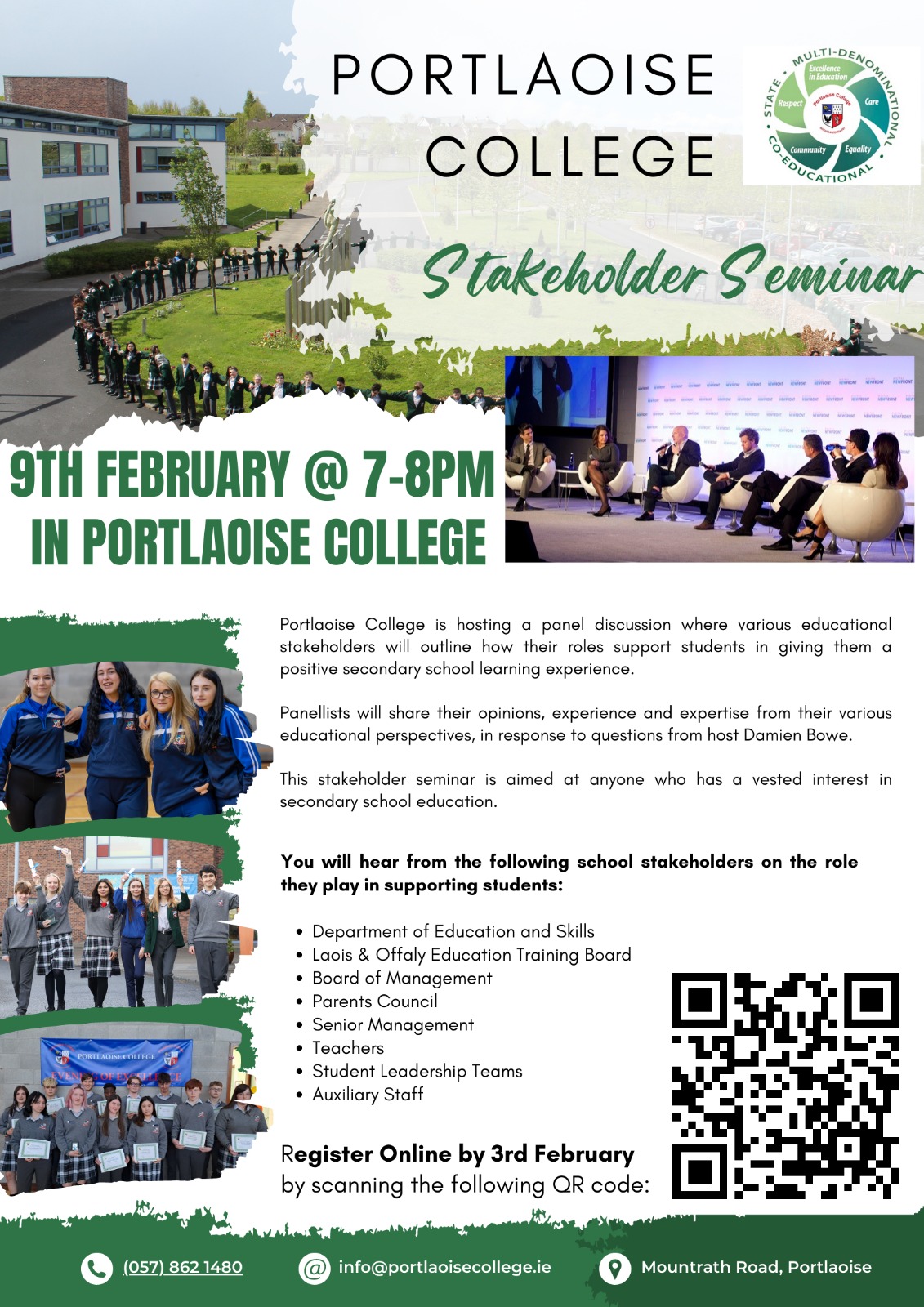 Before cutting the cake Mrs Bergin gave an emotional thank you and farewell to the school.
In the afternoon, Parish Priest, Fr Gerard Breen, presided over a beautiful retirement mass that involved students, staff, the Board of Management and the Parents' Association.
Fr Gerard began the ceremony by acknowledging Ann's "outstanding contribution in the areas of school administration, Music, Drama, Gaeilge, English literature, Science, Religious Education, sport and the school choir".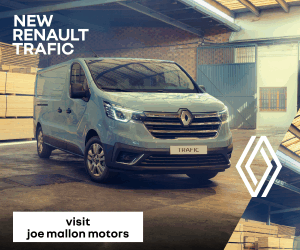 He wished her many blessings and was glad that everyone was able to publicly express their gratitude.
Following the mass, there were a number of speeches and presentations acknowledging Ann's accomplishments throughout her very successful career.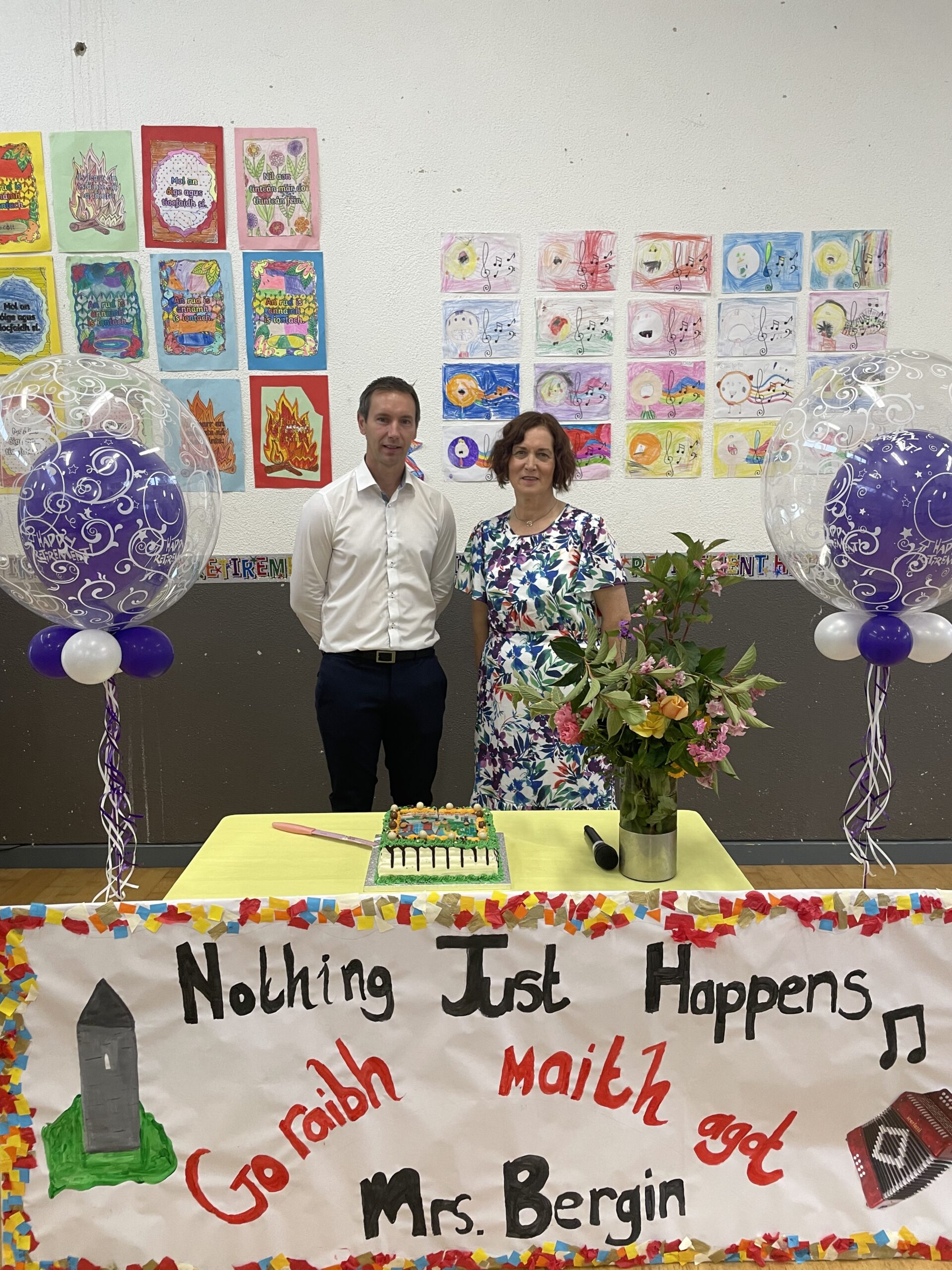 John Delaney, Chairperson of the Board of Management, commended her for her "commitment and dedication over the years that was second to none".
He also acknowledged her strength in leading and guiding Timahoe National school to where it is today.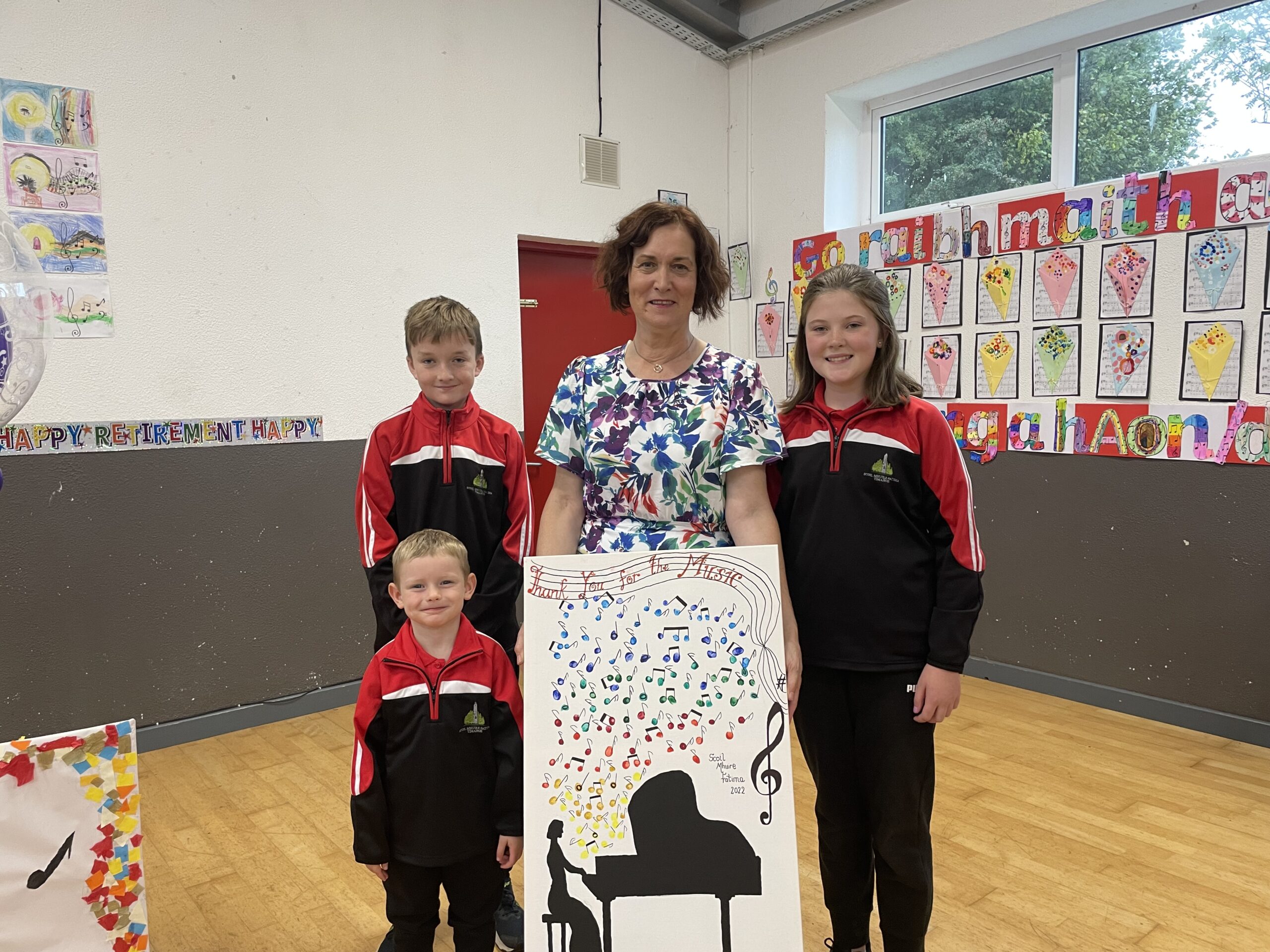 He joked that Ann must have a love for construction as she has overseen three extensions; the building of the school hall, a new classroom and the impressive early intervention autism unit.
He concluded by inviting Eithne Ramsbottom and Patrick McEvoy, Members of the Board of Management to make a presentation to Ann.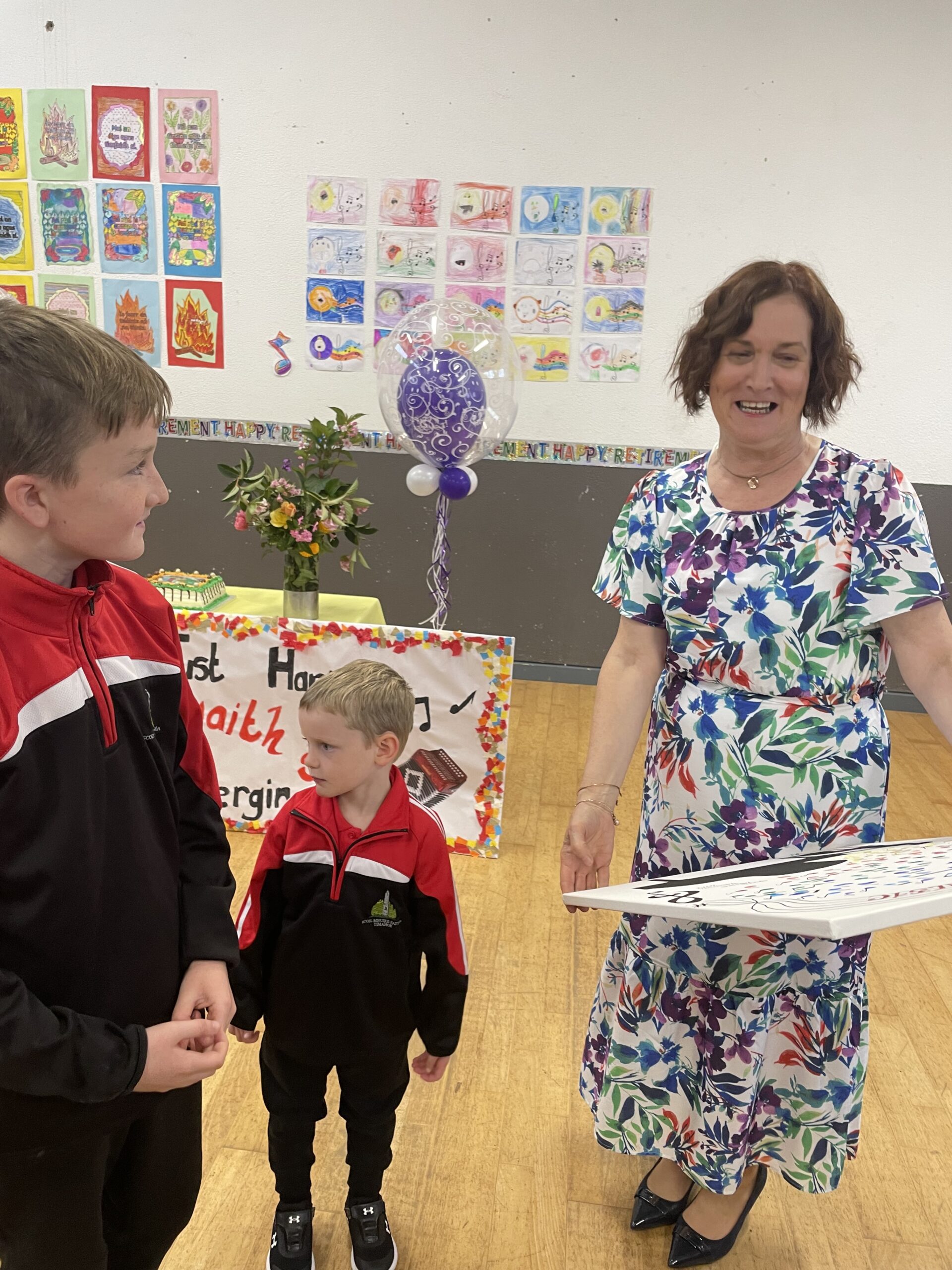 Chris Fraser of the Parents Association offered his thanks and best wishes to Ann on behalf of the parents of Timahoe.
He acknowledged the "hard work and commitment that Ann has given to the school over the past 11 years. It is reflected in the school we have now".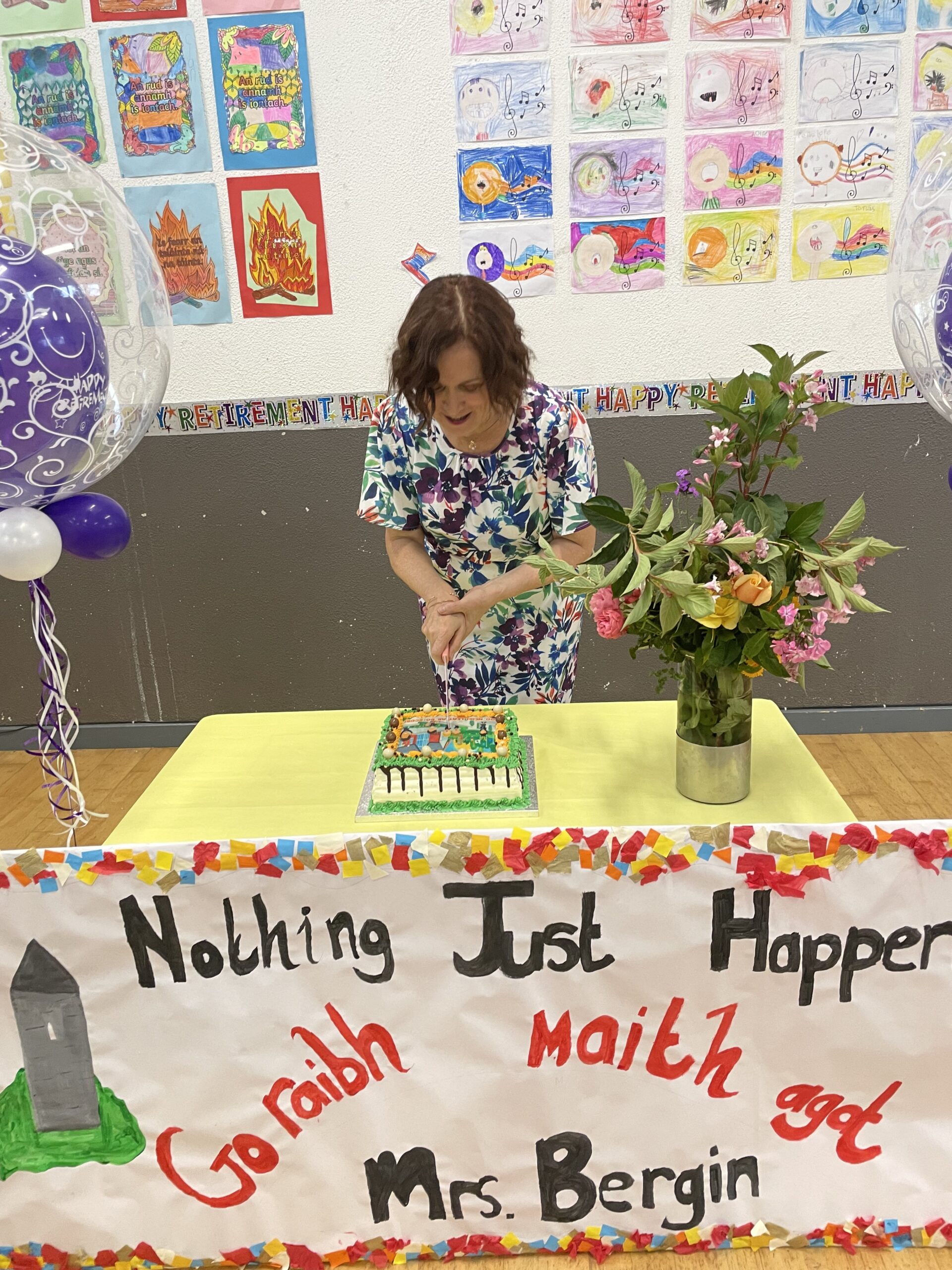 He finished with a presentation to Ann along with Aisling Headen, on behalf of the Parents' Association.
Newly appointed Principal Michael McEvoy, with whom Ann has worked so closely over the past few years spoke of many of Ann's achievements.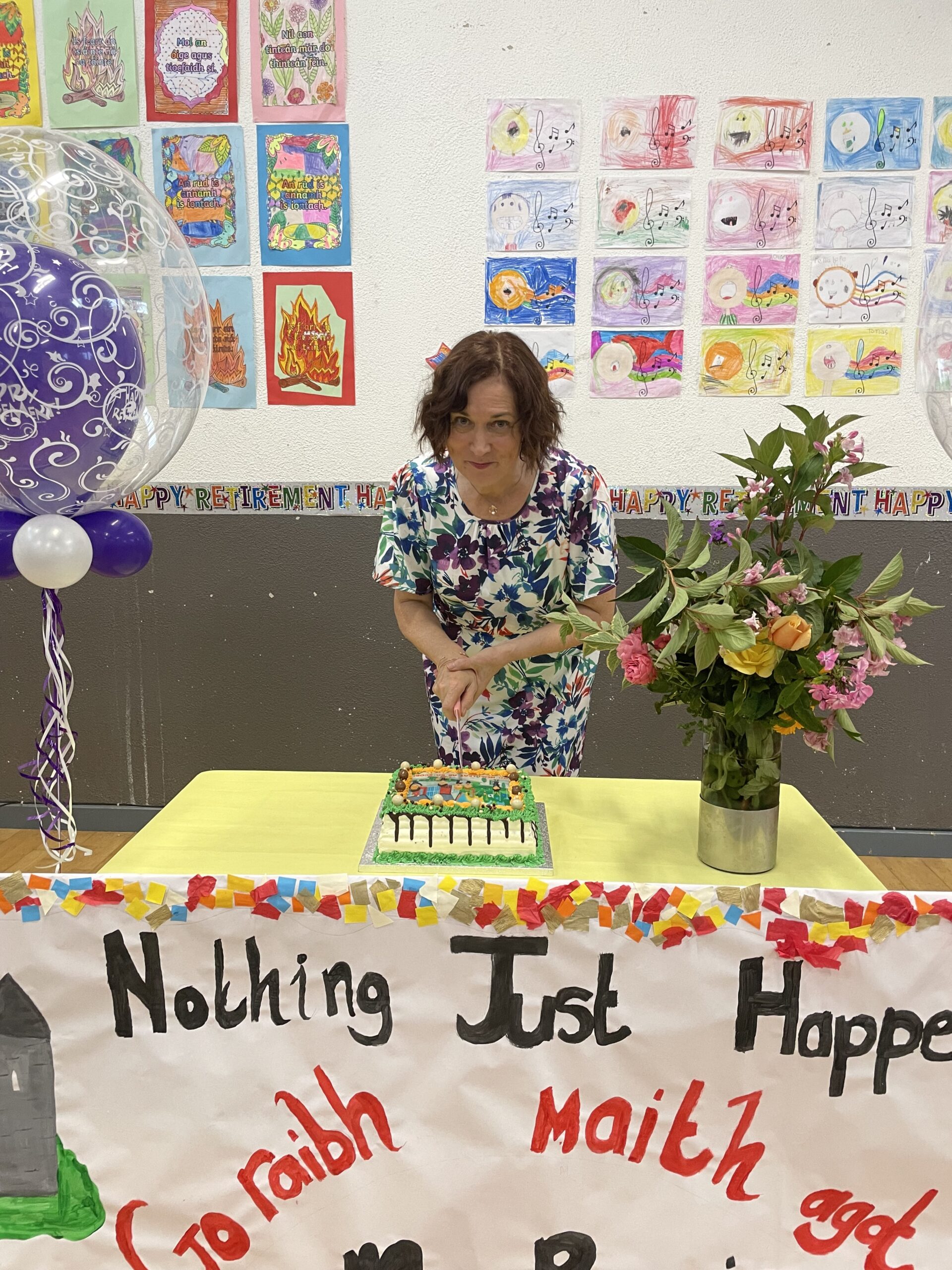 He said: "From the establishment of our beautiful Naíscoil and the subsequent extension, to leading our school through the Covid 19 pandemic.
"From Active flags to Green Flags to Amber flags, from Cuman na mBunscol final wins to All Ireland Intel Mini Scientist wins, from Pantos in the community hall to visiting Michael D Higgins at the Áras, an awful lot has happened under your watch Ann, and you should be so proud.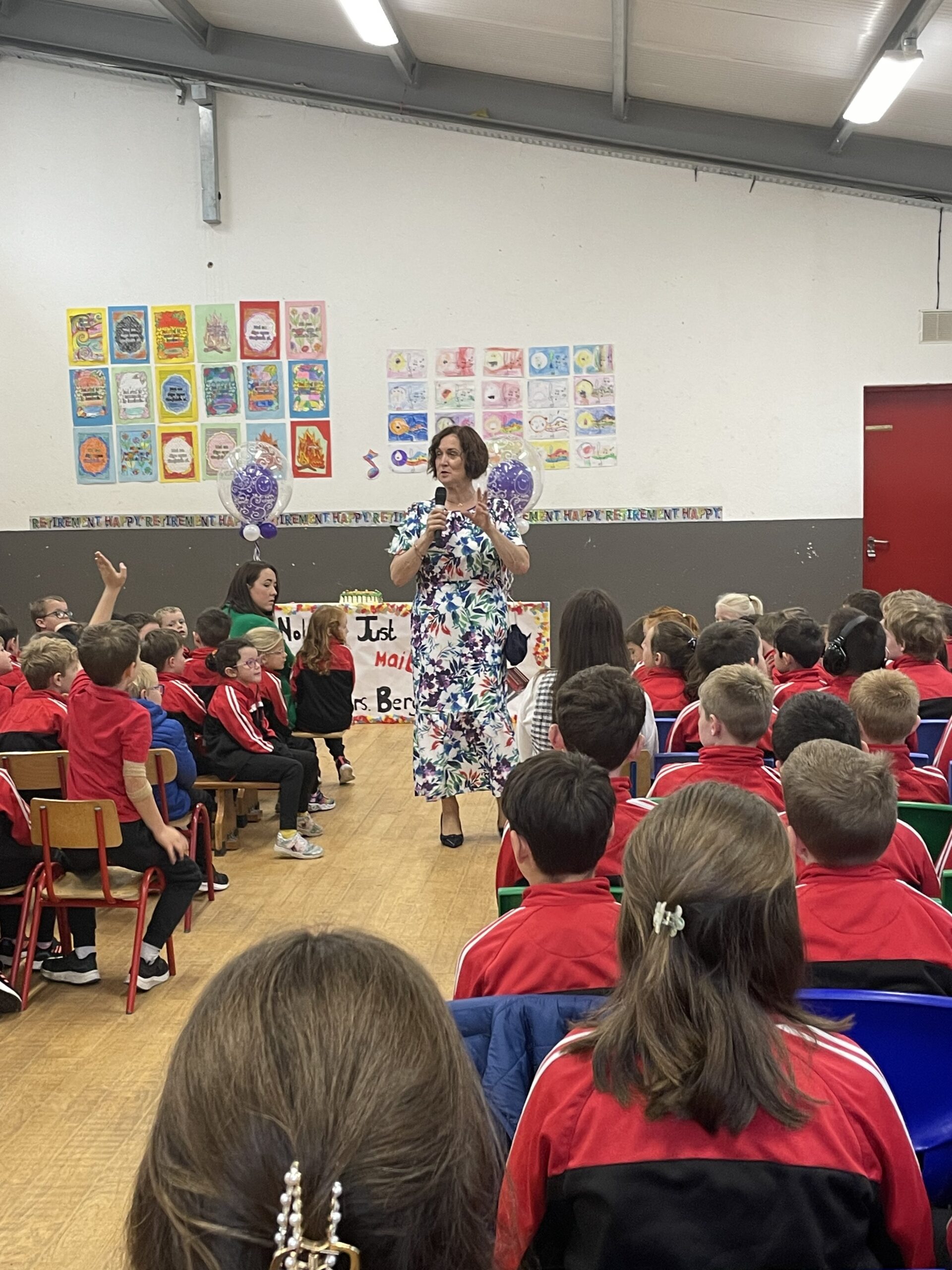 "Ann leaves behind a learning environment that is child-centred, collaborative, self-reflective and rich in creativity. She has fostered this by striving for standards of excellence, by thinking big, by embracing innovation"
His final words of gratitude were to thank Ann for 'her kindness and compassion that have always shone through. Her empathy and sincerity made her an exceptional principal. We are so thankful to you Ann."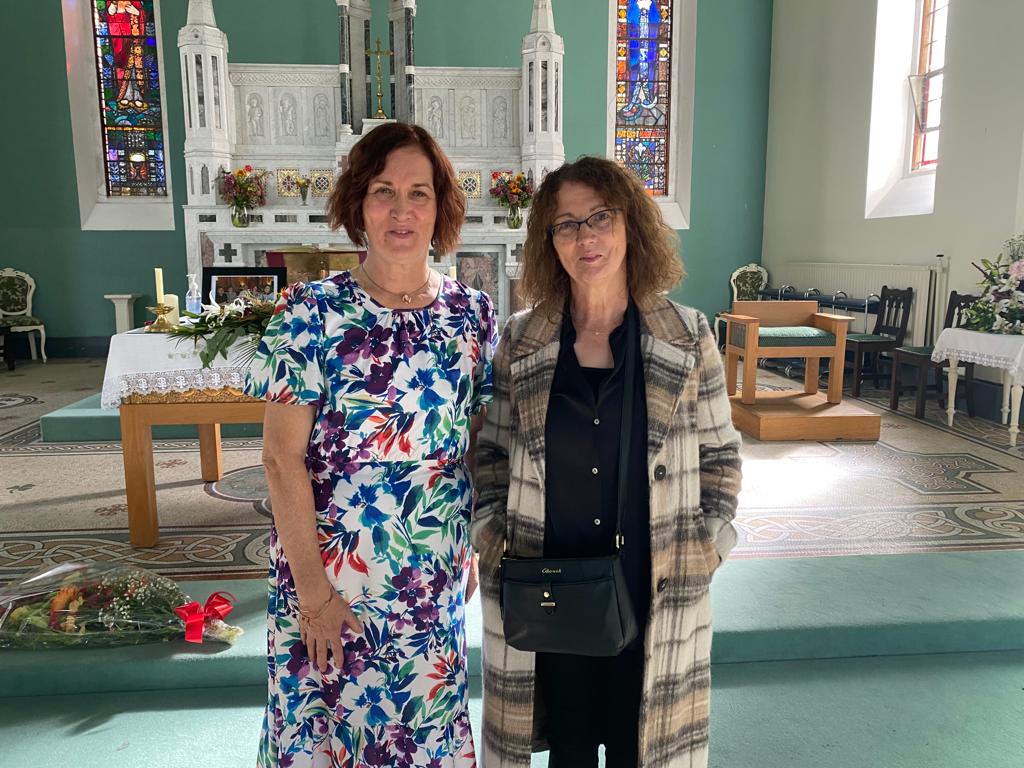 The final speech of the afternoon was left to Principal Ann Bergin. She expressed immense gratitude at the opportunity to retire happy and healthy after 40 years as a teacher.
As she reminisced over her career she reflected upon the changes she has witnessed in education. The biggest change being the "working partnership between home and school".
A school where you can listen to "the pupil voice, the parent voice". A classroom where you hear "What do you think?" She reflected that; "I have learned more than I ever taught"
This was a poignant day for Ann and she took a moment to thank her own family. Her mother, her sons Eoin and James who were all tuning into the mass via a livestream. Her daughter Anna who had orchestrated the choir for the mass. Her late father Eugene.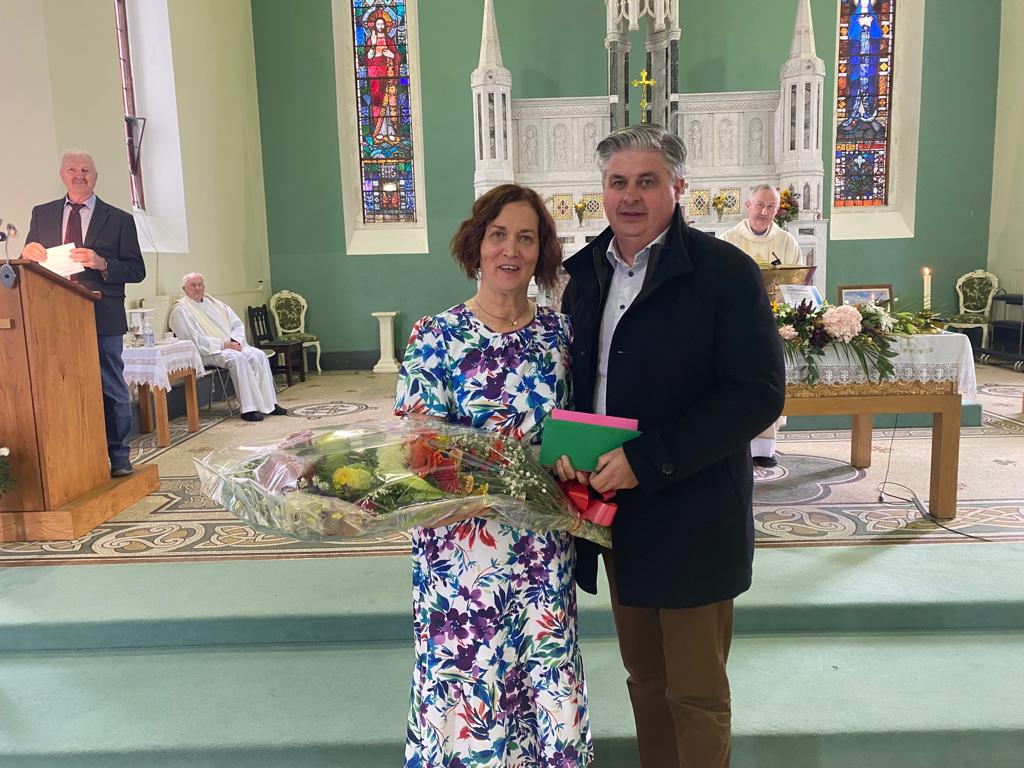 She reflected on how her family valued education to the extent that 13 of her cousins became teachers. As her father often quoted "education is no load".
She thanked everyone that had made her career so special, the children, teachers, SNA's, administration staff, parents, BOM, Parents Association and the community.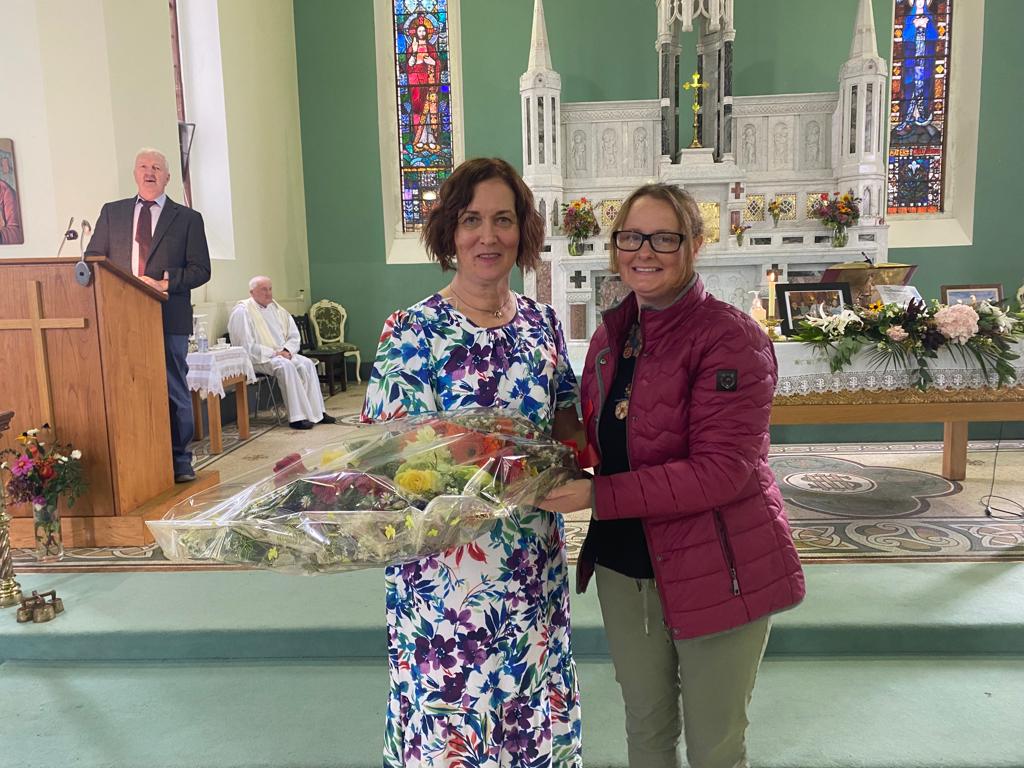 As she looked down on the congregation, she stated that "teaching is the best job in the world". The children's warmth, energy, humour and kindness is "a privilege" to work with.
She concluded with one of her favourite subjects Gaeilge. "Rath Dé Oraibh agus Slán libh" (God will continue to prosper you all and keep you healthy and safe)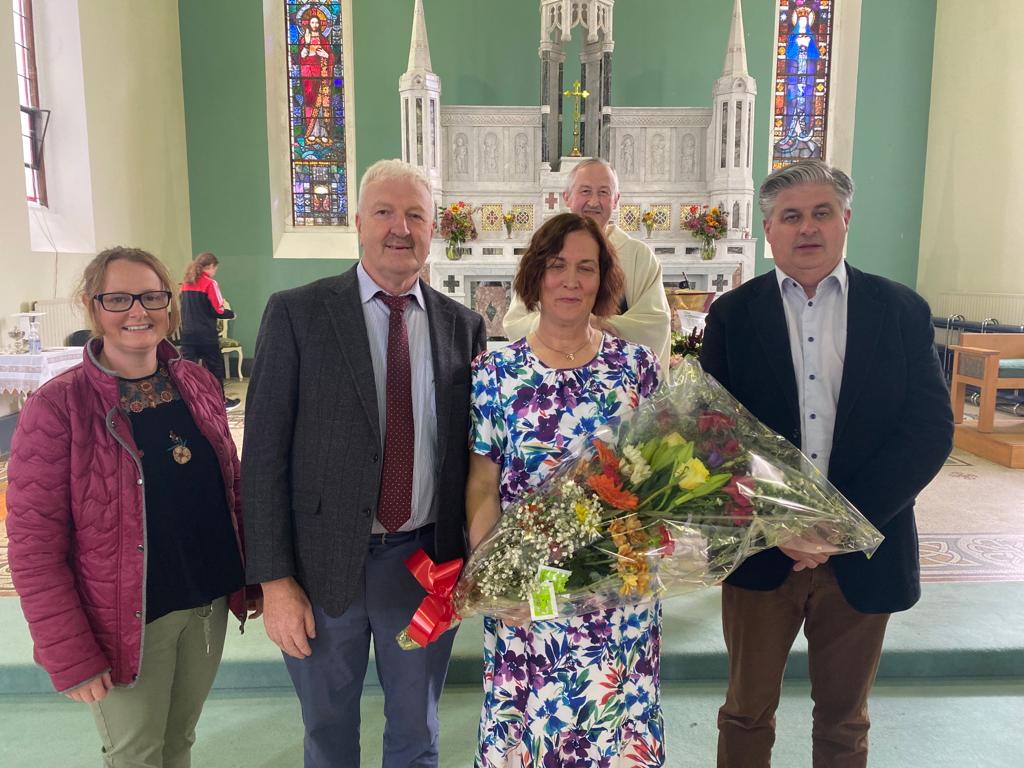 As the speeches came to a close, the children treated Mrs Bergin to a beautiful version of 'Thank You for the Music '. This was conducted by Anna Bergin and there wasn't a dry eye left in the church.
Ann was appointed as teaching Principal at Scoil Mhuire Fatima in January 2011 and had a massive impact on the lives of many children in the community.
As a teacher, Mrs Bergin's classroom was a happy and busy place where she ensured that each child was encouraged and supported to achieve, both in an educational and personal context.
Her deep religious faith has underpinned her role as teacher and principal and her promotion of the Catholic Ethos in Scoil Mhuire Fatima.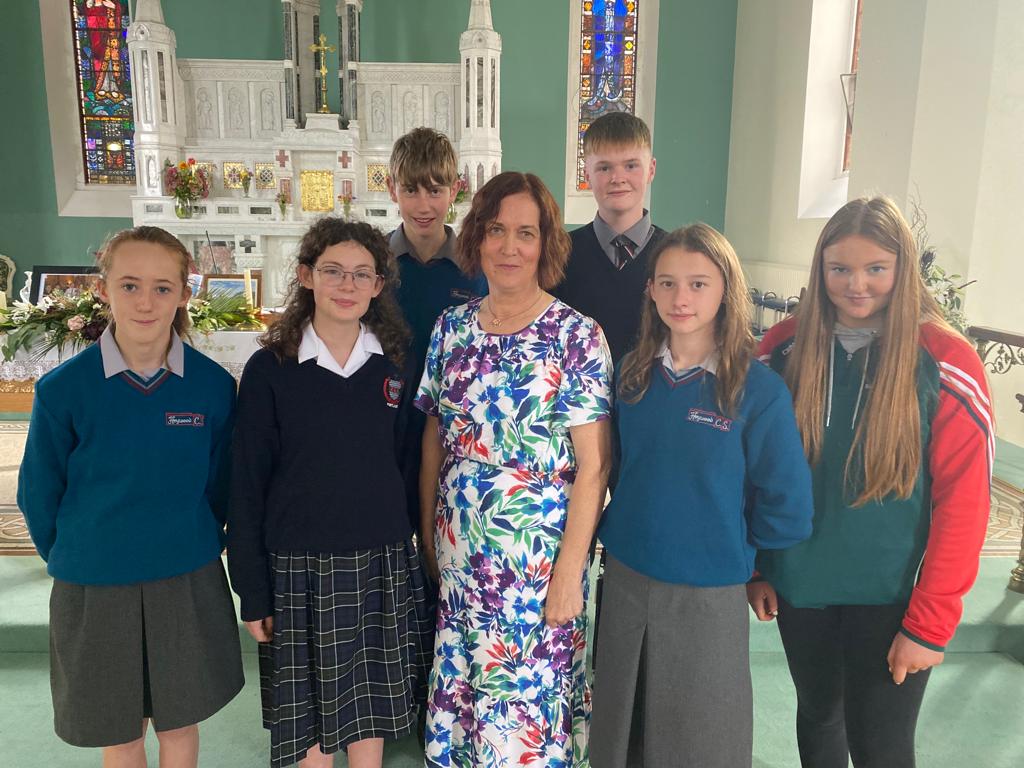 Ann's love for music and her extraordinary musical talent has been a real gift to the school. Her accordion and keyboard skills together with her ability to inspire children has helped to nurture the most beautiful children's choirs over the years.
Her commitment and dedication to music for the sacraments of Communion and Confirmation has made these wonderful occasions even more special.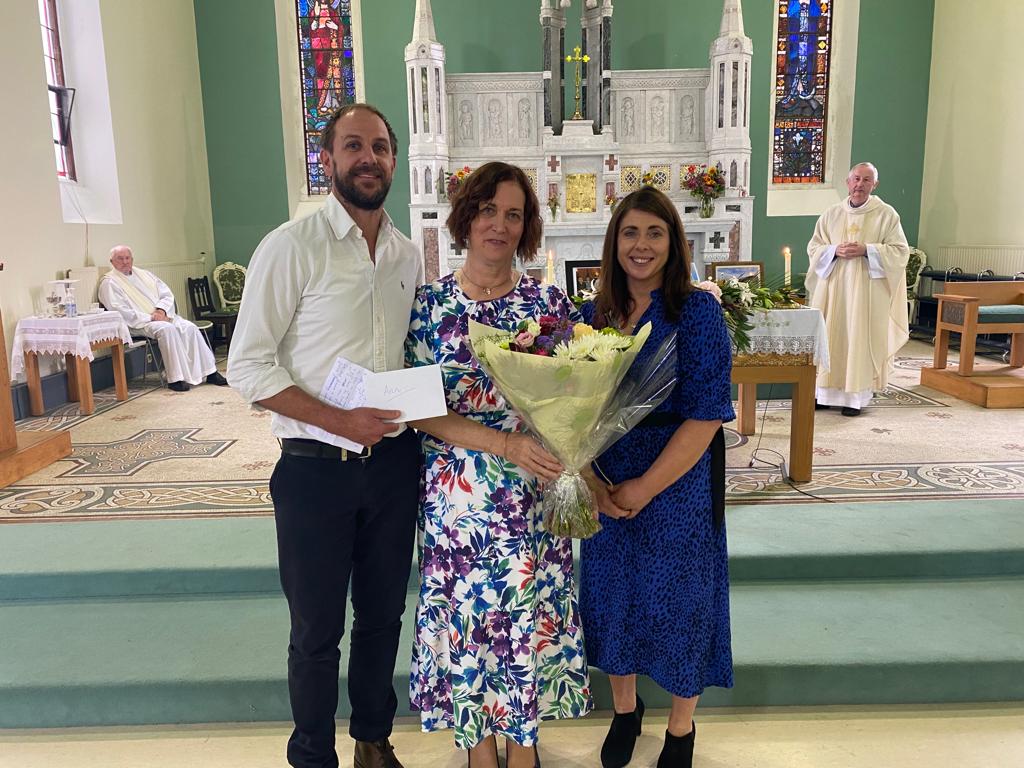 Ann's musical talent was always at the centre of the school's Panto productions which were wonderful opportunities for the children to showcase their talents.
The lights, the sound, the stage, the costumes, the singing, the dancing, the entire school community working in collaboration. These are memories that will always be treasured by Ann.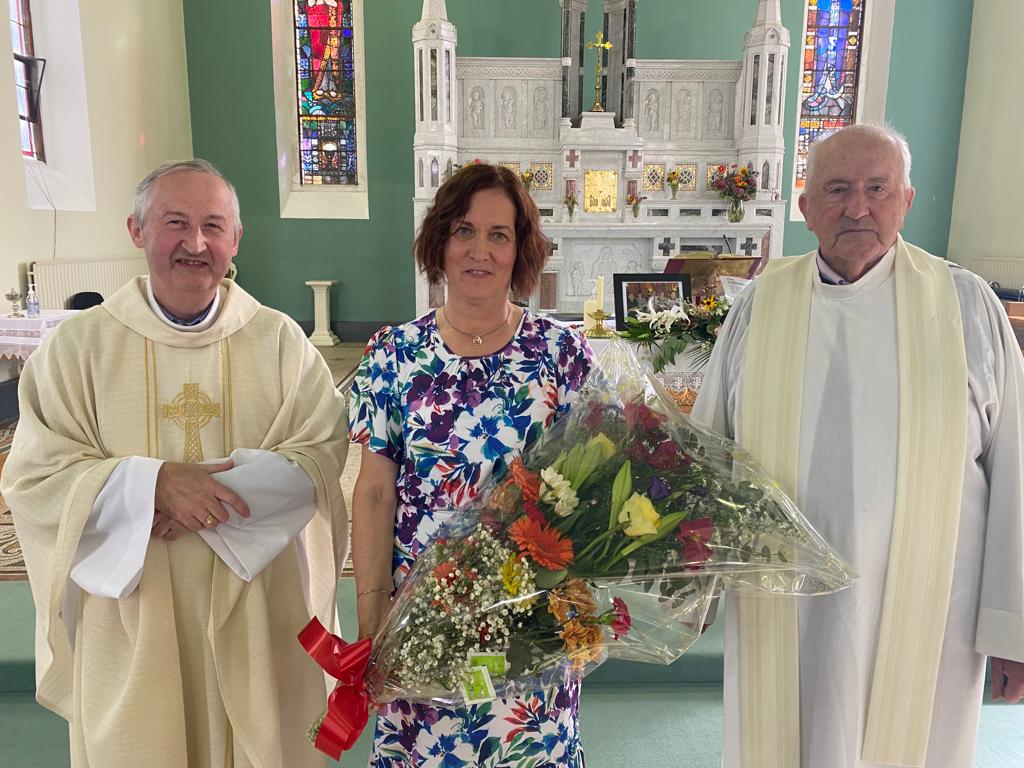 Ann's enthusiasm and innovation for teaching Irish was commendable. Her love for the language was bestowed upon the entire school. From comhra ar an maidhc to tickets for crannchur. She always had a trick up her sleeve for inspiring and motivating children to speak Irish.
Friday's celebrations show just how appreciative the school community is for Ann's many years of hard work, commitment and dedication to Scoil Mhuire Fatima.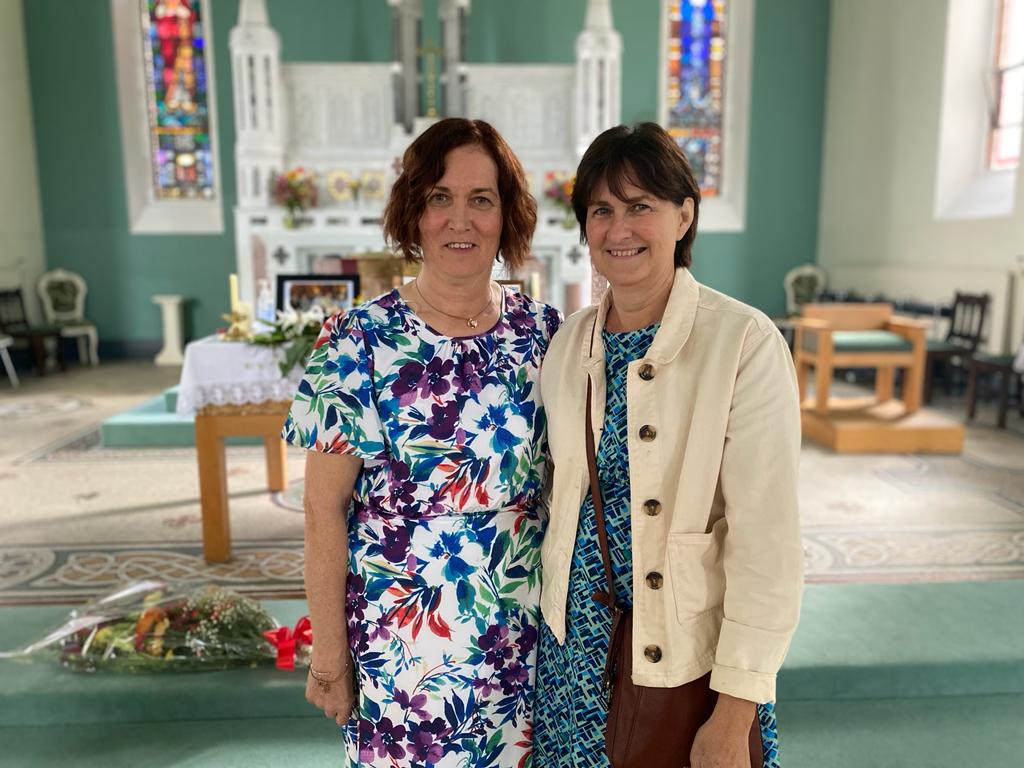 She will be sorely missed but everyone in Timahoe wishes her every blessing for the future.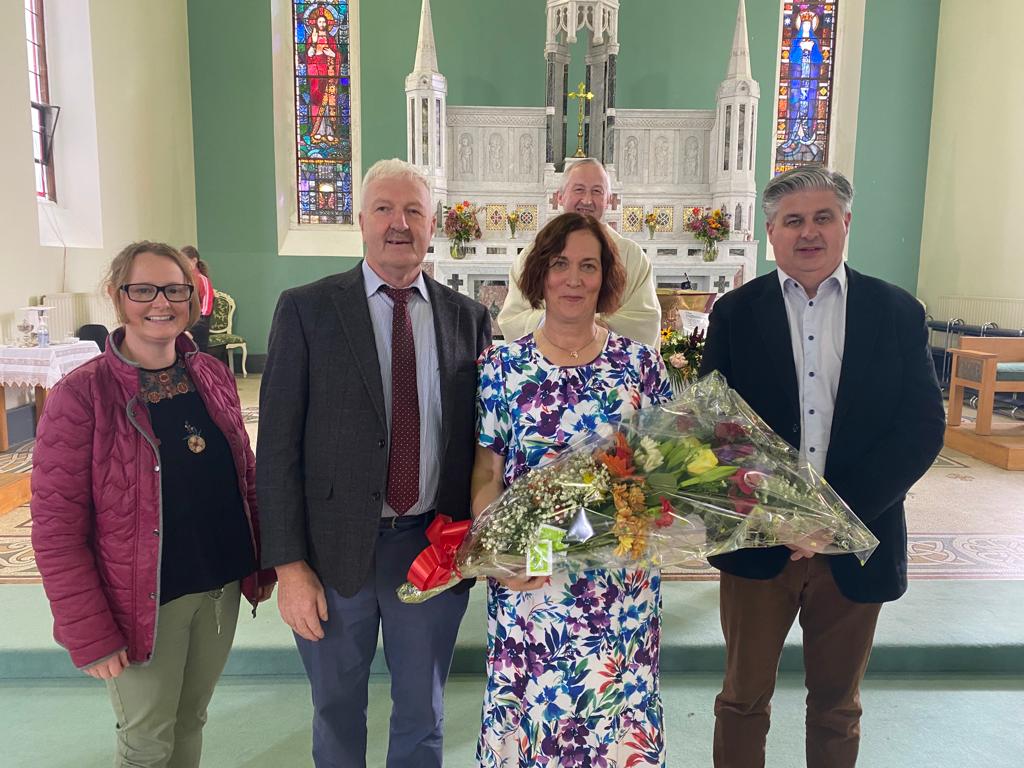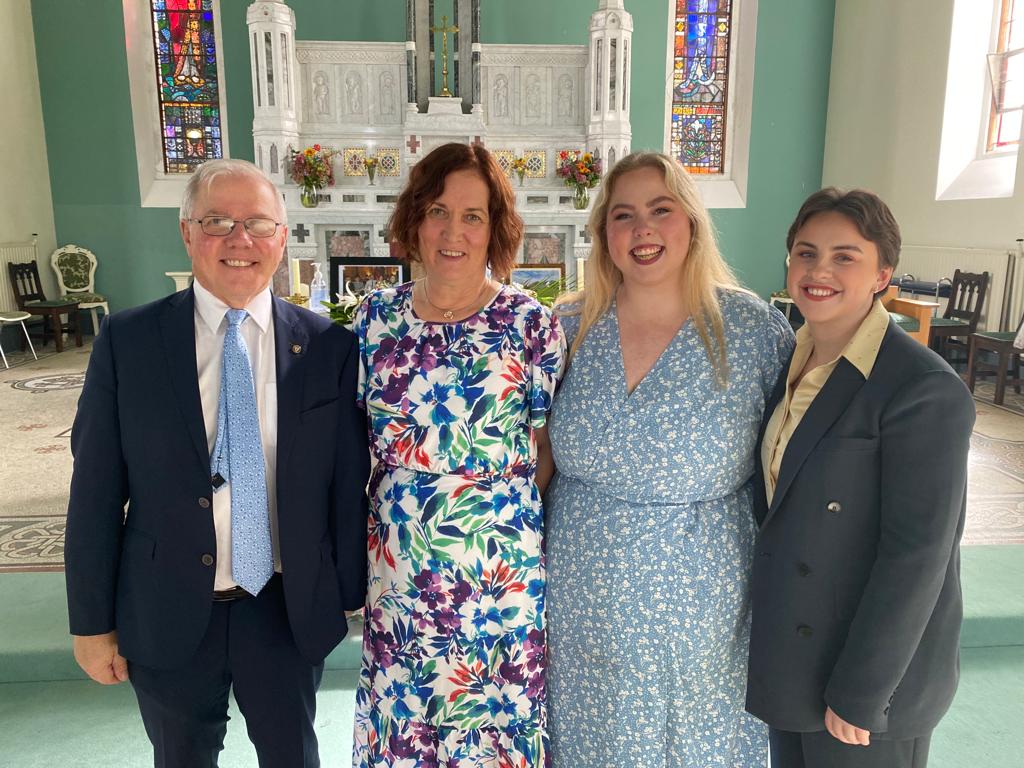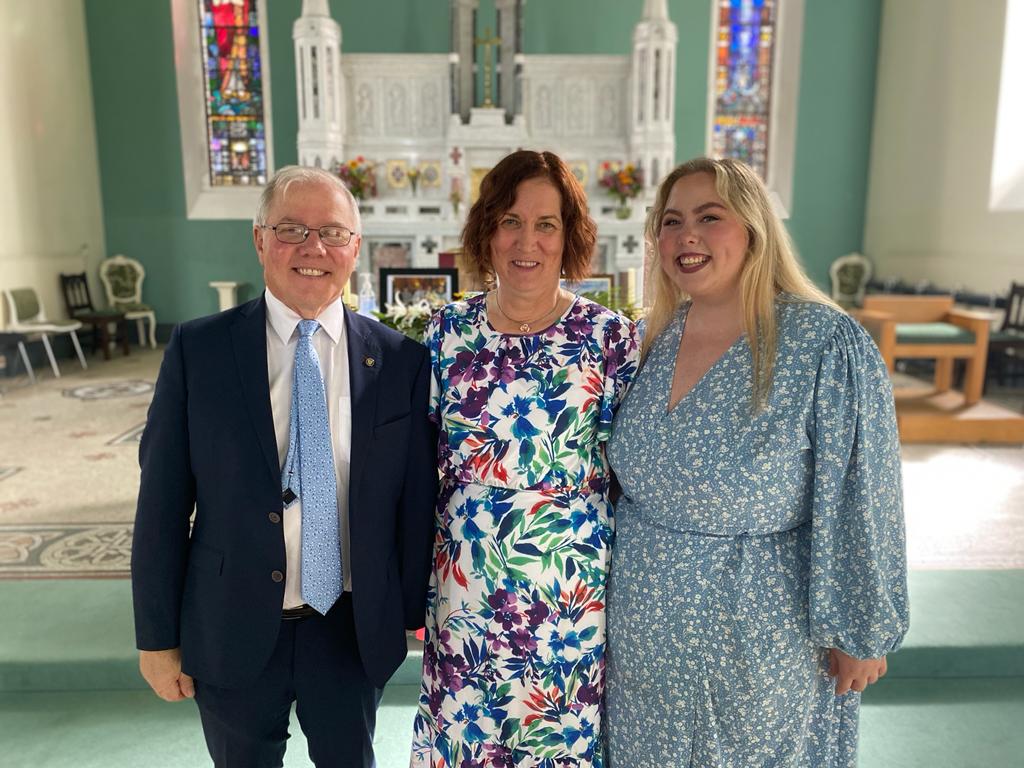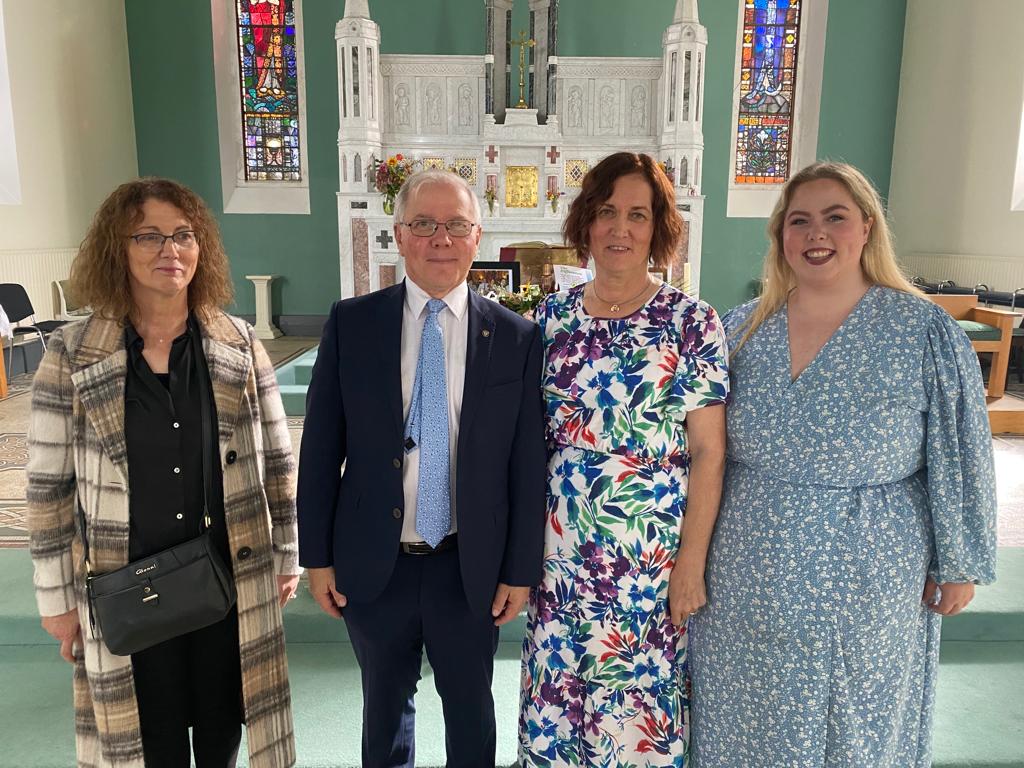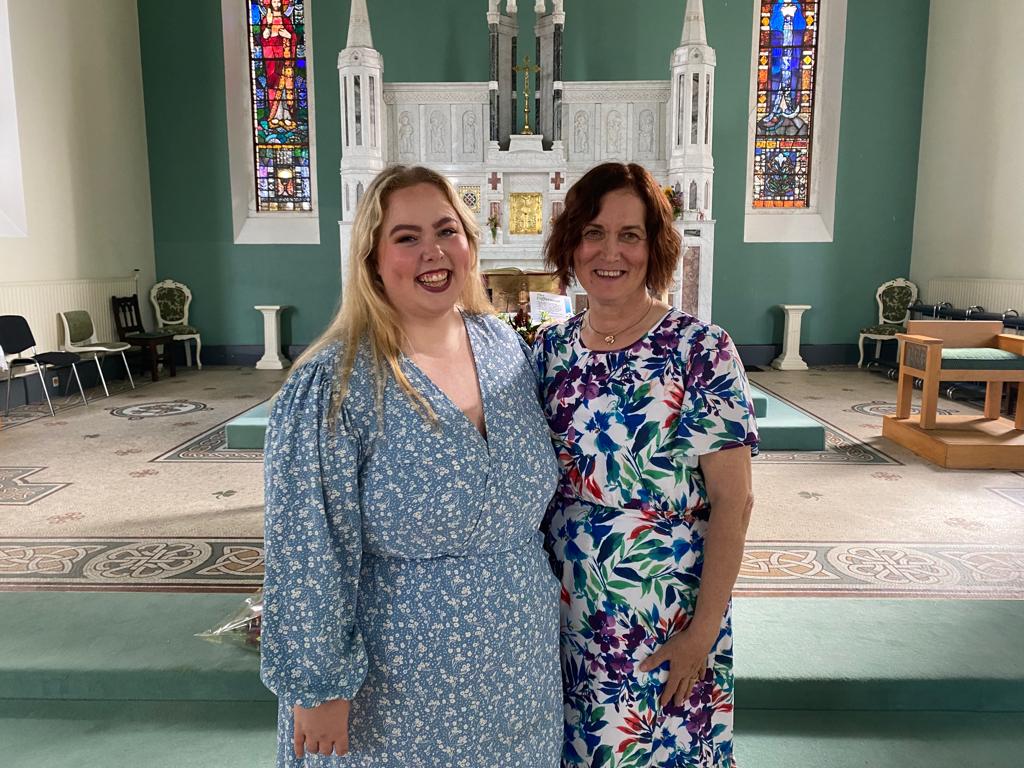 SEE ALSO – Portlaoise student receives prestigious Naughton scholarship for outstanding Leaving Cert results