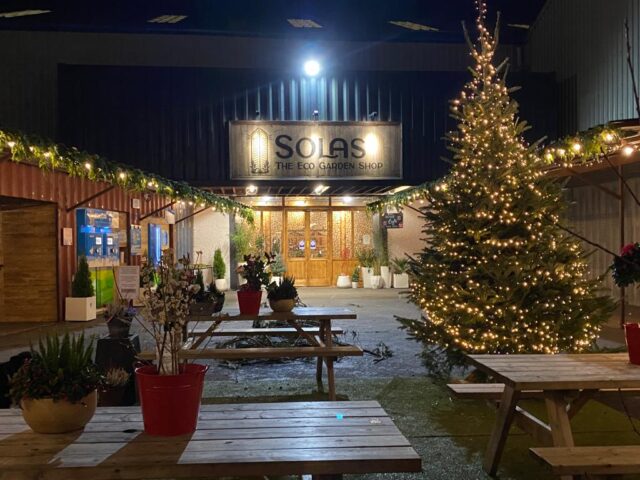 SOLAS Eco Garden Centre in Portarlington really took its chance to shine last weekend, with Santa's grotto being the outstanding success of the weekend.
David Maher co-owner of SOLAS explains: "We really got it spot on with our Santa's Grotto – everything from the 'Alpha the Alpaca', the woodland walkway, the grotto itself – the whole experience is just magical.
"We have done everything to keep costs down – not just the €10 ticket price, but also having the elves (Sadhbh & Thia) on hand to take the all-important photo with people's own phone.
"Such has been the demand that have had to add on 2 extra dates on Saturday 11am-4pm 10th and 17th of December.
"To be on track to sell over 1,000 Santa tickets in our first year is really a great achievement for the team here. But as ever with SOLAS it is a matter of 'Build it and they will come'."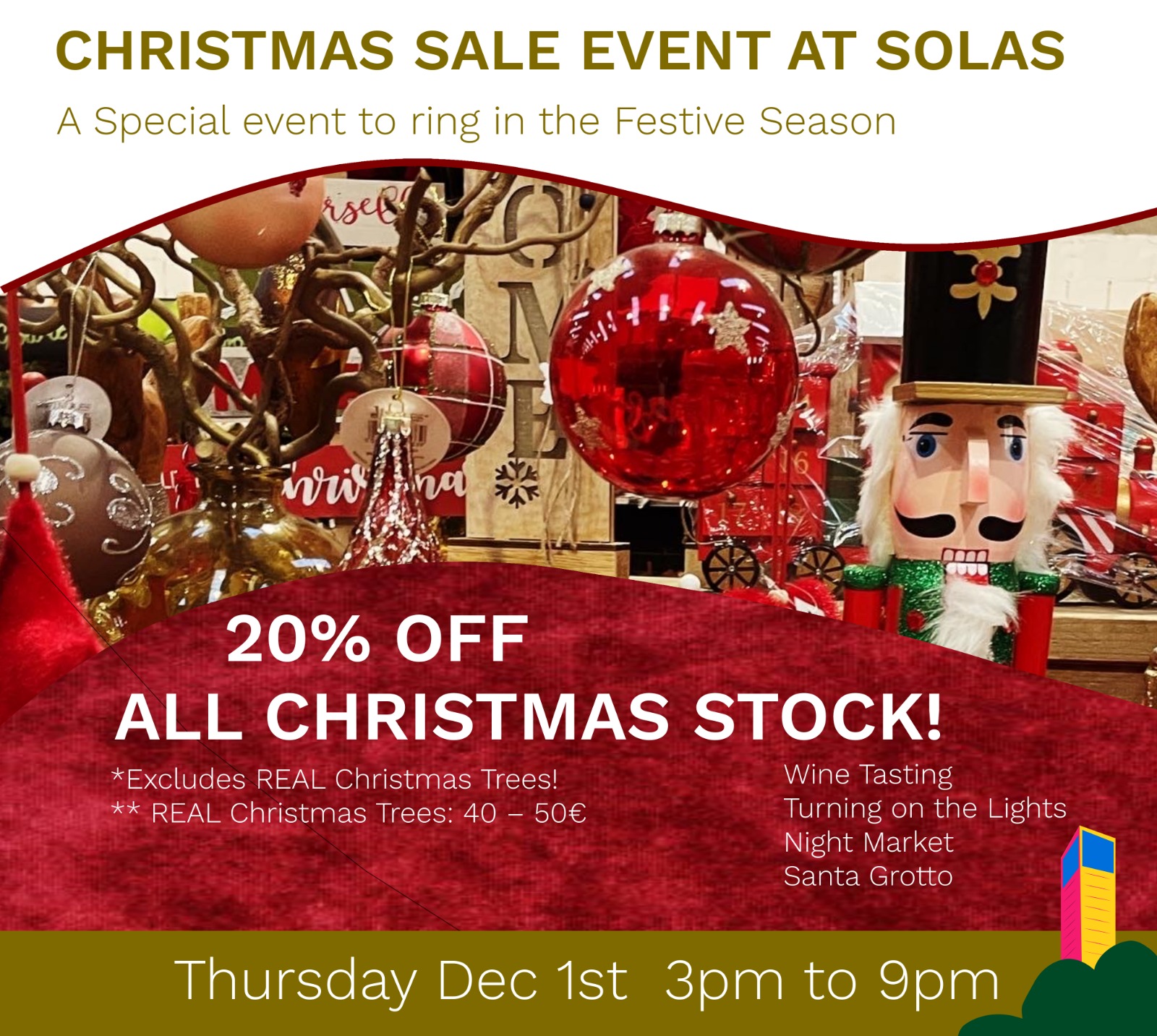 Thursday 1 December sees the SOLAS Christmas sale with 20% off all Christmas stock from 3-9pm on the day.
From 5-9pm the first ever Christmas Evening Craft Market at SOLAS will be on and Santa will also be present from 5pm on the night. If visiting Santa, it is best to book online but is possible to pay on the evening if there are available slots. The Cosy indoor café will be open right up to 9pm.
Also enjoy a free wine tasting event on the night with Tony from 'The Grape & Bean' on hand to explain how to choose the perfect bottle of wine as a gift or for Christmas dinner.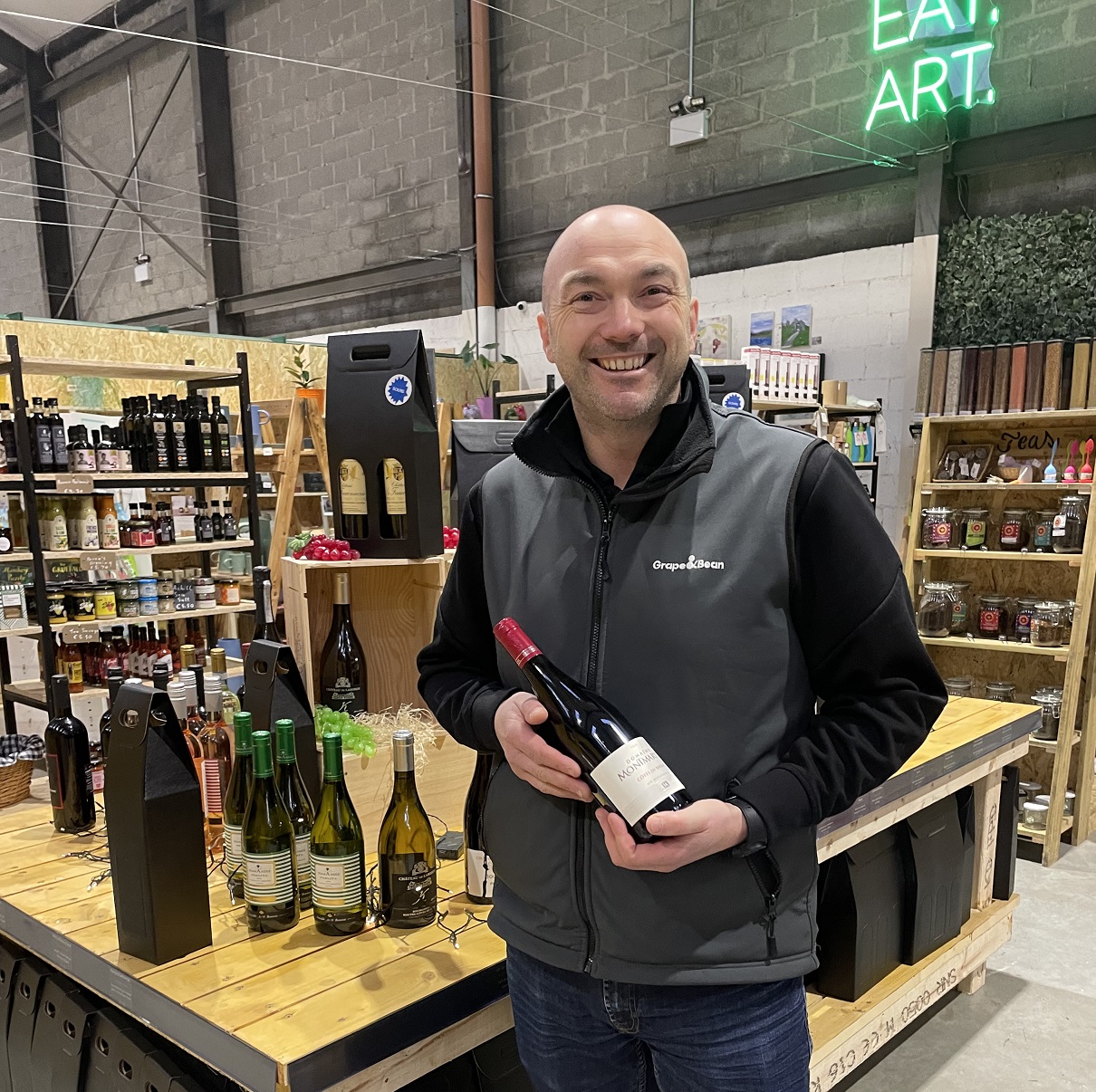 CHRISTMAS @ SOLAS
Christmas Markets: there are a total of 10 Christmas markets being run at SOLAS this year including 6 markets at night.
11am-4pm on Sunday 4th, 11th & 18th Decembe
5-9pm on Thursday & Friday 1, 2, 8, 9, 15 & 16th December
Book a trip to meet Santa this Christmas featuring a grotto, elves, North-Pole Forest, sheep & Alpacas. €10 per ticket and times are the same as for the Christmas markets + Saturday 11am-4pm 10th & 17th December.
Book & see details on https://ecogardenshop.ie/farmers-markets/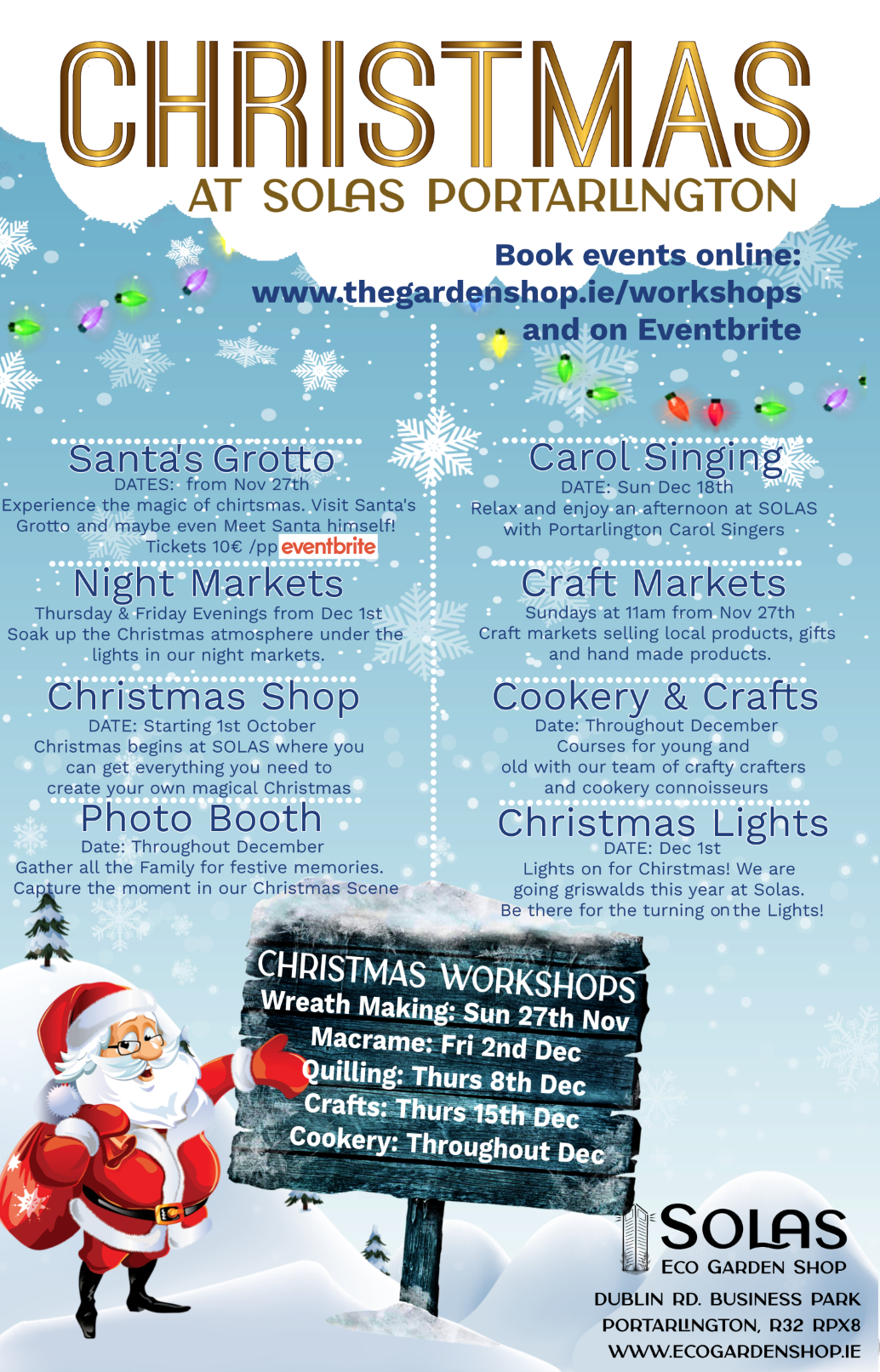 Thursday 1st December
Friday 2nd December
Thursday 8th December
Saturday 10th December
Thursday/Friday 15 & 16th December
Saturday 17th December
1-2pm Kids Christmas Crafts Workshop (Eco Christmas Crafts)
SOLAS – FOOD
Seasonal menu continues with options in both Food Court and Cosy Café.
Thursday & Friday 5-9pm: Burgers, Hot Dogs, Waffles and Churros
Weekend Menu: Hot and Hearty Beef and vegetable stew with mashed potatoes.
Saturday's Farmers' Market
This Saturday 3rd December 10am-2pm will see a very full market with a wonderful range of bakery, fresh meat, fresh fish from Kilmore Quay and organic beef.
Sunday's Christmas Craft Market
The first of our 10 Christmas Craft Markets takes place this Sunday 4th December from 11am-4pm. The Market is 100% sold out with an additional 6 stalls inside next to the Cosy café due to scale of demand!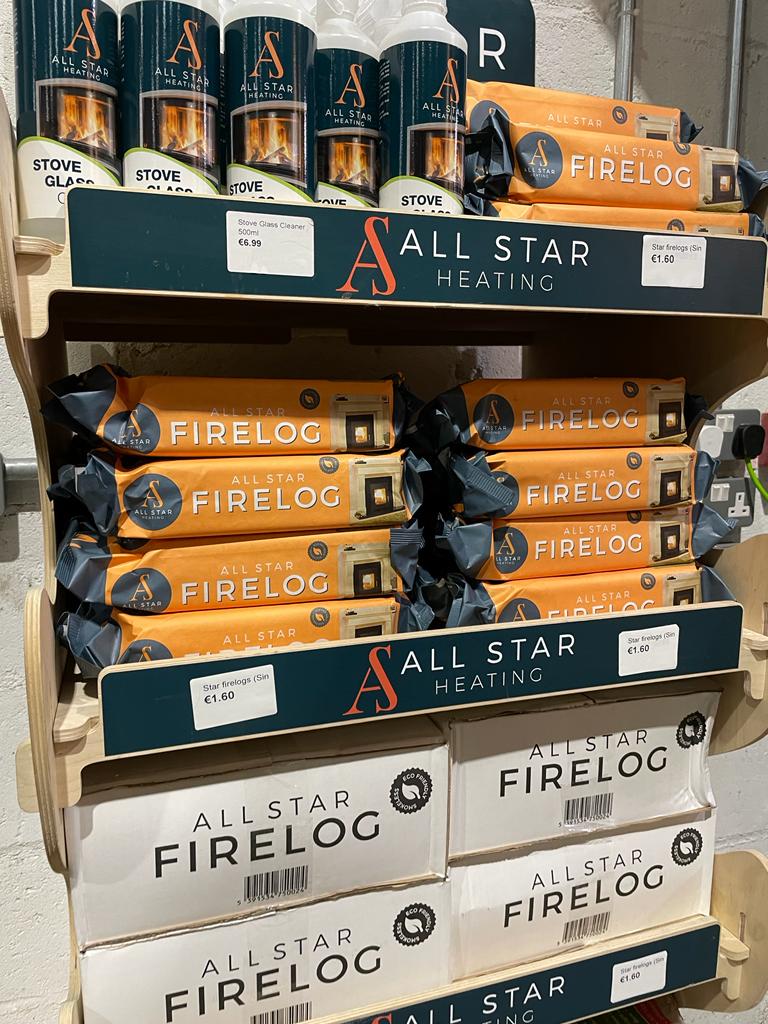 SOLAS – Shop
Product of the week. Eco friendly fire logs. Suitable for stoves and open fire. High temperature logs made from compressed wood shaving, low moisture content for longer burn times.
SOLAS – Plants
The plant of the week is our amazing range of real Christmas trees in store available in heights of 5ft, 6ft, 7ft & 8ft
SOLAS Weather
The weather forecast is dry and though a little cloudy and temperatures are expected to be to fall back to more typical winter temperatures this weekend. A perfect chance to shop and then relax with a hot drink in the new heated indoor 'cosy' café – now open 7 days a week.