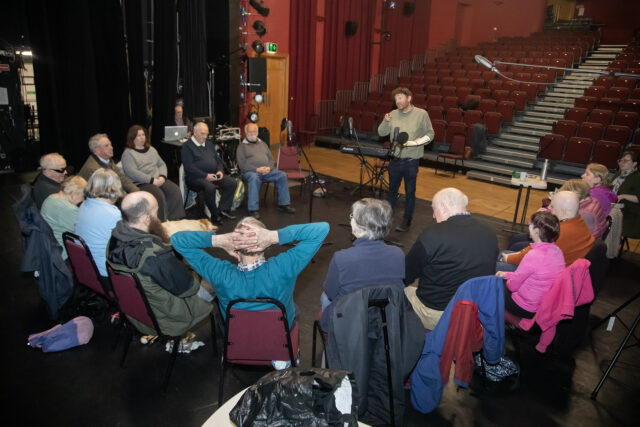 Laois County Council's arts office, along with South Dublin and Meath arts offices, have formed a partnership to establish the Sightless Cinema Network.
This is in co-operation with partner venues in each county and with funding from the Arts Council's 'An Invitation to Collaborate Scheme.'
Sightless Cinema is a collaborative arts project for people with sight loss to devise and produce audio theatre. It was first established in 2015 under the direction of theatre-maker Ciarán Taylor.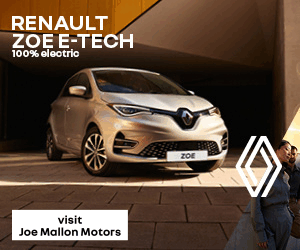 2023 sees a major expansion of the project, offering opportunities for blind and visually impaired people to get involved in the arts locally, and also work with other groups in the Leinster region.
The Sightless Cinema project has been based at Rua Red Arts Centre, Tallaght, since 2017. New in-person projects began at Solstice Arts Centre, Navan in 2022, followed by the Portlaoise group in 2023.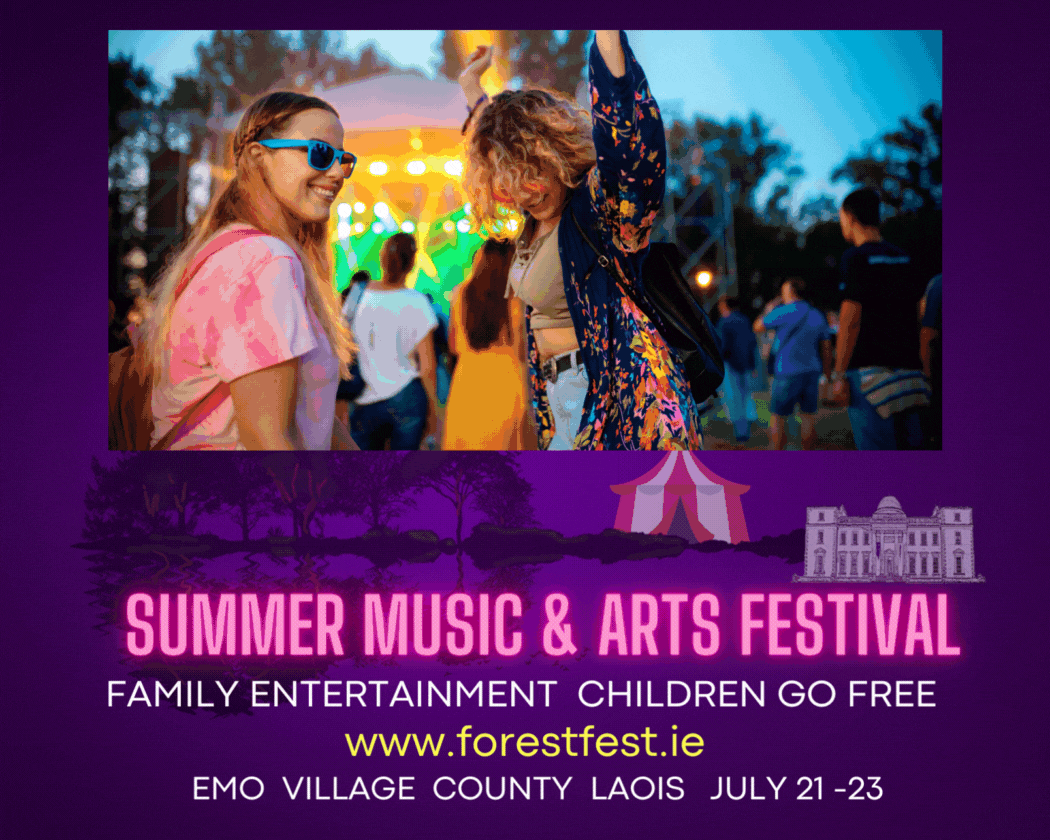 The three groups will collaborate on a joint touring production of recorded and live audio plays, which will tour to Civic Theatre Tallaght, Dunamaise Arts Centre, Portlaoise, and Solstice Arts Centre in November 2023. The project is also training more collaborative theatre artists to keep the expansion going.
The three groups will visit each other to devise ideas for the production and rehearse the performance, helping to build a network of relationships among the blind community.
Project director, Ciarán Taylor, said they had set themselves the challenge of collaborating across the Leinster region.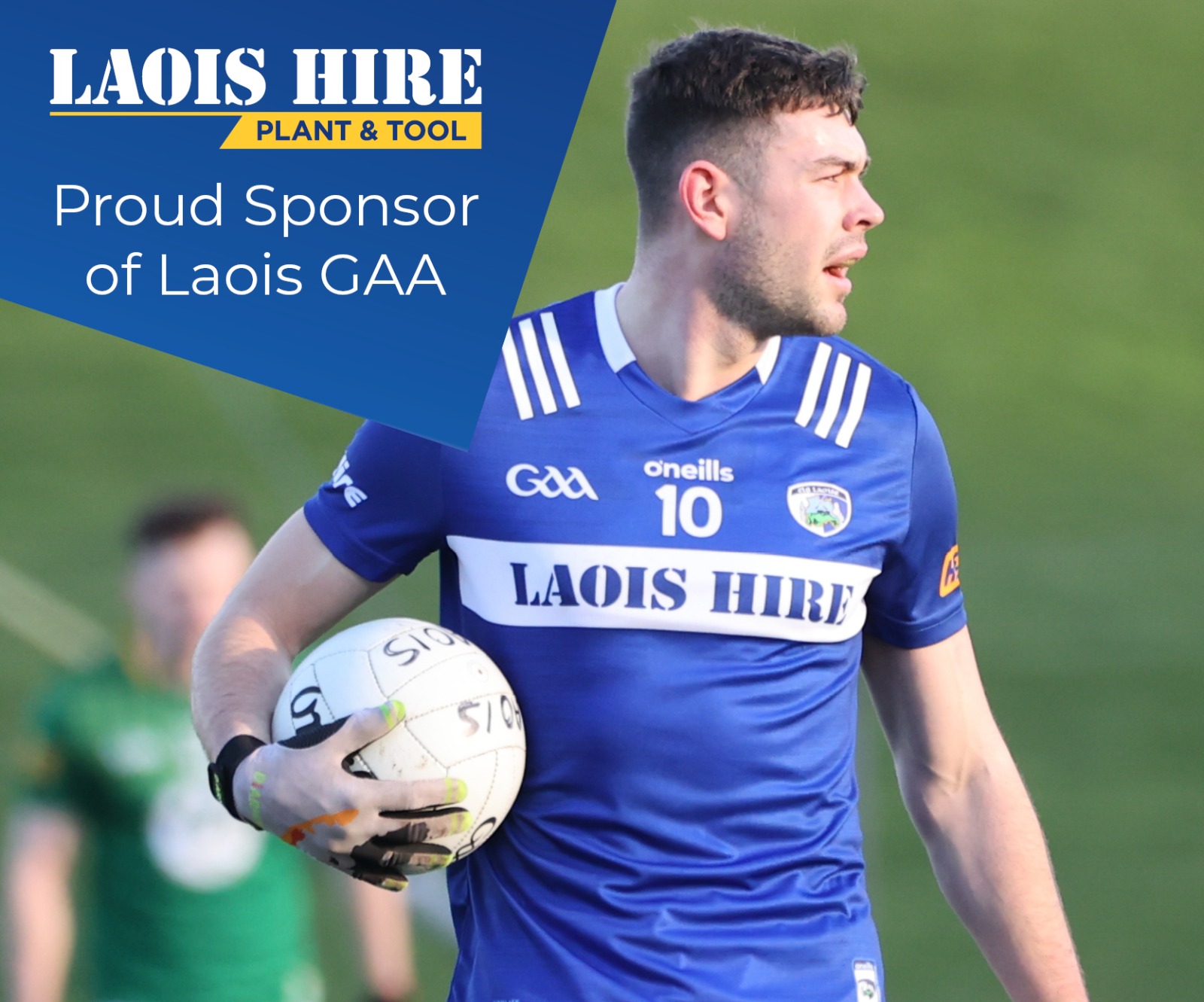 "Mobility and travel are big challenges for people with sight loss, but shouldn't stand in the way of full participation in culture. We hope to establish a model for arts participation for people with disabilities, to build demand for more opportunities to experience the arts, and to pave the way for a national network of sightless cinemas."
Since starting in 2015, Sightless Cinema has presented six original programmes of surround sound plays at the Lighthouse Cinema and IMC Cinemas.
In 2020 the group moved online to devise and record lockdown comedy 'The Covid Tapes', which was a great hit with listeners online. They then recorded 'Ballymuck Exchange', a telephone comedy, for presentation at a successful listening event in Civic Theatre Tallaght for Culture Night 2021.
During the pandemic, online workshops for blind people were also offered in Laois as well as Meath, Carlow and Westmeath, with support from County Council arts offices and the National Council for the Blind of Ireland.
"These fun creative and sociable workshops helped combat the isolation felt acutely by the blind community at that time," Ciarán said.
In 2022, an ambitious new departure for Sightless Cinema was the production of 'In the Dark', an immersive surround sound experience where the audience wear blindfolds, and all the sound effects are created live by the blind performers.
It brought to life dramatic turning points in the lives of five people who are blind or visually impaired.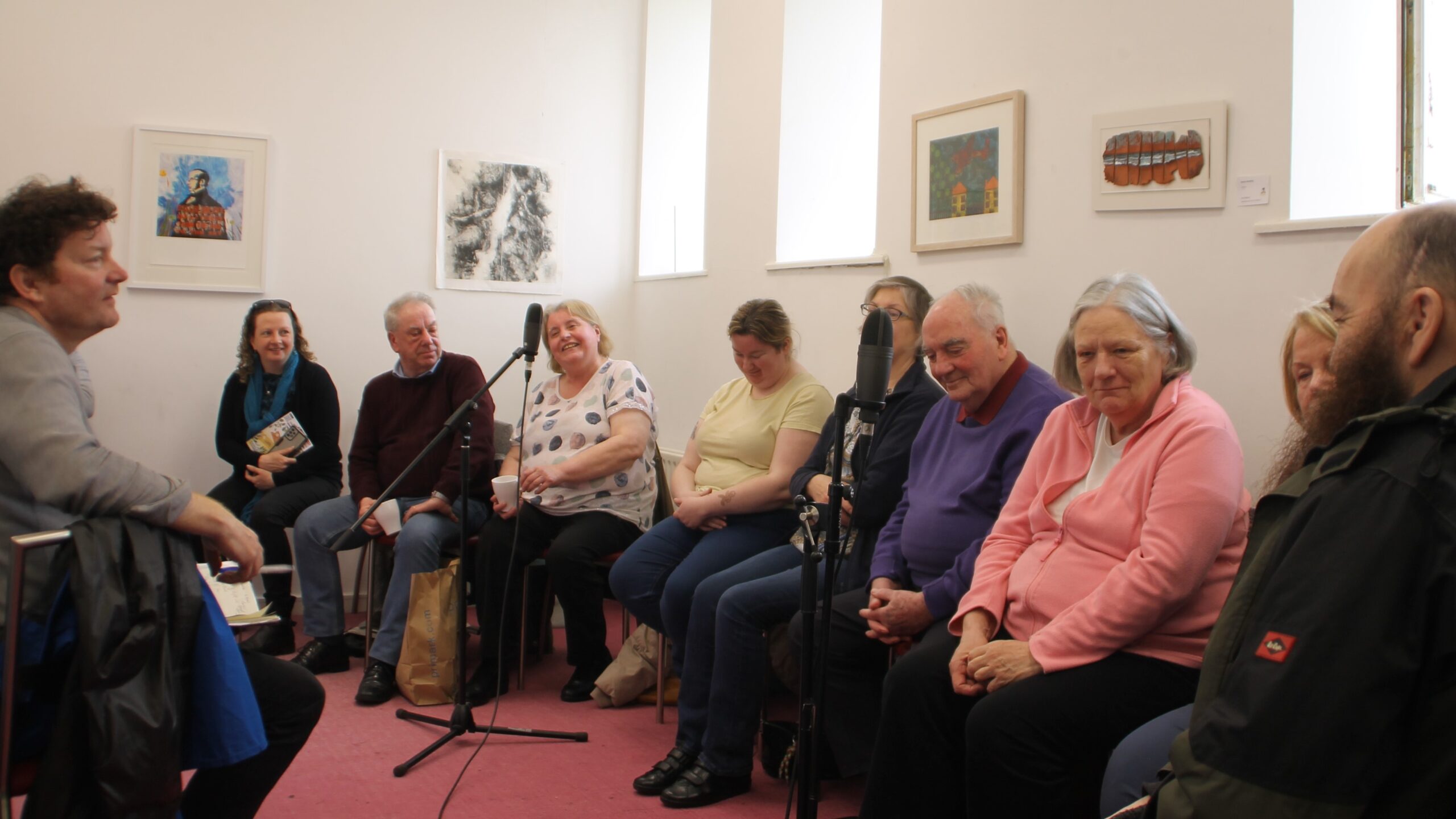 The show had three successful performances at Rua Red, Tallaght in June 2022, and went on to tour Draiocht, Blanchardstown, in October. Plans are taking shape to tour this production again in Spring 2024.
The three Sightless Cinema groups will present their new audio plays – both live and recorded – at Dunamaise Arts Centre on November 28 this year, as well as at Solstice Arts Centre on November 18 and the Civic Theatre, Tallaght, on November 23.
Sean Byrne (66) who is from outside Mountrath, is one of the participants in the Dunamaise Theatre gatherings.
He has congenital glaucoma and noticed his vision becoming cloudy while studying for the open university 20 years ago. He had a number of cornea transplants but because of rejection or failure, they didn't work.
Sean who previously worked as a sales rep and who played hurling and football, now gets around with the assistance of a guide dog.
"The 'Sightless Cinema' is great. There are nine of us in the group and we are all visually impaired and service users of the National Council for the Blind in Ireland.
"We meet every Tuesday at 11am for two-and-a-half hours in the Dunamaise Arts Centre where the staff are so helpful and courteous.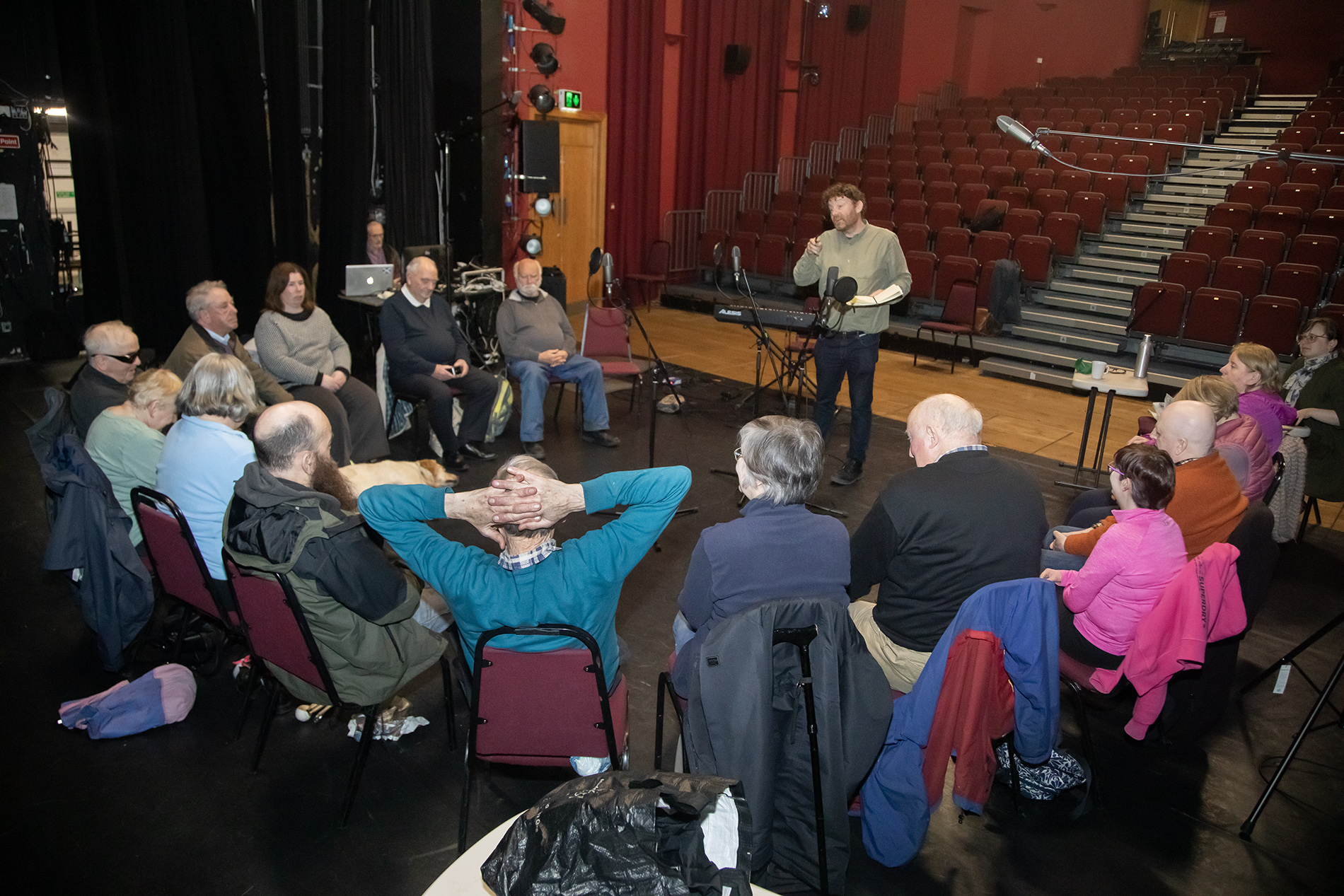 "The initiative is amazing as it gives a great insight into how radio dramas are produced. We create a play among ourselves, talk about it and decide the sound effects," said Sean.
"Ciarán gets us to record different sounds – it could be a dog barking, birds singing, traffic, restaurant or bar background noises, walking on a beach promenade or a tap pouring in a sink – and we build little stories around that.
"The idea is that we are picking up what that sound would be. I remembered getting a train from Galway and we created a play about the people on the train and the announcements. It's using your imagination from hearing sounds and producing a play," he said.
"We were able to keep going during lockdown. It was amazing to sit in your own sittingroom and communicate with the other participants with Ciarán directing us.
"It's great that we can now meet in person. As well as allowing us to see how radio dramas are produced, it's great craic and you get to work alongside some very talented people."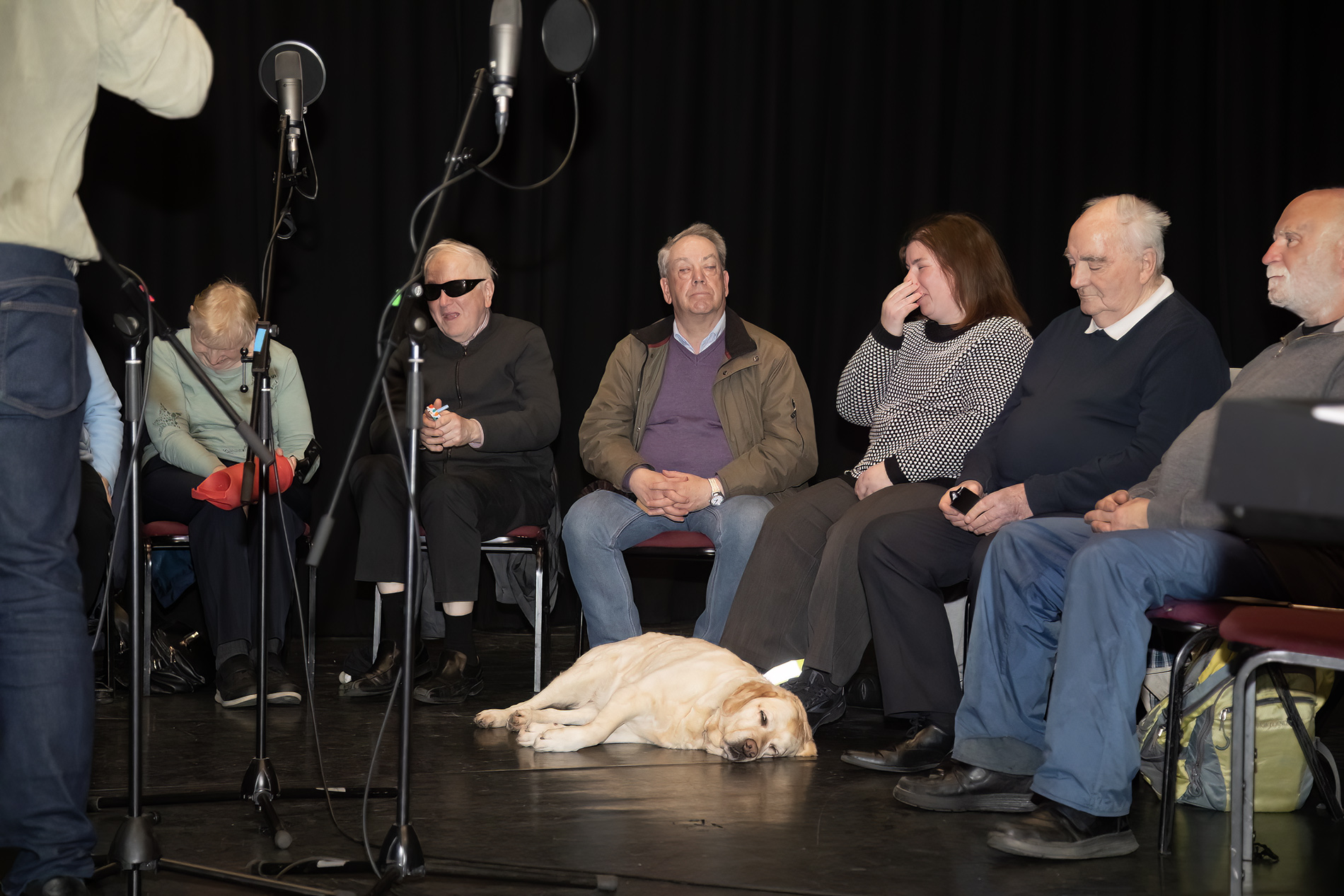 Ger McHugh (53) from Ballyadams is another enthusiast. With his sight having been affected by diabetes when he was two-and-a-half, a stroke five years ago sped up his sight loss.
He worked up to five years ago as a horticulturist in St. Dympna's, Carlow, and had always enjoyed motorbike rallies and socialising.
Losing his sight – he still has light perception – and living in a rural area made it difficult for him to get out and about and meet people in person.
"The 'Sightless Cinema' is not something that I would have thought I would have been into but I'm an outgoing person and find it great to get out and have conversation with people. The NCBI organises a lot of online groups but the 'Sightless Cinema' is in-person," Ger said.
"I also am involved in Vision Sports events  – part of the NCBI –  which takes place once a month at the driving range at The Heath Golf Club though again I never would have seen myself playing golf. The personal aspect is again great and the helpers are fabulous," said Ger.
"The 'Sightless Cinema' is a great weekly social outlet where we come up with lots of mad ideas. It's great craic."
SEE ALSO – Leinster 'B' Second Year hurling glory for marvelous Mountrath Community School