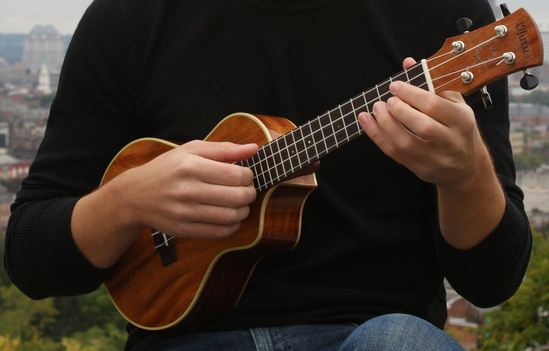 A Ukulele Club in Portlaoise – yes you read that right. A Ukulele Club. In Portlaoise.
Kavanagh's Pub in Portlaoise has tapped into the latest world music craze and the first session of the weekly fun event began on Tuesday night upstairs in the Main Street venue.
Owner PJ Kavanagh is looking forward to establishing it as a regular event and it continues next Tuesday and every Tuesday at 8pm.
"We're up and running now," said PJ, "and we're hoping the crowds keep coming back. I think people will see that it's a very enjoyable experience and people who had never played the ukulele before were really getting the hang of it by the end of the night.
"Tom in Anthem Music is selling ukuleles for €30 which is a good price but people can come along and watch before they take part. It's not a bit intimidating and it's a really fun atmosphere."
The Ukulele Club is led by Terry Byrne, a well-known local musician.
A ukulele is a small, four-stringed guitar of Hawaiian origin and is one of the easiest musical instruments to play. Conjuring up images of cocktails and warm breezes, the Ukulele Clubs have an enjoyable, light-hearted atmosphere where people join in in singing "chart favourites and modern classics".
"Ukulele Clubs have popped up around the world – from New York to Sydney," says PJ Kavanagh, the current owner of the Portlaoise pub which has been in his family since 1869.
"We're always keeping an eye out for trends and this was one I saw coming up on the radar. It has taken the big cities by storm and it ties in with our message of always trying new things and providing good music and entertainment.
"There's only four strings and not nearly as many chords as the guitar so you don't necessarily have to be a musician. It's a positive, lively sing-song and a good opportunity for people to meet and get to know each other in an easy-going atmosphere."
The first Ukulele Club in Ireland has been held in the Stag's Head in Dublin for a number of years now and has people queuing in the street for an hour beforehand to ensure they can get in.
Video sample
This video shows members performing the very catchy 'Psycho Killer' and PJ is hoping to recreate scenes like this upstairs in Kavanagh's Bar on a weekly basis.
SEE ALSO – Kavanagh's Comedy Club is back and it promises to be better than ever