Eight Laois teams took part in the All-Ireland hurling and camogie Feile played at venues across Carlow, Wexford and Kilkenny at the weekend.
Rosenallis, Clonaslee St Manman's, Park-Ratheniska-Timahoe, St Fintan's Mountrath and Portlaoise took part in the Feile hurling competition.
While three Laois camogie teams competed as Portlaoise, Abbeyleix and Clough-Ballacolla were in action.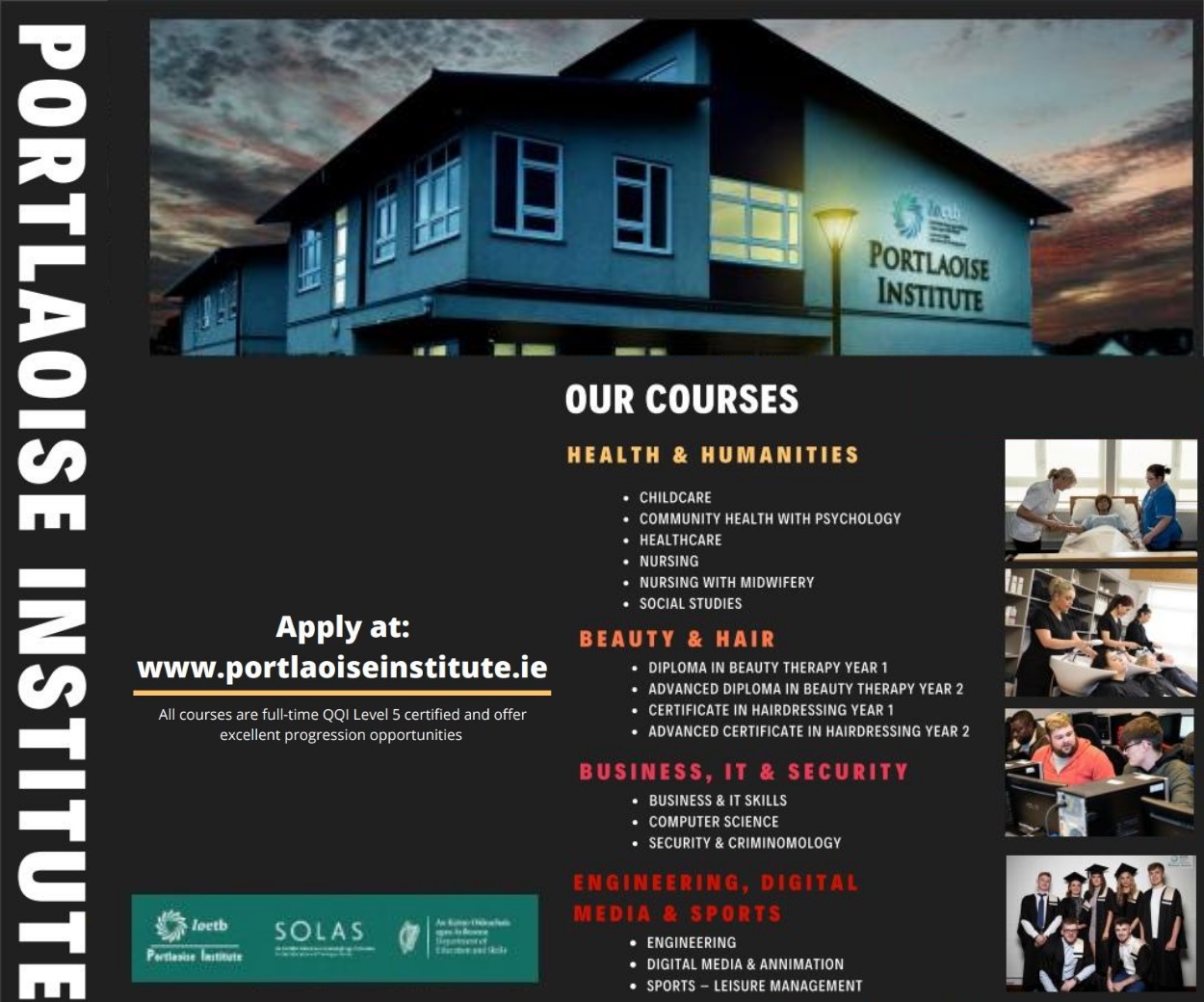 Two of the teams reached All-Ireland finals with one emerging as winners.
Here is a run down of each team and how they got on: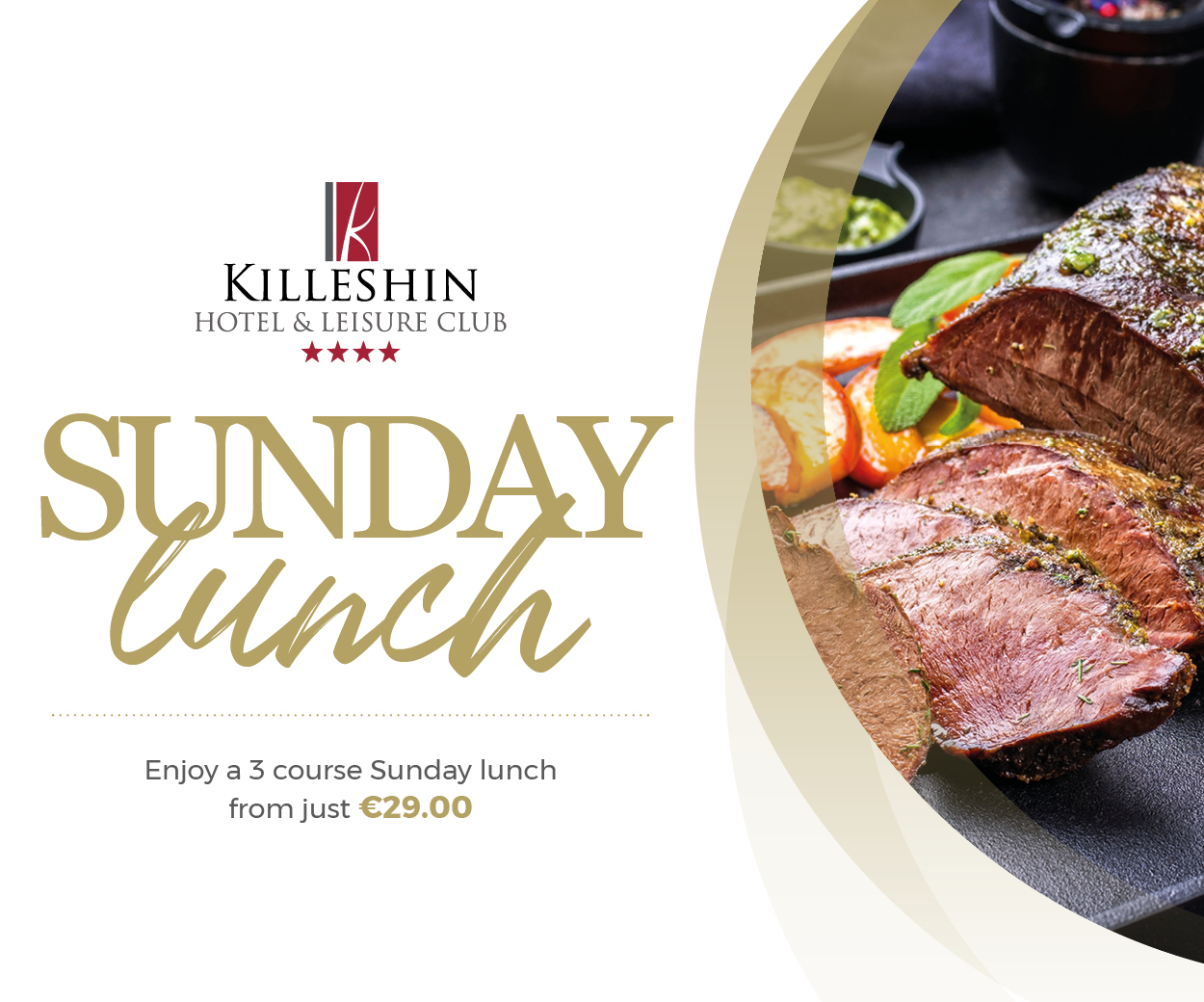 Division 2 Hurling – Rosenallis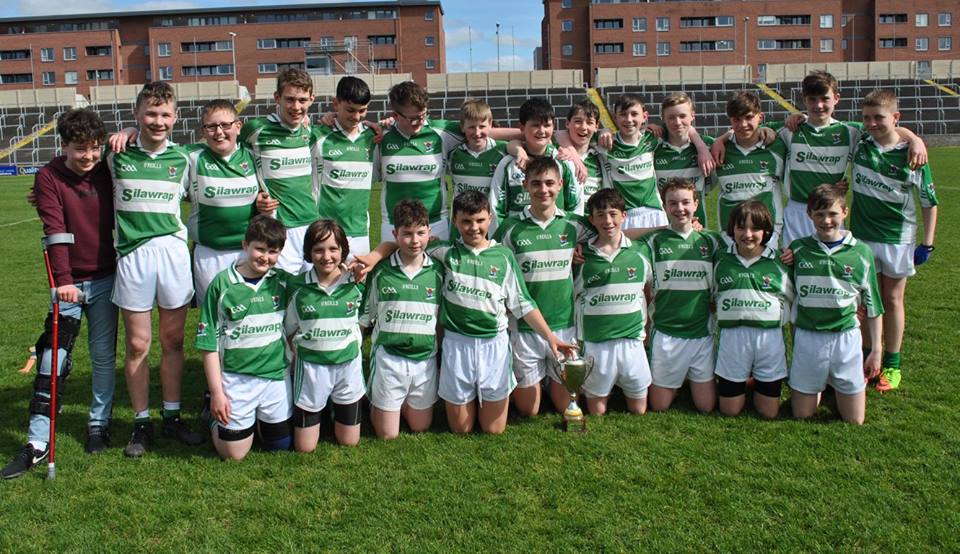 Rosenallis have been crowned All-Ireland Hurling Feile champions following an incredible weekend down South.
The rural Laois club defeated many big clubs along the way to claiming the Division 2 title this afternoon.
They began their campaign on Friday evening where they played two games in Group C.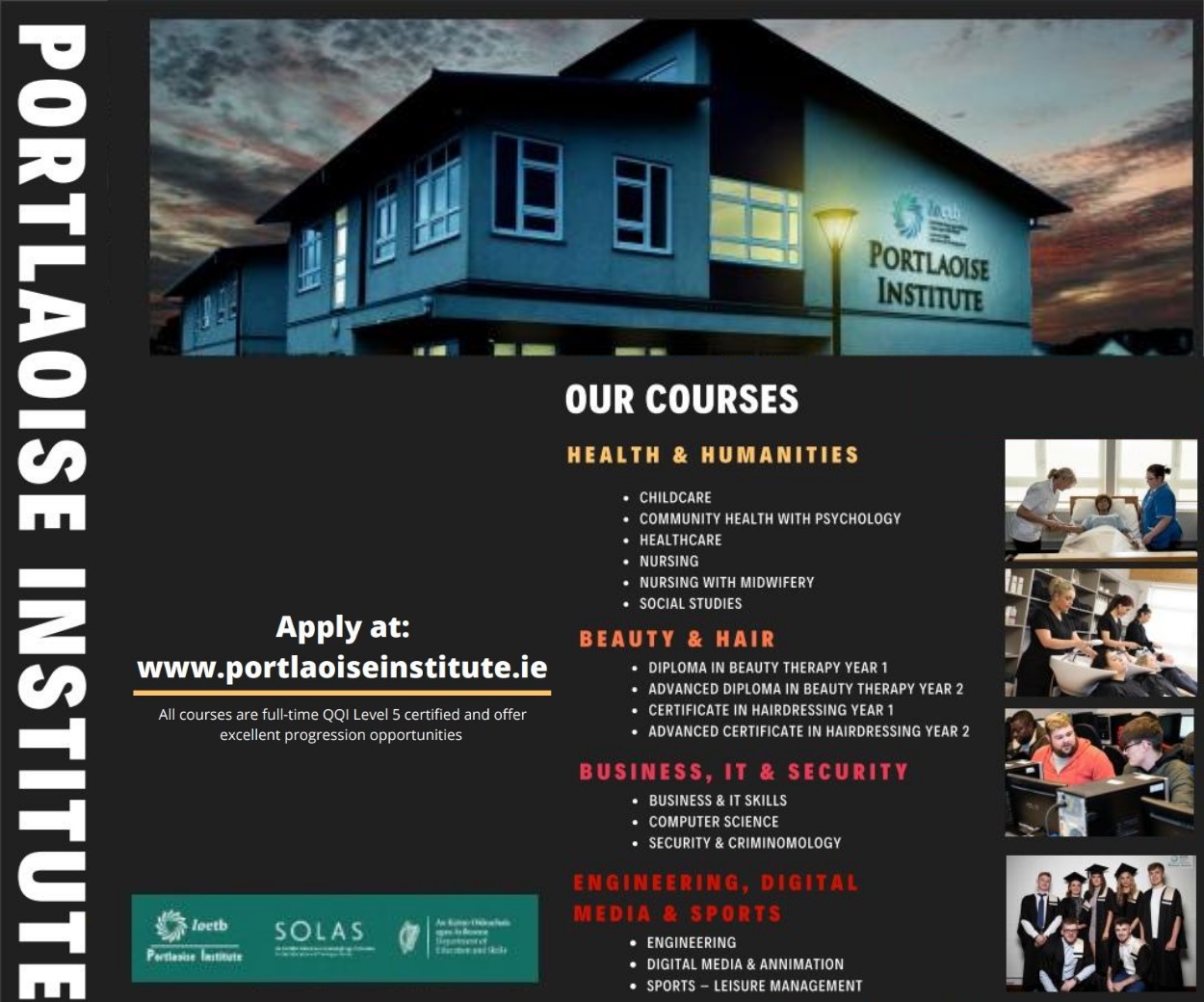 Their first tie saw them face Offaly side Birr with Rosenallis running out 1-7 to 1-2 winners. They were back in action an hour later when they faced Wexford side St Martins – again winning on a scoreline of 2-6 to 1-4.
Rosenallis were now assured of a passage to the Cup stage of the competition but them guaranteed top spot on Saturday morning, beating another Wexford side, Shelmailers, by 3-5 to 2-3.
The Laois side were now into the quarter final of the competition where they took on Thomastown of Kilkenny who had finished second in Group D.
Rosenallis edged a tense affair by 2-6 to 3-2 to progress to the semi-final which took place this morning.
Bunclody of Wexford stood in their way this time and they were no match for Rosenallis again, as they won by 1-6 to 0-5 to advance to the final.
Here another Kilkenny club were waiting. Young Ireland's, home to the famous Kilkenny legend DJ Carey, topped Group A and were going to be very difficult opponents.
But Rosenallis emerged victorious by 0-5 to 0-4 and they will head back to Laois later today with All-Ireland medals in their back pockets.
R1 – Rosenallis 1-7 Birr 1-2
R2 – Rosenallis 2-6 St Martins 1-4
R3 – Rosenallis 3-5 Shemailers 2-3
QF – Rosenallis 2-6 Thomastown 3-2
SF – Rosenallis 1-6 Bunclody 0-5
Final – Rosenallis Young Irelands
PANEL: Mason Creagh, Paul Egan, Fionn Kempster, Eoin Sharp, Alex Redmond, Aodh Bowes, John Hughes, Ciaran Cuddy, Alex Marron, Cathal Keady, David Dooley, Jimmy Hyland, Charlie Friel, Denis Grehan, Diarmuid Dooley, Colin Bennett, Eoin McEvoy, Geariod Glancy, Pauric Glancy, Robert Culliton, David Kelly, Nick Dunne, Cian Ryle, David Grehan
Division 4 Hurling – Clonaslee-St Manman's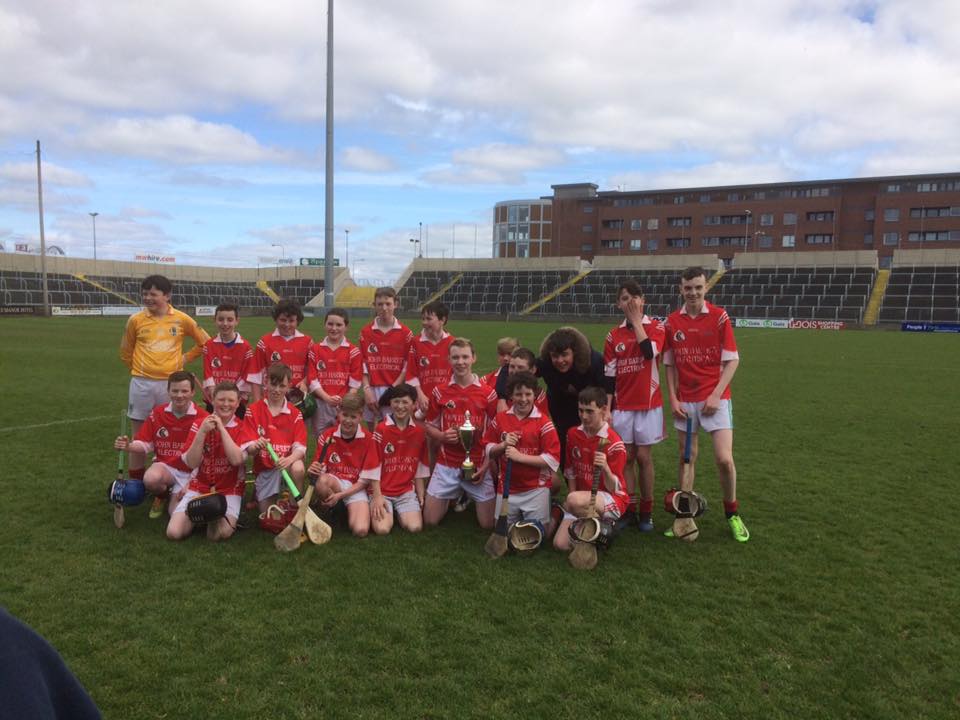 Clonaslee-St Manman's enjoyed a high succesful group stage of the Feile competition before being eliminated in the knock-outs.
They beat Tullogher and St Annes comfortably while a draw against Clann na Gael put them into the Cup stage of the competition.
They faced Clonea in the quarter final but went down by 1-11 to 2-1 as their journey ended on Saturday.
R1 – Clonaslee 0-5 Tullogher 0-3
R2 – Clonaslee 1-5 Clann na Gael 2-2
R3 – Clonaslee 3-7 St Annes 1-3
QF – Clonaslee 2-1 Clonea 1-11
PANEL: Christopher Conroy, Cormac Murray, Noah Flynn, Fionn Owens, Darragh Scully, Patrick Purcell, Cathal Lee, Luke Dunne, Tom Smith, Cian Conroy, Peter Foynes, Sennan Barrett, Alex Keenan, Joe Conroy, Paul Mulhall, Darragh Mulhall, Ciarán Hogan, Tiernan Carroll, Josh Flynn, Cian Callaghan, Joe Conroy
Division 8 Hurling- Mountrath
St Fintan's Mountrath were one of the Laois teams who were invited to the competition and they almost ended it with an All-Ireland title in their back pockets.
They had an easy win over Emmet Carns in their first group game but defeats to Domin Athlacca and Taghmon meant that Mountrath went into the Shield stage of the competition.
The Laois side defeated Naomh Bríd in the quarter final and then Carrickshock in the semi-final to set up a final clash with Cluain Larach of Offaly.
But in heartbreaking circumstances, the Offaly lads won by a point in the final.
R1 – Mountrath 2-5 Emmet Carns 0-0
R2 – Mountrath 0-1 Domin Athlacca 1-9
R3 – Mountrath 0-1 Taghmon 2-7
QF – Mountrath 3-3 Naomh Brid 2-0
SF – Mountrath 2-5 Carrickshock 0-4
Final – Mountrath 3-2 Cluain Larach 3-3
PANEL: Dominic O'Keeffe, Ceilum O'Brien, Killian O'Keeffe, Dylan Hegarty, Jack Larkin, Josh Holmes, Tadgh Moore, Michael O'Brien, Jordan Egan, Oisin Bohane, Tom Kirwan, Mark Cusack, Evan Conroy, Darragh Phelan, Andrew Goggins, Ruidhri Phelan, Kyle Moore, Cian Hill, Michael Moore, Eoin Brennan
Division 10 Hurling – Park-Ratheniska-Timahoe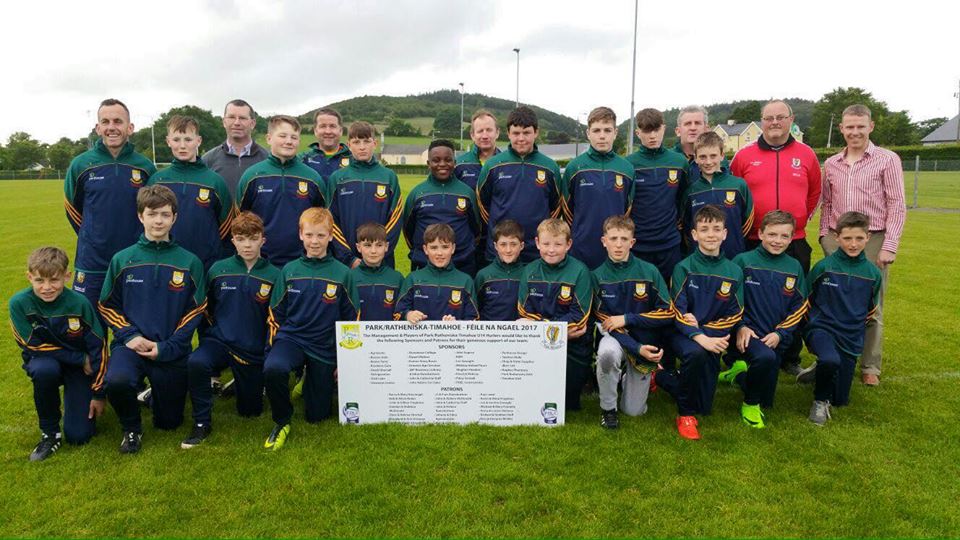 Park-Ratheniska-Timahoe were also invited to compete in this year's Feile competition and they reached the Division 10 Cup semi-final.
A draw against Ballyhogue in their first game meant they needed to win their remaining two games – and they did.
Wins over Moyne and Bannow-Ballymitty set up a Cup quarter final against St Patrick's, which they won by 1-5 to 1-0.
However, their journey came on an end on Sunday morning as, despite a terrific second half come back, they went down by 1-4 to 0-3 to Ath Leathan.
R1 – Park-Ratheniska-Timahoe 3-5 Ballyhogue 3-5
R2 – Park-Ratheniska-Timahoe 4-3 Moyne 1-3
R3 – Park-Ratheniska-Timahoe 2-2 Bannow-Ballymitty 0-3
QF – Park-Ratheniska-Timahoe 1-5 St Patrick's 1-0
SF – Park-Ratheniska-Timahoe 0-3 Ath Leathan 1-4
PANEL: Colm Byrne, Brandon McCarthy, Adam Ramsbottom, Cian Nolan, Aaron Szwaglis, Ciarán Bobo Lawal, Eoin McWey, Seán Drennan, Tomas Duff, Simon Fingleton, Noah Fingleton, Oisin Ramsbottom, Andy Delaney, Mark Ramsbottom, Conor Fitzpatrick, Jack Shortall, Rory Kavanagh, Thomas Duff, Seán McDonald, Daire McDonald, Enda Shortall, Jack Fennelly
Division 11 Hurling – Portlaoise B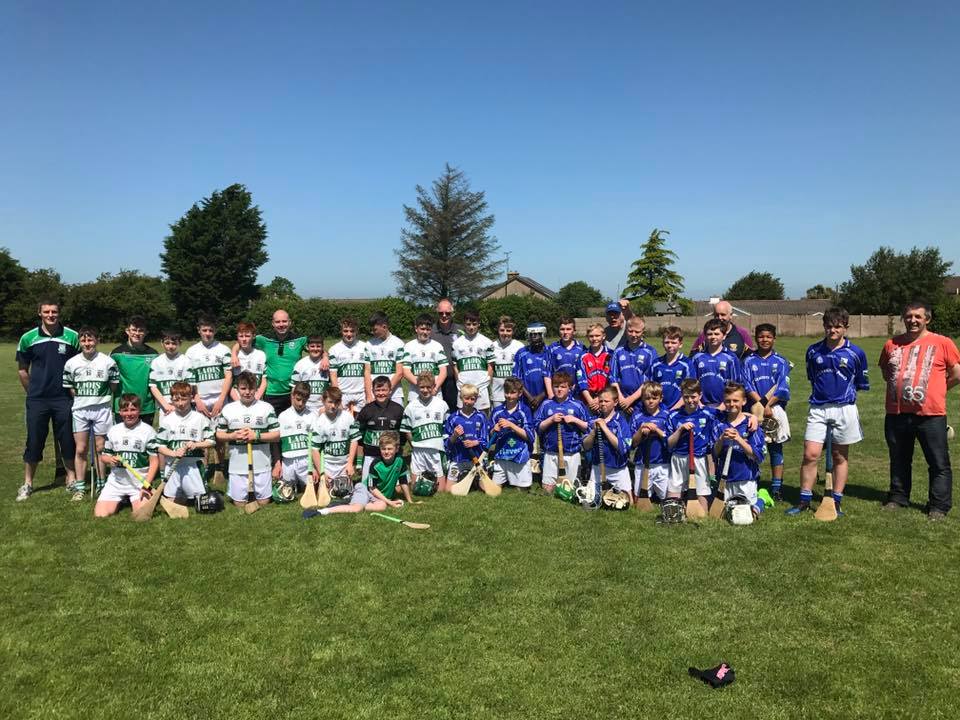 Portlaoise's U-13 team were the fifth Laois hurling team to take part in the tournament and they competed in Division 11.
They won all three of their group games against Glynn-Barntown, St Fechins and Clonard which set up a cup quarter final tie with Black And Whites.
Portlaoise won that on Saturday evening and progressed to meet St Kevin's in the semi final on Sunday morning where they went down by 3-11 to 0-2.
R1 – Portlaoise B 2-4 Glynn-Barntown 0-0
R2 – Portlaoise B 1-4 St Fechins 1-1
R3 – Portlaoise B 10-13 Clonard 0-0
QF – Portlaoise B 2-4 Black and Whites 1-4
SF – Portlaoise B 0-2 St Kevins 3-11
PANEL: Conor Brown; Seán O'Sullivan, Dylan Cahill, Matthew Coonan, Colin McEvoy, Richard Whelan, Barry Fitzpatrick, Brochan O'Reilly, Seán Luke Taylor, James Conroy, Colm Killeen, Paul Flanagan, Jack McGrath, Daniel O'Gorman, Karl Mulligan, Seán Wallace, Jacque Pretorious, Mitch Fitzpatrick, Conor Raggett
Division 3 Camogie – Portlaoise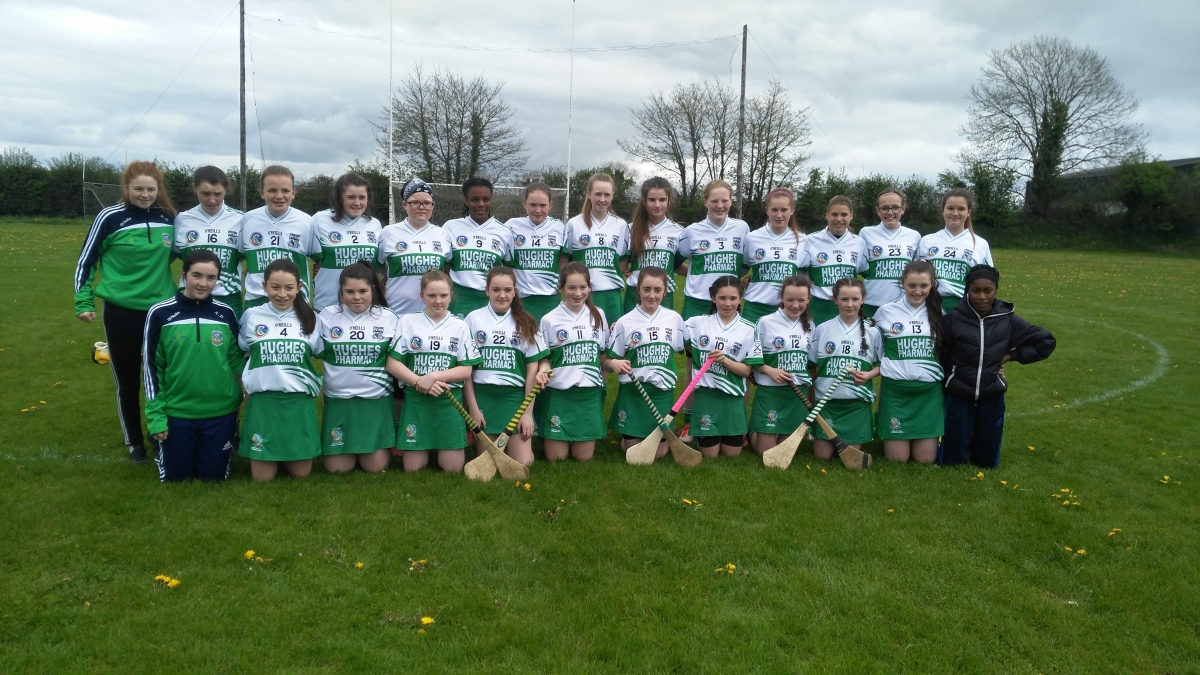 The second Portlaoise team to take part in this year's was their camogie team who competed in Division 3.
Like the boys, they also won all three group games – proving too strong for Oylegate, Clar Atha Dala and Bannow-Ballymitty.
This set up a Cup quarter final tie against Newcestown on Saturday where Portlaoise triumphed by 3-1 to 0-3.
This set up a semi-final with Salthill but the Galway side showed that goals win games as they beat Portlaoise by 3-2 to 0-2.
R1 – Portlaoise 0-5 Oylegate 0-1
R2 – Portlaoise 4-5 Clar Atha Dala 1-1
R3 – Portlaoise 3-6 Bannow-Ballymitty 0-1
QF – Portlaoise 3-1 Newcestown 0-3
SF – Portlaoise 0-2 Salthill 3-2
PANEL: Niamh Graham, Cara Phelan, Koren Dunne, Ciara Crawley, Eimear Marum, Anna Hanlon, Aoife Ennis, Grainne O'Reilly, Regina O Bulafor, Aoibheann Dalton, Sinead Murphy, Susie Delaney, Ali Dunne, Aileen O'Neill, Emma O'Sullivan, Alice Kerins, Ashling Fleming, Katie O'Reilly, Ciara Marum, Louise Corrigan, Caoimhe Byrne, Aimee Lewis, Victoria Lechus, Rachel Flanagan, Anna Dillion, Abbie Hearns, Rachel Glynn, Grainne Keogh
Division 5 Camogie – Abbeyleix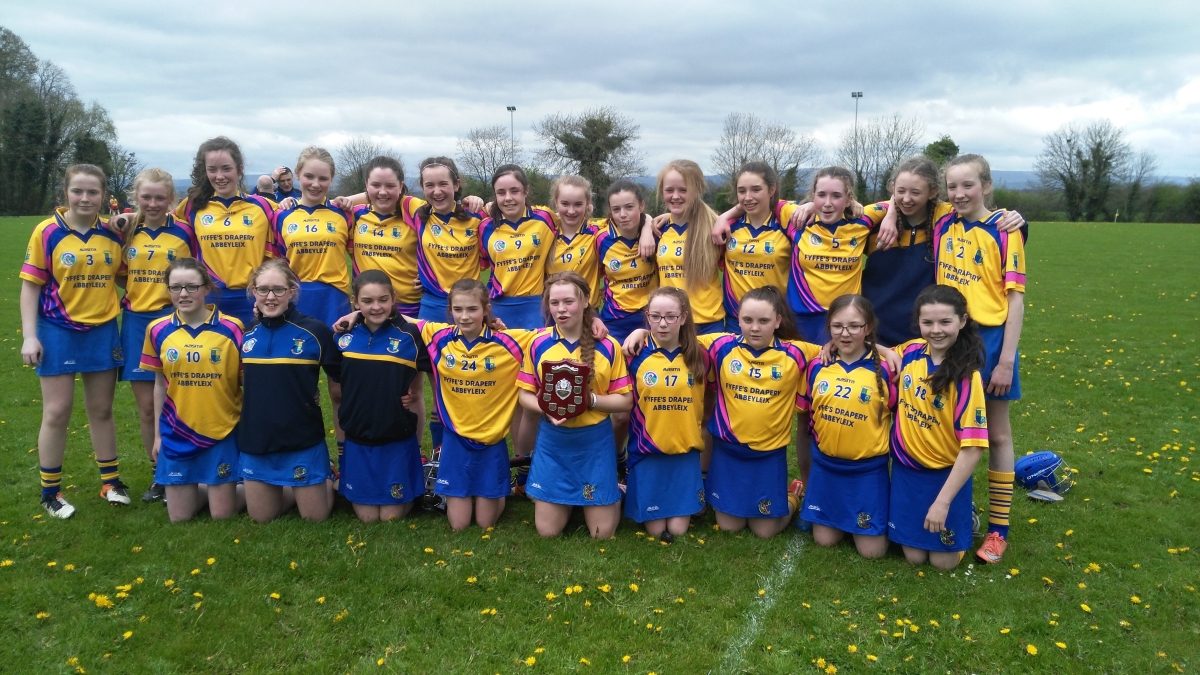 Abbeyleix were crowned Feile B champions in Laois a few months ago and they also qualified for the Cup stage of Division 5.
The girls suffered a 2-3 to 1-2 defeat to Naomh Moling in their first game but recovered to beat Denn and St James to finish second.
This set up a quarter final tie with Ferns but this was where Abbeyleix's journey ended as they lost by two points.
R1 – Abbeyleix 1-2 Naomh Moling 2-3
R2 – Abbeyleix 2-2 Denn 0-1
R3 – Abbeyleix 3-3 St James 1-1
QF – Abbeyleix 1-3 Ferns 1-5
PANEL: Alannah Brennan, Louise Doyle, Emma Cass, Lucy Conroy, Orla Dunne, Sinaed McEvoy, Niamh McDonald, Cora Burke, Jill Gaughan, Roisin Fitzgerald, Katie Dunican, Anna Kavanagh, Orlaith Condron, Caoimhe McDonald, Chloe Brennan, Laura Miller, Emer Kelly, Isabelle McWey, Kate Byrne, Holly Peacock, Grainne Carroll, Alyssa Palmer, Caoimhe Hogan, Finola Kehoe, Annie Rogers, Isobel Churchouse, Leah Clerkin, Chloe Ryan, Caitlin Tarrant
Division 7 Camogie – Clough-Ballacolla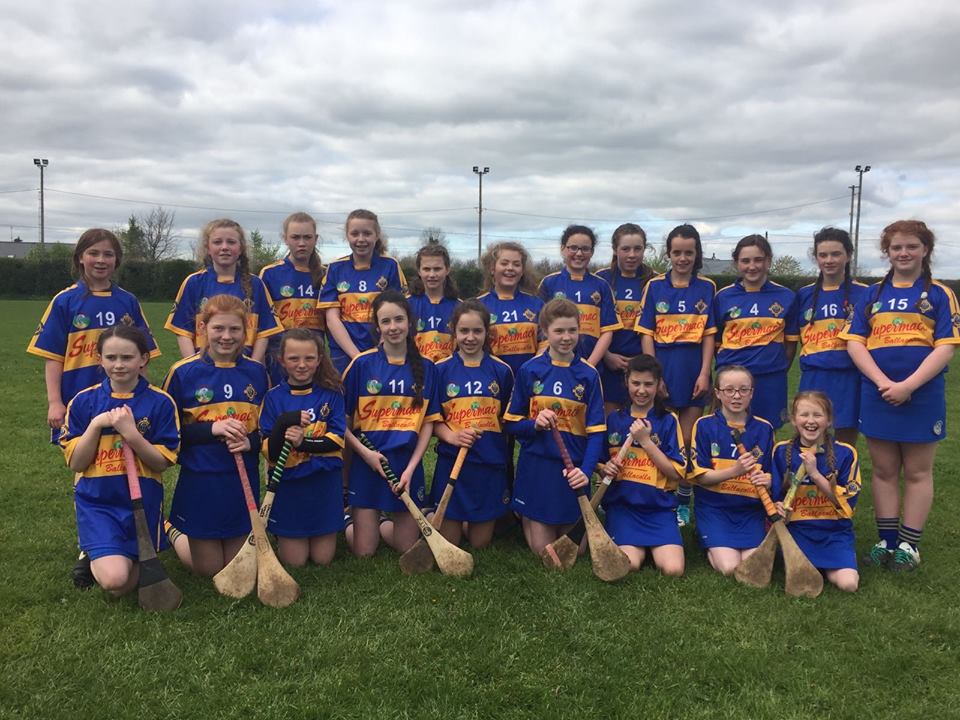 Clough-Ballacolla camogie club only formed last year and this was their first ever Feile after receiving an invite.
The girls lost their first game against Ballygarrett but they won their next two group games versus Ballygarrett and St Annes to reach the Division 7 Cup quarter final.
But sadly this was where Clough-Ballacolla's journey ended as they went down to Coil Dubh by 3-2 to 0-1 in the end.
R1 – Clough-Ballacolla 0-0 Ballygarrett 1-0
R2 – Clough-Ballacolla 2-3 Clontibret 0-0
R3 – Clough-Ballacolla 2-0 St Annes 0-0
QF – Clough-Ballacolla 0-1 Coil Dubh 3-2
PANEL: Aoife Boyhan, Caoimhe Boyhan, Brid Brennan, Trina Bergin, Muireann Byrne, Caoimhe Cassin, Ella Clear, Clodagh Duggan, Emma Fitzpatrick, Vicky Hartford, Katie Hennebeyy, Paige Hyland, Maeve Hennessy, Caoimhe Kirwan, Abbey Lalor, Jade Carroll, Sophieann Hawkes, Rebecca Pearson, Anna Purcell, Niamh Ryan, Amy Whelan
SEE ALSO – Talking Points as Laois see off Wicklow in Aughrim