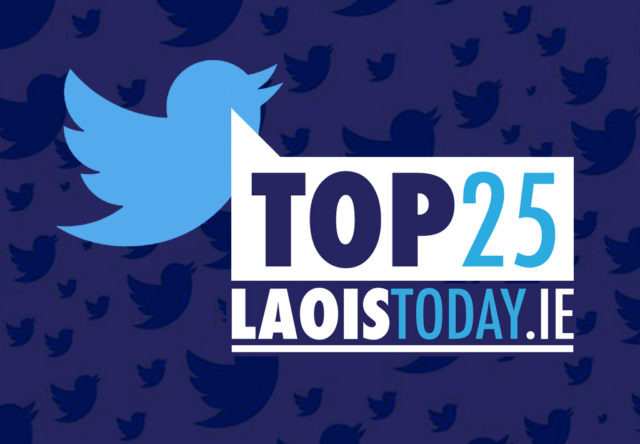 A little over a year ago we picked Laois's Top 25 tweeters and our selection generated quite a bit of good-humoured debate.
It was, as all these things are, quite a subjective list but there was a hierarchy in place and we stood over our selections at the time. Anyone we chose at the time was worthy of following on Twitter.
In the time since, we've become aware of many more great tweeters from around the county. So our list now is somewhat different.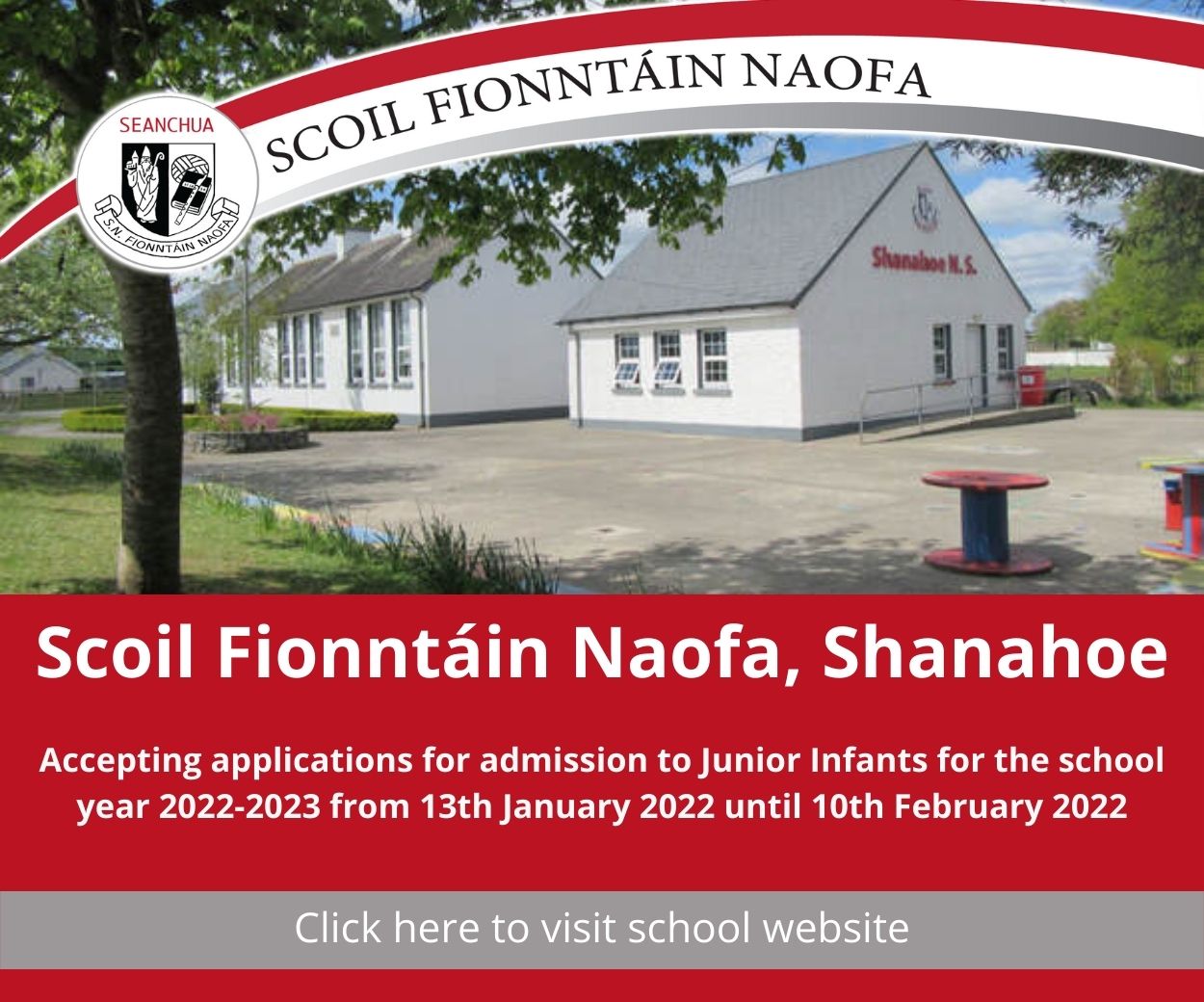 The criteria doesn't depend on how often you tweet, or how many followers you have. Rather it's your ability to entertain, inform and engage.
We have a total of 14 new entries, which means that 14 have to make way. Some have fallen and some have gone up our rankings but after much deliberation and plenty of chopping and changing we're happy with what we've settled on.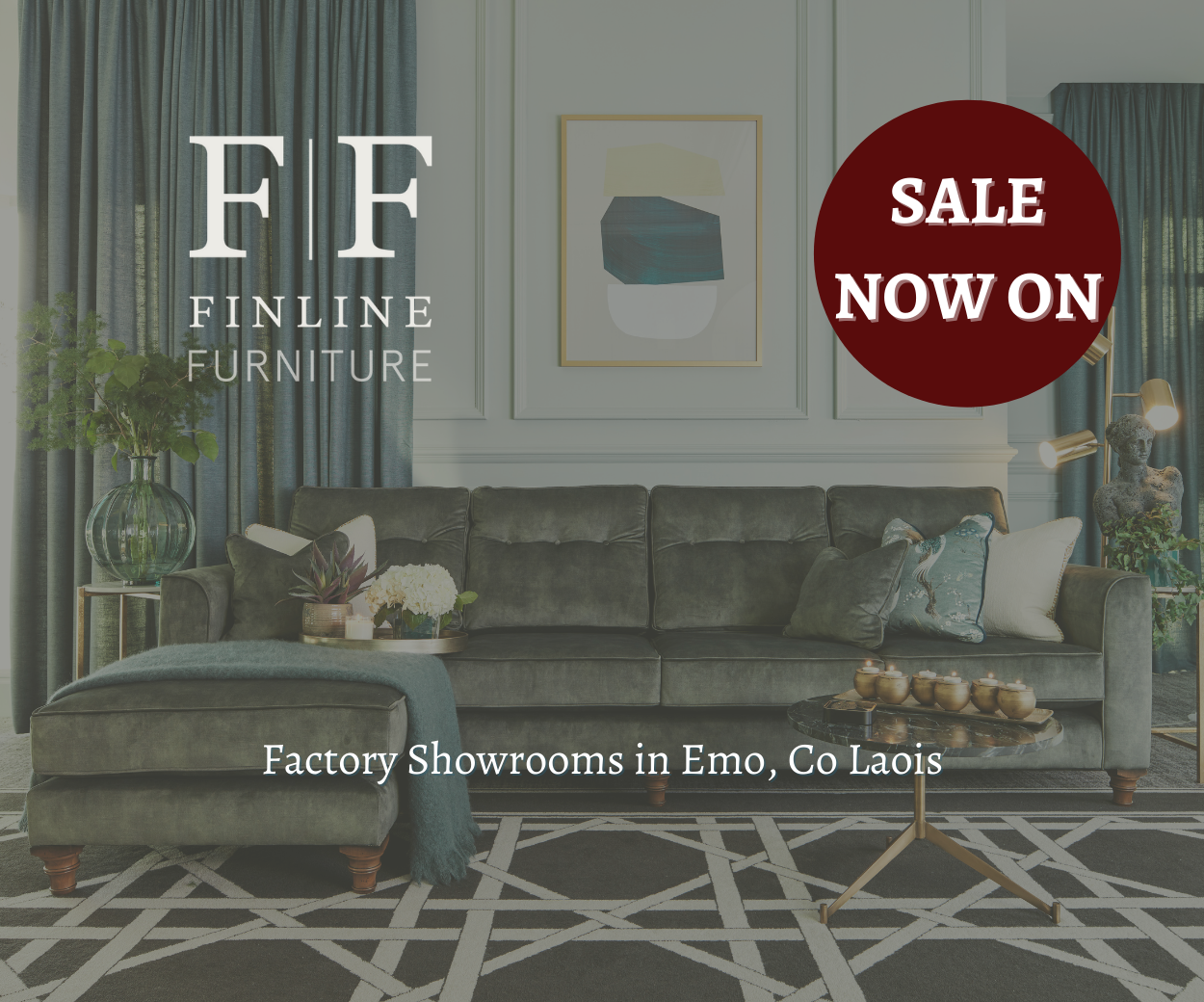 For the record, those to make way and the reason we've omitted them are as follows: 25 – Siun Lennon (now working for LaoisToday and not eligible for that reason); 24 – Conor Ganly (doesn't tweet enough); 23 – Kieran Lillis (One of many fine Portlaoise-based Tweeters but sporadic efforts see him drop out); 22 – Feargus Dunne (Another good tweeter but loses out to new blood); 21 – Paula Byrne (A PHD scholar and an expert in her field. Unfortunate to miss the cut); 20 – Elaine Holmes (Not enough tweeting); 19 – Conor Sweeney (Not enough tweeting); 17 – Declan O'Loughlin (Entertaining but we're not convinced he actually knows how to use Twitter); 16 – Cahir Healy (Gone from Twitter); 15 – Richard Dunne (Too many Man Utd tweets); 13 – Donal Miller (Not enough tweeting); 10 – Zach Tuohy (Too far away); 9 – Robert Sheehan (275,000 follower and a blue tick isn't enough to save one of our most famous exports. Like Zach, he loses out for geographical reasons); 5 – John Whelan (Too many retweets).
Let us know whether you agree or disagree.
25 – John Kealy (New Entry)
John is a bio energy therapist at the hiddenmind.ie and a great source of information for all things happening on the Borris-Kilcotton and Laois GAA scene. Also sends plenty of useful local Borris-in-Ossory information out into the Twittersphere.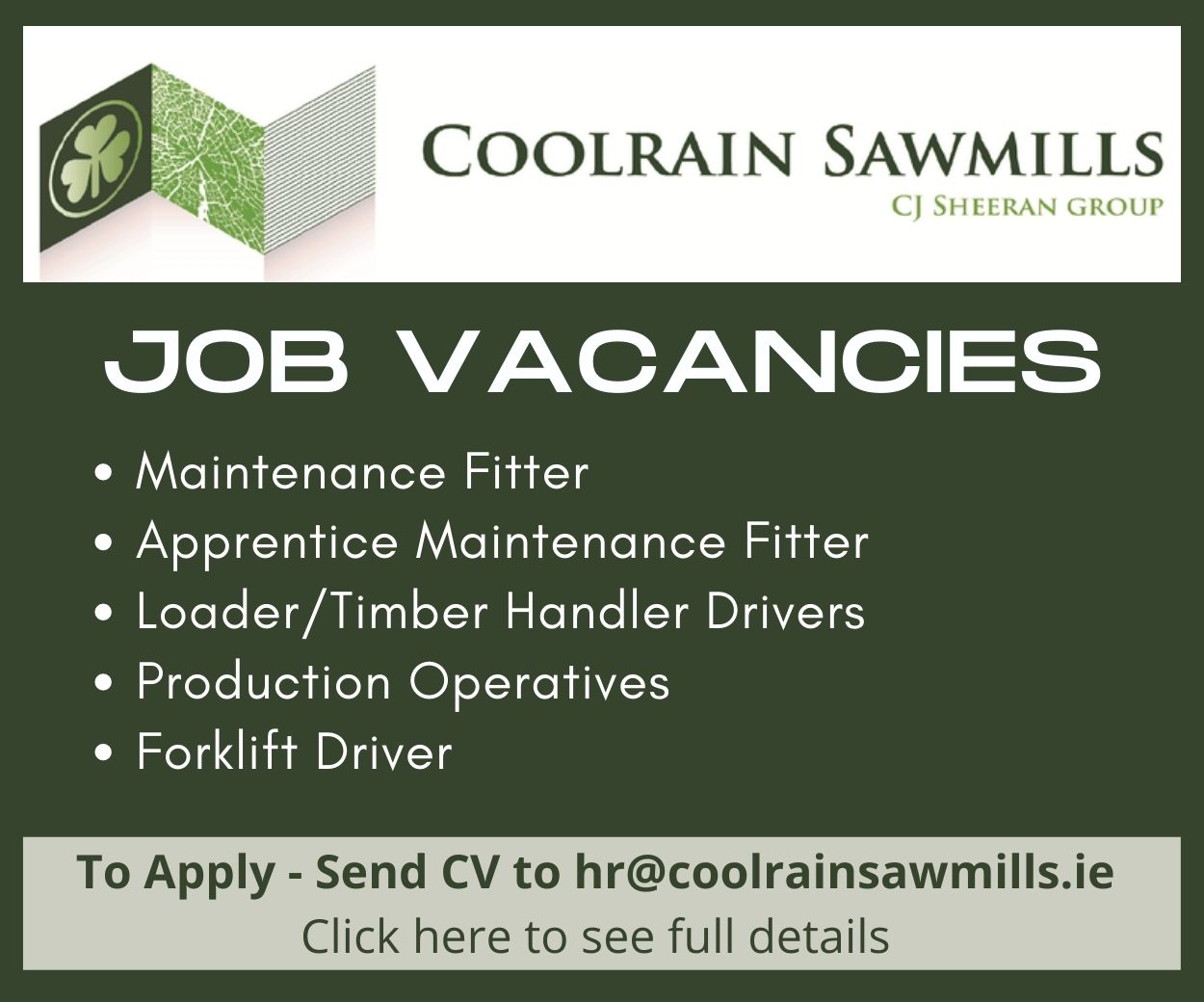 #StormEmma #BeastFromTheEast @drennan_o @db1807 @LaoisToday Sentry Hill is open pic.twitter.com/Y9tBhqwiJk

— John Kealy (@johnkealy) March 2, 2018
24 – Michelle Hogan (New Entry)
Another new entry to this year's list, Michelle is a news reporter with our rivals in the Leinster Express. But a very entertaining tweeter who comments on a wide range of issues, local, national and beyond.
I need a platform for consuming video that is less than YouTube, more consistent than Instagram. Basically the old Snapchat.

— Michelle Hogan (@SeeShell_) February 20, 2018
23 – Gary Walsh (Down 21 places)
Gary, Gary, Gary. He was Number 2 on last year's list but a certain recent controversy has clipped his wings considerably on Twitter. Hasn't tweeted since that comment on the Belfast Rape Trial that got him into all sorts of bother but prior to that he was sometimes entertaining, sometimes explosive. Worth keeping an eye on but he comes tumbling down our rankings nonetheless.
I sound like a broken record & a do gooder which I'm not but this week will swollow the best of men , look out for your buddies , gambling is a cruel game , Cheltenham is like xmas for the gambler but we all know January does be bleak

Gambling Helpline : 1800 75 37 53

— Gary Walsh ? (@GaryWalshLaois) March 13, 2018
22 – Brian Ramsbottom (Down 8 places)
Over 18,000 Tweets and recently promoted to the role of Park-Rathenisk GAA secretary. Too many tweets about the latter cost him his Top 15 ranking from last year but he still makes some very relevant and sometimes humourous observations.
I've said it before many times, goalkeepers should never get involved in melees, they stand out like a sore thumb. Any of the Juve players could have been cautioned there, but Buffon was the easy one to see. Sad for him, but he should have known better. Sport is a motherfucker.

— Brian Ramsbottom (@TheOneRam) April 11, 2018

21 – David 'Dotsy' Haplin (New Entry)
Dotsy's tweets are protected so if you want to get an insight into how his world works, you may request to follow him. Obsessed with Man United and often embarks on campaigns in favour or against certain players. Hilariously funny though and you will laugh a lot at what he comes out with. Complained furiously that he didn't make this list last year.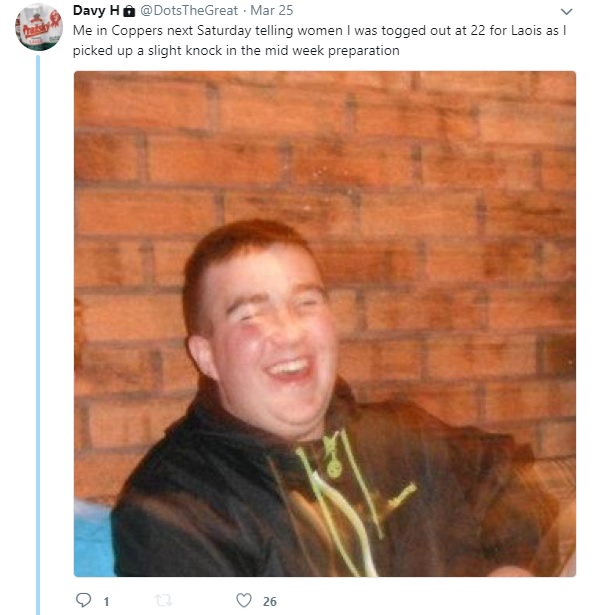 20 – Willie Dunphy (New Entry)
A proud Clough-Ballacolla man who isn't afraid to have his say on matters concerning GAA players, funding for smaller teams and the craic that does be going on down in Ballyragget.
#Ballyragget boys only doing what every GAA player wants, win a county final and have serious craic for days without a care in the world???

— Willie Dunphy (@WillieDunphy) October 26, 2017
19 – Bobby Miller (New Entry)
A self-confessed cynical farmer. Consumed by the weather and strongly critical of the IFA. Bobby is a proud Annanough GAA man who will give you an insight into what it is like to be a tillage farmer in Laois.
Play suspended due to rain… It's a bit like watching Wimbledon, any chance of putting a roof on Ireland for a couple weeks…. pic.twitter.com/JowhFTFxqm

— Bobby Miller (@bobbymiller73) March 26, 2018
18 – David Booth (No Change)
Not the highest profile on this list and has his account protected but he's definitely worth following, if he'll let you! Fashion, football, hairstyles, politics, controversial topics and all sorts of random thoughts make it on to his Twitter account. Heading for the 10,000 tweet mark – his observations deserve almost as many followers.

17 – Mary Phelan (New Entry)
Media savvy Mary certainly knows her way around Twitter. The former Farmers Journal reporter and MA in International Journalism student uses the platform as part of her work in PR for Irish Red Cross, but isn't shy when tweeting about farming matters, politics, or James Kavanagh!
So apparently this has always been the case, showing myself up for the bandwagon-er I well and truly am!!!! #Cheltenham https://t.co/YcKrQPvw0j

— Mary Phelan (@MaryPhelanMP) March 14, 2018
16 – Aedín Dunne (New Entry)
Although Aedín may be in further, more exotic lands, she is still invested in all things Laois, GAA and Electric Picnic. Also adds a bit of sass into our daily Twitter feed.
My dad taught me that it's useless to 'hate' someone. You feel hatred,it's YOU its affecting,not them. It's YOU that's getting wound up & drained. It's easier to make peace with yourself & learn to have no feelings towards them at all. Channel your energy towards those who matter

— Aedín (@_Aedin) January 17, 2018
15 – Jack Nolan (Down 9 places)
Jack is a stalwart of commentary on the Laois GAA scene. Whether it be hurling in Ennis or football in Aughrim, you're sure to see Jack there, mic in hand, to give all the updates. If you happen to miss the match, Jack's Twitter is also a go-to of sorts for GAA updates.
Laois beating Galway in the opening half last day and the father of a player was very vocal in the stand.
A lady Galway supporter says "shur we have only 9 of the team that played All Ireland"Dad says "So. Shur we have nobody that played in All Ireland" @LaoisToday @MidlandsSport

— Jack Nolan Locksmith (@NolanInfo) February 16, 2018
14 – Ciamh McCrory (Down 10 places)
Over 57,000 Twitter followers and the head of digital at Insight Consultants up in Dublin – the rest of us are just amateurs. This Portlaoise woman just also made the Top 50 Most Influential Irish Marketers of 2018… and has a blue tick to boot. We had Ciamh in the Top 5 last year but too many commercial-style tweets see her fall a few places. Still, this tweet, which she has pinned, should be printed off and given to everyone who is on any social media platform.
STOP ?

⚠BEFORE YOU TWEET make sure you understand your LEGAL responsibilities!

?If you tweet a controversial opinion or allude to an incorrect fact about someone that is defamatory YOU CAN BE SUED!

?The onus is on YOU to prove it to be FACT

You understand this RIGHT??? pic.twitter.com/y7eKVpV1Dj

— Ciamhie Mc Digital (@CiamhieMc) February 18, 2018
13 – Brendan O'Brien (Down 5)
The Irish Examiner sports journalist has a grand old job going around the country – and the world – to cover the big events and he's good on Twitter too. A nice mixture of opinion and observation as well sending plenty of really good articles, from a variety of sources, into our timeline.
Hurling showing us yet again that it needs a black card…

— Brendan O'Brien (@byBrendanOBrien) March 31, 2018
12 – Dean Cullen (New Entry)
We've seen Dean evolve through Twitter. The Portlaoise man is now educating the youth of today so if you see a group of Kildare teenagers shouting, 'Hon the Town' you know where they got it from.

11 – Adrian Kavanagh (Up 1 place)
Knows his geogrpahy and likes his elections. If there's ever an upcoming general election, Adrian will be our first port of call. Also worth a follow around Eurovision time!
Like Bertie and his budget in 1992, I'm too busy with "me marking" to get caught up in the endless election speculation
My only say for now – to be honest, I don't think the sky is going to fall in, as some folk are suggesting, if a general election is held before Christmas…

— Adrian Kavanagh (@AdrianKavanagh) November 27, 2017
10 – David Kerr (Down 3 places)
David is a Ballyfin man who has a wealth of knowledge in diary farming and mental health advocacy. A great Twitter account to follow if you're interested in provincial or international rugby. And his farming opinion mark him out in the field, excuse the pun, too.
A farm is a really difficult environment at the moment especially if you are on your own. Not everybody has outlets such as discussion groups. A chat with one of these people was never more important.

— David Kerr (@davidkerr67) March 19, 2018
9 – Peter O'Leary (Up 2 places)
The former Laois footballer, forever O'Dempsey's star and sometimes media pundit comments on a wide range of issues on Twitter. Another of last year's inclusions but sees his stock go up a bit.
anyone believing McGregor was defending Artem Lobov is silly..should know by now McGregor doesnt defend anything in the UFC

— Peter O'Leary (@poleary7) April 6, 2018
8 – James Dunne (New Entry)
James 'Laois/Cider/Juve' Dunne changes his Twitter handle to whereever the mood takes him. Full of scarasm, wit and joy in equal measure, James's Twitter is perfect for any Portlaoise, Laois, Juventus or Lakers supporter.
#NewProfilePic a picture of me smoking a butt in Nowlan park, hopefully I'll do the same in Croker next Saturday. #HonLaois pic.twitter.com/Bsb8haF67g

— James Dunne (@LaoisDunne) March 25, 2018
7 – Ricky Whelan (New Entry)
The first father-son combo to make it onto the list, albeit not at the same time. Our columnist John Whelan was Number 5 on last year's list but has dropped out altogether this time. But Ricky, a zoologist and Project Officer with Birdwatch Ireland, comes in at Number 7. Will send an array of nature-related information into your timeline. Knows his stuff and has carved out a fascinating little niche for himself.
My little buddies the Sand Martins are back at Banager Bridge and quay prospecting nest sites. Love to hear and see them, a real sign of spring and the summer to come. @BirdWatchIE @BirdsMatter_ie @NatureRTE @Irishwildlife @OffalyGoodWater @OffalyHeritage @LawcoWaterNews pic.twitter.com/Yc3hUJ3uv2

— Ricky Whelan (@RickyWhelan) April 13, 2018
6 – Claudia Keane (New Entry)
Claudia has been on our Top Tweets of the Week regularly and it's easy to see why. Think independent, not afraid to express her views and also some very hilarious situations including her relatives travelling up North. Good tweets to read for a giggle with your cup of tea.
I hate going into MAC with no makeup on and they think they can sell you whatever cos you haven't a clue… you don't know my full potential Sandra and your flicks are shite

— Claudia Keane (@StingsPen) January 19, 2018
5 – Fr Paddy (Down 2 places)
Fr Paddy Byrne has been hailed as the most active member of the church on Twitter in Ireland… and with 14,500 followers, 15,000 Tweets and a wealth of information, it's easy to see why. He's dropped a few places on the list for going on a have Twitter fast for Lent. But the snow and St Patrick's Day saw him make a re-appearance – and he often comes out with nuggets of wisdom that are well worth taking on board.
Traditionally we have a rest day for our national holiday #StPatricksDay from lent. May health and peace anoint our families and friends. May our wonderful Island be united with great appreciation for the diversity that dwells within the best little Island in the world. pic.twitter.com/zRxnU2Hzei

— fr paddy (@frpaddybyrne) March 16, 2018
4 – Aoife Cooney (New Entry)
This Timahoe woman is one of the youngest Twitter users on this list and regularly has us in the stitches over college assignments, her father mistaking a potted tree for flowers and festival shenanigans. And she's right… why doesn't Timahoe have it's own location on Snapchat?!
Me to parents: night
Me to my dog: goodnight my sweet prince angel face beautiful gorgeous boy who I LOVE with my whole heart

— aoife (@aoifecooneyy) February 23, 2018
3 – Paddy Critchley (New Entry)
A list with Dean Cullen, James Dunne and Paddy Critchley … no, this list wasn't made in Peig's Bar. We can hail Paddy, like his father, uncle and grandfather before them – a true character of Portlaoise. And like his relatives before him, he's also able to tell a good yarn or two.
If I died in the morning I would be so happy to be just remembered as a 'character'. Definetly the highest privilege to a portlaoise man

— Paddy Critchley (@PaCritch) July 25, 2017
2 – Colm Parkinson (Down 1 place)
How could you have a list of Top Tweeters and not include Woolly Parkinson? His still the straightest-talking GAA pundit out there that doesn't do political correctness or pander to anyone. Now also the part-owner of a Tapas restaurant in Portlaoise and back playing with The Town, he'll engage with some who take him on in debate. A good sense of humour and well able to dismiss the wind-up merchants – although he now no longer follows anyone having cleansed his timeline. Still worth a follow even if he has lost his crown as Laois's top tweeter.
Hi Emily, i'm wondering if you'd like to come on my podcast @thegaahour to discuss the game? we'd need you there in person, audio quality on the phone can be hit and miss https://t.co/xFnRGqVQdo

— Colm Parkinson (@Woolberto) March 14, 2018
1 – Senan Hogan O'Brien (New Entry)
Senan is what young kids these days call 'woke'. When one of your Tweets gets 183,000 likes and goes viral across the world, we guess you can be called whatever you want. A very entertaining young man with a wicked sense of humour.
So strange that Kinder Eggs are banned in America to protect children but some lunatic can still pick up an automatic rifle legally and kill 17 school children

— Senan Hogan O'Brien (@senhob) February 15, 2018
SEE ALSO – The 2017 list of Laois's top 25 Tweeters